March, 22, 2015
Mar 22
1:39
AM ET
By
ESPN Stats & Information
| ESPN.com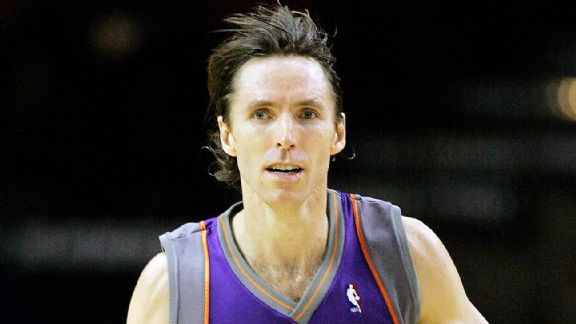 Brett Davis/USA TODAY SportsSteve Nash orchestrated the most efficient offenses of the 2000s.
When Steve Nash was selected 15th overall by the Suns in a loaded 1996 NBA Draft that included Kobe Bryant and Allen Iverson, few envisioned a Hall-of-Fame career for the Canadian point guard out of Santa Clara.
Yet Nash went on to produce one of the best statistical careers by a point guard in NBA history before announcing his retirement on Saturday. Here are the numbers Nash will be remembered by.
Nash in the history books
Nash finished his career ranked third on the NBA's all-time assist leaderboard with 10,335 assists. Only John Stockton and Jason Kidd have more. Nash also ended his career just one assist ahead of Mark Jackson after leading the NBA in assists six times.
Nash won back-to-back MVP awards in 2004-05 and 2005-06 with the Suns, something only LeBron James has achieved since (twice). Nash is one of 10 players to win consecutive MVP awards and the only player in NBA history under 6-foot-6 to win multiple MVPs.
There have been 11 seasons in NBA history in which a player who qualified for the field-goal percentage leaderboard shot 50 percent from the field, 40 percent from 3-point range and 90 percent on free throws. Nash has four of them and Larry Bird is the only other player with multiple 50-40-90 seasons.
In fact, Nash came one free throw away from having five straight 50-40-90 seasons between 2005-10 as he shot 89.9 percent from the free-throw line in 2006-07 when one fewer miss would have allowed him to reach the achievement. Nash still nearly averaged a 50-40-90 for his career, as he's the only player in NBA history to finish his career in the 49-40-90 club.
Nash also will retire as the NBA's all-time leader in free-throw percentage at 90.43 percent, just ahead of Mark Price, and he is the Suns' all-time leader in assists, 3-point field goals, 3-point field-goal percentage, free-throw percentage and assist percentage.
The one thing missing
Perhaps the biggest knock on Nash's career is that despite all of the incredible offensive numbers he put up, he never led his team to the Finals. In fact, Derrick Rose is the only player in NBA history to win an MVP award without reaching an NBA Finals although it is perhaps unfair to compare him to Nash in that regard since he's only 26.
Karl Malone is the only player to win multiple MVPs without winning a title, and Charles Barkley, Allen Iverson, Kevin Durant and Rose join Nash on the list of MVPs without a title, although of course Rose and Durant still have time to play their way off this list.
Nash propelled teams to offensive greatness
Still, Nash's teams enjoyed plenty of team success as he reached four Western Conference Finals with the Suns and Mavericks while leading the most dynamic offenses of his time. During the nine seasons between 2001-02 and 2009-10, Nash's team led the league in offensive efficiency each year.
Since Nash signed with the Suns before the 2004-05 season, the NBA's five best single-season offensive efficiencies belong to a Nash-led Suns team. This includes every year between 2004-10 except 2005-06, a season in which Amar'e Stoudemire played just three games.
Nash's best offense was the 2009-10 Suns team that scored 112.7 points per 100 possessions, which is more than any team has scored in the last 30 seasons.
Nash's offenses with the Mavericks and Suns during the 2000's always put on a show, so perhaps it is fitting that the day after he announces his retirement those two teams will meet in Phoenix on Sunday night.
April, 17, 2014
4/17/14
3:48
PM ET
By
Justin Page
| ESPN.com
This season marked the first time in NBA history that the Knicks, Lakers and Celtics all failed to make it to the postseason.
So where does each franchise go from here?
New York Knicks
The Knicks' win percentage dropped from .659 last season to .451 in 2013-14.
They only have $31.8M in guaranteed contracts next season but that does not include
Carmelo Anthony
($23.3M),
Amar'e Stoudemire
($23.4M) or
Andrea Bargnani
($11.5M). All 3 players have early-termination options (it's the player's option to opt out), but it's a virtual certainty that Stoudemire will remain with the Knicks as no team in the open market would pay anywhere near that number. Bargnani staying in New York seems highly likely as well.
If Carmelo leaves this summer, the Knicks would still likely be over the projected salary cap of $62.9M in 2014-15, but they likely wouldn't be a taxpaying team.
The result? Their best tool would likely be the non-taxpayer mid-level exception. In 2014-15, that exception allows teams to sign any free agent to a contract with a starting salary up to $5.305M.
Los Angeles Lakers
The Lakers' .329 win percentage was their second worst in franchise history and worst since moving to Los Angeles. The Lakers' 55 losses were their most in franchise history.
Mike D'Antoni's first full season as a NBA head coach came with the
Phoenix Suns
back in 2004-05. In four full seasons in Phoenix, he guided the team to a .707 win percentage and two Conference Finals appearances. In six combined seasons with the Knicks (four) and Lakers (two), he's posted a .425 win percentage while failing to win a playoff game.
Kobe Bryant
signed a two-year contract extension for $48.5M in November, maintaining his status of the highest-paid player in the league. This summer looms large for the Lakers, who currently have just three guaranteed contracts in 2014-15 for a total of $34.1M.
The projected salary cap for next season is $62.9M and the Lakers could gain around an additional $6.5M in space by using the stretch-provision on
Steve Nash
(he would be released and his $9.7M contract would be spread over three seasons).
Note: the only Lakers player that has a player option for next season is
Nick Young
($1.2M).
Boston Celtics
The Celtics' .305 win percentage was their third worst in a single season in franchise history.
The only other instance in which both the Celtics and Lakers missed the postseason in the same year came in 1993-94. Following that season was the only year in which both teams had lottery picks (the lottery era dates back to 1985; Celtics took
Eric Montross
ninth and the Lakers selected Eddie Jones tenth).
Looking ahead to the 2014 draft, the Celtics will have two first-round picks – their own lottery selection and the Nets (17th or 18th overall). it is important to note that Boston also receives a 1st-round pick in 2015 from Philadelphia should that pick fall outside of the lottery (15-30).
The Celtics have $44.7M in guaranteed contracts on the books for 2014-15. The projected salary cap line is $62.9M. While they will have a little wiggle room this offseason, it looks like Danny Ainge has his eyes set on the summer of 2015 as Gerald Wallace's $10.1M contract is the only guaranteed money Boston has on its books in 2015-16. The only player that could bump that number up significantly is
Jeff Green
, who has a $9.2M player option in the final year of his contract.
March, 12, 2014
3/12/14
4:13
PM ET
By
ESPN Stats & Information
| ESPN.com
AP Photo/Jae C. HongKobe Bryant fractured his knee on December 17 against the Memphis Grizzlies.
A league source told ESPN's Chris Broussard that
Kobe Bryant
will be shut down for the rest of the season. With that in mind, here are the top stats you need to know about Bryant's future as well as that of the
Los Angeles Lakers
.
Rough last 11 months
On April 12 last season, Bryant tore his Achilles in a game against the
Golden State Warriors
, causing him to miss the playoffs and the start of this season. His subsequent rehab went well enough that the Lakers signed him to a two-year extension worth $48.5 million on November 25.
Bryant debuted this season on December 8, but fractured his left knee nine days later against the
Memphis Grizzlies
. If he is indeed out for the rest of the season, the 76 games missed will by far be the most for any season in his career. His previous high was 17 games missed in the 2003-04 season.
Couldn't get in rhythm
In the six games Bryant did play this season, he wasn't in top form. He was held to single digits scoring in three of the games. To put that in perspective, Bryant had not been held to single digits in scoring three times in a single season since the 1998-99 season.
The Lakers went 2-4 with Bryant this season, as their leader averaged just 13.8 points per game in just under 30 minutes per contest.
Chasing Kareem
Bryant's curtailed season also decreases his odds of catching Kareem Abdul-Jabbar's all-time scoring record.
Bryant trails by 6,688 points and turns 36 in August. Abdul-Jabbar and
Karl Malone
are the only players in NBA history to score 6,688 points after turning 36.
If Bryant averages 20 points per game over the rest of his career, he would need to play into the 2018-19 season to take the record.
No Hollywood ending
The Lakers have struggled in Bryant's absence – their .344 win percentage is on pace for the third-worst in franchise history and the worst since the team moved to Los Angeles.
The .344 win percentage is currently fourth-worst in the league – setting up good odds that the Lakers will pick in the top five of the upcoming NBA Draft. Since the territorial draft was abolished prior to the 1966 draft, the Lakers have made just four picks in the top five. Three of those times, the pick came via trade. The only year that the Lakers played their way into a top five pick in that span was in 1975 when they took Dave Meyers second overall.
Offseason flexibility
Despite signing Bryant to the big two-year extension, the Lakers currently have just three guaranteed contracts on the books for 2014-15 for a total of $34.1M (Bryant,
Steve Nash
,
Robert Sacre
). The projected salary cap for next season is $62.9M and the Lakers could gain around an additional $6.5M in space via the stretch-provision by releasing Nash as his $9.7M contract would be spread over 3 seasons.
December, 6, 2012
12/06/12
5:50
PM ET
By
Sunny Saini
| ESPN Stats & Information
Mark L. Baer/US PresswireJrue Holiday (left) and the 76ers will face Rajon Rondo (right) and the Celtics on ESPN Friday night.
Jrue Holiday
might be ready to insert his name into the list of elite point guards in the NBA.
Holiday, who will lead the
Philadelphia 76ers
into their division matchup with the
Boston Celtics
on Friday (ESPN, 7 ET) is averaging career highs in points per game (18.2), assists per game (9.3) and player efficiency rating (18.5) this season.
If he keeps up this pace of 18 points and nine assists per game, he would be one of four players since 2000 to have those averages along with
Chris Paul
,
Steve Nash
and
Deron Williams
.
Even though Holiday is leading the NBA in turnovers with more than four per game, the 76ers as a team have the second-lowest turnover percentage (12.6). With a career-high usage rate percentage of 26, the turnovers are expected to be high. At his current averages, Holiday would join Hall of Famers Isiah Thomas (1986-87) and Magic Johnson (1988-89) as the only players with 18 points, nine assists and four turnovers per game for a season.
No team is dependent on one player to create their offense as much as the 76ers are on Holiday. He has been responsible for 43 percent of his team's total points this season, which leads the NBA. The "points responsible for" statistic includes offense generated from assists and points scored.
Holiday also leads the NBA in efficiency on isolation plays with a points-per-play average of 1.17 (minimum 30 plays), up from .89 last season.
Holiday is creating high-percentage opportunities for himself and his teammates. Last season he had a 47 effective field goal percentage (gives extra weight to 3-pointers) on isolation plays. This season he's at 59 percent.
The pick-and-roll is a big part of every point guard's repertoire to go along with isolations. Holiday is no different, as 59 percent of his offense either comes from the pick-and-roll or isolations, compared to last season when 46 percent of his offense came from those plays.
With high usage rate in those play types Holiday has made drastic improvement in his shooting percentage from 42 percent last season to 46 this season on pick-and-rolls and isolations.
The 76ers are 10-8 without a single former All-Star active on their roster. Key offseason acquisition
Andrew Bynum
is still not healthy enough to suit up. However, Holiday almost singlehandedly has kept the 76ers in the playoff hunt.
It will be interesting to see how Holiday fares with a national audience against a superstar point guard,
Rajon Rondo
, who is also top five in points responsible for and leads the league in assists at nearly 13 per game.
October, 27, 2012
10/27/12
3:52
PM ET
By
Jose DeLeon, ESPN Stats & Info
| ESPN.com
Christian Petersen/Getty Images
Goran Dragic (left) is back in Phoenix to replace Steve Nash (right). What does Dragic bring to the table that the two-time MVP didn't?
This is the second installment of a series called "Missed or Not Missed?". The concept is simple -- we take a look at a few Western Conference teams and determine if the players they've lost will be missed or if the player they brought in will make them forget that loss.
The
Phoenix Suns
couldn't compete with the elite teams in the West and traded
Steve Nash
to the
Los Angeles Lakers
. In comes
Goran Dragic
for a second stint and he becomes one of Phoenix's focal points. Will the Suns be better off with a younger point guard running the show?
Pick & roll master
Few have Nash's stellar ability to hit the roll man on pick-and-roll plays. He led the league last year with the most passes to the roll man (375) and his teammates made him look good as they ranked first in points per play (1.18) and field-goal percentage (60.3).
Dragic was one of 15 players with at least 160 such plays and is a formidable pick-and-roll player, but his teammates ranked eighth in field-goal percentage and ninth in points per play on the pick-and-roll.
Younger, fresher legs
Dragic, who is 12 years younger than Nash, is a great jump shot defender. There were 121 players last year who were involved in at least 130 plays where they defended a jump shot. Of those 121, Dragic held his opponents to the fourth-lowest field-goal percentage (30.8) and the sixth-fewest points per play (.81).
Nash, on the other hand, allowed his opponents to shoot nearly 40 percent on jump shots and allowed an average of more than a point per play.
July, 26, 2012
7/26/12
10:51
PM ET
By
Micah Adams & Gregg Found
| ESPN Stats & Info
No lockout means a return to normalcy in this year's schedule, where each team visits each city at least once and no team has to play a back-to-back-to-back. Last season, there were 40 back-to-back-to-backs.
Also this year, the regular season will start almost two months earlier (October 30) and will end nine days earlier (April 17) than last season.
SCHEDULE TIDBITS
• NBA Finals rematches: Christmas Day in Miami, Valentine's Day in Oklahoma City.
• Eastern Conference Finals rematches: October 30 in Miami, January 27 in Boston, March 18 in Boston, April 12 in Miami.
• Western Conference Finals rematches: November 1 in San Antonio, December 17 in Oklahoma City, March 11 in San Antonio, April 4 in Oklahoma City.
• Check out the notable "return" games this season in the chart at right, including Carmelo Anthony making his first trip to Denver this year. Because of the lockout-adjusted schedule, the Knicks did not play at the Nuggets last season.
• Teams appearing the most frequently on ESPN networks:
Los Angeles Lakers
(16),
Miami Heat
(15),
Oklahoma City Thunder
(15),
New York Knicks
(15),
Los Angeles Clippers
(14),
Chicago Bulls
(12),
Boston Celtics
(11).
DEFENDING THEIR TITLE
• The Heat and Celtics will play each other on Opening Night, October 30 in Miami. Not only will it be Ray Allen's first game against his most mates, LeBron James is 0-3 vs Celtics in season-openers (0-1 with the Heat in 2010, 0-2 with the Cavaliers in 2008 and 2009).
• Based on last season's records, the toughest months of the season schedule-wise for the Heat will be the start of their season in October-November. But they'll follow that with their easiest month in December. And that includes a Christmas Day showdown with the Thunder.
• It hasn't been easy for teams to defend their title recently. There's been only one repeat champion in the last 10 years (Lakers 2009 and 2010). The last two teams defending their titles were bounced in the 1st Round (2012 Mavericks) and Conference Semifinals (2011 Lakers). The last time the Heat defended their title, in the 2006-07 season, they were dealt injuries to
Dwyane Wade
and Shaquille O'Neal and knocked out in the 1st Round.
July, 8, 2012
7/08/12
12:19
PM ET
By
Ryan Feldman & Rachel Eldridge, ESPN Stats & Info
| ESPN.com
Harry How/Getty Images
Kobe Bryant has never played with an elite point guard like Steve Nash.
Using Synergy Sports Technology and other tools to analyze how
Steve Nash
and
Kobe Bryant
will coexist as teammates with the
Los Angeles Lakers
, it seems that they will make quite the duo.
KOBE HAS NEVER PLAYED WITH A POINT GUARD LIKE NASH
Since Kobe's rookie season, no Laker has averaged seven assists per game, something Nash has done in 12 straight seasons.
Since Shaquille O'Neal's departure in 2004, none of Kobe's teammates with at least 20 starts in a season has assisted on more than 22 percent of teammates' field goals. Nash has never assisted on less than 25 percent of teammates' field goals in a season in his career, and has led the NBA with an assist percentage of more than 50 in each of his past three seasons.
Last season, no point guard had a higher true shooting percentage (a measure of shooting efficiency that takes into account 2-pointers, 3-pointers and free throws) than Nash (62.5).
Ramon Sessions
(57.0 with the Lakers) was the only Lakers point guard at better than 50 percent.
Andrew Bynum
led the Lakers with a 59.4 true shooting percentage.
In fact, no Lakers point guard in the Kobe era (since 1996-97) has had a true shooting percentage as high as Nash's last season. Nash has been better than 60 percent in eight straight seasons.
NASH PASSES, TEAMMATES MAKE SHOTS
Nash passed the ball on 62 percent of his pick-and-roll plays last season and his teammates shot 51 percent on those passes. He passed the ball on 54 percent of his isolation plays last season and his teammates shot 51 percent on those passes.
Nash passed the ball to spot-up shooters 389 times on pick-and-roll plays last season, the most such passes in the league.
KOBE USUALLY DOESN'T PASS
Kobe passed the ball on only 13.7 percent of his isolation plays last season, the sixth-lowest percentage of the 51 players with at least 25 isolation passes. Only
Carmelo Anthony
,
MarShon Brooks
,
Russell Westbrook
,
Josh Smith
and
J.R. Smith
passed the ball less often.
When Kobe passed the ball on isolation plays, his teammates shot 39.2 percent, which ranked 41st of those same 51 players. He passed the ball on 48.9 percent of his pick-and-roll plays last season. On those passes, his teammates shot 42.6 percent.
KOBE MAKES OPEN SHOTS
Of the 337 players with at least 15 unguarded catch-and-shoot jumpers last season, nobody was left open less often than Kobe. Only 35.2 percent of his catch-and-shoot jumpers were unguarded.
When Kobe was left open, he shot 51.3 percent, which ranked 11th of the 113 players with at least 75 unguarded catch-and-shoot jumpers last season. It was the highest such percentage of the nine Lakers players with at least 20 attempts last season.
CONCLUSION

Based on the Synergy data above, Nash prefers to pass the ball. And when he passes it, his teammates typically shoot a high percentage.
With Nash taking over primary ballhandling duties and Kobe handling the ball less, expect the Lakers to get more open shots and shoot the ball at a higher percentage, including Kobe.
Kobe doesn't get open very often, but when he does he's a highly efficient shooter. If Nash is able to get open shots for Kobe, expect the Lakers to be a strong contender.
June, 12, 2012
6/12/12
1:41
PM ET
By
Ernest Tolden, ESPN Stats & Info
| ESPN.com
Garrett W. Ellwood/NBAE/Getty ImagesJames attacked the basket far more than Durant, but Durant owned the perimeter this season.


Three-time NBA MVP
LeBron James
and three-time defending scoring champion
Kevin Durant
will go head-to-head in the NBA Finals (ABC and ESPN3, 9 ET), making it the 12th time in NBA Finals history that a matchup involved players who finished 1-2 in the MVP voting for that season.
James leads the
Miami Heat
into the Finals for the second consecutive season, making it his third-career Finals appearance overall. Durant will make his first-career Finals appearance, leading the
Oklahoma City Thunder
to the franchise's first championship round since they were the Seattle SuperSonics in 1996.
As dynamic as these two prolific scorers are, they record their points in different ways. Let's take a look at the breakdown of each player's strengths and the history of the matchup.
Easy Baskets
During the regular season, James attacked the basket more than Durant. Among the 1,683 total points James scored, 37.4 percent occurred within five feet of the basket. Only 24.1 percent of Durant's baskets were scored within that range.
Inside the paint, James was one of the league's leaders. He recorded 12.2 points per game in the paint, the fourth-highest average among all players this season.
Perimeter Shooting
On the perimeter, Durant has the edge. Of his NBA-high 1,850 total points, 43.4 percent of Durant's points were scored outside of the paint. By comparison, James only recorded 31.9 percent of his points from outside that area.
Also, Durant is the better pure shooter. From 15 feet and beyond, Durant connected on 42.5 percent of his field goals, trailing only
Dirk Nowitzki
(44.8) and
Chris Paul
(42.6) among players that ranked in the top 20 in scoring during the regular season.
The Real Help
James might play alongside former Finals MVP
Dwyane Wade
, but Durant has benefited the most from his team's point guard play. Overall, 48.1 percent of Durant's field goals were assisted during the regular season, compared to just 37.4 percent of James' field goals.
Much of that was a result of Durant playing alongside All-Star guard
Russell Westbrook
. Although Westbrook isn't viewed much as a distributor, he assisted on 171 of Durant's field goals, the third-most assists by one player on a single teammate's field goals in the NBA this season. Only
Steve Nash
(217 to
Marcin Gortat
) and
Chris Paul
(187 to
Blake Griffin
) assisted more of a teammate's field goals.
History Dominated by James
Game 1 will be the 10th meeting between James and Durant, with the previous nine coming in the regular season. Durant holds the scoring edge with a 27.3 points average, but James has been more efficient from the field shooting 49.7 percent. Overall, James has dominated the most important category, winning seven of the nine meetings. The Heat and Thunder split the 2011-12 regular season series 1-1.
May, 29, 2012
5/29/12
4:55
PM ET
By
Alok Pattani, ESPN Stats & Info
| ESPN.com
With the 2012 NBA Draft Lottery on Wednesday (8 ET on ESPN), each non-playoff team's fans are hoping that the ping-pong balls come out in their favor, giving them the No. 1 overall pick and a chance to select likely top choice, Anthony Davis.
Given each team's probability of winning the top pick in the lottery, here is a similar event related to that team that has approximately the same frequency.
Charlotte Bobcats
(25.0 percent chance of winning the No. 1 pick)

Team-Related Event with Similar Frequency:
Bobcats losing a game last season by at least 25 points. In 2011-12, the Bobcats lost 16 of 66 games (24.2 percent) of their games by at least 25 points.
Washington Wizards
(19.9 percent)
Team-Related Event with Similar Frequency:
John Wall
scoring at least 24 points in a game last season.
New Orleans Hornets
(14.8 percent, includes their own pick and the Timberwolves' pick)

Team-Related Event with Similar Frequency:
Hornets winning a game by at least eight points last season.
Cleveland Cavaliers
(13.8 percent)
Team-Related Event with Similar Frequency:
Kyrie Irving
scoring more than 10 points in the fourth quarter of a game.
Sacramento Kings
(7.6 percent)
Team-Related Event with Similar Frequency:
Tyreke Evans
and
DeMarcus Cousins
combining for 50 points in a game last season.
Brooklyn Nets
(7.5 percent)

Team-Related Event with Similar Frequency:
Deron Williams
scoring at least 25 points and also having 10 assists in a game last season.
Golden State Warriors
(3.6 percent)
Team-Related Event with Similar Frequency:
Stephen Curry
scoring at least 25 points and also having 10 assists in a game last season.
Toronto Raptors
(3.5 percent)
Team-Related Event with Similar Frequency:
Andrea Bargnani
scoring at least 35 points in a game in 2011-12.
Detroit Pistons
(1.7 percent)
Team-Related Event with Similar Frequency:
Greg Monroe
having a 30-point, 15-rebound game last season.
Portland Trail Blazers
(0.8 pecent)
Team-Related Event with Similar Frequency:
LaMarcus Aldridge
scoring 20 points and grabbing 10 rebounds in a half last season.
Milwaukee Bucks
(0.7 percent)
Team-Related Event with Similar Frequency:
Brandon Jennings
making five 3-point field goals in a half in 2011-12.
Phoenix Suns
(0.6 percent)
Team-Related Event with Similar Frequency:
Steve Nash
making 50 straight free throws during his career.
Houston Rockets
(0.5 percent)

Team-Related Event with Similar Frequency:
NBA team finishing two to four games above .500 and missing playoffs in three straight seasons (which the Rockets have, in fact, done the last three seasons).