Stats & Info:

Tyler Eifert
October, 29, 2013
10/29/13
12:55
PM ET
By
John McTigue
| ESPN.com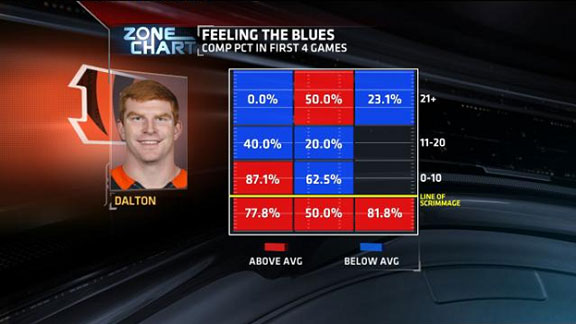 Andy Dalton struggled to throw it deep in the first four games ...
The Bengals are holding steady at No. 7 in the
Week 9 ESPN.com NFL Power Rankings
on the heels of a four game winning streak.
The Bengals have gotten strong defensive play the past few seasons, but this win streak has shown the offense may be catching up with the defense.
Andy Dalton
has thrown for the third-most passing yards (1,246) and the second-most touchdowns (11) the last four weeks with the second-best Total QBR (83.4). Dalton has also thrown for 300 yards in each of his last three games, the longest streak of his career.
What has led to the improvement in the passing game?
Interestingly enough, Dalton has targeted
A.J. Green
and
Jermaine Gresham
–- the only two skill position players to play with Dalton since his rookie season –- less frequently during the win streak. The duo has accounted for 38 percent of Dalton's passes during the streak after accounting for over half of his attempts in the first four games.
Green and Gresham have done nothing to fall out of favor in Cincinnati. Despite fewer targets, Green has gained 100 yards in a career-high three straight games. Gresham has caught 72.3 percent of his targets this season, best among the Bengals' wide receivers and tight ends.
The drop in targets for Green and Gresham is a result of an improved supporting cast.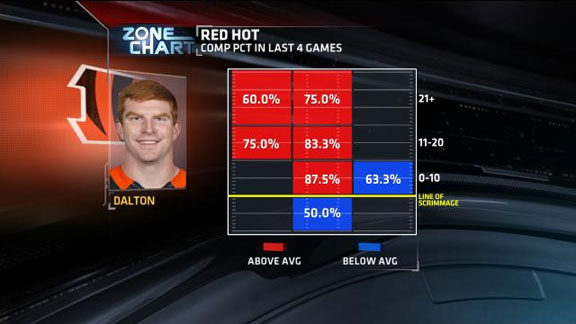 But he's been much more effective of late.
Marvin Jones
In the Bengals' Week 8 victory over the Jets,
Marvin Jones
caught four touchdown passes, doubling his career total.
Jones now has seven touchdowns this season (six during the win streak), all of which have come in the red zone. Only
Wes Welker
(eight) has more red zone touchdown receptions.
Jones has caught all eight of his red zone targets this season, the most targets without an incompletion on such passes. Dalton has completed 11-of-24 passes to all other Bengals inside the red zone with three touchdowns and an interception.
Giovani Bernard
Rookie
Giovani Bernard
has given the Bengals something they've never had under Dalton -- a receiving threat out of the backfield.
Bernard has 26 receptions this season, including 14 during the winning streak. No Bengals running back had caught more than 20 passes from Dalton in a season entering this year.
The real value comes from what Bernard does on those receptions. Bernard is one of seven players this season to average 9.0 yards after the catch (min. 20 receptions).
Tyler Eifert
Entering this season Gresham was the only receiving threat the Bengals had at tight end. Gresham had 120 receptions and 1,333 yards in Dalton's first two seasons, with the rest of the Bengals' tight ends combining for 24 receptions and 260 yards.
Rookie
Tyler Eifert
already has 24 receptions and 293 yards this season, which not only bests the "other" Bengals' tight ends in the Dalton era, but is right on pace with Gresham (30 receptions, 288 yards).
April, 19, 2013
4/19/13
3:59
PM ET
By
ESPN Stats & Information
| ESPN.com
With the NFL Draft looming, here's a look at the top things to know related to depth at notable positions.
QB class lacking a megastar
There have been four quarterbacks taken in the first round of the NFL Draft each of the last two seasons. This year,
Geno Smith
is the top-rated quarterback in the class, but he has the lowest Scouts Inc. grade (91) of any top quarterback in the last nine seasons.
QB class has lots of shotgun/pistol experience
The NFL is trending toward spread tendencies, but the average NFL quarterback still attempted less than two-thirds of his passes after taking a snap from shotgun last season.
Four of the top quarterbacks in this draft class --
Landry Jones
, Geno Smith,
Ryan Nassib
, and
EJ Manuel
-- attempted at least 88 percent of their pass attempts last season from either a shotgun or pistol formation.
Lacy leads a light-RB class
Eddie Lacy
is the only running back projected to go in the first round by both Mel Kiper and Todd McShay. This would mark only the second time since 1985 that only one running back was drafted in the first round. It also happened in 2011.
In fact, since 2005, every NFL Draft but the 2011 one has had a running back drafted within the top 12 picks.
Lacy is the top running back prospect of the 2013 class according to Scouts Inc., but he was the beneficiary of one of the top offensive lines in football. Lacy gained 65 percent of his yards before initial contact and averaged 4.1 yards before contact per rush.
Receivers with lots of different skills available
An average of three wide receivers have been drafted in the first round of the NFL Draft over the last five seasons. Mel Kiper's most recent mock draft has four. Todd McShay's latest one has two.
Among the most notable leaders among wide receivers,
Tavon Austin
led AQ-school receivers with 947 yards after the catch,
Terrance Williams
led FBS receivers with 27 receptions on passes thrown 20 yards or longer, and
DeAndre Hopkins
and
Stedman Bailey
led FBS with 10 touchdown receptions on throws 20 yards or longer.
Teams looking for multi-purpose receivers should know that Austin and
Cordarrelle Patterson
were the only players in FBS with at least 300 rushing yards, 600 receiving yards and 500 return yards in 2012.
Tight ends that can go long
Tyler Eifert
and
Zach Ertz
highlight a tight end class with the ability to stretch the field vertically.
Eifert and Ertz combined for 45 receptions on passes thrown 15 yards or longer over the last two seasons, including five deep touchdowns.
A rich defensive draft
According to Scouts Inc., defensive players make up 19 of the top 32 overall prospects. Todd McShay's latest mock draft has 12 defensive front seven players taken in the first round of the draft, one behind the 2011 and 1974 NFL drafts for the most in the common draft era.
A look at some of the collegiate leaders in some notable areas:
LSU defensive end
Sam Montgomery
had three sacks against a double team, most among the 35 defensive FBS prospects rated 80 or higher.
Among the top-10 defensive end prospects as rated by Scouts, Inc., Florida State's
Bjoern Werner
had the most sacks on a standard pass rush (12) and Georgia's
Jarvis Jones
had the most from a blitz (7).
Purdue's
Kawann Short
led all FBS defensive tackle prospects rated 70 or higher with seven sacks and 13 run stuffs last season. A "run stuff" is a tackle on a rushing play that ends up in negative or zero yardage.
January, 7, 2013
1/07/13
2:46
PM ET
By
ESPN Stats & Information
| ESPN.com
US Presswire/Getty Images
Alabama's Nick Saban (left) and Notre Dame's Brian Kelly lead their teams in Monday night's BCS National Championship, with history on the line for both teams.
Looking back at the Stats and Info Blog's coverage leading up to Monday night's BCS National Championship between the
Notre Dame Fighting Irish
and
Alabama Crimson Tide
.
Strengths, weaknesses for Irish and Tide
Both Notre Dame and Alabama have outstanding teams that earned their spots in the BCS Championship Game. But each team has areas of strength, as well as potential weak spots.
(Posted Jan. 7)
Notre Dame TE could be big factor

Notre Dame's past three starting tight ends –- Anthony Fasano (2003-05), John Carlson (2004-07) and Kyle Rudolph (2008-10) –- are all playing in the NFL, yet no tight end has caught more passes for more yards in Irish history than
Tyler Eifert
.
(Posted Jan. 5)
Irish goal-line defense nearly perfect
Notre Dame's defense has been great all season when it had its back to the wall. Of the nine offensive touchdowns that its defensive conceded, only five were in goal-to-go situations, the fewest in FBS.
(Posted Jan. 4)
McCarron mesmerizing in play-action
Alabama QB
AJ McCarron
completes nearly 70 percent of his passes thrown after a run fake and has not thrown an interception off play-action in 130 attempts this season.
(Posted Jan. 4)
Irish defense does wonders
This year's defense is Notre Dame's best in a long time. In fact, if Notre Dame holds Alabama to fewer than six points, it will be the first Irish team to allow fewer than 10 points per game since the 1973 team.
(Posted Dec. 27)
What's at stake for Alabama?

Are the Crimson Tide a dynasty in the making? A third national championship in four years would put Nick Saban in company with Bear Bryant, John McKay and Frank Leahy with four titles.
(Posted Dec. 25)
10 plays that shaped BCS race
From Notre Dame's goal-line stand against Stanford to Georgia running out of time against Alabama at the end of the SEC Championship Game. The steps that led to the BCS finale in Miami.
(Posted Dec. 5)
Alabama power wins SEC title
Alabama won its first SEC Championship since 2009 and got it done on the ground. The Crimson Tide ran for 350 rushing yards, the most in SEC Championship game history.
(Posted Dec. 1)
Notre Dame finishes undefeated season
USC can take credit for staying within reach of Notre Dame for 60 minutes of football, but in the end close was just not enough. The 22-13 win was the narrowest margin of victory for Notre Dame in a road game this season.
(Posted Nov. 25)
January, 5, 2013
1/05/13
4:58
PM ET
By
Jon T. Stewart, ESPN Stats & Info
| ESPN.com
When the No. 1
Notre Dame Fighting Irish
take on the No. 2
Alabama Crimson Tide
in the Discover BCS National Championship Game on Monday, one of the biggest difference-makers on the field could be
Tyler Eifert
.
Eifert, this season's
John Mackey
Award winner, given annually to the nation's top tight end, is the latest and possibly the best in a long line of great players Notre Dame has produced at that position.
Notre Dame's last three starting tight ends –- Anthony Fasano (2003-05), John Carlson (2004-07) and Kyle Rudolph (2008-10) –- are all playing in the NFL, yet no tight end has caught more passes for more yards in Irish history than Eifert.
A major reason Eifert could be the player who gives the Crimson Tide defense more fits than anyone else is that Alabama has had issues when its linebackers are forced into pass coverage.
When opposing offenses have lined up in four-or-five-receiver sets against the Tide, they've been more effective than in sets with three or fewer receivers.
The numbers are even more telling when you take a look at the five games in which Alabama faced ranked opponents (Michigan, Mississippi State, LSU, Texas A&M and Georgia).
No team was more successful than the Aggies, a natural spread-offense team with a mobile, redshirt freshman quarterback; eventual Heisman Trophy winner
Johnny Manziel
completed 19 of 23 passes for 184 yards and 2 TD when A&M operated out of a four-or-five-receiver set in a 29-24 upset in Tuscaloosa, the Tide's only loss of the season.
In comes Notre Dame, also a natural spread-offense team with a mobile, redshirt freshman quarterback. As a unit, the Irish passing attack is better when operating out of a four-or-five-receiver set.
However, when it comes to Eifert, the senior has been more effective when working out of a set with three or fewer receivers (including him), a formation that usually dictates opposing defenses cover him with a linebacker.
When the Irish had three or fewer receivers on the field and Eifert was the targeted receiver, they completed 25 of 42 passes for 363 yards and four touchdowns.
He was most lethal when Notre Dame operated out of what's known as "11" personnel (one running back, one tight end, three receivers) and he was the targeted receiver.
In those situations, the Irish were 15-of-23 for 208 yards and a touchdown. But when operating out of a four-or-five-receiver set and Eifert was targeted, Notre Dame was 19-of-33 for 261 yards and no touchdowns.
In other words, Eifert's presence opened things up for the other receivers.
Therein lies the conundrum for Alabama. What should the Tide do with Eifert?
No one's had success covering him with a linebacker when the Irish are operating out of "21" (two backs, one tight end) or "11" personnel and rolling the coverage over toward him when they've operated from four-or-empty (five-receiver) sets only opened things up for Notre Dame's other capable pass catchers like
TJ Jones
,
Robby Toma
and
Theo Riddick
when they move him from running back spot and into the slot-receiver position.
It's a sure bet that Nick Saban is glad to have had the extra time to prepare for this problem.
September, 24, 2011
9/24/11
5:06
PM ET
Rick Osentoski/US Presswire
Denard Robinson ran for 200 yards and 3 TDs as Michigan starts 4-0 for the 2nd straight season.
The
Michigan Wolverines
improved to 4-0 for the third straight season after posting a 28-7 win over the
San Diego State Aztecs
Saturday afternoon. It's Michigan's 13th straight win in September and 12th straight regular-season non-conference win.
The Wolverines jumped out on top 21-0 at halftime, thanks to three first-half rushing touchdowns by
Denard Robinson
, who tied his career high for a single game with those three rushing scores. He also rushed for 200 yards -- the third time in his career he's topped the 200-yard mark and the first time he's done it at home.
Last season, Robinson and Michigan also got off to hot starts, but after beginning 4-0, the Wolverines went 3-6 in its final nine games.
With those 200 rushing yards, Robinson moved past Illinois' Juice Williams and into second place on the all-time rushing list by a QB among Big Ten teams. Robinson's 2,605 rush yards trails only former
Indiana Hoosiers
QB Antwann Randle El (3,895).
The
Temple Owls
got its first ever win against an ACC team, defeating the
Maryland Terrapins
38-7. Temple had been 0-12 against ACC schools, with the last seven losses coming since 2004, with each of them being by at least three touchdowns (note: the Owls have beaten Boston College and Virginia Tech, but those schools were in the Big East then).
It's been a long time since Temple had a big win like this. The last time Temple beat a BCS-AQ team by at least 31 points was in 2000 when they beat the
Rutgers Scarlet Knights
48-14. However, both schools were members of the Big East at the time. The Owls last win against a BCS-AQ team in non-conference play by at least 31 points was October 5, 1934, a 40-6 win against the
Texas A&M Aggies
.
Temple RB
Bernard Pierce
set a school with five rushing touchdowns – with four coming in the first half. He's the only player to run for five touchdowns against a FBS opponent this season. Temple led the
Penn State Nittany Lions
for almost the whole game last week and would be 4-0 if it held on to win. Penn State scored the go-ahead points with 2:42 left.
In other notable early action, Georgia Tech starts 4-0 for the first time since 1990 – the year they went 11-0-1 under Bobby Ross and shared the national title with Colorado - after posting a 35-28 win over the
North Carolina Tar Heels
. The Yellow Jackets were held to their lowest yardage total of the season (496) but have still topped 400 yards in every game this year.
The
Notre Dame Fighting Irish
were held to under 20 points for the first time this season, but defeated the
Pittsburgh Panthers
for the second straight year, this time 15-12.
Tyler Eifert
caught a career-high eight passes, including the game-winning TD.
Michael Floyd
was held to a season-low four catches for 27 yards for Notre Dame. After catching more than 10 passes in each of the first two games this season, Floyd now has 10 total receptions in the last two games.