Stats & Info:

UNLV Rebels
December, 19, 2013
12/19/13
10:25
AM ET
By
Alok Pattani
| ESPN.com
With bowl season upon us, we can project the winners of the 35 Football Bowl Subdivision bowl games using the
Football Power Index
.
FPI is a predictive measure of team strength that uses the elements of team offensive, defensive and special-teams performance (adjusted for opponent) that correlate most with future results.
We can use each team's FPI and the site of the game (all bowl games are treated as neutral) to calculate the expected point differential in a matchup and the percentage chance of each team winning.
In prior years, FPI has done reasonably well in projecting bowl winners (taking the team with the higher chance as the "winner"), getting about 65 percent of games right since 2004.
There have been some lean years in the past, but FPI has been quite good in the three most recent bowl seasons, accurately projecting 70 percent of winners in those games.
FPI takes into account only a team's on-field performance to date in the given season. It doesn't explicitly take into account players who are out with injuries or for other reasons, coaching movement before the bowls or differing levels of motivation that are sometimes thought to exist in bowl games.
In the 2013 regular season, starting with games on Sept. 26, FPI accurately projected 74 percent of winners.
FPI believes there to be a very clear favorite (80 percent or more to win) in four of the five BCS matchups, with
Ohio State
and
Clemson
as the most evenly matched BCS opponents.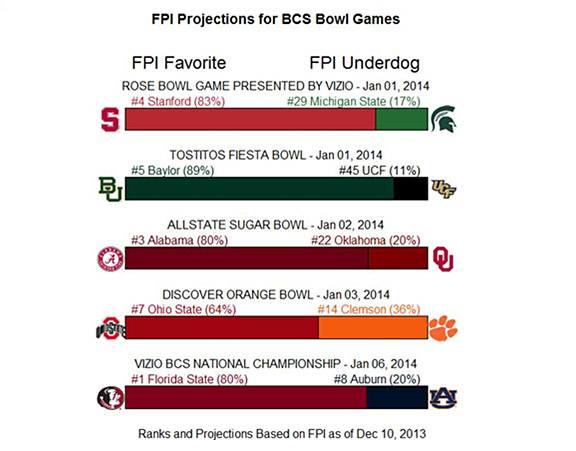 The projections for all 35 bowl games this season are below. A couple of things that stand out:
The two most-lopsided matchups, according to FPI, involve a Pac-12 team facing a Big 12 opponent from Texas. FPI has
Oregon
as 91 percent likely to defeat
Texas
in the Valero Alamo Bowl and Arizona State as 91 percent likely to beat
Texas Tech
in the National University Holiday Bowl.
The most-even matchup, according to FPI, is
Kansas State
versus
Michigan
in the Buffalo Wild Wings Bowl, with the teams separated by a little more than a point in FPI (the Wildcats are 53 percent favorites). The closest "high-profile" bowl game is the AT&T Cotton Bowl between
Oklahoma State
and
Missouri
, with the Cowboys 54 percent likely to win, according to FPI.
The Vizio BCS National Championship is the only bowl game with both teams ranked in the top 10 in FPI. Three other games involve two FPI top-20 teams:
Wisconsin
-
South Carolina
in the Capital One Bowl;
Oklahoma State
-
Missouri
in the Cotton Bowl and
Ohio State
-
Clemson
in the Discover Orange Bowl.
November, 22, 2012
11/22/12
10:58
AM ET
By
ESPN Stats & Information
| ESPN.com
(Five great stats to get you ready for the college football weekend.)
1.
This week was the 115th release of the BCS Standings since its inception in 1998. The
Notre Dame Fighting Irish
are only the second school ever to be ranked No. 1 in the BCS Standings after entering the season unranked in the AP Preseason Poll. The other team was the
Missouri Tigers
in 2007, but things didn't go well for the Tigers. After reaching the top spot, Missouri was throttled by the
Oklahoma Sooners
, 38-17, in the Big 12 Championship Game.

2.
The AP No. 1 team has fallen in each of the last two weeks. Will Notre Dame stop the streak or will it extend to three straight weeks? Only once in history has AP No. 1 lost on three consecutive regular-season weekends. That came in 1960, when Iowa lost at No. 3 Minnesota 27-10. The Gophers moved to No. 1 after the win only to lose the next week at home to Purdue. Lastly, Missouri, coached by future Notre Dame head coach Dan Devine, lost 23-7 to Kansas.
3.
If the
Auburn Tigers
lose to the
Alabama Crimson Tide
, then the Tigers will become the first school in the FBS era (since 1978) to go from unbeaten in conference play (2010) to winless in conference play (2012) within a span of three seasons.
The only other school to even have a four-year span was Northwestern. The Wildcats went 8-0 in the Big Ten in 1995, then 0-8 in 1998.
4.
Both the
Florida Gators
and
Florida State Seminoles
have dominating defenses. Each team ranks in the top five of FBS in scoring defense and total defense. The Gators have been the best at not conceding big plays, allowing only 10 plays that have gained 25 yards or more, four fewer than any other FBS team. Florida also is the only defense that has not allowed a run of 25 yards or longer.
As for the Seminoles, they have been the best at getting opposing offenses off the field. Florida State has allowed opponents to convert on third down only 25 percent of the time, the lowest percentage in FBS. Florida State has also forced 58 three-and-out drives, the most in the nation.
5.
Close calls have been the norm this season for Michigan State. Each of the last seven games for the Spartans have been decided by four points or fewer.

According to the Elias Sports Bureau, the only other school in major college history with a seven-game streak of that sort is Columbia in 1971.
No school has ever had eight straight games decided by four points or fewer. On Saturday, Michigan State is at Minnesota, which has played only one game this season that's been decided by four points or fewer. It was the Golden Gophers first game of the season -- a 30-27 triple overtime win at UNLV.
March, 16, 2012
3/16/12
2:08
AM ET
(8) Iowa State 77, (9) Connecticut 64

UConn
becomes the first defending champ to lose its first Men's Basketball Championship since UCLA in 1996, and just the fourth since seeding began in 1979. Connecticut suffers its fourth-worst NCAA Tournament loss under Jim Calhoun and loses for just the second time in the Round of 64.
Iowa State
advances to the Round of 32 for the 1st time since 2005.
(1) Kentucky 81, (16) Western Kentucky 66
The Cyclones will meet top overall seed
Kentucky
, which advances to the Round of 32 for the third straight season with a 15-point win over Western Kentucky. Kentucky has won 20 of its past 21 games in the Round of 64.
VCU (12) 62, Wichita State (5) 59
Last year's Cinderealla,
VCU
, wins its sixth Men's Basketball Championship game over the past two years -- all as an 11-seed or lower. VCU now has seven wins as an 11-seed or worse since the field expanded to 64 teams in 1985.
That's the most such wins of any team in that span, one more than Richmond.
(7) Gonzaga 77, (10) West Virginia 54
The Bulldogs hand Bob Huggins his second-worst defeat as a head coach in a Men's Basketball Championship game.
Gonzaga
has won at least one NCAA Tournament game in four straight years. The 23-point win is the third-largest in a 7-vs-10 game since 1985 and the largest since Tulsa beat UNLV by 27 in 2000.
(3) Baylor 68, (14) South Dakota State 60
Baylor
gets its fourth win in the Men's Basketball Championship since 2010; the Bears had just three wins in the Tournament from 1939-2009. Baylor advances to the Round of 32 for just the second time in school history (2010).
(4) Indiana 79, (13) New Mexico State 66

Indiana
advances to the Round of 32 for the first time since 2007. Cody Zeller has 14 points, five rebounds and six steals, tying a school record for steals in an NCAA Tournament game. The Hoosiers shoot 59.3 percent from the floor, their best in a Men's Basketball Championship game since 2002.
New Mexico State
has lost five straight Men's Basketball Championship games and nine straight games against ranked teams.
(2) Ohio State 78, (15) Loyola (MD) 59
Deshaun Thomas scored a career-high 31 points and grabbed 12 rebounds to lead
Ohio State
to the Round of 32 for the third straight season.
Loyola (MD)
falls to 0-2 all-time in the NCAA Tournament.
(11) Colorado 68, (6) UNLV 64

Colorado
saw its 20-point lead trimmed to two points in the second half, but was able to hold on for its first Men's Basketball Championship win since 1997. Colorado got 36 points from its bench and is 12-3 when one of its reserves scores at least 10 points this season.
UNLV
was held to its second-lowest field-goal percentage of the season (32.4) and falls to 13-6 in its first game of the Men's Basketball Championship.
February, 11, 2012
2/11/12
9:27
PM ET
By
ESPN Stats & Info
| ESPN.com
Saturday's action in college basketball featured four games between teams in the top 20 of the ESPN/USA Today Coaches Poll, all four from different conferences.
It's that time of the year when resumes need to be padded, so who did themselves favors on Saturday?
(12) Michigan State 58, (3) Ohio State 48
Michigan State took advantage of a sloppy day by Ohio State
to snap the Buckeyes' 39-game home win streak, which was the second-longest such streak in the country behind
Kentucky
.

Ohio State finished the game with 15 turnovers, and 14 made field goals, shooting 26 percent from the field.
One of the key contributors to the turnovers was
Jared Sullinger
, who had 10, tied for the most by an Ohio State player over the last 15 seasons.
Sullinger also recorded 17 points and 16 rebounds, making him the first player with the dubious points, rebounds and turnovers triple-double in Division I this season.
(4) Missouri 72, (6) Baylor 57
Missouri improves to 3-0 this season against AP top-10 teams
, with two wins coming against Baylor, and another against
Kansas
. That's more wins against top-10 teams than the Tigers had in their last seven seasons combined.
Before this week, the last time Missouri defeated two top-10 teams in a week was in January 1998. The last time the Tigers beat three top-10 teams in the same season was 1989-90.
Meanwhile, Baylor drops to 0-4 this season against Big 12 foes Kansas and Missouri, allowing 80.3 points per game. Against all other teams, the Bears are 21-0 and allow 60.5 points a game.
(16) UNLV 65, (14) San Diego State 63

In a matchup of ranked teams from the Mountain West Conference,
UNLV comes away with a win
to improve to 14-0 at home this season. That's UNLV's best home start since also starting 14-0 in 1991-92.
That 1991-92 team finished 26-2 but was banned from postseason play.
San Diego State's six-game win streak against the Rebels comes to an end. It's also the Aztecs' first loss in their last 48 games when allowing 70 points or less.
(5) North Carolina 70, (20) Virginia 52
North Carolina rebounds from Wednesday's dramatic loss to Duke
despite shooting just 35.3 percent from the field.

How did they overcome that number? In large part, it was thanks to hitting the offensive glass, as the Tar Heels grabbed 23 offensive rebounds and scored 23 second-chance points.
Doing it against Virginia is especially impressive, as the Cavaliers entered the game allowing the fewest offensive rebounds (7.6) and second-chance points (6.6) per game of any ACC team this season.
It was the 664th career win as head coach for Roy Williams, tying John Wooden for the 23rd all-time among men's Division I coaches. Next up on the list is Gary Williams with 668.