November, 11, 2013
11/11/13
7:41
PM ET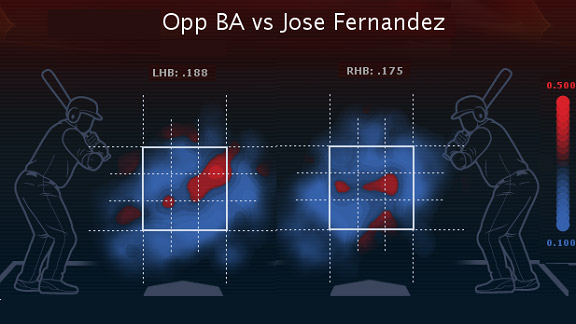 Jose Fernandez was almost unhittable in 2013.
The state of Florida produced baseball teams with vastly different records in 2013, but they shared a common bond-- the top rookies in their respective leagues.
Jose Fernandez
of the
Miami Marlins
and
Wil Myers
of the
Tampa Bay Rays
won Rookie of the Year honors on Monday night.
This marked the first time that the same state's teams produced both Rookie of the Year winners since 1993 when
Mike Piazza
of the Dodgers and
Tim Salmon
of the Angels were selected.
How Fernandez won
The heat map atop this story shows how difficult Fernandez was to hit for both left-handed batters and right-handed hitters this season. Opponents hit a combined .182 against him this season, the lowest of any starting pitcher in baseball. His .522 opponents OPS trailed only Clayton Kershaw's .521 for the major-league lead.
Fernandez was the second-best right-handed pitcher in baseball against left-handed hitters, holding them to a .546 OPS (surpassed only by
Matt Harvey
of the Mets. In his last six starts, Fernandez held lefties to a .138 batting average and .453 OPS.
Fernandez held right-handed hitters to a .494 OPS this season, the lowest among any of the National League pitchers who qualified for the ERA title. In fact, all three of Fernandez's slashline stats (.175/.227/.267) were NL bests.
Fernandez won with a nasty fastball, breaking-ball combo. His fastball averaged 94.8 MPH, the third-best among starting pitchers. His two breaking pitches netted 119 strikeouts, with his slider being the nastier of the two.
Fernandez's slider netted him 104 outs (65 strikeouts) and yielded only nine hits and one walk. Opponents only had one extra-base hit against his slider.
How Myers won
Myers won in a year in which the AL did not have a rookie who dominated the way
Mike Trout
did in 2012. He had a .293/.354/.478 slashline, generated by his success against pitches in the upper half of the strike zone and above.
Myers was nearly equally adept against right-handed pitching as he was against left-handed pitching, as noted in the chart on the right.
Myers hit .393 in at-bats that ended with pitches to that area (conversely, last year's AL winner, Mike Trout, was baseball's best hitter against pitches in the
lower
half of the zone). That batting average ranked best among the 268 hitters who saw at least 500 pitches in that location.
Myers closed the season strong, hitting .323 with four home runs, 12 doubles, 14 RBIs and 19 runs scored in his last 26 games in helping the Rays make their playoff push.
Looking ahead for Myers, one thing to keep an eye on is his .362 batting average on balls in play (BABIP). Myers was able to push his batting average up by hitting .322 when he hit a ground ball. That ranked sixth-best in the majors in 2013.
Some players (Trout among them) are able to replicate that level of success. Next season will be telling in figuring whether Myers can do so.
Elias Sports Bureau Stats of the Day
Fernandez was the first rookie to win at least a dozen games and post an ERA below 2.50 in a season with at least 170 innings pitched since Fernando Valenzuela in 1981.
The Rays became the second AL team to have three players win the Rookie of the Year Award in a six-season span, joining the Athletics, who had three winners in a row from 1986 to 1988 and three spanning 2004 to 2009.
November, 10, 2013
11/10/13
8:08
PM ET
By
ESPN Stats & Information
| ESPN.com
Stephen Dunn/Getty ImagesYasiel Puig provided the offensive spark the Dodgers needed at the time of his recall.
Awards season begins Monday with the announcement of the National League and American League Rookie of the Year winners.
Though there weren't any rookies who performed at the level that
Mike Trout
did a year ago, there were still a number of notable performances.
Fernandez, Puig top this rookie class
Marlins pitcher
Jose Fernandez
, Cardinals pitcher
Shelby Miller
and Dodgers outfielder
Yasiel Puig
are the three finalists for NL Rookie of the Year. The award should come down to Fernandez versus Puig.
Fernandez had one of the best seasons by a rookie starter in a long time, going 12-6 with a 2.19 ERA. He led the league in fewest hits allowed per nine innings (5.8).
Fernandez's 2.19 ERA was the best by a rookie who qualified for the ERA title in a non-strike season since Stan Bahnsen had a 2.05 ERA for the
New York Yankees
and Jerry Koosman had a 2.08 ERA for the
New York Mets
in 1968 (which was known as The Year of the Pitcher).
Fernandez got his ERA down that low via a strong finish. He had an NL-best 1.50 ERA from June 1 through the end of the season.
His season was slightly better than that of Miller, who had 15 wins and a 3.06 ERA in 31 starts with the Cardinals. Miller's 15 wins were the most by a rookie pitcher in 2013, one more than
Hyun-Jin Ryu
and
Julio Teheran
.
Puig made his debut on June 3 and made a huge impact on the Dodgers' lineup. The Dodgers, after a 23-32 start, were 69-38 from that day forward.
Puig led rookie position players with a .319 batting average, .925 OPS and 5.0 WAR (wins above replacement). He didn't have enough plate appearances to qualify for the batting title, but if you lower the minimum to 400 plate appearances, he ranked 10th among all players in the majors with a .925 OPS.
Puig is trying to become the Dodgers' first Rookie of the Year winner since
Todd Hollandsworth
in 1996. Hollandsworth's win capped five straight Rookie of the Year selections for the Dodgers.
Myers, Archer going head-to-head
Rays outfielder
Wil Myers
and starting pitcher
Chris Archer
are two of the three AL finalists.
Each is trying to become the third Rays player to win the award, joining
Evan Longoria
in 2008 and
Jeremy Hellickson
in 2011.
Myers had the highest OPS (.831) by a wide margin among the 13 AL rookies with at least 250 plate appearances. The next highest was
Brad Miller
of the
Seattle Mariners
(.737).
Myers closed the season strong, hitting .323 with four home runs, 12 doubles, 14 RBIs and 19 runs scored in his last 26 games in helping the Rays make their playoff push.
The Rays went 14-9 in Archer's 23 starts, in which he was 9-7 with a 3.22 ERA. He was at his best in three starts against one of the Rays' division rivals, the Yankees, going 3-0 with a 1.23 ERA in 22 innings against them. He was the first rookie to beat the Yankees three times in a season since
Kevin Brown
did so for the
Texas Rangers
in 1989.
Archer would be the fourth rookie pitcher to win the AL award in the past five seasons, joining
Andrew Bailey
(2009 Athletics),
Neftali Feliz
(2010 Rangers) and Hellickson.
Iglesias steady at shortstop
Tigers shortstop
Jose Iglesias
provided flash with his defense (winning the "Baseball Tonight"
Web Gem of the Year
award) and performed respectably on offense, hitting .303. He was one of only two rookies with at least 250 plate appearances to hit .300 this season, along with Puig.
If Iglesias won, he would be the first Rookie of the Year winner to play for two teams in the same season.
Did you know?
If either Archer or Myers wins the AL award and Fernandez wins the NL award, it would be the first time that two teams from the same state produced Rookie of the Year winners since 1993, when the winners were
Mike Piazza
of the Dodgers and
Tim Salmon
of the Angels.
October, 9, 2013
10/09/13
1:06
AM ET
What were the three biggest keys to the Boston Red Sox beating the Tampa Bay Rays in the American League Division Series?
The Red Sox's offense could not be stopped
The Red Sox's lineup overwhelmed the Rays' much like it overwhelmed their opponents on the way to 97 regular-season wins.
The Red Sox outscored the Rays 25-12, hit .300 with runners in scoring position to Tampa Bay's .179, and stole six bases to the Rays' one.
Jacoby Ellsbury
,
Shane Victorino
and
David Ortiz
were a combined 20-for-45 with 13 runs scored and eight RBIs in the series. Each of the three hit .385 or better.
Boston took advantage of every opportunity to get on base and every opportunity to score, capitalizing on not just hits, but defensive miscues and wild pitches.
Victorino tied a record for a single postseason by being hit by four pitches. Rookie shortstop
Xander Bogaerts
came off the bench to draw two big walks and score two key runs in the series-clinching win. (He was only the second reserve player with a multi-walk, multi-run game in the postseason, joining
Benny Agbayani
of the 1999 Mets).
Myers unable to get going
AL Rookie of the Year candidate
Wil Myers
had a rough go of it in this series, going 1-for-16, with the lone hit being an infield single in Game 4.
Red Sox pitchers made a concerted effort to repeatedly pitch Myers on the outside edge of the plate and at the bottom of the strike zone. More than two-thirds of the pitches they threw him were on the outer-third or off the outside corner. Fifty-one of the 73 were in the lower half of the zone or below.
There's good reason for the latter.
Myers hit .393 with nine home runs in at-bats that ended with a pitch in the upper half of the strike zone or above the zone.
His batting average rated best in the majors against that location and his .672 slugging percentage rated sixth-best.
Unsung hero: Craig Breslow
Red Sox lefty reliever Craig Breslow was an integral part of two of Boston's wins.
Breslow got four vital outs to preserve a 6-4 lead in the sixth and seventh innings of Game 2, then got five more in the sixth, seventh and eighth innings of Game 4.
Breslow
Breslow had four consecutive strikeouts in the clinching win. In 419 career regular-season games (and two previous postseason games), he struck out four batters only once.
Breslow's value is in that he's a lefty who can get right-handed hitters out.
Right-handed hitters went 2-for-10 against Breslow in the series, basically a match for their .208 batting average against him in the regular season.
September, 18, 2013
9/18/13
12:48
PM ET
By
Will Cohen, ESPN Stats & Info
| ESPN.com
The
Texas Rangers
and
Tampa Bay Rays
play the third game of a four-game series at Tropicana Field, this time on "Wednesday Night Baseball" (7 ET on ESPN/WatchESPN). Here are six storylines that could be talked about during the broadcast.
1
. Recent slides of varying degrees have caused both the Rangers and Rays to fall from near playoff certainty down into a very heated race for the two wild-card spots in the American League.
The Rangers have gone 3-12 in September (after going 20-7 in August). Combined with last season's 15-16 finish, Texas has the third-lowest winning percentage in the AL in games on Sept. 1 or later over the past two seasons (18-28, .391). Only the
Chicago White Sox
(17-31, .354) and
Seattle Mariners
(15-30, .333) are worse.
Tampa, meanwhile, has gone 8-15 after leading the AL East after play on Aug. 24.
2
. The teams are currently tied in the standings, each holding a wild-card spot with the
Indians
lurking just a half-game behind. An Indians win Wednesday night over the
Royals
would drop the loser of the Rangers-Rays game out of a wild-card spot.
3
. Rangers starter
Derek Holland
looks to turn things around on the mound Wednesday night. He has endured three straight rough outings in September, going 0-3 with a 10.13 ERA.
He's coming off a three-inning start in which he allowed six runs, his shortest start of the season and the second straight start he's allowed at least six runs. Holland has not allowed three or more runs in three straight starts since his rookie season in 2009.
After attempting to develop a curveball in recent seasons, Holland seems to have reduced the emphasis on that pitch and instead has focused on using a much more effective slider.
He's locating his slider down much more often this season and staying away from the middle of the plate.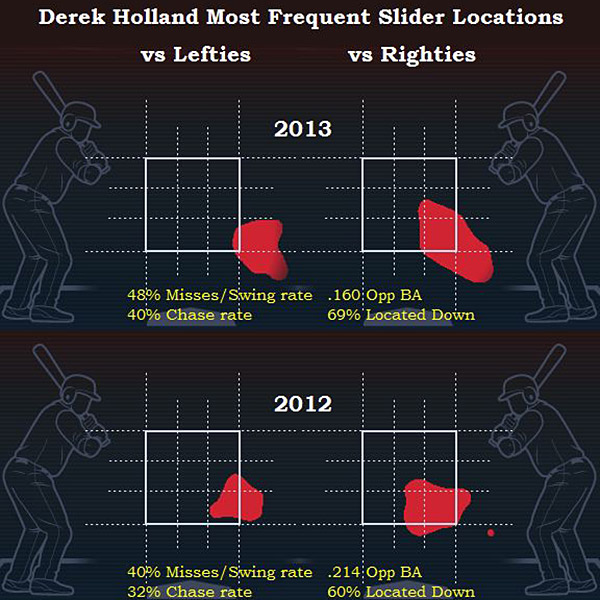 Derek Holland has improved the location of his slider since last season.
4
.
Wil Myers
is heating back up, and that's a good sign for the Rays. He's on a seven-game hit streak and is batting .400 over his past 14 games. The Rays are 37-18 in games Myers has at least one hit (5-16 when he goes hitless).
5
. If you like hard throwers, this is the game for you.
Among AL pitchers with at least 20 starts this season,
Chris Archer
(94.9), Wednesday's Rays starter, and Holland (93.5) rank first and second in average fastball velocity.
6
. Tuesday night's attendance at Tropicana Field was 10,786. After the game,
David Price
tweeted: "There's a positive to everything (at least that's the way I view things)...no traffic."
The Rays have averaged an 18,533 attendance at home this season, worst in baseball. By comparison, the Astros have averaged 1,000 more fans per game.
Furthermore, on Monday, the New York Rangers and New Jersey Devils squared off in a preseason hockey game in Newark, N.J., drawing 11,906 fans to the Prudential Center.
September, 17, 2013
9/17/13
12:01
AM ET
By
ESPN Stats & Information
| ESPN.com
Wil Myers
had a 10-day stretch in which he went 2-for-31 with 14 strikeouts and the Rays went 2-7 in nine games.
But when Myers is going well, so too go the
Tampa Bay Rays
, and Monday night showed that again with Myers homering in his second straight game, a win that moved Tampa Bay ahead of the
Texas Rangers
for the lead spot in the American League wild-card race.
Myers mashing again
Myers is hitting .391 with four homers, six doubles and 10 RBIs in his past 13 games.
A month ago, when Myers was in the midst of a hot streak
, one of the areas in which he was performing best was against pitches in the upper half of the strike zone. Myers homered and doubled against pitches to that area Monday, the former against former Ray
Matt Garza
, the latter a two-run hit against Rangers reliever
Jason Frasor
.
The higher the pitch, the better, in Myers' case. He is 23-for-51 in at-bats that end with a pitch at the top of the strike zone (by exact definition: the upper third) or higher.
Myers hits, Rays win
The Rays are 5-15 this season in games in which Myers starts and is held hitless.
In those games, they average 2.4 runs.
When Myers starts and gets at least one hit, the Rays are 36-17.
The Rays are averaging 4.4 runs in those games.
An award in his future?
The AL rookie of the year race is very much up for grabs, and the way Myers is hitting, he's very much in contention to win it.
Myers now leads all AL rookies with 13 home runs and has by far the best OPS among those rookies with at least 250 plate appearances, .857.
If Myers were to win it, he'd be the first AL rookie of the year who was a position player to play in fewer than 100 games.
Ryan Howard
(2005 Phillies) is the last to do so in the National League.
It was not long ago that
August, 21, 2013
8/21/13
11:49
AM ET
By
Jeremy Mills, ESPN Stats & Info
| ESPN.com
G Fiume/Getty ImagesChris Davis, who leads the majors with 45 HR, has hit 4 against the Rays this season.
The
Tampa Bay Rays
, in first place in the AL East for the first time since July 30, look for the three-game sweep against the
Baltimore Orioles
on Wednesday Night Baseball (7 ET on ESPN2/WatchESPN).
Here are five storylines Jon Sciambi,
Doug Glanville
and Tim Kurkjian will be talking about tonight.
1.
During its first 10 seasons, Tampa Bay finished last in the AL East nine times and never won more than 70 games in a season. But since dropping the "Devil" from their name in 2008, the Rays have the second-best winning percentage in the majors (behind only the
New York Yankees
) despite posting the fourth-lowest payroll.
2.
Last year, the Orioles made the playoffs for the first time since 1997. They did it on the strength of a 29-9 record in one-run games, the best in the modern era. This year, they've slumped to 14-22 in one-run games, the second-worst record in the majors.
3.
Chris Davis
leads the majors with 45 home runs, and has a chance to break the AL record of 61 home runs by Roger Maris in 1961. He has been especially good against outside pitching, slugging .781 and hitting 31 homers against such pitches, 12 more than any other player.
Davis is the fourth player in Orioles history to hit 45 home runs in a season, and is on pace to break the franchise record of 50 home runs by
Brady Anderson
in 1996.
4.
Wil Myers
didn't debut until June 18, but he's put up some of the best numbers among AL rookies this season. The Rays were mired in fourth place in the AL East when he was promoted from Triple-A. Since then, they've gone 36-19, the best record in the American League.
Since being promoted, Meyers is hitting .312 (2nd best among AL rookies) with nine home runs (fourth among AL rookies) and 39 RBI (most among AL first-year players).
5.
The use of the "Ted Williams Shift," where a team will play three infielders to one side of second base has exploded in recent seasons. The Orioles and Rays are both near the top of the list when it comes to implementing shifts.
The Orioles have employed a Major League-high 401 shifts, while the Rays have used 353 shifts, fifth most in baseball.
Odds and Ends
•
Evan Longoria
has hit 146 home runs since his debut in 2008, the most among all third basemen.
• Baltimore has scored at least 10 runs against the Rays three times this season. According to the Elias Sports Bureau, the last time the Orioles scored in double figures in four games against one opponent in a single season was 2003, when they did so against the
Boston Red Sox
(four times).
August, 11, 2013
8/11/13
1:38
PM ET
By
Will Cohen, ESPN Stats & Information
| ESPN.com
AP Photo/Mark J. TerrillClayton Kershaw is making a case again for the NL Cy Young Award.
The
Los Angeles Dodgers
will try to finish a sweep of the
Tampa Bay Rays
on Sunday Night Baseball (8 ET on ESPN) in a matchup featuring the two hottest teams in baseball. Here's a look at some of the stats our broadcast crew will be talking about during the game.
1--
The Dodgers are 36-8 in the last 44 games, their most wins in a 44-game stretch since 1953, a year in which they lost to the
New York Yankees
in the World Series. It matches their most wins in a 44-game span in the modern era (since 1900).
2--
The Rays have cooled off after a 23-4 stretch, having lost six of their last eight games, including four straight. The team hasn't lost five in a row since a six-game losing streak to begin the 2011 season.
3--
Dodgers starter
Clayton Kershaw
enters with a 1.91 ERA. He's trying to be the first starter to qualify for the ERA title with an ERA below 2.00 since
Roger Clemens
for the 2005
Houston Astros
. The last Dodgers pitcher with an ERA below 2.00 was Sandy Koufax in 1966.
Kershaw is also leading the NL in ERA for the third straight season. If he can keep up this pace, he will be the third NL pitcher to lead the league in ERA for three-or-more seasons in a row.
Greg Maddux
(1993-95) and Koufax (1962-66) are the others.
Kershaw has the most breaking-ball strikeouts in the National League with 107. No other NL pitcher has cracked 100 yet.
Yu Darvish
leads the majors with 125.
4--
Dodgers rookie outfielder
Yasiel Puig
is hitting .410 with 25 hits and 15 walks in his last 17 games. Puig only has six RBI in that stretch, primarily because teams are pitching around him a lot. Puig has seven walks in his last 20 plate appearances with runners in scoring position.
There's no doubt Puig has made quite an impression over his short time in the big leagues. Since his debut on June 3, he leads the NL in batting average, on-base percentage, OPS, hits and runs. His .376 batting average would be the highest by an NL rookie (min. 350 AB), just ahead of the record .373 by George Watkins in 1930.
5--
Rays rookie outfielder
Wil Myers
is in the midst of a hot streak. He's hitting .420 with five home runs and 17 RBI in his last 22 games. The .420 batting average is the highest in the majors since July 10.
Myers has excelled at hitting at hitting pitches up in the zone. Six of his eight home runs have come on pitches located in the upper third of the zone or higher and his batting average on those pitches (.367) is nearly 70 points higher than on pitches down in the zone.
August, 4, 2013
8/04/13
10:02
PM ET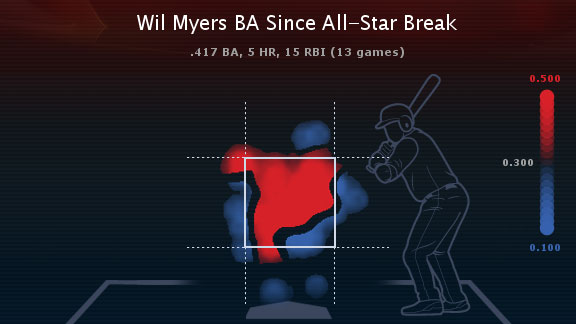 Wil Myers has been almost impossible to get out since the All-Star Break.
It's only 39 games, but
Wil Myers
has thus far lived up to the expectations set for him when he was traded by the
Kansas City Royals
to the
Tampa Bay Rays
this past offseason.
It took Myers about five games to get going, but since then he's acclimated to the big leagues just about as well as anyone could, a run that started with a grand slam at Yankee Stadium in his sixth game.
In the last month, he's elevated his performance to be among the game's best players over that time and he continued that with a homer on Sunday.
Myers went 9-for-19, albeit without a homer, in his last five games before the All-Star Break. In 13 games since the break, he's 20-for-48 with five home runs and 15 RBI.
Myers became the third player in Rays history with at least 50 hits in the first 40 games of his career, joining
Rocco Baldelli
and
Delmon Young
. Myers and
Yasiel Puig
are the only two players who debuted this season to do so.
How he's succeeding
Right out of the break, Myers' strength was hitting pitches that were thrown to the inner half of the plate or just off the inside corner. Lately, he's been crushing pitches that are in or above the upper half of the strike zone.
Sunday's homer against a
Guillermo Moscoso
hanging curveball fit both the inner-half and upper-half distinctions.
The chart on the right shows Myers' overall performance by pitch location this season.
Of note: he has four home runs on 42 swings against pitches in the upper half of the strike zone or above since the All-Star Break after hitting two on 98 such swings prior to the break.
Myers' high overall batting average is partly attributable to an unusual amount of success when hitting the ball on the ground at the start of his career (he's hitting .407 when he hits a ground ball; league average is .230).
Lately, he's been hitting balls very hard. Our video-tracking service has credited Myers with seven "hard-hit" balls in his last seven games.
Since the All-Star Break, 30.6 percent of Myers at-bats have ended with a "hard-hit" ball. He's had a 15-game run that is a near match for Miguel Cabrera's
season
hard-hit ball rate.
What to Watch For
Next up for Myers and the Rays are the
Arizona Diamondbacks
. Myers reached base in five of his eight plate appearances against them in a pair of games last week.
The concern for the Rays is the hitter who usually hits the way Myers is hitting now-
Evan Longoria
.
In Sunday's win, Longoria snapped his streak of 23 straight games in which he had at least one strikeout, and had the tying RBI single in the fifth inning.
Longoria has nearly four times as many swings and misses since the All-Star Break (49) as he has hits (13).
Myers' numbers are nearly equal in both stats (24 swings-and-misses, 20 hits).
July, 27, 2013
7/27/13
12:10
AM ET
By
Katie Sharp
| ESPN Stats & Information
For the first time since June 10 of last season, the
Tampa Bay Rays
are alone atop the AL East after a 10-6 win over the
New York Yankees
.
That sentence seemed like a pipe dream for Rays fans less than one month ago, following a June 28 loss to the
Detroit Tigers
that dropped them to seven games back in the division race.
Now the Rays are officially the hottest team in baseball, having won 20 of their last 23 games, the first time they have done that in franchise history.
According to the Elias Sports Bureau, the Rays are the first AL East team since 1995 to move from seven games back to sole possession of first place in fewer than 25 games.
What has fueled this rapid rise to the top of the standings?
Starting pitching
The Rays rotation has a 2.13 ERA since June 29, by far the best mark in the majors and a full run better than any other AL team. They have accounted for an MLB-best 16 wins during this stretch and have held opponents to a .208 batting average, also the best in the majors since June 29.
Friday's starter,
Jeremy Hellickson
, has been nearly flawless during this run, going 4-0 with a 2.40 ERA in five starts.
Hellickson started this season in a slump, with a 5.67 ERA in his first 14 starts through the middle of June.
His turnaround started 10 days before the Rays' recent run, throwing six innings of two-run ball on June 19 at Fenway Park. Over his last seven starts, Hellickson is 6-0 with a 2.09 ERA.
On Friday, the righty held the Yankees to just one hit in six at-bats with runners in scoring position, continuing a trend of success for Hellickson in that situation. Over his last seven starts, opponents have six singles in 31 at-bats with RISP and have put the ball on the ground two-thirds of the time.
Hot bats
It was no surprise to see
Wil Myers
and
James Loney
contributing a combined four hits and five RBI in Friday night's win. Since June 29 Loney is hitting .347 and Myers is at .346, the second- and third-best batting averages on the team and among the top 10 in the American League.
Myers has been even hotter in his last 10 games, going 20-for-41 (.488) with nine RBI. Both of his hits on Friday night came off fastballs, which he is crushing to the tune of a .522 batting average and a .870 slugging percentage in those 10 games.
Loney's two hits against the Yankees were both line drives, including his homer in the seventh inning. That's a formula that has worked well for him this season -- Loney ranks second in the majors in line drive percentage (27.2) and his 63 line-drive hits are tied for the second-most in MLB.
June, 18, 2013
6/18/13
1:38
AM ET
Getty Images, USA Today SportsZack Wheeler (right) joins Matt Harvey (left) in the Mets rotation on Tuesday.
Two players involved in recent notable trades are scheduled to make their major-league debuts on Tuesday.
Both players, Zack Wheeler and
Wil Myers
, are highly-touted prospects from the 2009 draft class and both will make their debuts in day-night doubleheaders.
ZACK WHEELER
On July 28, 2011, the
New York Mets
traded outfielder
Carlos Beltran
to the
San Francisco Giants
for Wheeler, a minor-league pitching prospect who was the sixth overall pick in 2009. (Wheeler will start the second game of the Mets doubleheader against the
Atlanta Braves
.)
The only players from the 2009 draft class taken higher than Wheeler who have already reached the major leagues are
Stephen Strasburg
(No. 1 overall pick) and
Dustin Ackley
(No. 2 pick).
In 38 Double-A and Triple-A starts for the Mets, Wheeler went 16-10 with a 3.47 ERA and a 1.20 WHIP. Wheeler has been pitching better of late after a shaky start.
In his first five starts, Wheeler's ERA was 5.70 with 15 walks in 23 ⅔ innings pitched. In his last eight starts, Wheeler has a 2.98 ERA and has walked just 12 batters in 45 ⅓ innings.
Wheeler will be trying to accomplish a first for a big-league newcomer:
Visiting starters are 0-7 with three no-decisions when making their major-league debut at Turner Field. In fact, none of the 27 visiting relievers who made their major-league debut won there either.
WIL MYERS
Myers was acquired in the offseason by the
Tampa Bay Rays
in a trade that sent
James Shields
and
Wade Davis
to the
Kansas City Royals
.

In 2012 and 2013, Myers has played 163 Triple-A games for the Omaha Storm Chasers and
Durham Bulls
. He hit .297 with 38 home runs, 136 RBI, and had a .910 OPS.
He also struck out 169 times. However, Myers' strikeout rate has dropped and the rest of his numbers have increased recently.
In his first 41 games this season, Myers hit .244 with four home runs, and struck out 51 times in 185 plate appearances (27 percent). In his last 23 games, Myers is hitting .354 (with a 1.145 OPS) with 10 home runs and his strikeout rate is just under 20 percent.
Myers has the potential to do something only done once previously in Rays history -- get a base hit in the first game of his career, with that game played at Fenway Park. Only
Brent Abernathy
in 2001 was able to accomplish that feat.
If Myers happens to hit a homer, he would be the first opposing player to homer at Fenway Park in his MLB debut since Brent Abernathy in 2001.