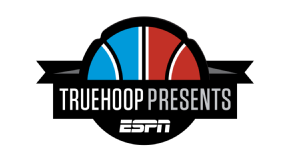 TO THE UNTRAINED EYE, Kristaps Porzingis looked fresh and rested as he walked into the Quicken Loans Arena for a late-December game in Cleveland. And for the first three quarters, he played that way.
But even if the 20-year-old rookie phenom looked good on the outside, on the inside his body was surely a mess. For the past three months, it had been systematically trashed by the NBA's silent killer: its grueling 82-game schedule. New York had just come off a three-games-in-four-nights stretch, which had come on the heels of a three-games-in-four-nights swing through Utah, Sacramento and Portland. Not surprisingly, Carmelo Anthony had rolled his ankle late in a game two nights earlier and was now out.
Sure enough, by the fourth quarter, the hormonal, mental and physical aftershock of the Knicks' schedule emerged into full view. With a minute left, Porzingis, who had scored 23 points in the first three quarters, had yet to score in the fourth and was visibly dragging. The Knicks trailed by four and needed a stop. And with the entire arena on its feet, LeBron James -- coming off a luxurious, if rare, two days of rest -- made his move. From the left corner, LeBron darted toward Porzingis before rising up for a sky-high one-handed slam. Instead of challenging James at the rim, Porzingis ducked away, like a matador. The Cavs would win by seven, with the Knicks mustering just 12 points in the fourth, tying their then-season low.
For the NBA, LeBron's slam was the stuff of dreams: A superstar soaring for a game-clinching dunk is the very thing that sells tickets, spikes ratings and launches Vines. But here's the thing: It almost never happens, and for reasons most people don't realize.
As it turns out, the fourth-quarter dunk is a rare phenomenon. From the 2005-06 season through 2014-15, there were nearly 5,000 fewer dunks in the fourth quarter compared with the first, a decline of 20 percent. In fact, dunks become rarer with each passing quarter: from an average of 1.98 in the first to 1.59 in the fourth. More fascinating: The overall frequency falls 24 percent when teams play on zero days' rest versus one day off, dropping from 5.5 dunks per game to 4.2. The upshot: It took a dog-tired Knicks team on the road against a fresh Cavs squad to produce that James highlight.
It's merely one of a hundred signals that NBA players are exhausted and sleep-deprived. In this case it was to the benefit of the highlight makers. But the evidence suggests that, over the course of a season, all players -- and fans -- end up losing.
"It makes no sense to me," says Dr. Charles Czeisler, director of sleep medicine at Harvard Medical School. "These guys are so extraordinarily talented, and it's a shame that they're being impaired. It'd be like the NBA saying, 'OK, let's see how they do if we starve the players. OK, let's see how they do if we make them all drunk before they play, so everybody has to do six shots before they do the game.' Would anyone in their right minds consider that?"