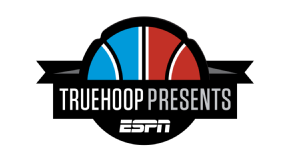 JAHLIL OKAFOR SITS on a leather chair in the darkened media room of his Center City penthouse. In his black T-shirt and gray shorts, he looks drawn, tired. The Duke basketball game is playing on his oversized television on this Saturday afternoon in February, the sound cranked to a near-deafening level. A Styrofoam container, with remnants of an omelet, sits on a table. His 3-year-old niece pirouettes across an Oriental rug while his rottweiler, Natty, drops a bone on the floor. His agent's representative, a woman named Alyson Furch, gives him a to-do list for the coming week. For starters, Okafor needs to pick out what he's going to wear in Toronto, during the NBA's All-Star Weekend.
He notices none of it.
"Hey!" Furch says.
Nothing.
"Hey!"
Okafor gives a slight jolt, like he has been awakened from a trance.
"Huh?" he asks. "What'd you say?"
Last night's nine-point, four-rebound, five-foul game is behind him. A Philadelphia 76ers loss to the Washington Wizards. Two nights earlier, it was a 38-point blowout to the Atlanta Hawks. Okafor's team is riding a four-game losing streak, which is spectacular in itself. It's Feb. 6, which means the 76ers have finally won a game. Seven, actually, leading into Saturday against the 13-win Brooklyn Nets. It will be another chance for Okafor to redeem himself. If not on the court, then with the fans, with the City of Brotherly Love, which hasn't always been so lovely to him. Some of that is his own doing; some of it is life as a professional athlete in a city that expects so much, that is desperate for a winner.
Okafor is averaging 17 points and seven rebounds per game this season. Leading into Saturday, he has racked up 18 20-or-more-point games -- the most of any rookie -- and will play in the BBVA Rising Stars Challenge on Friday as part of the NBA's All-Star festivities. But despite these successes, there's a sense this has hardly been a season of dreams for the Sixers' rookie. Forget the seven wins. Forget the 43 losses. His first year in the NBA has been about doubt and adjustment. He is 20 now, two years out of high school. He has had to grow up since going No. 3 overall to Philly in June. It hasn't been an easy transition.
In early October, there was the argument outside a Philadelphia nightclub where a gun was pulled and the cops showed up. There was the ticket for speeding 108 miles per hour across the Benjamin Franklin Bridge. And there were the fights outside a Boston nightclub in November, moments captured on video and posted online for everyone to see.
Okafor tried to keep the episodes quiet, off newspaper pages and Twitter feeds. It worked until it didn't. A two-game suspension. A hurried apology. A flood of bad PR for a young man who'd wanted nothing more than to call himself an NBA player. As a kid growing up in Chicago, he thought about it almost every day. Now here he was. Jahlil Okafor, NBA player, appearing intoxicated, brawling on a darkened Boston street, a fool for everyone to see. Still a kid. And now he was being called other things: immature, selfish, a punk.
If the rest of the world seems like a battlefield, this penthouse is his bunker. But now, for the first time, he has agreed to talk about this season, on the court and off. Still, he looks uncomfortable.
"It's not right," he finally begins. "That's not who I am."