December, 19, 2014
12/19/14
9:30
AM ET
By Devin Kharpertian
Special to ESPN.com
Archive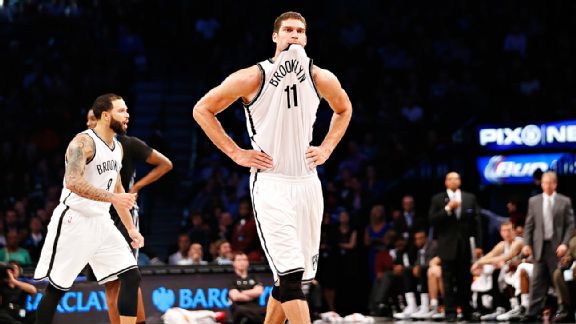 AP Photo/Kathy WillensThree years after making the move to Brooklyn, the Nets are ... still the Nets.
It was 24 minutes of basketball bliss, the perfect half to respond to
Joe Johnson
's vicious comments lambasting unnamed teammates for selfishness. At a rare moment of full health, the
Brooklyn Nets
spread the ball around to find open shots with slick improvisation and skillful execution. They took command against the
Phoenix Suns
, a tough team from a tougher conference, leading by as much as 19 points and boasting six different players with at least three makes from the floor.
Twenty-four minutes later and the house of cards had come crumbling down. The Suns, led by New Jersey Nets castoff
Gerald Green
, took full control over their suddenly hapless opponent, winning 112-104 as Brooklyn reverted to isolation basketball and confoundingly poor play for a collection of stars.
It was the perfect summation of the Nets' first three seasons in Brooklyn: a flashy beginning, flush with promise, ending in a thud.
Since moving from Newark in 2012, the Nets have tried to have it all: Spurs crispness, Celtics legacy, Lakers glamour and Knicks fans. A supremely executed marketing blitz took over the perpetually up-and-coming borough, with players plastered everywhere from subway advertisements to bridge billboards. The team opened last season flush with 36 combined All-Star appearances on its roster, with marquee names and championship aspirations.
But nearly four years since the day the team cashed in its blue-chip assets for
Deron Williams
, one that then-Nets coach Avery Johnson called a "celebration," they've ended up with … well, the Nets: a collection of overpaid, underathletic, fading stars who can't keep up with the newer, fresher NBA flying past them.
They had a plan: win before 2016, and if they didn't, wipe the slate clean and try it again, with superstars like
Kevin Durant
entering the free-agent market. But outside of a few surprising moments of clarity, their on-court product has been bland and depressing, leading to rumors of an expedited rebuild. Even Russian ownership seems willing to take a step back, listening to offers for minority stakes (and, as the rumor goes, for majority ones) this season. So much for faith in 2016.
With two years left on the docket, with two playoff exits and a $144 million loss in basketball-related expenses last season, the Nets can only claim exhausting mediocrity. This isn't an identity crisis; that would require having an identity in the first place. There's no unifying aspect of the Nets to point to. They're just trying to make sure you're pointing at them.
Their three best players, earning a combined $58.65 million this year, are now on the trade block, and more known for their flaws than their strengths. Williams has regained some of his quickness and shooting touch, but has struggled to score around the basket the past two seasons. Joe Johnson earned the moniker "Joe Jesus" for his near-invincibility in crunch time, but is one of the worst offenders in the team's isolation-heavy attack when things go downhill.
Brook Lopez
is a talented post scorer and walking trade asset who has barely been able to walk the past year.
[+] Enlarge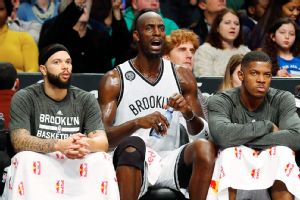 Jim McIsaac/Getty ImagesDespite paying a high price for veteran talent, the "new-look" Nets have yet to forge an identity.
Sure, there was one exciting five-month stretch, starting in January 2014, when the Nets went full-bore weird to smooth over the loss of Lopez and confounded opponents by favoring players over positions, putting
Paul Pierce
next to three perimeter players and using
Shaun Livingston
as a point guard/power forward hybrid. The Nets went 34-17 in that stretch, played an exciting-as-all-hell first-round series with the
Toronto Raptors
that went down to the last play of Game 7, and eventually fell to the
Miami Heat
in Round 2.
Outside of that, the Nets have largely gone to the same formula, despite three coaching changes since the move to New York. They've played one of the league's slowest paces. When their offense begins to fail, they inevitably fall into the traps of iso basketball. They have yet to figure out how to put together a top-10 defense around Lopez, or how to get Johnson and Williams clicking together for long stretches. They run Lionel Hollins' throwback flex offense in staggered stretches, and turn to Johnson at the end of close games. That's about it.
They leave you wanting. You see the flashes of greatness, and at the same time know they won't ever be great. There's no dynamic star, no blue-chip building block, no ace draft pick. Just a lot of money and an increasingly disinterested group ambling toward nowhere.
The Brooklyn Nets have built their identity on what they could be, what they should be. But in three seasons, they have yet to be much of anything at all. Now comes hints of another rebuild, which almost seems necessary at this point, if only to give a wavering fanbase a fresh face to believe in. But for now, they are what they are: walking and talking, but yet to figure out where they want to go or what they want to say.
Devin Kharpertian is the managing editor and founding partner at The Brooklyn Game. Follow him, @uuords.

October, 21, 2014
10/21/14
11:57
PM ET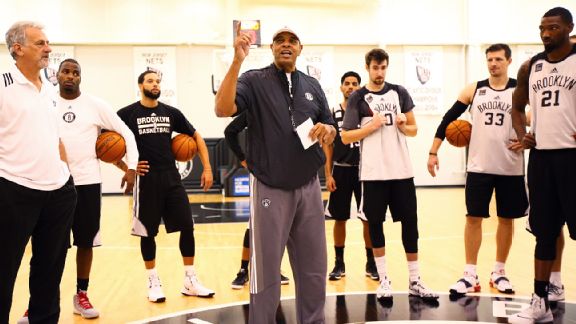 Nathaniel S. Butler/NBAE/Getty ImagesNew Nets coach Lionel Hollins must figure out a new identity in the team's third year in Brooklyn.
At this time last year, the question in Brooklyn was whether the Nets' old roster could stay healthy enough to make an impact in the postseason. Not whether they'd make it, mind you. That seemed a foregone conclusion after the team mortgaged its future to add
Kevin Garnett
and
Paul Pierce
to its pricey veteran core.
Expectations were quickly recalibrated once the Nets struggled out of the gate and
Brook Lopez
was lost for the season, but an Eastern Conference championship, even with Miami's big three still in tact and boasting the past three East titles,
at that time seemed within the realm of possibility.
Today, no one is looking at the Nets as a contender. After the offseason departures of Jason Kidd and Pierce, and the
recent injury setback
to Lopez, the question this season is whether Lionel Hollins, the franchise's fourth head coach since the move onto Flatbush Avenue and into the NBA conversation in 2012, can forge some semblance of an identity from the remnants of last season's all-in approach.
Hollins' history is a mixed bag. His Memphis teams stressed defense first, with offenses that were below average. In training camp Hollins
crowed
that the Grizzlies players who ended up making first and second all-NBA defense teams weren't known as shut-down defenders until he started coaching them.
Is what
Tony Allen
does really something you can coach? Is the way
Marc Gasol
moves 7-feet and 260 pounds to stymie a point guard something anyone can learn?
We're about to find out.
It would be a mistake to expect Lopez to cover ground like Gasol, or anyone in the Nets backcourt to chase, harry and disrupt like Allen and
Mike Conley
. Hollins' system in Memphis was a team effort, but it relied on superb individual defenders controlling one-on-one matchups. In contrast, last season's Nets defended best when they switched with abandon, squeezing their opponents up against the shot clock as the offense searched for an opening against interchangeable defenders. Deflections, turnovers and long possessions: The effects were similar, the methods divergent.
Will Hollins follow in Kidd's footsteps? It sounds like he is advocating the same all-out pressure and physicality he did in Memphis. "We want to make it so every possession is so hard that when we get to the last four or five minutes of a game, shots that may have been going in now start falling short because they're tired, or because they're getting lazy with passes, maybe they don't execute as well and we get steals. It's a process for 48 minutes."
But is such a style sustainable in Brooklyn? It is a fool's errand to expect his Nets, who may not start a single player under 30, to play with the same defensive energy as his much younger Grizzlies did. Back-to-backs, road trips and customary bumps and bruises that accompany the 82-game season will simply wear more on the Nets older joints. You just aren't getting more than 20-25 minutes a night of all-out effort from Garnett these days.
[+] Enlarge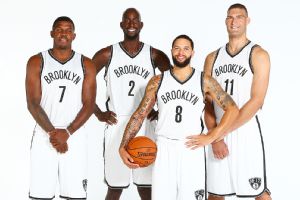 Nathaniel S. Butler/NBAE/Getty ImagesThe holdovers from last season's all-in approach will try to piece together a contender in Brooklyn.
Ironically, Hollins' reputation for uninventive offensive tactics may not be much of a problem in Brooklyn. In Lopez,
Joe Johnson
and
Deron Williams
, the Nets have three of the best post players at their respective positions. You could do worse than running something simple to get one of those three the opportunity to go to work from the mid post. Of course, you could also do better, do more.
That's sort of where the Nets as a whole stand right now. You could do worse than what they have. Johnson is still a heck of a two-way player. Lopez, if healthy, is entering his prime and was wrecking opposing frontlines before he hurt his foot. Whether Williams ever recovers the burst that made him a superstar, he's still a solid two-way guard.
But with the Nets' obscenely bloated payroll and the attractiveness of the New York market to players around the league, you could also do a whole lot better. There's little inspiration in the borough that is the creative hub of the world's most powerful city. No draft picks, no projects, no imagination.
Pierce, who said the Nets told him they were not interested in chasing a championship this year, put it
this way
: "They're kind of in the middle right now. And I really didn't want to be in the middle."
GM
Billy King
was more bullish. "Our goal is still to try to win a championship," King
said
. "We're not taking steps back or anything like that."
In broad terms, that may be true. But with owner Mikhail Prokhorov reportedly exploring selling his majority stake in the team, and yet another coach looking to reshape things, it's hard to see how the Nets can move forward. Instead of championships, simply establishing an identity and culture that can last for more than eight months would count as a success.

May, 14, 2014
5/14/14
10:15
AM ET
By Jake Appleman
Special to ESPN.com
Archive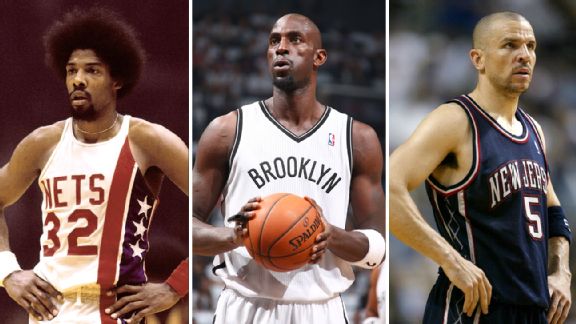 Getty Images
Drazen Petrovic had just poured in 44 points against the
Houston Rockets
in January 1993. Herb Turetzky, the Nets' official scorer, told Petrovic to sign the sneakers he played in.
"Why, Herb?" Petrovic asked.
Turetzky conveyed the magnitude of the moment to the budding Croatian star: 44 points in an NBA game is a big deal. Petrovic noted that he had scored over a hundred points before in Europe.
Petrovic's response is just one standout memory for Turetzky, part of a journey that began with the franchise's first game as the New Jersey Americans at the Teaneck Armory in 1967. The Americans moved to Long Island the next year and became the Nets. Turetzky, a fresh-faced student from LIU who loved to keep score, followed along.
We asked Turetzky, who from his sideline seat has seen the Nets grow from ABA also-rans to NBA Eastern Conference contenders, for his most memorable moments in Nets history. These -- condensed for clarity -- are some of his responses:
On the Americans losing the franchise's first playoff game via forfeit to the Kentucky Colonels, after the circus moved the game from Teaneck to an unusable court in Commack, Long Island:
"I remember seeing holes on the floor that my shoe could go through. There was separation between the boards, spots where the screws weren't in. They weren't ready for it. They tried to put it together in an emergency. I was on the phone for two hours trying to track down Louie [Carnesecca] at St. John's, to see if they could get us in there to play the game. We just couldn't find a way to put it together. Gene Rhodes was the coach of the Colonels and I'll never forget: He said, 'We've gotta win this game for those yahoos back at home.'"
On an ABA fight that involved coaches (Kevin Loughery and Al Bianchi) and players (including Julius Erving and Doug Moe):
"One time we played the Virginia Squires at Queensborough Community College. Preseason game. It escalated. They started getting in fights. Started spitting at each other. A brawl, they started throwing chairs. And Kevin and Bianchi ran out there like they were [playing] in the '50s in the NBA, going after each other. We had 11 technicals in that game and managed to finish it. Other than the Malice at the Palace, that was the biggest brawl I've ever seen at a pro game."
On hard luck just before and after entering the NBA:
"We signed Tiny [Archibald] to complement Julius [Erving]. It was the 'Dr. J and Tiny A Show.' That was the [slogan] of the season. All of a sudden Julius gets sold. We come to the first national TV game of the season against Philadelphia; Tiny breaks his ankle. He's out for the year. And now the 'Dr. J and Tiny A Show' became the 'Super John and Larry Kenon Show.'"
On the unshakable confidence of "Super John" Williamson, whose 16 fourth-quarter points propelled the Nets to the final ABA title in 1976:
"He gave himself the nickname 'Super John.' When he was a rookie, Kevin [Loughery] signed him. He was an undrafted player out of New Mexico State. He bumped into Kevin at an airport and he told Kevin, 'Sign me.' We lost the first four games or so, and he went up to Kevin and he said, 'Start me.' And he did, and we started winning. He believed he was the best."
On one of the negatives to playing games at Rutgers University from 1977-81:
"A lot of guys would get picked up on speeding tickets because the police were waiting because nobody else used those roads at night. They knew most people going were either coming or going from the ballgames."
On the myriad and bizarre promotions he's seen through the years:
"They were having a night at Rutgers for Rich Kelley [a 7-foot center]. And they made big growth charts: a full-size picture of Rich Kelley. The day they made the growth chart to give out, Rich Kelley got traded. We had a Frisbee promotion, where they gave Frisbees to people before the game. They were coming out of the stands. We had a giant pierogi night there. They had about a 50-foot pierogi on the floor. There were some very interesting things. At Nassau Coliseum, they gave out the promotional red, white and blue ABA basketballs one night. A nice touch for kids. Again, they gave them out before the game. They were all over the floor."
On getting called out by a coach:
"There was one night, Lawrence Frank was coaching us, and I'd just been inducted into the New York City Basketball Hall of Fame in 2004. We were on the ride home from the game and Lawrence is on the radio and Jason [Kidd] might have had 27 points, 12 rebounds and nine assists. On the radio [Frank] goes, 'I don't understand. If Herb Turetzky's such a Hall of Fame scorekeeper, how come he couldn't find another assist for Jason to get another triple-double tonight.' I was embarrassed, but it was funny."
On watching Shaquille O'Neal rip down a basket with his son David, then a ball boy, close by:
"He was sitting on the stanchion, to the right of the basket. When the stanchion started coming down, you see the pictures in the newspapers, you see David's feet. Reebok put out an ad for the sneaker stores the following season showing that happening and you can see David right there in the picture. When that ad came out in the sneaker stores, I got a copy of it. Shaq autographed it, 'Dave, stay away from the basket.'"
On the back-to-back NBA Finals teams in 2002 and 2003:
"It was electric. You had a team of deer running down the floor."
On his wife, Jane, taking one for the team during a preseason game at Nassau Coliseum:
"We're playing the Knicks. Jane was sitting right behind the bench in the front row. I'm sitting in center court. The ball goes loose, flying over the way LeBron [James] went into the fifth row the other night. Jim Chones [the team's first-round pick at the time, in 1972-73] chased the ball and jumped over the Knicks' bench, crashed into Jane, knocked her out cold. I'm sitting courtside. I look over to my left, and I see her down on the floor. We got a ballgame; I couldn't leave. The ball was inbounded and we had to keep going."
Jane Turetzky was revived and turned out to be OK that night.
"I have a love affair with him and he has the love affair with the game," she said.
If the Nets force a Game 6 against Miami, Turetzky will be in his seat again, working his 1,269th straight game.
Jake Appleman is the author of "Brooklyn Bounce: The Highs and Lows of Nets Basketball's Historic First Season in the Borough."

April, 18, 2014
4/18/14
10:42
AM ET
By Devin Kharpertian
Special to ESPN.com
Archive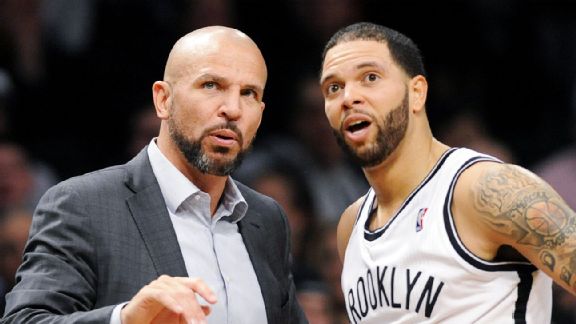 AP Photo/Bill KostrounThe Nets sketched a high-priced blueprint for success. But they didn't get good until things got weird.
The Nets sit right in the middle of Brooklyn's tangled identities. They play in Barclays Center, an arena plopped in the middle of downtown Brooklyn and built within the last decade. Look north of Barclays Center and you'll see a smattering of the borough's few skyscrapers and luxury high-rises; walk two blocks south and you'll be smack-dab in traditional brownstone country, where original and transplanted locals alike fuel the borough's neighborhood vibe.
"We're In," the
Brooklyn Nets
' preseason slogan boasted, affirming the team was both all-in on its quest to win a championship and in Brooklyn for good. Now, the playoff slogan is "For Brooklyn," demonstrating the team's "pride" in its home borough, and the Nets' desire to win for their city. It's a tough sell, since the team still practices and has its primary offices in New Jersey, and not one player on the roster actually lives in Brooklyn.
Nevertheless, the team assured us that Brooklyn meant "uncompromising confidence." On the heels of last season's first-round playoff loss when the team openly bemoaned a lack of "toughness," the Nets traded for Hall of Famers
Kevin Garnett
and
Paul Pierce
. They had five All-Stars and future Hall of Famers in a strict, positional lineup flush with veterans. They assembled an all-star cast of assistant coaches, led by Lawrence Frank, to sell Jason Kidd as a head coach.
But Brooklyn is at its best when it's not a city, and the Nets are a brand that's best when they're not a brand. In a down-and-up season, things worked out best for Brooklyn when the Nets bucked convention and went quirky, chipped away at their shiny, new shield and got weird.
When All-Star center
Brook Lopez
went down for the season with a right foot injury, Kidd ultimately chose 6-foot-7 point guard
Shaun Livingston
to replace him, playing two point guards and pushing career small forward Pierce to power forward. The change put a backup on a minimum salary in a rare spotlight, pushed a Hall of Famer with 15 years at one position to a brand new role and turned the Nets into a versatile "long-ball" team, firing 3-pointers at a higher clip and forcing more turnovers than any team in the league.
This season, the Nets went 10-21 in 2013 and 34-17 in 2014, losing only four of their past five games as Livingston sat with a toe injury. It seems crazy that the team played its best after losing its best player, but that's exactly what happened when the Nets adapted.
On a bench praised for veteran presence, it was rookie
Mason Plumlee
, who was supposed to spend the season in the D-League, who made the most waves, earning a rotation spot over veterans
Andray Blatche
and
Reggie Evans
. The 24-year-old even started 19 games when Garnett went down with a back injury.
The Nets buried and eventually traded Evans, a reckless rebounder who started a career-high 56 games and all seven playoff games under P.J. Carlesimo last season. They subsequently became one of the league's worst rebounding teams ... and kept winning games nonetheless. Blatche, who played a key role in the Nets' first-round series against the
Chicago Bulls
last season and was the team's no-doubt first big man off the bench, may not even have a role in this year's playoffs.
[+] Enlarge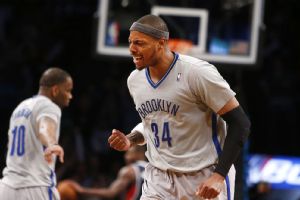 AP Photo/Jason DeCrowPaul Pierce, stretch-4! A nontraditional lineup in the new year dug the Nets out of an early-season hole.
The Nets played their best offense with the energetic Plumlee throwing down alley-oops, scoring 113.7 points per 100 possessions in the 284 minutes he played with the other four starters. The rookie provided perhaps the highlight of the season, denying four-time MVP
LeBron James
at the rim on a potential game-winning dunk in Miami to help the Nets complete their season sweep of the two-time NBA champions. Plumlee, the 22nd overall pick in last year's draft, leads qualifying NBA rookies in player efficiency rating (PER) and has started more games than any other rookie on a playoff team.
No one on the team came to eccentricity more naturally than Kidd, the rookie coach learning on the job. He made his first splash on the court in the rare literal sense, commanding second-year guard Tyshawn Taylor to "hit me," which knocked his drink to the floor and gave the Nets a bonus timeout. He coldly dismissed Frank after one too many disputes, deciding he didn't need the planned route to build a winning team. He stopped wearing ties. He stopped shaving. He stopped trying to prove he deserved a spot as an NBA coach, using blasé clichés as passive weapons in news conferences. He won two Eastern Conference Coach of the Month awards in the last four months thanks to his team's newfound energy and two-way punch. All because things didn't go as planned.
The Nets have undergone the most successful reimagining of a sports franchise ever in two seasons, evolving from the afterthought laughingstock of the Eastern Conference to a lavish "brand," an unflappable cultural cachet that goes beyond the court and infiltrates music, fashion and business. They're a symbol of Brooklyn's Manhattanization, with a record-breaking $190 million spending spree to fill their roster and enough sponsors to fill every second of their home games, while still taking time to honor Brooklyn's history and heroes.
They sold themselves on their hype, on the promise of greatness because of their giants. Except the Nets, in typical Brooklyn weirdness, were at their best only after outside circumstances knocked them out of their failing made-for-TV box and forced them to explore unconventional, creative solutions.
Devin Kharpertian is the managing editor and founding partner at The Brooklyn Game. Follow him, @uuords.

April, 15, 2014
4/15/14
10:34
AM ET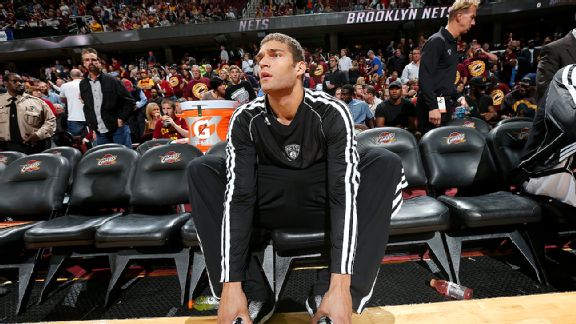 Ned Dishman/Getty ImagesBrook Lopez may be the Nets' best player. The Nets may also be better off without him.
Despite going 33-15 since Jan. 1, the Brooklyn Nets will end the 2013-14 season with a worse record than they had last season. Still, these Nets were a success. If this season's team couldn't fully overcome a disastrous 10-21 start, it did accomplish something more meaningful than a higher seed: It found an identity.
Last season, the Nets were numbingly predictable. They routinely beat up on bad teams and faltered against tough competition. It wasn't a question of character -- they played hard. For all of their veteran players, the Nets didn't play like a clever, cagey team. Against the Chicago Bulls in the first round of the playoffs, they were undone not by their willingness to battle on the boards with Joakim Noah and Taj Gibson, but by their inability to contain Marco Belinelli in the side pick-and-roll.
It wasn't just the X's and O's. Last January, Howard Beck, then with The New York Times,
wondered
: "Who defines the Nets? Who is their driving force, their conscience, their soul?" In that same article, Beck referenced Paul Pierce and Kevin Garnett as players who offer their team definition. They stand for something, whether it's Pierce's pump-up-the-crowd bravado or Garnett's manic intensity.
Now that Garnett and Pierce have joined the franchise, it's hard not to notice the changed vibe in the Nets' locker room. Before Deron Williams emerges from the showers, Pierce holds court, lobbing trash talk across the room at teammates, endearing himself to local media and fans with ready wit and a gravelly voice.
Garnett is something of a basketball mystic. In October he explained to reporters the benefits of a diversely talented team: "How you would write a story is different from how you would write a story or how this lady would write a story. You might be able to chug a gallon of milk quicker than she can. I don't know. We all have our strengths, is the point I'm making."
Brash, quirky and serious all at once. It's that sort of vibe that connects the Nets with their fan base, as does a two-month home winning streak.
On the court, this comes through in the team's unorthodox playing style: with a switching, reaching, deflecting defense (the Nets force turnovers more frequently than any team but the Heat and Wizards) and an offense that moves the ball and fires away from deep (the Nets have increased their 3-point attempts every month except one).
It's that upward trend in 3-pointers and wins that reminds us of the elephant in the walking boot at the end of the bench. It's working now, but the reality is this team wasn't built with Pierce's special brand of funky, stretch-4 hoops in mind. It was built for Brook Lopez, the best low-post scorer in the NBA.
Listed at 7 feet, 275 pounds, Lopez is a mammoth who almost always demands a double-team from 12 feet and in. Before he went down for the season with yet another foot injury, he had a 25.5 PER (which would rank seventh-best in the NBA) and career numbers in every meaningful offensive category. And at 26 years old, he's still getting better.
But after breaking his right foot twice and missing 185 games in the past three seasons, it's impossible not be skeptical about Lopez's future with the Nets, especially with two more years and about $33 million left on his contract.
He was immensely valuable to last season's squad, but removing Lopez from the equation this season clarified everything. Lopez is not a role player; he needs to ball to make a real impact. Even when he was playing well, catering to Lopez put players like Pierce in unfamiliar roles. All of Lopez's touches have been distributed among Nets shooters, while their big guards (Joe Johnson, Shaun Livingston and Williams) take turns attacking mismatches on the low block Lopez used to occupy.
[+] Enlarge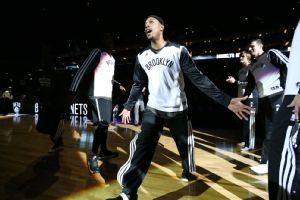 Nathaniel S. Butler/NBAE via Getty ImagesSince Lopez's injury, the Nets have embraced the bravado brought by Paul Pierce and others.
Lopez's injury also made way for Mason Plumlee. The rookie forward is the type of high-flying, tip-dunking, LeBron-blocking big man that perfectly complements the Nets' switching defense. To get the most out of Lopez, a team must slow it down and really grind out games through the post. Plumlee is simply a better fit for how the Nets are playing now on both ends.
Things are going well, but the question persists, even on the horizon of another likely first-round series with the Bulls: How long can the Nets pursue their current strategy?
Their opponent on Tuesday, the New York Knicks, know what a delicate brew good NBA chemistry can be. Last summer they lost Jason Kidd to retirement and replaced Chris Copeland and Steve Novak with lesser shooters who have hardly played in the second half of the season. After winning 54 games and the East's No. 2 seed last season, the Knicks this year will watch the first round from home.
There are no guarantees that Brooklyn's current run of strong play will continue, with or without Lopez. The Nets aren't exactly spilling over with young talent. Pierce and Garnett will be out of the league well before Lopez turns 30. Livingston's injury struggles are well-documented, and Andrei Kirilenko hasn't played 70 games since 2008.
The Nets could consider moving Lopez to upgrade their talent on the wings or improve long-term roster flexibility. Would post game-centric Denver be willing to trade Danilo Gallinari and a pick for a premier post presence? Would a couple of first-round picks get it done? The Nets have only one of those in the next three drafts.
When the Nets went "all in" by bringing in high-priced aging talent, the assumption was that Pierce & Co. were a luxury, but worth it. Overpriced, sure, but they would be a vital upgrade. Instead, they've contributed to a philosophical overhaul. In more ways than one, the Nets got more than they bargained for.

April, 2, 2014
4/02/14
11:32
AM ET
By Jake Appleman
Special to ESPN.com
Archive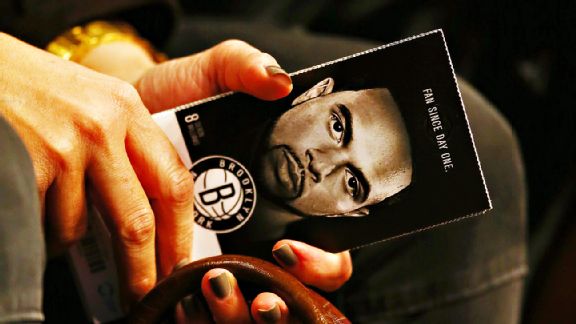 Elsa/Getty ImagesThe Nets finally have a team worth watching, but is anybody in Brooklyn seeing beyond the brand?
Tucked into one of the far corners of the Nets' lifestyle store on the concourse at Barclays Center is a rack of misplaced basketball uniforms: white Jason Kidd home jerseys from the team's New Jersey days. Surrounded by as many sartorial options as you can imagine being associated with one NBA franchise, the Kidd jersey, already marketed as vintage, calls back to a time when the Nets were little more than an unpopular basketball team with a beautiful fast break.
Now it's hard to know what qualifies as the Nets. Brooklyn is still the chant. Brooklyn is still the buzz word, still the brand. When the home team obtains possession at Barclays Center, it is noted emphatically that it is "Brooklyn's ball!" Brooklyn is told to stand up before the fourth quarter. Brooklyn is asked where it is at during timeouts.
Such localized promotion made sense in the franchise's first season in the borough. The Nets' roster was an overpriced collection of relatively anonymous personalities, which allowed for Brooklyn to become the overriding theme. In year two, the peddling of the Brooklyn brand has advanced beyond necessarily being bound by basketball.
[+] Enlarge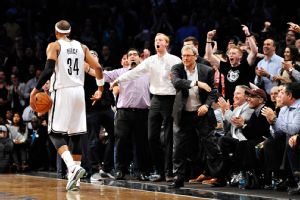 AP Photo/Kathy KmonicekWith wins in 20 of their past 22 home games, the Nets are giving fans something to cheer about.
"People don't have to be a fan of what happens on the court, but guess what: They wear our hats, they wear our jerseys," Elisa Padilla, the Nets' senior vice president of marketing said. "We're a lifestyle brand. We're cool. We're hip."
This is strange thing to hear in late March, with Brooklyn's team having won 14 straight games in front of the paying customers at Barclays Center. There are few cooler outcomes than having the best record in the Eastern Conference in 2014 (30-12 as of Monday), or responding to a lump-of-coal performance on Christmas Day by winning 21 of 23 at home.
The on-court product isn't without its flair, either. Funky, smaller lineups add entertainment value, mismatches wreak havoc and the Nets launch 3-pointer after 3-pointer with enjoyable nonchalance. In the locker room, there aren't many things funnier than Kevin Garnett calling Joe Johnson "Joe Jesus" after another late-game rescue job, or Garnett lustily talking about his jump shot like a booty call.
"I want it to be that when I dial it up, I want her to pick the phone up," Garnett said after rediscovering his midrange game in a win over Golden State in January. "Tonight, I dialed and she was right there, answering like she's supposed to."
It doesn't get much better than Paul Pierce's noting that he's been clutch since he was 2 years old or joking about shopping for mojo at Costco. Andray Blatche even dubbed himself "Young Seymour" because he wants you to "see more" of him.
The resurgence of Shaun Livingston and relatively seamless integration of Jason Collins are two examples of rare stories ingrained in the Nets' turnaround. Not many teams can lose arguably their best player to a season-ending injury and become, almost overnight, better
and
much more interesting.
From consistently blown out early in the season to dominant home team -- with a slew of lineup changes in between -- it seems at times like the only immovable aspect of the Nets is the Brooklyn branding. This is odd to observe because the way the Nets have won lately might have a dulling effect on the intrigue generated by their style of play and fun sound bites. Shooting the lights out early in games has inhibited the type of overall noise, rooted in momentum swings, that can energize a building. With their play practically encouraging fair-weather fans to check out merchandise on the concourse, the Nets haven't trailed in the second half of 11 of their 14 straight home wins.
But these specifics are finite within the construct of a sport, a team and its evolving narratives. If any of the aforementioned storylines don't interest you -- and even if they do, really -- the Nets' marketing team would like you to latch on to a vague conceptual cool, in part because marketing the Nets is harder than marketing Brooklyn. Brooklyn has been told to stand up for decades now, and the consistent response, at concerts and in board meetings, has been vertical and affirmative.
The Nets' play will unpredictably ebb and flow, and the basketball brand has less historical cache than the endlessly romanticized borough. To see it as something of a futuristic pie chart, a basketball team can't always sell consumers (present and future) a positive reflection of themselves in the way that a nice hat can, even if basketball itself is one of the most historically organic things about the place that has been transformed into a brand.
That brand likely means something different to each Net, none of whom live in Brooklyn because the team's practice facility remains in East Rutherford, N.J. Players readily accept the work identity, and team executives passionately note that there shouldn't be much different about the perception between some of the Knicks commuting into Manhattan from the suburbs and the Jets trekking out to the Meadowlands from Long Island. Except that the Knicks sell the Knicks and the Jets sell the Jets. These Nets commute from New Jersey or lower Manhattan into a still-developing alternate reality, one with a circular space-age scoreboard and enormous slices of cheesecake frequently taking center stage.
[+] Enlarge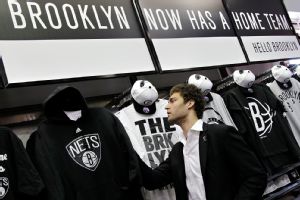 AP Photo/Seth WenigThe Nets were 12-4 in March without Brook Lopez, but the merch is still front and center in Brooklyn.
A New Jersey native who still lives in the Garden State, Padilla can relate, but she doesn't mind the dichotomy.
"The geographic location is neither here nor there for me," she said. "I'm a true marketer."
Despite internal discussions of pushing more Nets-branded merchandise in the future in place of borough-based swag, Brooklyn appears to remain the driving force of the brand for the foreseeable future. Padilla repeatedly noted that the Brooklyn brand is in its "infancy stage," (part of a five-year plan hatched upon arrival), and that Brooklyn is the first priority from a marketing perspective, something to be grown no matter what happens on the court. The Nets' playoff slogan per a press release sent out on Monday? "For Brooklyn."
"We're still saying hello to people," she said.
It would just be a shame, then, if the Nets' 2014 on-court success, at times lost behind the ambiguity of a black-and-white promotional curtain and a cynical big-city news cycle, said goodbye before reaching the maximum number of basketball-inclined consumers.
Jake Appleman is the author of Brooklyn Bounce: The Highs and Lows of Nets Basketball's Historic First Season in the Borough.

February, 13, 2014
2/13/14
11:12
AM ET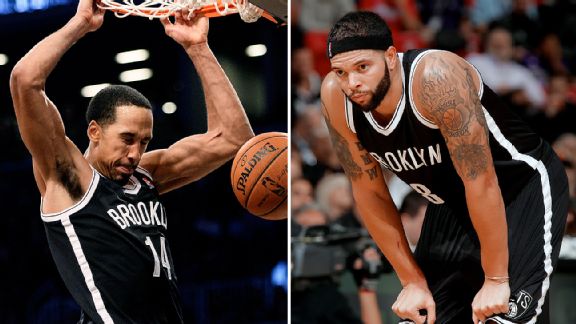 USA TODAY Sports, Getty ImagesShaun Livingston has defied all expectations, while Deron Williams struggles to live up to them.
Almost seven years removed from the catastrophic knee injury that could have led to amputation, Shaun Livingston's admirable, arduous transition from young phenom to wizened role player is the feel-good story of the Brooklyn Nets' season. Yet his bright play when all expectations of the once-presumed future superstar seemed to have vanished only underlines the struggles of the Nets' current superstar to live up to his massive contract.
Left for dead when Brook Lopez was lost for the season to yet another foot injury, the Nets are 14-5 since the calendar flipped to 2014 and have a realistic chance at snagging home-court advantage in the opening round of the playoffs. The positive momentum began with Livingston starting while Deron Williams recovered from a tweaked ankle. With his ranginess and vision, Livingston played a crucial role in the Nets' suddenly staunch defense, even taking on Kevin Durant when they beat Oklahoma City on the road at the end of January.
In reality, only Kevin Garnett has had a more positive on-court influence on the Nets than Williams, even during this hot stretch. But "more helpful than Shaun Livingston" isn't exactly what a team hopes for when they shell out a $98 million contract. Expectations frame accomplishment. It's flat out more fun to root for the best version of Livingston we've seen in a while than the current version of Williams.
Back in 2007, the season of Livingston's catastrophic injury, Williams was riding on the superstardom jet stream. In his first playoff appearance and just his second season as a pro, Williams led the Utah Jazz to the Western Conference finals, where he averaged 25.8 points and 7.8 assists in five games against the San Antonio Spurs.
If it now seems ludicrous that Chris Paul and Deron Williams were once destined to battle for supremacy atop Point God Olympus, remember that Paul still has yet to reach the playoff depths Williams did as a 24-year-old.
What has happened to Williams' game in his three seasons as a Net is both obvious and elusive. Injuries are mostly to blame; this we know. He has fought through a bum shooting wrist, and ankles that gave him so much pain he could barely get up and down the stairs of his apartment. But the dimensions of his injury history also resist our compassion. Williams' pains don't stem from a hippocampus-searing incident that easily explains his struggles to any fan who has been paying attention. We rarely know as much as we think about the athletes we see everyday, but Williams is especially inscrutable.
You want to talk about injury stories that elicit empathy, talk about Shaun Livingston.
Despite the bad contract and disappointing record, Brooklyn fans want to embrace Williams. When fully healthy, he's capable of running the show like no other point guard in the East. Following a pain-reducing, platelet-rich plasma treatment around last year's All-Star break, Williams averaged 22.9 points and 8 assists on 62.2 percent true shooting percentage in the season's second half.
One can imagine Deron Williams, likable New York star. As he reminded Paul in December, Williams still has the nasty handle of a classic New York point guard. He lives in a fantastic penthouse apartment in fast-paced Tribeca rather than the more typical suburban McMansion. Since their adopted son was diagnosed with autism, Williams and his wife have become outspoken advocates for autistic children. Even his occasionally truculent relationship with the media is the kind of grouchiness New Yorkers can get behind. But the series of injuries that are just debilitating enough to hold him back, but not severe enough to keep him out, has made it difficult to form that connection with a fan base still figuring out who the Nets are and what they're about.
[+] Enlarge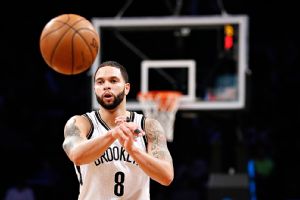 AP Photo/Kathy WillensHis play may not match the wild visions elicited long ago, but D-Will has fueled the Nets' bounce back.
Now, as the Nets claw their way to respectability, Williams' contributions aren't the story. He is not the most important player on his team -- that would be Garnett -- though he certainly makes them better. He's the proverbial 40-degree day.
Heck, when Williams was healthy enough to re-enter the lineup, he did so as a substitute so as to preserve the good vibes of the Livingston-led starting unit. Now imagine Paul ever, ever in a million moons coming off the bench for Darren Collison.
In the past week, there have been worrisome signs that Williams, who is once again starting and playing major minutes, hasn't shaken the ankle problems that prevent him from shaking defenders. Sunday against Detroit, on the second night of a back-to-back, Williams' movements were dulled. The unfortunate fact may be that Williams' ankles need the Dwyane Wade treatment: rest on back-to-backs and more than 32 minutes of action only on special occasions. Facing the Pistons' porous defense, Williams failed to record an assist in 25 minutes of play.
Meanwhile, Livingston has a career-best player efficiency rating of 14.3, which is slightly below league average. No matter. Livingston is triumphing over the image of him writhing on the hardwood in Los Angeles. Expectations frame achievement.
For Williams, nagging, debilitating injuries may have put his 2007 high-water mark permanently out of reach. No one expects the Nets to be in a conference finals, and rightly so. There's something especially cruel about his decline, how its subtlety resists a compelling narrative of redemption. Maybe that's why no one wants to talk about it.

January, 24, 2014
1/24/14
10:58
AM ET
By Reihan Salam
Special to ESPN.com
Archive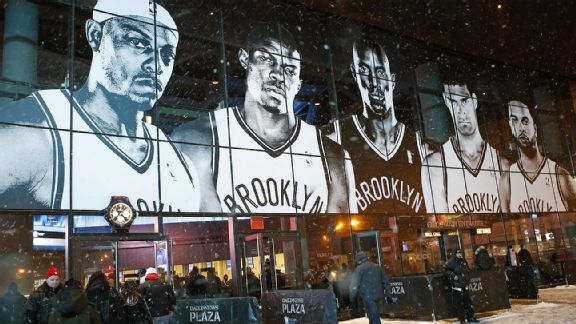 AP Photo/Kathy WillensYou can't buy love, not even in Brooklyn. But as one longtime resident says, the Nets are now theirs.
Before the Nets moved to Brooklyn, I knew almost nothing about professional basketball, or basketball in any incarnation. I understood that it was a sport in which tall people excelled, and as someone who stands well below the median height, I spent very little time playing it. I certainly remembered Michael Jordan from my youth, when his shiny head was all but unavoidable; as a dark-skinned man with a shaved head, I suppose I have him to thank for being so smooth and aerodynamic. And I was vaguely aware of an indestructible, headband-wearing man called "The LeBron," who for all I knew was some kind of myth or legend, like Sasquatch.
Yet when I first heard that a professional sports franchise was planning to move to Brooklyn as part of a multi-billion dollar real estate transaction, I was intrigued. The reason is that I am, and have long been, a Brooklyn nationalist. Marty Markowitz has nothing on me. When I get my facial tattoo, it will be a map of Kings County across my forehead.
If Brooklyn didn't have a team, I thought to myself, all of the other professional sports franchises in the world could burn to the ground. Though I was born decades after the Dodgers left for Los Angeles, I grew up with a sense that a grave injustice had been done to my city -- a crime that would one day be avenged.
In the 21st century, Brooklyn pride has become an irritating cliche. But in the 1980s and '90s, it meant something entirely different. It was about thumbing your nose at a world that didn't give us the respect we deserved. We Brooklynites were nobodies, treated as part of an anonymous expanse of mediocrity, crime and poverty ringing Manhattan's Emerald City. This despite our proud architectural and cultural heritage, and our history as a separate and distinct city that competed with, and often bested, New York until we were conveniently swallowed up in an 1898 election that was almost certainly rigged.
So how could I not love the Barclays Center, the beautiful alien vessel that is home to the Brooklyn Nets? For all my enthusiasm about the arena, basketball was still baffling to me as recently as this past offseason. I started to read about the Nets, and about the sports more broadly, when they first moved from New Jersey. Intellectually, at least, the game started to make sense. Professional sports are the way Americans talk about all kinds of things such as business, race, class and modern medical miracles. Reading about the Nets organization gave me some sense of what I had been missing by avoiding pro sports my entire life. Even so, my connection to the team was more intellectual than visceral. At my first Nets game, against the Orlando Magic almost exactly a year ago, I brought reading material, just in case I got bored. The game wound up being pretty fun, and the food was excellent. Even so, I wasn't quite hooked. I read an article or two amid the cheering fans.
I did, however, pay pretty close attention to the team's activity during the offseason. I knew just enough about the NBA to know that the arrival of Paul Pierce and Kevin Garnett was a huge deal. Luring Andrei Kirilenko and two and a half legendary Celtics made the Nets' Russian paymaster look like some kind of Svengali. A totally respectable team was now being discussed as a serious title contender. When one of my friends, a die-hard NBA fan, suggested that we buy half-season tickets, I decided to give it a shot. This team was destined to make noise, and I figured I ought to be a part of it. Another friend warned that just as the Lakers failed to build a superteam out of aging, dysfunctional parts last season, the Nets would disappoint. But if the Nets were truly terrible, I could still support the city I love while catching up on my reading and enjoying a wide array of gluten-free snacks.
Going to the games changed things. For whatever reason, I started thinking of the players as real people, and I couldn't help but root for them on a personal level. When Shaun Livingston, who suffered an injury that should by all rights have been career-ending, played exceptionally but unflashily well at the start of the season, it occurred to me that it must have been a pretty big deal for him. When he had a slump, I felt the sting. And when he came roaring back during Deron Williams' most recent injury spell, I was happy to see that Livingston's feisty, intelligent play wasn't a fluke.
[+] Enlarge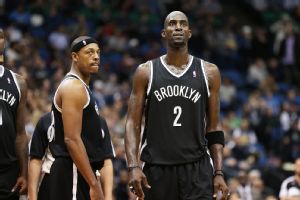 Jordan Johnson/NBAE/Getty ImagesThe ups and downs of two aging Hall of Famers is something any Brooklyn sports fan can relate to.
Garnett has had a storied career, and he could retire tomorrow and be extremely proud of all that he's accomplished. All the same, I imagined that he was plagued by the sense that his body and his instincts were failing him early on in the season, and I really wanted him to get his confidence back, not least because I'm keenly aware of my own aging. His explosive play the past few weeks have been a source of more fist-pumping excitement than I have any right to expect.
My Celtics fan friends had always boasted of Pierce's loyalty, so I knew that he'd struggle to find a place on a new team. His bad days became my bad days while his flashes of brilliance gave me an adrenaline boost. I couldn't identify with Joe Johnson, who seems almost supernaturally cool, but I was glad he was there to be a steady, solid performer even as the rest of his team flailed.
Then there were the players with something to prove, such as Mason Plumlee, who became another bright spot during some of the more dismal stretches of the season. You could tell how proud he was of making a name for himself. Andray Blatche has been making a fool of all who've doubted him. Apart from hitting a healthy percentage of his attempted 3-pointers, Mirza Teletovic laughed in LeBron James' face ("I grew up in the middle of the Bosnian civil war, son."). Not only is Teletovic thrilling Brooklyn fans, he's putting his home country on the map, which has to be a huge source of pride. And though Alan Anderson isn't necessarily great at pro basketball, his eerie resemblance to Method Man of the Wu-Tang Clan is enough for me. This could be the most lovable team in the NBA.
Then there is the raw power of being in an enormous room full of people shouting "Broo-klyn" at the same time. These are my people. Yes, our team has been pretty terrible until recently. Yes, we have the worst mascot in the NBA. But whether it's fans from the Jersey era who've stuck with the team or former Knicks fans who are sick of Jimmy Dolan and want to give Brooklyn a shot, or people such as me who are still extremely confused by foul calls (I do know that the refs are always biased against us), we're sharing in this crazily intense collective energy. It is weird, and it is glorious. When I'm not at the games, I'm checking the score. And when I go to the games, I'm leaving the reading material home.

December, 5, 2013
12/05/13
12:32
PM ET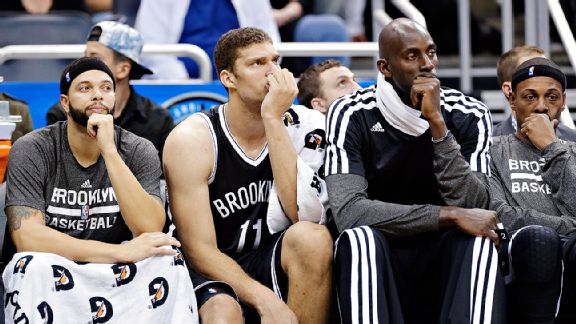 AP Photo/John RaouxThe star-studded lineup expected to bring Brooklyn to the top of the East has been all hype thus far.
It's a Tuesday night at Barclays Center and Nets emcee David Diamante has his work cut out for him. The listless, ragged home team is once again being bludgeoned to a pulp, this time by the speed and energy of the
Denver Nuggets
. The crowd is disinterested at best, disgusted at worst. Diamante is a loyal Brooklynite, an over-the-top hype man from the world of boxing. Hoping to bring the crowd to life, he reaches for Brooklyn's self-identity of hard scrabble, working class pride.
"We may be down, but we're never out!" Diamante says. "Brooklyn, STAND UP!"
The crowd responds with loud boos, its most heartfelt sentiment of the night.
The Nets are 5-13 and haven't won at home in a month. Its lineup of superstars, the one many observers believed could put a real scare into the rest of the Eastern Conference, has hardly played at all. A three-story likeness of
Deron Williams
,
Joe Johnson
,
Paul Pierce
,
Kevin Garnett
and
Brook Lopez
standing together rings the entrance to Barclays. Thus far that five has played together a grand total of 78 minutes.
The injuries have been unending and severely impacted the on-court product. But the co-opting of Brooklyn's civic identity has never really suited this team. Its best player is a 7-foot, laid-back Californian. Lopez might be the best post scorer in the NBA, but he's better known for low rebounding totals that belie the grit and toughness so central to Brooklyn's self-image. Most of the people who work for the Nets' front office still live in New Jersey, where the team still practices. The players all live outside the borough, too.
The Brooklynization of the Nets has meant cool jerseys, Jay-Z courtside, great food in the concourse of Barclays Center and the occasional piece of public art that gets
a mention
in the New Yorker. It's also been a cynical commercial play to draft off the borough's rise in national prominence and local cultural import. Two years into its residency on Flatbush Avenue, the Nets may have a stronger identity on the national landscape than they do in Brooklyn.
The team remains a flashy transplant, tossing around money for players with well-known, glitzy brands. If the franchise were a guy showing you around his apartment, you imagine him telling you the price of everything in it: "Oh yeah, that antique is a Paul Pierce. You've heard of him, right? Yeah, he's great. $15 million, but, I mean, there's only one Paul Pierce."
Pierce's former Boston colleague, Garnett, stars in a
new commercial
for Beats headphones. Garnett is dressed exquisitely, a professional who has earned his legendary status, as he heads into an opposing arena. Fans line up outside the arena to scream invectives and make fun of his age. Garnett slips on his headphones and drowns out the haters; he's ready to prove everyone wrong.
"Hear what you want," the ad says.
It's ironic, given Garnett's actual play this season. The 37-year-old looks gassed. His defensive rebounding has somehow held up, but his Usage Rate is the lowest it has been since he was a 19 year-old rookie, and he's on pace for his first season with a PER below the league average.
Garnett's personal defensive rating (a very noisy statistic but one not without merit) is his worst in 15 seasons, a testament to how great he's been for so long. His credentials as the keystone of Boston's strongside zone are legendary; he would make a short list of current players fit to coach a defense himself. But Garnett is no longer capable of anchoring a defense on the court. His mind is as quick as ever, but changes in direction take a split second longer. Garnett can't reverse course nor, as he did for so long in Boston, can he defend more space than any other player.
[+] Enlarge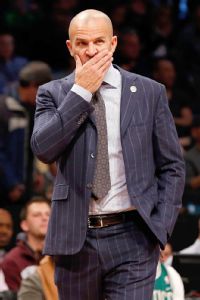 Jim McIsaac/Getty ImagesThe Nets' defense has sunk to last under new coach Jason Kidd.
Overall, the defense is abysmal; the very worst in the NBA. The principles appear mostly sound, but the personnel is simply too slow. Good defenses are characterized by length and quickness on the perimeter, and a lynchpin inside. Despite some other impressive imports, until
Andrei Kirilenko
is healthy, the Nets are big ... and that's about it.
Meanwhile, in part because of the absurd string of injuries, Brooklyn's offense has collapsed this season after being a top-10 outfit in 2012-13. For all the criticisms of Avery Johnson and later P.J. Carlesimo's lack of creativity, the offense worked. The Nets were top-seven in rates of both free throw and 3-point attempts -- excellent indicators of a healthy offense that generates high-value opportunities.
Led by Lopez, the Nets are still getting to the line, but they have not been able to establish any identity on offense. In reality, the only identity they have on either end of the court is negative space: The absence of those who aren't out there because of injury.
In this context, it feels cruel to judge Jason Kidd's debut season as a head coach, especially since Kidd himself publicly renounced many coaching duties in favor of delegating to Lawrence Frank. Recently, Kidd curtly demoted Frank, who coached Kidd on the New Jersey Nets from 2003-07. Frank will no longer sit on the bench or run timeouts, which he did throughout summer league and the first 17 games of the season. Frank is reportedly seeking a buyout, which would terminate the strange arrangement famously used by Larry Bird during his coaching days in Indiana.
This may correct a cosmetic issue -- cameras repeatedly caught Kidd staring blank-faced as Frank conducted timeout huddles -- rather than produce actual change. The details of the breakdown are still unclear, but that the relationship dissolved so quickly and so publicly speaks to greater structural issues within the organization. Given their history, Kidd must have known the kind of coach and co-worker Frank is before he recruited him to his staff.
But that's just the problem with this Nets team: So many things seemed like given truths and safe assumptions, only for it all to fall to pieces almost as soon as the season began. There was nothing cynical about the preseason optimism. But you can't always trust the hype to deliver once the product is out of the box.