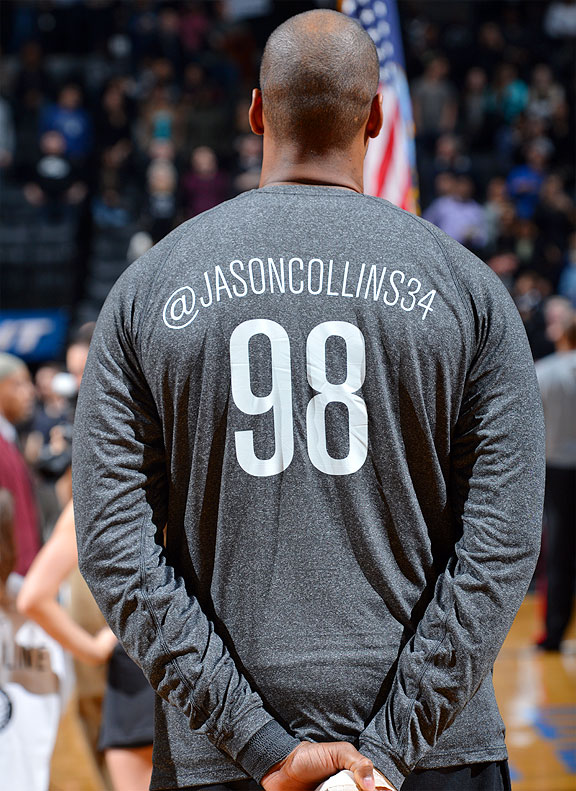 Jesse D. Garrabrant/NBAE/Getty Images
In Brooklyn, Jason Collins is making history evidently without harming the team.
NBA front office people, even the ones who swore they were socially progressive, fretted -- in various unattributed conversations -- that if they signed an openly gay player like Jason Collins it might be good for humanity, but bad for the team.
Why? Because the issue of the gayness would be a distraction.
The real-life research into that assertion is underway in Brooklyn, and the early returns are that there was never anything real to worry about.
Stefan Bondy reports in the New York Daily News that -- while Collins has endured the taunts of one unnamed opposing team "knuckelhead," (in Collins' words)-- it's tough to make the case Collins' public sexuality has harmed the Nets in any way.
Still a fringe rotation player whose main job is delivering fouls, Collins' No. 98 jersey became the top seller on NBA.com, even as the media attention has died down to the point that he'll leave a practice or locker room without an interview request.

Perhaps more than anything, the blending in will be the lasting legacy of Collins' trailblazing stint which was put off until after the All-Star break, in part because of fears around the league that he'd be a distraction.

The Nets (35-31) certainly don't seem distracted. They're 10-3 since signing Collins, winners of 10 straight at Barclays Center ahead of Friday's game there against the Celtics.

"Not just for myself, but I think for everyone. This shows that 'distraction' is B.S. That it's about the team, it's about the sport," said Collins, who signed for the rest of the season last week. "I hope this shows all players that you can still have your life off the court and not have to hide anything. And still have your life on the court or on the field or on the ice, I guess, in hockey. That's a credit to my teammates and the entire Nets organization from ownership to coaching to teammates to everyone."