January, 25, 2015
Jan 25
4:48
PM ET
By ESPN Stats & Information
ESPN.com
Archive
David Banks/USA TodayHassan Whiteside (21) set a Heat franchise record with 12 blocked shots.
A player who entered this season with 19 games of NBA experience had one of the most impressive all-around games in
Miami Heat
history Sunday.
Hassan Whiteside
came off the bench for the Heat and registered 14 points, 13 rebounds and 12 blocked shots in their 96-84 win over the
Chicago Bulls
.
Whiteside became the first player with at least 12 points, 12 rebounds and 12 blocked shots in a game since
Shawn Bradley
in 1997-98 with the
Dallas Mavericks
. In the past 25 years, the only other players to meet those marks have been Shaquille O'Neal (1993-94, with the
Orlando Magic
) and
Dikembe Mutombo
(1992-93,
Denver Nuggets
). Like Whiteside, Bradley came off the bench when he had his triple-dozen.
Whiteside broke the Heat franchise record of nine blocked shots (done by Alonzo Mourning six times). He had the first triple-double that includes blocked shots since
Joakim Noah
, who had 23 points, 21 rebounds and 11 blocked shots on Feb. 28, 2013.
All 12 of Whiteside's blocked shots were within six feet of the basket. Seven came when he was a help defender.
Taj Gibson
was particularly affected by Whiteside. Five of Gibson's 10 shots were blocked by Whiteside. No team had blocked five Gibson shots in a game before Sunday.
Whiteside's defense helped the Heat hold the Bulls to their third-worst field goal shooting percentage (35.6 percent) this season. The Bulls shot 33.3 percent in a loss to the Utah Jazz on Jan. 7 and 34.5 percent in a victory at Indiana on Dec. 29.
Whiteside played 19 games with the
Sacramento Kings
in 2010-11 and 2011-12 and was out of the NBA for two seasons. He became the eighth player in Heat history to post a triple-double, joining
LeBron James
,
Dwyane Wade
, O'Neal, Lamar Odom,
Billy Owens
, Steve Smith and Rory Sparrow.
Whiteside got all of that accomplished in 25 minutes on the court. The last player with 12 or more blocks in 25 minutes or less was Manute Bol in March 1989 for the Golden State Warriors against the Portland Trail Blazers (13 blocks in 20 minutes).
January, 25, 2015
Jan 25
3:47
PM ET
Associated Press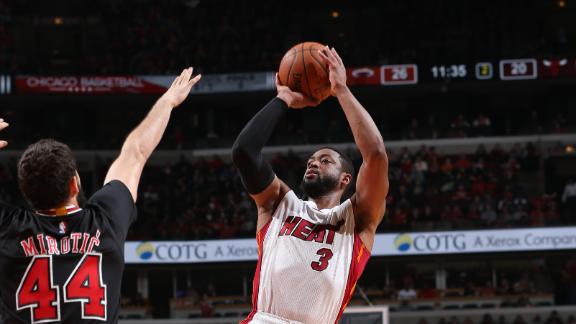 CHICAGO -- Dwyane Wade scored 26 points, Chris Bosh finished with 20 and Hassan Whiteside had unconventional triple-double to help the Miami Heat beat the sluggish Chicago Bulls 96-84 Sunday.
Whiteside had a career high 11 blocks to go with 14 points and 13 rebounds.
Luol Deng scored 15 in his return to Chicago. Mario Chalmers had 15 points, and the Heat squashed whatever momentum the Bulls appeared to be building after beating San Antonio and Dallas.
Miami led by 10 at halftime, 12 going into the fourth quarter and remained in control the rest of the way.
January, 23, 2015
Jan 23
10:14
PM ET
Associated Press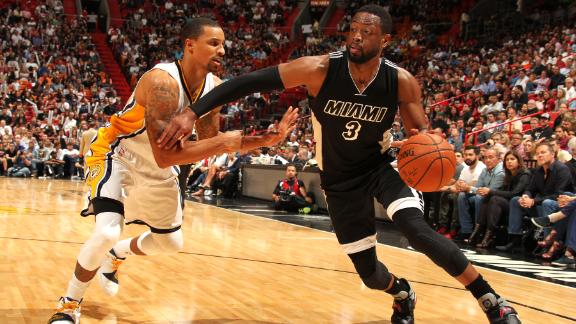 MIAMI -- Luol Deng scored 23 points, Chris Bosh added 19 and the Miami Heat survived another second-half struggle at home, hanging on to top the Indiana Pacers 89-87 on Friday night.
Dwyane Wade scored 13 for Miami, which led by 20 late in the third quarter before Indiana ripped off an 11-0 run and got right back into the game.
Indiana closed within one on Ian Mahinmi's basket with 1:38 left, but David West lost the ball under the hoop on the next Pacers possession. The Pacers would eventually get within one again on George Hill's layup, Wade made one free throw with 6.9 seconds left, and Indiana's hope at overtime went awry when C.J. Watson's open 20-footer from the right corner rimmed out at the buzzer.
Luis Scola scored 14 points, Hill and Watson each scored 13 and West had 12 for the Pacers, who dropped their seventh straight.
January, 22, 2015
Jan 22
9:44
PM ET
Associated Press
NEW YORK -- Miami guard Dwyane Wade has been fined $15,000 by the NBA for making an obscene gesture during the Heat's 78-76 loss to the Charlotte Hornets on Wednesday night.
Rod Thorn, the NBA's president of basketball operations, announced the fine Thursday night.
Wade stuck out his middle finger at some fans at the end of the third quarter in the game at Charlotte's Time Warner Cable Arena.
January, 21, 2015
Jan 21
10:55
PM ET
[+] Enlarge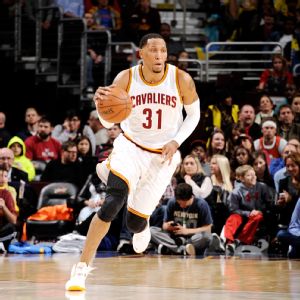 David Liam Kyle/NBAE via Getty ImagesCavs forward Shawn Marion says he will retire at the end of the season, his 16th in the NBA.
CLEVELAND -- Shawn Marion is making his 16th year in the NBA his final one and will retire when the Cleveland Cavaliers finish the 2014-15 season.
Marion, 36, has career averages of 15.4 points, 8.8 rebounds, 1.9 assists, 1.5 steals and 1.1 blocks per game while building a defensive reputation as someone able to guard all five positions on the court.
"I wanted to go out on my terms," Marion told the Arizona Republic in a story published Wednesday afternoon, adding that being away from his first child, 8-month-old son Shawn, is driving the decision.
He spent his first eight and a half seasons in Phoenix after being drafted by the Suns out of UNLV with the No. 9 pick in 1999. Marion then bounced around with short stints in Miami and Toronto before spending five seasons in Dallas, winning a title with the Mavericks in 2011.
The 6-foot-7 forward was a four-time All-Star and named to the All-NBA 3rd Team twice in his career.
January, 21, 2015
Jan 21
9:44
PM ET
Associated Press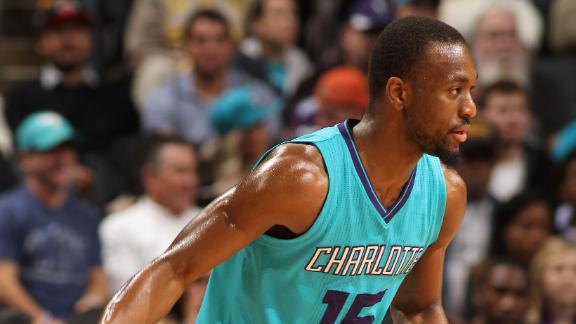 CHARLOTTE, N.C. -- Kemba Walker scored 15 points, Bismack Biyombo had 12 points and 12 rebounds, and the surging Charlotte Hornets edged the Miami Heat 78-76 on Wednesday night.
Charlotte won for the eighth time in nine games despite going without a field goal in the final seven minutes. The Hornets had a 56-41 rebounding edge against the Heat, who played without Hassan Whiteside and Luol Deng.
Miami had a chance to win the game on its final possession, but Chris Bosh missed a 3-pointer from the top of the key. Mario Chalmers ran down the loose ball and fired up another 3 that missed from corner.
Bosh and Dwyane Wade each had 17 points for Miami.