February, 26, 2015
Feb 26
1:06
PM ET
Associated Press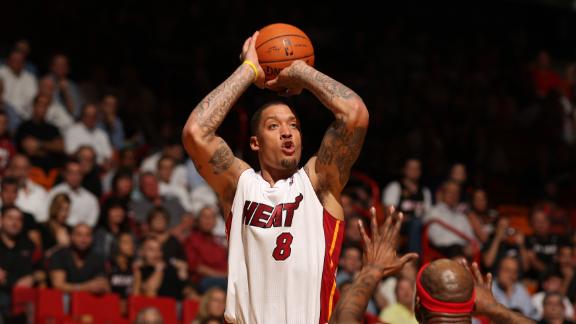 MIAMI -- Looking for help for the stretch run, the Miami Heat turned to a familiar face.
Michael Beasley is with the Heat for a third time, signing a 10-day contract on Thursday with the team that drafted him with the No. 2 overall pick seven years ago.
He said returning to the Heat feels "like I never left, honestly."
Beasley participated in an optional practice in New Orleans on Thursday, working on his shooting and adding a soaring one-handed dunk before walking off the court. He expects to be in uniform against the Pelicans on Friday night.
"I feel great," Beasley said. "I'm definitely blessed and humbled for yet another opportunity, and I'm ready to take it by storm."
Beasley's addition comes less than a week after the Heat learned they would lose All-Star forward Chris Bosh for the remainder of the season because of blood clots on a lung. Miami (25-31) entered Thursday in the No. 7 spot in the Eastern Conference standings.
Beasley spent this season in China, putting up monster numbers, including a 59-point performance in his league's all-star game. He said he's returned to the NBA a wiser, more patient player who has emphasized trying to "slow down, let the game come. I focus on trying to make the whole group better."
"I'm still explosive. It's just about when to use it and how to use it," Beasley added. "I've just learned a lot about myself, learned a lot about my body and the most efficient ways I can move to help the team, and I just want to show it."
He has been working out in Miami for several days, even practicing in the team facility -- a courtesy that the team extended to him, and a sign that yet another Beasley reunion could be looming.
Now it's official, with Beasley wearing a team T-shirt as he signed his contract on Thursday.