March, 29, 2015
Mar 29
8:41
PM ET
Associated Press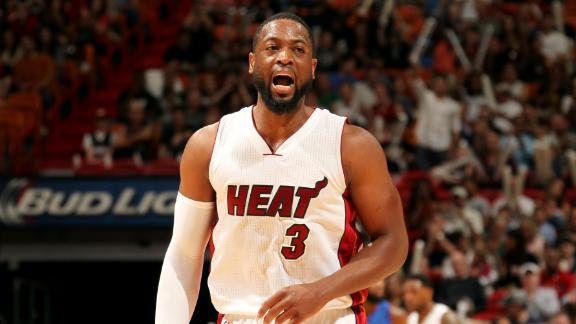 MIAMI -- Dwyane Wade scored 40 points one day after having fluid removed from his balky left knee, Udonis Haslem set season highs with 18 points and 13 rebounds, and the undermanned Miami Heat beat the Detroit Pistons 109-102 on Sunday night.
James Ennis matched his season best with 16 points, Mario Chalmers scored 11 and Goran Dragic had 10 for the Heat, who won their fifth straight at home and strengthened their hold on the No. 7 spot in the Eastern Conference standings.
Andre Drummond had 32 points and 14 rebounds for the Pistons. Reggie Jackson had 31 points and nine assists for Detroit, which had won four in a row.
March, 27, 2015
Mar 27
10:13
PM ET
Associated Press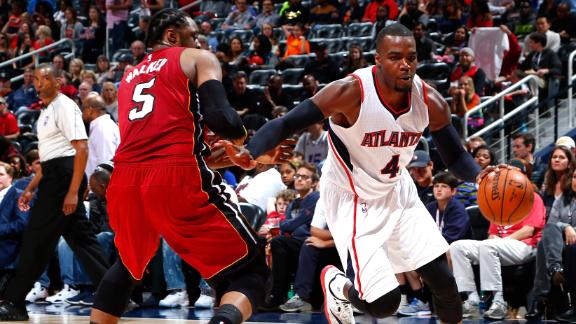 ATLANTA -- DeMarre Carroll scored 24 points and the Atlanta Hawks clinched the top seed in the Eastern Conference playoffs with a 99-86 victory over the Miami Heat on Friday night.
The Hawks wrapped up the No. 1 seed and home-court advantage in the conference playoffs when Brooklyn beat Cleveland 106-98.
Paul Millsap had 21 points and Al Horford had 15 for Atlanta, which never trailed despite playing without injured guard Jeff Teague.
Miami, seventh in the East, had won four of six but fell behind early with cold shooting against the Hawks. Dwyane Wade had 13 points after missing one game with a swollen left knee.
Luol Deng led Miami with 17 points and 10 rebounds.
March, 26, 2015
Mar 26
9:49
PM ET
ESPN.com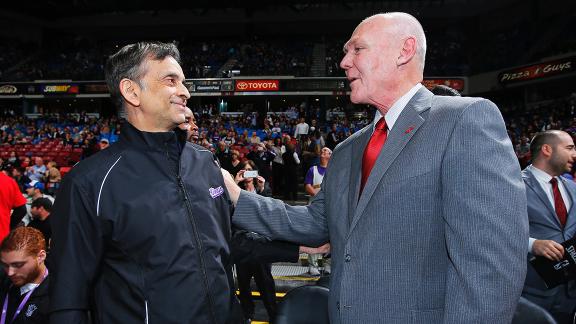 March, 26, 2015
Mar 26
10:06
AM ET
ESPN.com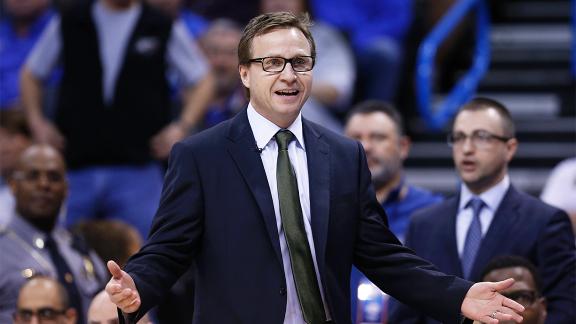 March, 26, 2015
Mar 26
12:39
AM ET

By Chris Forsberg
ESPN.com
Archive
BOSTON -- Boston Celtics guard Isaiah Thomas admitted before Wednesday's game that he was worried about his first fall and so it seemed to take a minute for him to react when he hit the parquet floor hard in the final minutes of the first half while absorbing a charge from former teammate Goran Dragic.
[+] Enlarge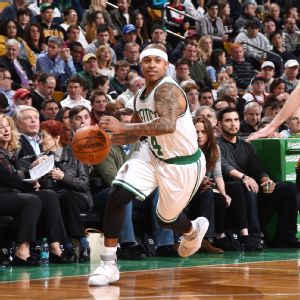 Brian Babineau/NBAE/Getty ImagesIsaiah Thomas struggled in his return from an eight-game absence on Wednesday night vs. the Heat.
And then came the audible groan as Thomas reached for the bruised lower back that had sidelined him the previous eight games, then rolled onto his side in obvious discomfort. Four teammates scrambled over to peel him off the ground, though he likely would have preferred another moment or two to collect himself.
Thomas endured a lackluster return while putting up four points on 2-of-7 shooting over 20 minutes during Wednesday's 93-86 loss to the Miami Heat. He turned the ball over three times and missed three free throws, then suggested it might have been the first time in his NBA career he'd missed three straight from the charity stripe. Thomas went so far as to dub it, "one of the worst games I've ever played."
Thomas' struggles were about the only thing that cushioned his first hard fall.
"I was playing so bad, I didn't even care about the fall, honestly," said Thomas. "It hurt -- the initial hit when I took the charge -- but other than that, I was all right."
Thomas looked little like the speedy, point-creating dynamo we saw over his first 10 games after joining Boston at the trade deadline. He appeared to be hurting and his limited mobility made it tough for him to stay in front of Dragic, who routinely torched Boston with his speed throughout the first half.
Thomas played less than seven minutes in the second half as Boston leaned on a hodgepodge lineup to fuel their fourth-quarter charge.
"There's no excuses, I have to play better," said Thomas. "I'm my biggest critic, I have to come out and play better, offensively and defensively."
But Thomas was also adamant that he did not come back too soon from injury. He blamed rust, but said he'll work through those woes. Coach Brad Stevens plans to talk with Thomas about his health moving forward.
"Obviously, my bigger concern is, 'How's he doing?' because he was a little bit out of rhythm tonight, so hopefully that was just a rhythm thing and not how he's feeling," said Stevens. "That's what I want to know and we'll talk about that more. Guys aren't going to be that honest during the game because they want to play, at least the really competitive ones are that way, and he's a really competitive one."
Thomas got a loud ovation from the crowd when he checked in for the first time midway through the first quarter. But his presence wasn't enough to light a fire under a sluggish Boston team over the first three quarters.
Asked if he'd be able to play on Friday, Thomas was emphatic he'd be on the floor. And playing better than what we saw on Wednesday.
March, 25, 2015
Mar 25
10:25
PM ET
Associated Press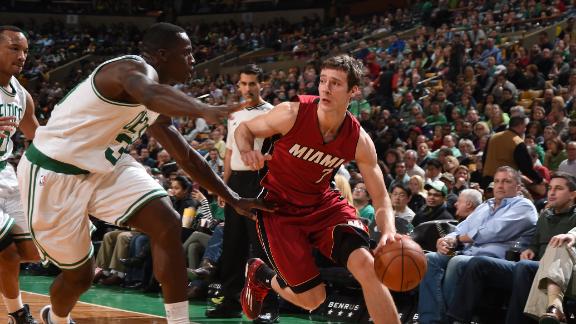 BOSTON -- Goran Dragic had 22 points and seven assists, and the banged-up Miami Heat beat the Boston Celtics 93-86 on Wednesday night.
Luol Deng scored 15 points for Miami, and Udonis Haslem had 12 points and 12 rebounds. Henry Walker and Tyler Johnson also scored 12 points apiece.
Miami played without Dwyane Wade, Hassan Whiteside and Chris Andersen due to injuries, but bounced back quite nicely from Tuesday night's disappointing 89-88 loss at Milwaukee. The Heat blew a 14-point lead in the final 6 1/2 minutes against the Bucks.
Miami (33-38) has won four of six and is seventh in the Eastern Conference playoff race.
Jae Crowder scored 16 points and Avery Bradley had 12 for the Celtics, who remained in the East's eighth and final playoff position.
March, 25, 2015
Mar 25
9:07
AM ET
ESPN.com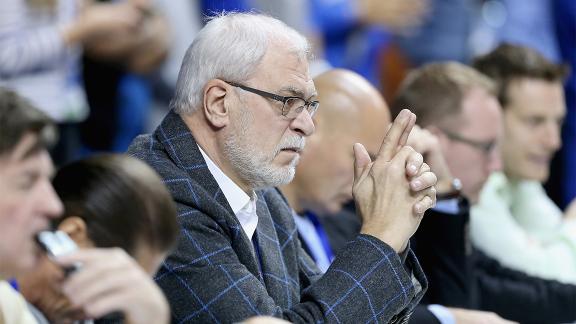 March, 25, 2015
Mar 25
2:00
AM ET

By Ohm Youngmisuk
ESPN.com
Archive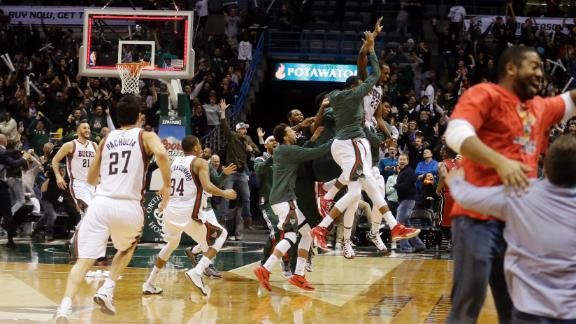 MILWAUKEE –- Erik Spoelstra still looked shell-shocked long after seeing Khris Middleton complete an improbable and stunning fourth-quarter comeback for the Milwaukee Bucks with a buzzer-beating 3.
The Heat coach admitted earlier that morning Miami knew exactly what was at stake on Tuesday night.
The Michael Carter-Williams edition of the Bucks were sinking at an alarming rate in the Eastern Conference playoff standings. Once looking like a lock to make the playoffs, the Bucks dropped six straight going into Tuesday night, and Miami was putting the heat on Jason Kidd's youngsters in the seventh spot and closing.
[+] Enlarge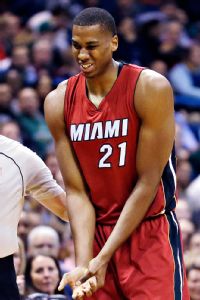 AP Photo/Morry GashHeat center Hassan Whiteside holds his hand after getting a cut that later required 10 stitches.
"We are very aware of the standings," Spoelstra said at the Heat shootaround on Tuesday.
Hours later, Spoelstra's Heat were handed what could be a stinging blow to their playoff chances. Not only did Miami squander a 16-point fourth-quarter lead, the Heat also may have lost their rising center Hassan Whiteside for some time due to a gash between the fingers on his right hand that required 10 stitches and multiple pain-numbing shots.
Spoelstra probably could have used something to numb the agony he was feeling on Tuesday night. The Heat coach knows how things in the East can turn as fast as LeBron James can pen an essay on why he's returning to Cleveland.
With three weeks left in the season, the playoff race in the East might be as crazy as Tuesday night's finish in Milwaukee. With six teams all in striking distance of the final three spots, the East playoffs have basically already begun for the Bucks (35-36), Heat (32-38), Celtics (31-39), Hornets (30-39), Pacers (30-40) and Nets (29-40). Heck, we probably shouldn't count out the Pistons (27-44), either.
Each game now is so critical, and something tells us the Bucks-Heat game might be a preview of more drama to come.
"It's been a fight for us," Dwyane Wade said of the East's bottom half of the playoff standings. "We have been in a fight since the All-Star break. For every team, it is going to be a fight to the last game."
The Bucks were all but dead on this night at the start of the fourth quarter. The sparse crowd in Milwaukee was flat, and Kidd's nursery of inexperienced players looked overwhelmed by the stakes. For second-year infants like Giannis Antetokounmpo and Carter-Williams, this was basically a playoff game. And they struggled badly at times, combining for 12 turnovers. Carter-Williams fouled out with 7:41 left in the game.
But pressure can even get to champions like Wade. The Bucks didn't stop defending with their never-ending length. And soon, an 81-65 Heat lead with 9:53 left was gone with 1:20 to go.
Wade somehow came up with a loose ball and turned it into a layup. Moments later, Wade was fouled and the Heat vet looked poised to seal this game not far away from where he starred at Marquette.
But with 17.5 seconds left, Wade made his first foul shot but missed the second, giving the Bucks life down 88-85. After Ersan Ilyasova made one of two free throws seconds later, Michael Beasley seemed to have the defensive rebound and game secured in his hands.
But Milwaukee's Jerryd Bayless also got his hands on the ball and forced a jump ball. The 6-foot-3 Bayless won the tip over the 6-9 Beasley to the dismay of Spoelstra.
Bayless drove and missed, then a mad scramble ensued for the rebound as the clock was winding down. Somehow, Zaza Pachulia beat the Heat to the ball, saved it as it was heading out of bounds and threw it right to Middleton out on the wing. Middleton then did something no player has done since Kobe Bryant in 2009-10, according to ESPN Stats & Information: He buried his second buzzer-beating 3 in a season.
The Bucks had missed potential game-winning shots three times in the past two weeks before Middleton found the bottom of the net. The shot set off a wild celebration, Milwaukee's version of "One Shining Moment" as Bucks players went flying from all over the court and onto Middleton.
Meanwhile, Spoelstra and the Heat stood and watched in disbelief for several moments.
"Everything that could go wrong, went wrong," Wade said. "It's got to be the perfect storm. Everything went exactly as planned for them, from the save from Zaza to the right guy -- and a guy who doesn't need much time to get it off and doesn't jump on his shot."
"That is the way the cookie crumbles."
Fortunately for the Heat, there's no one-and-done in March in the NBA. The Heat, in fact, left Milwaukee for Boston, where they will play the Celtics in another must-have game.
Spoelstra wouldn't have it any other way. He knows what's at stake.
He just hopes basketball karma will be on his side Wednesday and for most of the remainder of what could be a wild finish in bottom of the East playoff race.
March, 25, 2015
Mar 25
12:25
AM ET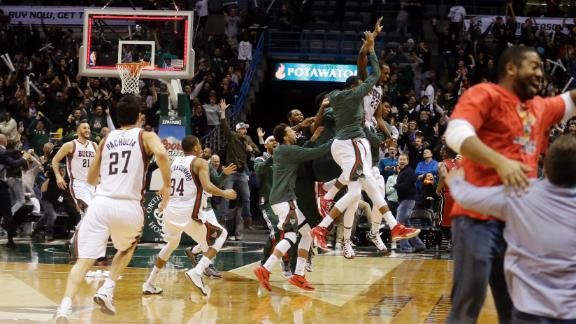 MILWAUKEE -- The Miami Heat not only suffered a stinging loss at the buzzer to the Milwaukee Bucks but they may have also lost center Hassan Whiteside for some time.
Whiteside needed 10 stitches to his right hand after suffering a gash between the middle and ring fingers on his hand. He sliced his hand hitting the rim and had to leave the game with 5:41 remaining in the second quarter of the Heat's 89-88 loss to Milwaukee at the Bradley Center.
Whiteside had his hand heavily bandaged and also said he got multiple shots to numb the pain in his hand. His availability for the Heat's game at Boston on Wednesday seems doubtful.
"I don't know if I am going to be able to play tomorrow," Whiteside said. "We are going to see how it feels, day to day."
"I can't feel my hand right now," Whiteside added. "I'll know tomorrow morning it will be throbbing and I will feel the pain a lot more."
Whiteside left the game with seven points, eight rebounds and two blocks. The Heat were outrebounded 53-34 by the Bucks, who stunned Miami by erasing a 16-point fourth-quarter deficit and winning the game on a Khris Middleton three-pointer at the buzzer.
Miami, already playing without Chris Bosh for the season, need Whiteside. The Heat (32-38) are fighting for a playoff spot and the 7-footer has been a revelation this season, entering Tuesday night's game averaging 11.2 points, 9.8 rebounds, 2.5 blocks and 62 percent shooting.
Head coach Erik Spoelstra said after the loss how severe the injury was to his starting center.