January, 25, 2015
Jan 25
8:51
PM ET

By Michael Wallace
ESPN.com
Archive
CHICAGO -- With
Hassan Whiteside
, it all depends on the day of the week.
There's simply just no telling at any given moment where the soft-spoken, 7-foot center will trace the source of motivation on his path from initial NBA washout to what on Sunday became a spot ahead of Shaquille O'Neal and Alonzo Mourning in the
Miami Heat
's record book for most blocks in a game.
Every day, it seems, Whiteside offers a new revelation of an adventure or adversity he has endured.
When Whiteside first signed with the Heat in December, he pointed to moments when he played in front of armed soldiers during stints with professional leagues in the Middle East. After dominating
Blake Griffin
and
DeAndre Jordan
in a win against the
Los Angeles Clippers
earlier this month, Whiteside counted Doc Rivers among NBA coaches and executives who overlooked him when he left Marshall after one season and fell to Sacramento in the second round of the 2010 draft.
[+] Enlarge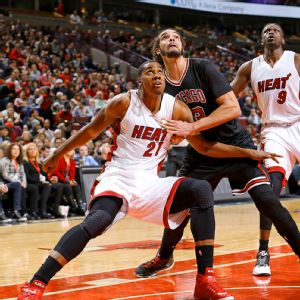 Gary Dineen/Getty ImagesHassan Whiteside accomplished a feat neither Shaquille O'Neal or Alonzo Mourning could for the Heat -- blocking 12 shots in a game.
And before the Heat wrapped up that same 3-2 West Coast trip with a win against the Kings, Whiteside sarcastically questioned how smart Sacramento's former front office executives look now for cutting him after he played just 19 games over two seasons.
But on Sunday, Whiteside outdid himself in multiple ways. He managed to sandwich two compelling tales around a remarkable triple-double -- 14 points, 13 rebounds and a franchise-record 12 blocks -- in Miami's 96-84 victory over the
Chicago Bulls
.
One thing is becoming clear about Whiteside: His stories are every bit as amazing as his stats.
Before facing the Bulls, the 25-year-old anchor of the Heat's defense spoke in the pregame locker room about how he was just thankful and blessed to even play basketball after he survived being hit by a car when he was 10 years old. After the game, he chose to share a memory from his more recent past.
NBA training camps had already opened last October, but the only teams that showed interest in Whiteside were the groups that gathered regularly at the YMCA in downtown Charlotte.
"Like I told my teammates, you won't believe how things work out in life," Whiteside said after his first nationally televised breakout game. "Three months ago -- ask anybody in Charlotte at the downtown Y -- I was just there just chilling, working my game. I couldn't even get a team to pick up the phone."
That phone is buzzing frequently these days.
And now, so is the NBA. The league hasn't seen a player this obscure have an impact this compelling on a team since the Linsanity movement surrounding
Jeremy Lin
with the Knicks three seasons ago.
Whiteside's dominant effort Sunday upstaged the homecoming of teammate and Chicago native
Dwyane Wade
and overshadowed
Luol Deng
's first game back in the United Center since the Bulls traded him a year ago. It almost sounded silly when Whiteside's name was mentioned in connection with O'Neal, Mourning and
LeBron James
in Heat lore on Sunday.
But there stood Heat coach Erik Spoelstra, saying he figured Mourning would have had a game at some point during his Hall of Fame career when he had as many blocks as Whiteside did on Sunday.
Nope.
Mourning's career-high for rejections in a game was nine.
"Clearly he gives this team a different dimension," Spoelstra said of Whiteside. "That's exactly what this team needs. He just needed time to develop. Big guys sometimes take longer. He had to go through his trials and tribulations of being in the league, but also playing in China and Lebanon to get to a point where he was really ready to embrace what was necessary. You root for guys like this."
Whiteside's first career triple-double was his fourth game with double figures in points and rebounds. He has 46 blocks in 18 games, and that 2.5-per-game average would be second in the league behind
Anthony Davis
if he had enough games to qualify for the NBA's statistical rankings.
Offensively, Whiteside is basically dunking on every touch. He had four in the second half and is shooting a team-best 67.4 percent from the field this season. In one 60-second stretch Sunday, Whiteside grabbed two rebounds, scored on a put back and blocked two shots.
This latest outburst left Wade sitting in his locker afterward drawing comparisons between Whiteside and the impact O'Neal had in his first seasons with the Heat almost a decade ago.
"It's special," Wade said of the presence Whiteside adds. "We didn't have that during our [last two] championship runs. That was our one missing piece. A guy like Hassan, he's special. You can't teach what he has. He has great timing, tenacity. When he gets it, he's going up to dunk every time."
Wade is among a group of Heat players who won't allow Whiteside to ever feel satisfied. Even in the midst of a career game, Whiteside was still challenged by Wade when he was late to rotate into the lane to contest a layup by Bulls guard
Aaron Brooks
.
"I told him, 'That's your paint. Protect it and block everything that comes down there,'" Wade said.
"

It's special. We didn't have that during our [last two] championship runs. That was our one missing piece. A guy like Hassan, he's special. You can't teach what he has. He has great timing, tenacity. When he gets it, he's going up to dunk every time.

"

-- Dwyane Wade on Hassan Whiteside
Whiteside took it literally.
"He was everywhere," Bulls forward
Taj Gibson
said. "One thing about the scouting report ... we saw [only] a couple of clips, but in this league, you can't take guys for granted."
Whiteside remains driven by the fact that he has been repeatedly overlooked.
It's no coincidence he specializes in rejections, coming out of nowhere. A North Carolina native, Whiteside had to take the back roads route to college ball at Marshall instead of shining with one of the traditional Tobacco Road powers in his home state.
"In high school, it was like, 'Where he come from?'" Whiteside said. "And even five years ago, if anybody followed my Marshall career -- I did one year [and] didn't even start until later in the season. After the season, it was like, 'Oh, he's projected [in the] lottery. Who is this guy?' It's been like that all my life."
Had Heat forward
Chris Bosh
ever heard of Whiteside before he arrived Dec. 15 from the D-League?
"Nope," Bosh quickly shot back. "I said, 'Where'd he come from?' It's truly remarkable the way he's slipped through the cracks. But I'm glad. When we signed him, I didn't know how big he was. When I saw how big he was and saw his athleticism, I was thinking, 'Man, he could really help us out.' Now, what he's doing is, of course, more than I expected. But I just want him to stay grounded."
Because Whiteside doesn't lack for confidence, multiple Heat players said they must keep him focused and make sure he understands that it's a long season. Miami has had impressive wins this season over the Mavericks, Cavaliers, Clippers and Bulls but the 20-24 record is more reflective of its inconsistency.
Whiteside has been one of the few bright spots in an underachieving season tarnished by injuries. He's described as a prankster who has one of the biggest appetites on the team when it comes to food.
But he also seems to know and accept his place. It's Whiteside's second stint in the NBA, but he still has rookie responsibilities within the locker room. That didn't change Sunday as he boarded the team bus after emphatically placing himself on the NBA map again.
There were towels and bags to grab and food orders to take for veterans, just like always.
"Hell yeah," said longtime Heat forward and co-captain
Udonis Haslem
. "It's whatever we ask him to do. Change that. I meant it's whatever we tell him to do. Get towels. Get food. Get water. And if we slap it out of your hands, go get another one. And that ain't gonna change."
No problem, Whiteside insists.
Through it all, there's only thing he counts more than his blocks.
Those would be his NBA blessings.
January, 25, 2015
Jan 25
4:48
PM ET
By ESPN Stats & Information
ESPN.com
Archive
David Banks/USA TodayHassan Whiteside (21) set a Heat franchise record with 12 blocked shots.
A player who entered this season with 19 games of NBA experience had one of the most impressive all-around games in
Miami Heat
history Sunday.
Hassan Whiteside
came off the bench for the Heat and registered 14 points, 13 rebounds and 12 blocked shots in their 96-84 win over the
Chicago Bulls
.
Whiteside became the first player with at least 12 points, 12 rebounds and 12 blocked shots in a game since
Shawn Bradley
in 1997-98 with the
Dallas Mavericks
. In the past 25 years, the only other players to meet those marks have been Shaquille O'Neal (1993-94, with the
Orlando Magic
) and
Dikembe Mutombo
(1992-93,
Denver Nuggets
). Like Whiteside, Bradley came off the bench when he had his triple-dozen.
Whiteside broke the Heat franchise record of nine blocked shots (done by Alonzo Mourning six times). He had the first triple-double that includes blocked shots since
Joakim Noah
, who had 23 points, 21 rebounds and 11 blocked shots on Feb. 28, 2013.
All 12 of Whiteside's blocked shots were within six feet of the basket. Seven came when he was a help defender.
Taj Gibson
was particularly affected by Whiteside. Five of Gibson's 10 shots were blocked by Whiteside. No team had blocked five Gibson shots in a game before Sunday.
Whiteside's defense helped the Heat hold the Bulls to their third-worst field goal shooting percentage (35.6 percent) this season. The Bulls shot 33.3 percent in a loss to the Utah Jazz on Jan. 7 and 34.5 percent in a victory at Indiana on Dec. 29.
Whiteside played 19 games with the
Sacramento Kings
in 2010-11 and 2011-12 and was out of the NBA for two seasons. He became the eighth player in Heat history to post a triple-double, joining
LeBron James
,
Dwyane Wade
, O'Neal, Lamar Odom,
Billy Owens
, Steve Smith and Rory Sparrow.
Whiteside got all of that accomplished in 25 minutes on the court. The last player with 12 or more blocks in 25 minutes or less was Manute Bol in March 1989 for the Golden State Warriors against the Portland Trail Blazers (13 blocks in 20 minutes).
January, 25, 2015
Jan 25
3:49
PM ET
Associated Press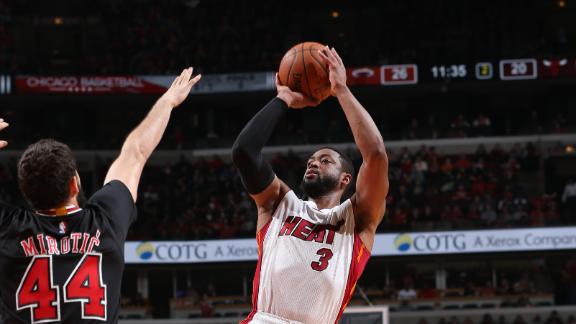 CHICAGO -- Dwyane Wade scored 26 points, Chris Bosh finished with 20 and Hassan Whiteside had unconventional triple-double to help the Miami Heat beat the sluggish Chicago Bulls 96-84 Sunday.
Whiteside had a career high 11 blocks to go with 14 points and 13 rebounds.
Luol Deng scored 15 in his return to Chicago. Mario Chalmers had 15 points, and the Heat squashed whatever momentum the Bulls appeared to be building after beating San Antonio and Dallas.
Miami led by 10 at halftime, 12 going into the fourth quarter and remained in control the rest of the way.
January, 23, 2015
Jan 23
10:14
PM ET
Associated Press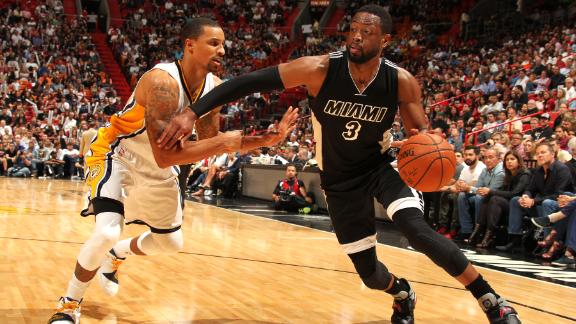 MIAMI -- Luol Deng scored 23 points, Chris Bosh added 19 and the Miami Heat survived another second-half struggle at home, hanging on to top the Indiana Pacers 89-87 on Friday night.
Dwyane Wade scored 13 for Miami, which led by 20 late in the third quarter before Indiana ripped off an 11-0 run and got right back into the game.
Indiana closed within one on Ian Mahinmi's basket with 1:38 left, but David West lost the ball under the hoop on the next Pacers possession. The Pacers would eventually get within one again on George Hill's layup, Wade made one free throw with 6.9 seconds left, and Indiana's hope at overtime went awry when C.J. Watson's open 20-footer from the right corner rimmed out at the buzzer.
Luis Scola scored 14 points, Hill and Watson each scored 13 and West had 12 for the Pacers, who dropped their seventh straight.
January, 22, 2015
Jan 22
9:42
PM ET
Associated Press
NEW YORK -- Miami guard Dwyane Wade has been fined $15,000 by the NBA for making an obscene gesture during the Heat's 78-76 loss to the Charlotte Hornets on Wednesday night.
Rod Thorn, the NBA's president of basketball operations, announced the fine Thursday night.
Wade stuck out his middle finger at some fans at the end of the third quarter in the game at Charlotte's Time Warner Cable Arena.
January, 21, 2015
Jan 21
10:57
PM ET
[+] Enlarge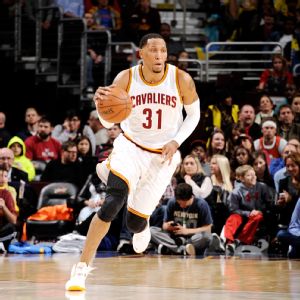 David Liam Kyle/NBAE via Getty ImagesCavs forward Shawn Marion says he will retire at the end of the season, his 16th in the NBA.
CLEVELAND -- Shawn Marion is making his 16th year in the NBA his final one and will retire when the Cleveland Cavaliers finish the 2014-15 season.
Marion, 36, has career averages of 15.4 points, 8.8 rebounds, 1.9 assists, 1.5 steals and 1.1 blocks per game while building a defensive reputation as someone able to guard all five positions on the court.
"I wanted to go out on my terms," Marion told the Arizona Republic in a story published Wednesday afternoon, adding that being away from his first child, 8-month-old son Shawn, is driving the decision.
He spent his first eight and a half seasons in Phoenix after being drafted by the Suns out of UNLV with the No. 9 pick in 1999. Marion then bounced around with short stints in Miami and Toronto before spending five seasons in Dallas, winning a title with the Mavericks in 2011.
The 6-foot-7 forward was a four-time All-Star and named to the All-NBA 3rd Team twice in his career.