November, 26, 2014
Nov 26
12:09
AM ET
By ESPN Stats & Information
ESPN.com
Archive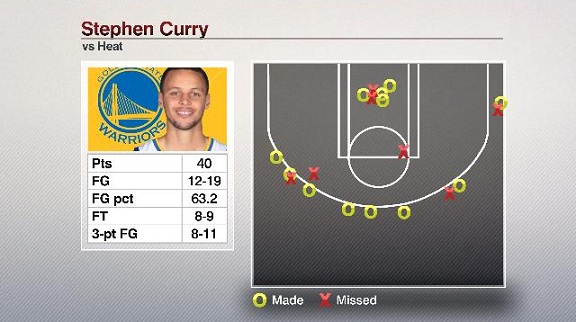 On Tuesday night,
Stephen Curry
had one of those amazing games that even for him was pretty amazing.
Curry scored a season-high 40 points and made eight 3-pointers in a road win over the
Miami Heat
.
Ultra-efficient
What made the game so good was Curry's superb efficiency.
He scored the 40 points on only 19 shots. The last player to score at least 40 points while (a) making at least eight 3-pointers and (b) taking fewer than 20 shots was Jeff Hornacek for the Jazz against the Supersonics in 1994 (15 days after Joe Dumars did so for the Pistons against the Timberwolves).
Curry has made at least six 3-pointers in 33 games in his career. Over the last five seasons, no one else has more than 15 such games.
How he's scoring
It's not just the 3-pointer with which Curry is excelling in helping the Warriors to a franchise-best 11-2 start.
Curry was 4-of-6 in the paint, raising his field goal percentage in the paint to 63 percent this season.
It's only 12 games into the season, but maintaining such a level of success would be a big boost for Curry, who shot 54 percent in the paint in 2013-14.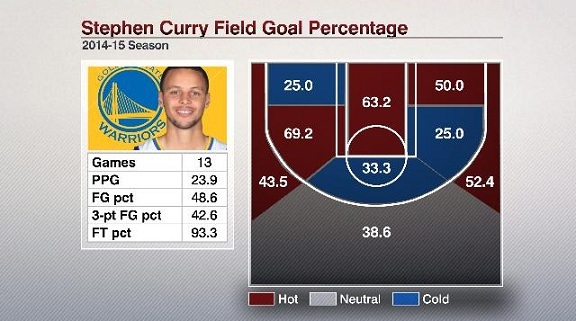 Elias Sports Bureau Stat of the Day
Curry now has 51 career games (including Tuesday's) with at least five assists and five 3-pointers in the same game, passing
Ray Allen
for the most such games in NBA history.
Curry reached 51 in his 349th game played. Allen has 50 in 1,300 career games (his last came in March 2010).
November, 25, 2014
Nov 25
10:25
PM ET
Associated Press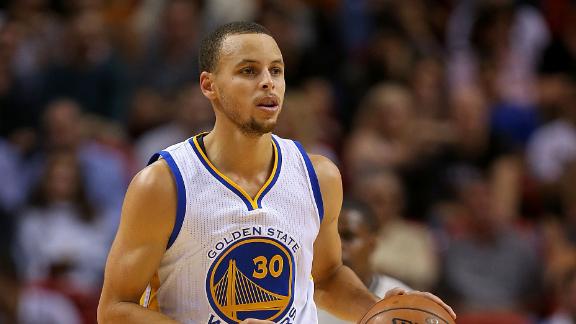 MIAMI -- Stephen Curry scored 40 points, and the Golden State Warriors beat the Miami Heat 114-97 on Tuesday night for their sixth consecutive victory.
Golden State scored 14 straight points to open a 107-95 lead with 2:50 to go. Curry and Thompson capped the run with consecutive 3-pointers.
Thompson had 24 points for the Warriors, who shot 57 percent. Curry was 12 for 19 from the field, including an 8-for-11 performance from 3-point range.
Chris Bosh scored 26 points for Miami, and Luol Deng had 16. James Ennis' dunk with 9:11 left was the Heat's last field goal.
November, 25, 2014
Nov 25
11:52
AM ET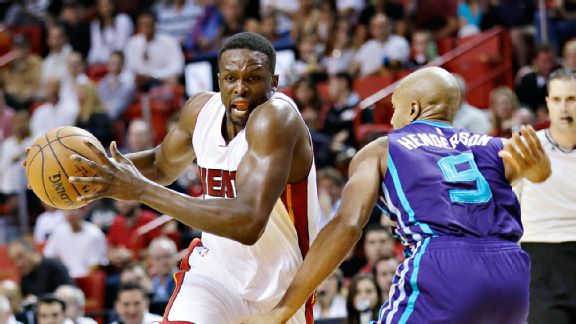 AP Photo/Wilfredo LeeLike the Heat, Luol Deng has had an inconsistent start to the season.
MIAMI -- After enduring 11 months of instability and controversy,
Luol Deng
hopes to finally close in on something over the final weeks of 2014 that has evaded him all year: comfort.
"It's been a tough process," Deng said. "But I'm not panicking or dropping my head or anything."
As Deng nears the end of a succession of turbulent transitions the past 10 months, he's encouraged by the opportunities ahead as he settles into his latest job as the
Miami Heat
's starting small forward. It's a role better known as being the guy occupying the position held the past four seasons by
LeBron James
.
Some might buckle under the weight of those expectations.
But just when the load seems a bit overwhelming for Deng, he responds with a breakthrough performance that serves as a reminder of just what the Heat envisioned when they made the 11-year veteran a top target in free agency amid LeBron's departure last summer.
"

There are times now I find myself out there thinking too much. Over the long run, I think it will go away as guys get used to me and I get used to the guys. I can then just play off instincts.

"

-- Luol Deng
Deng has been a microcosm of Miami's up-and-down start to the season, but looks to build on one of his best performances when the Heat (8-6) face Golden State (10-2) Tuesday at AmericanAirlines Arena.
In his third game back from a wrist injury, Deng finished with a team-high 26 points on 10-of-14 shooting along with eight rebounds, three assists and a block in 38 minutes during Sunday's 94-93 win against the
Charlotte Hornets
. But sustaining that level of play over consecutive games has been problematic for Deng.
He's not being asked to be LeBron, the four-time league MVP who guided the Heat to four consecutive trips to the NBA Finals and to two championships. But Deng is tasked with being a stabilizing force, needing to again prove he's among the NBA's best two-way perimeter players.
But much like the Heat, Deng is essentially in rebuilding mode again.
A combination of nagging injuries, constant rotation changes due to injuries among other players and early difficulties adjusting to his third team this calendar year have made it far from a seamless process. It has led to an uneven start for Deng, who is shooting at or near career-high levels from the field (50.3 percent) and 3-point range (39.0 percent), but is averaging at or near career lows in points (14.7), rebounds (4.7) and assists (1.5) through 13 games this season.
It has been 11 years since Deng opened a season as the new guy who had to find his way. But in Miami, he is one of as many as six newcomers being worked into a rotation that returned anchors in
Chris Bosh
and
Dwyane Wade
but has also shifted the roles of several other holdovers.
It's created an environment where everyone is a work in progress. And that includes Wade, who has missed the past six games with a hamstring injury and could also sit out Tuesday against the Warriors.
"All of us are going through different processes," Deng said. "There are some things I knew to expect, starting the season with a team that's new to me. I was part of a place where I was familiar, so I didn't think much. There are times now I find myself out there thinking too much. Over the long run, I think it will go away as guys get used to me and I get used to the guys. I can then just play off instincts."
Deng vows to maintain patience and big-picture perspective through the balancing act. With a two-year, $20 million deal in Miami from a team that has admired his play from a distance for a decade, Deng can rely on at least some semblance of stability he lacked before he arrived.
There was distrust in Chicago.
The Bulls and Deng lost confidence they could agree on a contract extension after he spent his first nine seasons with the team. Reports had also surfaced that detailed tension between Deng and the Bulls medical staff over his injury treatment and recovery.
Then there was dysfunction in Cleveland.
Deng was traded to the Cavaliers in January from Chicago and stumbled from the outset because of a lingering Achilles injury. Cleveland was also beset by reports of locker room turmoil among players on the way to a fourth consecutive losing season. Coach Mike Brown was fired for a second time, and Deng departed as an unrestricted free agent after the season as the team cleared the way for LeBron's return.
And there was even disaster in Atlanta.
As Deng was being courted by teams in free agency, the Hawks emerged as a potential suitor. But after Deng signed with the Heat, he was the subject of a controversy in Atlanta for racially insensitive comments made by then-general manager Danny Ferry in a conference call with front office staffers. Ferry has been on leave from the team since the recording surfaced in August amid an internal investigation that also centered on an inflammatory email sent by Hawks owner Bruce Levenson.
Those episodes along the way make Deng's initial discomfort in Miami seem minimal.
"We're all here. We're all hard workers, and we believe we'll get there," Deng said of the Heat's collective quest for cohesion. "It's all about patience. There will be progress. I think everyone in the locker room believes in what we can be. There is going to be ups and downs, but it's just about everyone coming in and working every day."
Right now, Deng and the Heat are in a modest upswing. They've won consecutive games over Orlando and Charlotte and are looking for their first three-game win streak since opening the season 3-0. Heat coach Erik Spoelstra has already used five different lineups, and the rotation could take another hit if reserve center
Chris Andersen
is forced to miss more time with an ankle injury he suffered Sunday.
[+] Enlarge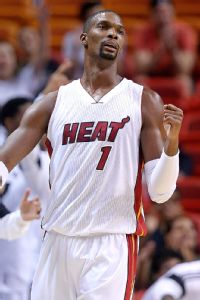 Mike Ehrmann/Getty ImagesChris Bosh says defense is important because "offense is going to take some time" for the new Heat.
Sunday marked the first time in seven games they entered the fourth quarter behind and won. The collective effort Deng frequently harps upon during media interviews has seen guard
Mario Chalmers
average 20 points and seven assists during the six games Wade has missed.
Bosh is also leading the NBA in 20-point games, with 11 entering Tuesday. And rookie
Shabazz Napier
is making the most of the extended minutes he has seen recently by averaging 12.8 points over the past five games. The downs, however, include a trend in which the Heat seem to suffer an unsettling-to-downright-embarrassing home loss at least once each week.
Last week, the
Los Angeles Clippers
jumped out to a 20-point lead and cruised to a win. The week before that, it was the injury-depleted
Indiana Pacers
who pounded Miami on the boards in a stunning victory.
"That's why defense is so important -- offense is going to take some time," Bosh said after the Heat rallied for Sunday's win. "We haven't had many close games down the stretch. We've been down at home, and to get out of that situation you're going to have to face it. Our guys did a really good job of putting things in the past and focusing on the possessions that we had. It worked out for us. We really took a step forward as far as having that mental stability we always talk about having."
Ask Spoelstra about personnel -- or the lack thereof any given night -- and he answers with talk of perseverance.
"It's more about the resolve and mental toughness you build as a team," Spoelstra said. "Regardless of who's out there, are you playing consistently to your identity? Are we defending and sharing the ball?"
Deng benefited from that sharing in his last game. He missed his first shot against the Hornets, but then made his next eight attempts to score 19 of his 26 points in the first half. He stretched the floor with his 3-point shooting. He sliced his way toward the basket to score in the paint. He defended and rebounded on the other end.
It has taken a while, but it was a hint of what Deng can offer when he's in a familiar and comfortable role.
"I got a rhythm," Deng said. "We did a good job of moving the ball. It is really about being patient. There are going to be games where it doesn't look great or you don't get the looks you want and then there will be games that you do. It really is about sticking with it and trying to find that consistency."
Eventually, that consistency leads to confidence.
And, ultimately, that confidence provides the comfort Deng has lacked almost all year.
November, 23, 2014
Nov 23
8:42
PM ET
Associated Press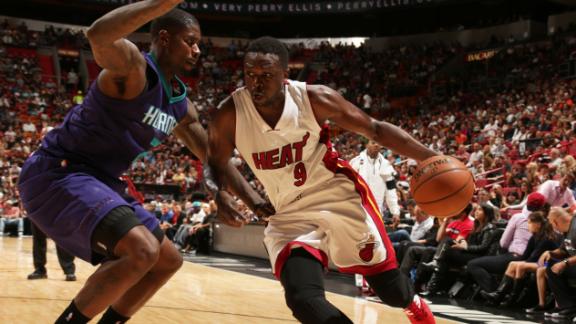 MIAMI -- Luol Deng scored 26 points, Chris Bosh and Mario Chalmers each added 20, and the Miami Heat held on in the final seconds to beat the Charlotte Hornets 94-93 on Sunday night and snap a three-game home slide.
In the final half-minute, Kemba Walker missed two potential go-ahead shots for the Hornets, and Al Jefferson's tip-in try bounced off the rim as time expired. Charlotte dropped its fifth straight.
Chalmers had 10 assists for his second double-double of the season, and Shabazz Napier scored 14 for the Heat.
Jefferson finished with 22 points and 12 rebounds for Charlotte, which got 17 points from Lance Stephenson and 16 from Walker. The Hornets led by as many as eight in the fourth -- before Miami rallied.
Miami was without guard Dwyane Wade for the sixth straight game.
November, 22, 2014
Nov 22
11:26
PM ET
Associated Press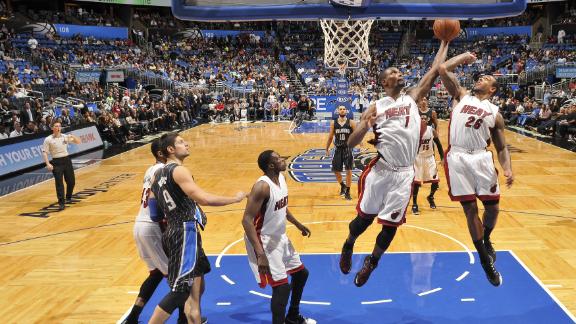 ORLANDO, Fla. -- The Orlando Magic acknowledged they had no answer for Chris Bosh on Saturday night, and it cost them in a 99-92 loss to the Miami Heat.
Bosh scored 14 of his season-high 32 points in the fourth quarter and the Heat (7-6) beat their intrastate rivals for the 10th straight time.
"I'm not really used to guarding players like him," said Magic center Nik Vucevic. "Usually I'm around the paint, trying to help, but with him you can't do that. With Bosh, you have to be really close, and if you help he gets those open shots. He got it going with some open shots and at the end he was unstoppable."
Bosh hit 5-of-6 shots in the fourth quarter, including a couple of 3-pointers. His two free throws with 6:45 left broke a 77-77 tie and started a 14-4 run that put Miami firmly in charge.
A long jumper by Bosh gave Miami its first double-digit lead at 91-81 with 3:39 left.
"I knew how they were playing, and I just wanted to keep switching up on them and not give them the same look," Bosh said. "That's when I started popping and getting some open looks. I was able to build a rhythm on that."
Vucevic led Orlando with 33 points and 17 rebounds, leading the Magic (6-9) to a 44-33 rebounding advantage. Miami offset that with 52 percent shooting, including 12 of 26 from 3-point range. Bosh also had a team-high 10 rebounds.
Mario Chalmers contributed a season-high 24 points and eight assists for the Heat, who shot 52 percent overall. Rookie Shabazz Napier added 12 points for Miami in 28 minutes off the bench.
November, 22, 2014
Nov 22
2:02
AM ET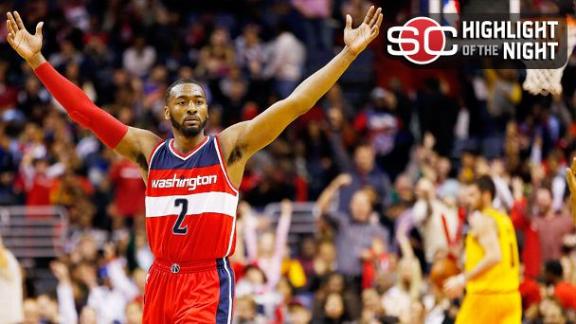 WASHINGTON -- After spending the previous two days pushing and pleading for his team to show maturity and growth from characteristic lapses to start the second halves of games,
Washington Wizards
coach Randy Wittman found himself Friday night in a frustratingly familiar place.
Just 48 hours earlier, the same scenario played out at the start of the third quarter, with point guard
John Wall
spearheading the sloppy play and sulking that gave the
Dallas Mavericks
an opening to storm ahead for a double-digit lead and eventually a 105-102 victory.
Wittman spent that night and the next day constructively criticizing Wall's competitive maturity. He challenged his team to grow up and learn how to prevent one bad stretch from leading to another and ultimately costing themselves winnable games.
Yet again, the Wizards were in the midst of a turnover-induced meltdown against Cleveland.
And again, an opposing team had converted those miscues into a string of unanswered baskets.
So again, Wittman tapped his shoulders as he stormed onto the court to break up the action. Only this time, unlike on Wednesday, Wittman's actions spoke louder than any words he considered delivering.
"I called a quick timeout again," Wittman said Friday of the pivotal moment before Washington regrouped to shut down
LeBron James
and the Cavaliers in a 91-78 victory. "Nothing really was said. It was a 20-second timeout. I just let them talk among each other. They knew that this was not the start we wanted. So I thought after that, we got going a little bit."
[+] Enlarge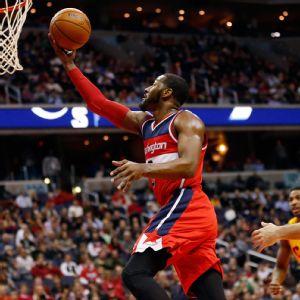 Geoff Burke/USA TODAY SportsJohn Wall scored 17 of his 28 points in the third quarter Friday night.
Two days after Wall was called out and took responsibility for the Dallas loss, he shouted back with one of his most complete games of the season. It was a transformation from third-quarter scapegoat on Wednesday to third-quarter catalyst Friday, having scored 17 of his game-high 28 in that period.
Wall relished the opportunity for redemption on several levels. In addition to his stretch of turnover problems Wednesday, Wall also missed 12 of his 17 shots against the Mavericks. That kept him in the practice facility for an extended shooting workout that lasted nearly an hour after Thursday's practice.
Another motivating factor, although Wall repeatedly downplayed it publicly, was his matchup with point guard
Kyrie Irving
, who was selected No. 1 overall a year after Wall was taken with the top pick in 2010. Wall has felt overlooked and underappreciated nationally when compared with Irving.
And it was also an opportunity for Wall to shine in a nationally televised game and return some of the same lessons on patience and process to the star-studded but struggling Cavaliers that James, then with the
Miami Heat
, used to routinely offer to Wall during tough stretches for the Wizards. The Wizards (8-3) are off to their best start in 40 years, but they lacked a signature victory over a quality opponent after losing to Miami in the season opener and recently to Toronto and Dallas.
Considering the state of disarray the Cavaliers are in right now amid a 5-6 start, it's debatable how much of a statement victory Friday's game was for the Wizards. But it didn't lack for luster amid spotlight.
"I feel like, yeah, it's a statement," said Wall, averaging career-high marks with 19.5 points and 9.1 assists per game this season. "We lost to Toronto pretty badly. Dallas, we felt like we let that game get away. And we haven't beaten a big-man team, everybody says. So this game was pretty big."
But Wall insists the win only resonates and boosts the Wizards' profile as a legit contender if they can follow it up in the second game of a back-to-back set Saturday in Milwaukee.
"When you win this game, you have to back it up," Wall said. "You win this one and then lose [Saturday], and you're back to [critics] saying, 'Are they really that or really this?' If you want to be a legit team in this league, you've got to go right back out and win these type of games."
Wall personified the three characteristics Wittman hoped to see from his team this week: resilience, toughness and maturity. It all resonated in Wall's play, specifically in the third quarter. Wittman's timeout was called about two minutes into the third quarter after Wall and
Paul Pierce
committed turnovers on consecutive possessions and Cleveland cut a 15-point deficit to nine.
Wall's 3-pointer out of the timeout pushed the lead back to double figures, and his two free throws later in the quarter gave Washington its largest lead at 74-58. He shot 7-of-9 in the quarter and added two steals, two rebounds and an assist in the most productive quarter by a Wizard this season.
Wittman left his players to discuss among themselves the necessary corrective measures needed during that 20-second timeout. But what was actually communicated during that break?
Depends on which player was asked.
"I was telling my teammates to be aggressive," Wall said. "If they have open shots, take them. If you miss them, we can live with that. But if we're living with turnovers and bad shots, that lets a team get into the open court. We moved on. We failed quickly and moved on. Against Dallas, we'd get a turnover and hold our head [down]. Tonight, we just kept it moving, said it was our fault and kept playing."
It took Wall about 30 seconds to deliver that quote, about 10 more than allowed during the timeout.
Bradley Beal
, who had 12 points and five assists in his second game back from wrist surgery, suggested the message among players was about remaining focused and avoiding a repeat from Wednesday.
"We were able to stay poised," Beal said. "It kind of got out of hand a little bit. We called a timeout and regrouped. We talked about the mistakes we made on the floor and what we needed to do better. And it stopped right there and we turned it around."
Pierce, a 17-year veteran who has been a calming influence in those moments during his first season in Washington, couldn't remember exactly what was said.
"I don't even know," Pierce said. "It was like three timeouts during that quarter. I'm so pumped with adrenaline right now after the game, I can't even remember. But I'm sure it was something about our defense. It was the defense. That's our identity. We have to be a hard-nosed defensive team that can shut down teams when they come in here every night. We're taking steps in the right direction."
Friday was more than a step. It was more like a significant leap defensively.
On the heels of giving up 105 points to the league's top-scoring team, the Wizards held the Cavaliers, who are fifth in scoring, to their lowest output of the season. Cleveland shot a season-low 38 percent shooting from the field, were outscored 50-34 in the paint and 40-9 off the bench.
Add the 24 points the Wizards scored off 19 turnovers by the Cavaliers, and it was a dominant display.
"We were really locked in with five guys, for the most part, all night," Wittman said. "We were aggressive pretty much all night. John started it, obviously, bouncing back. He wasn't happy with his last game against Dallas and stepped up and came back. He was really aggressive from the start."
Pierce senses Wall had an extra edge when he entered the game.
By the time it was over, it was clear Wall had proved his point.
November, 20, 2014
Nov 20
10:43
PM ET
Associated Press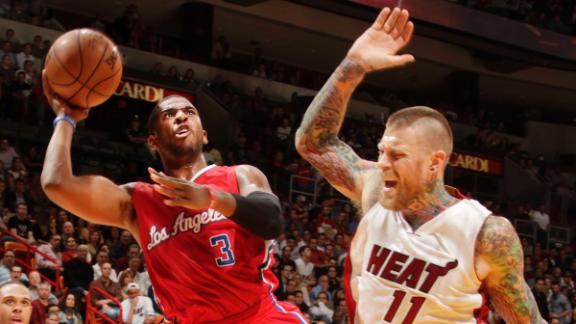 MIAMI -- Chris Paul had 26 points and 12 assists, Blake Griffin added 26 points and the Los Angeles Clippers wasted no time in taking control on the way to a 110-93 win over the Miami Heat on Thursday night.
DeAndre Jordan scored 12 points -- on six shots, all dunks -- and grabbed 11 rebounds for the Clippers (7-4), who led 39-15 after one quarter.
Chris Bosh scored 28 for Miami (6-6), which has dropped three straight home games for the first time since March 3-8, 2011. Rookie reserve Shabazz Napier had a season-high 17 points.
Dwyane Wade missed his fourth consecutive game with a strained left hamstring. The Heat are 5-3 when Wade plays this season, 1/3 when he doesn't.
November, 20, 2014
Nov 20
1:09
PM ET
MIAMI -- With one towel wrapped around his waist and another draped over his shoulders,
Miami Heat
center
Chris Bosh
emerged from the showers after a recent game, carved through reporters waiting at his locker and noticed neighboring teammate
Shannon Brown
scrambling to get away.
Brown hurried to dress and clear out of the way so Bosh would have all the space he needed.
"Why are you rushing? It's just the media," Bosh said. "They've got questions. We've got answers."
If only it were that simple for the Heat this season.
Within a span of seven days, Miami has displayed the best of its progress and potential with impressive victories at Dallas and Brooklyn. And the Heat have also shown just how painstaking the process of rebuilding on the fly can be in demoralizing home losses to Milwaukee and a depleted Indiana team.
One week, the Heat are riding high after an impressive 5-2 start in which
Dwyane Wade
flashed his newfound health and durability by playing six games in nine nights. And the next week, the Heat stumbled through three straight losses and a rash of injuries to three starters that included Wade missing time with a strained hamstring.
Every time it seems the Heat (6-5) are on the verge of providing answers, more questions arise.
"I guess it's just part of what we have to go through, I guess, because we're right in the middle of it," Bosh said of the erratic start to the season. "You knew it was going to be a little difficult. But it comes in ways you don't expect. You just have to stay with it until it turns. Just get on course and do better."
There's a significant chance to turn again with Thursday's visit from the
Los Angeles Clippers
as Miami looks to distance itself from consecutive embarrassing home losses. But even that opportunity comes with its own set of questions, specifically regarding the health and availability of three key players.
After missing the past three games, Wade didn't go through shootaround Thursday and is doubtful to play against the Clippers.
Luol Deng
, who sprained his wrist in Sunday's loss to the Bucks, was held out of Monday's win against Brooklyn. Heat forward
Josh McRoberts
practiced Wednesday after missing Monday's game with a bruised foot.
At a time when the Heat had hoped to gain traction and establish some early continuity, injuries and inconsistent performances have instead forced them to use four different starting lineups in 11 games.
Add in Bosh's week-long shooting slump, and it presents a buffet of excuses that could have led to a poor performance on the second night of a back-to-back set entering Monday's 95-83 win against the Nets. Yet, the hard-to-figure Heat turned in perhaps their most encouraging effort of the young season.
Amid Wade's recent injury history, questions have been raised about the Heat's depth at shooting guard after an offseason in which Ray Allen and
James Jones
both departed. But
Mario Chalmers
, who has transitioned from starting point guard the past several seasons to Wade's primary backup this season, has thrived in his new role. He's shot 53 percent from the field and averaged 21 points and seven assists in the three games Wade has missed.
The Heat have also relied more heavily on rookie guards
Shabazz Napier
and
James Ennis
and hope they can build on their efforts from Monday, when they combined for 21 points, 11 rebounds, five assists and two steals and saw extended time in the fourth quarter. But those productive moments guarantee absolutely nothing moving forward. So far, the trend has seen that the Heat take one huge step forward only to lose their balance the next time they're on the court.
Maintaining progress and patience has been a challenging balancing act for the Heat.
"You have to embrace that as a competitor, really," Heat coach Erik Spoelstra said. "The NBA season turns like this for you, for whatever reason. The ball isn't bouncing the right way. You're not getting the calls you think you're going to get. There are injuries. Guys are in and out of the lineup. That's when you reveal yourselves as a basketball team. That's how you grow -- [through] these mini points of adversity."
That adversity has produced some uneven moments for a team that is working with as many as six new rotation players who were around for Miami's two championships and four straight trips to the Finals.
Settling in means there are going to be some flashes of phenomenal play, which was the case when Miami efficiently carved through Dallas on Nov. 9 with beautiful ball movement that led to a season-high 31 assists and 55.3 percent shooting in that 105-96 victory. But getting acquainted also means there will be miscommunication and frustration, which were prominent when the Heat were outrebounded by 25 boards on Nov. 12 against the Pacers and consistently blew coverage assignments two nights after in Atlanta, where the Hawks shot 56 percent and scored 114 points.
No player on the Heat's roster understands the challenge of change more than Deng, who is with his third team this calendar year after he was traded from Chicago to Cleveland last season before he signed with the Heat as a free agent over the summer.
"It's definitely tough ... we're having different lineups out there," said Deng, who fills the starting small forward spot vacated by
LeBron James
. "The last couple of games, there have been games we showed how good we can play together. But it's a long season. And this is definitely a learning process. We just have to come together, see the things we're doing great and stick to that. And the things that are beating us, we have to learn to avoid those. Hopefully we can benefit from all of this in the long run."
Bosh has been here before.
He knows it's impossible to endure the long run by being short on patience. That, in part, is why he isn't too perplexed by his recent shooting woes. After getting off to one of the most productive starts of his career through the first seven games, Bosh has shot just 28.3 percent from the field in his past four outings. He's missed 11 of 14 attempts from 3-point range and averaged just 13.4 points in that span.
Bosh held himself and his teammates accountable with a harsh message after Sunday's loss to the Bucks -- a setback that included his 2-for-17 shooting performance.
"We're starting to see the same mistakes over and over and we're just going to have to have a serious talk about it," Bosh told ESPN.com after that game. "We're not talking on defense; we're not even running our set plays. It just can't happen. If we're going to go down, let's go down executing and playing our game. We're going down making mental lapses and mistakes at opportune times. I can understand missed shots. That comes and goes. But if we're not even running plays ..."
About 24 hours later, after the relative breakthrough in Brooklyn, Bosh praised Napier and Ennis for showing some resilience and talked about the boost veteran
Danny Granger
provided in his debut after sitting out the first 10 games with a hamstring injury.
"We're going to need them," Bosh said.
The next step is to put two consistent weeks together.
Playing two consistent games would be a start.
"We just have to continue discussions about where guys are supposed to be and what they're supposed to do," Bosh said. "We can do this. We just have to pound away until it sticks."
Maybe that's when the answers will start to overshadow the questions facing the Heat.
November, 18, 2014
Nov 18
10:59
PM ET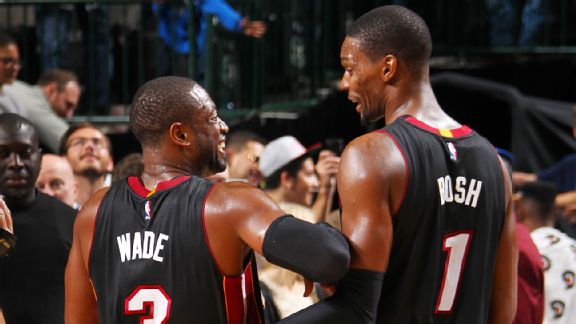 Danny Bollinger/NBAE/Getty ImagesDwyane Wade and Chris Bosh are still front and center for the Heat.
ESPN.com NBA reporter Michael Wallace is joined by Miami-based sports radio co-hosts Ed Freeman and Jeff Fox to break down the Heat's post-LeBron makeover and the biggest stories from the opening month of the NBA season.
The Post-Up Podcast