February, 28, 2015
Feb 28
10:18
PM ET
Associated Press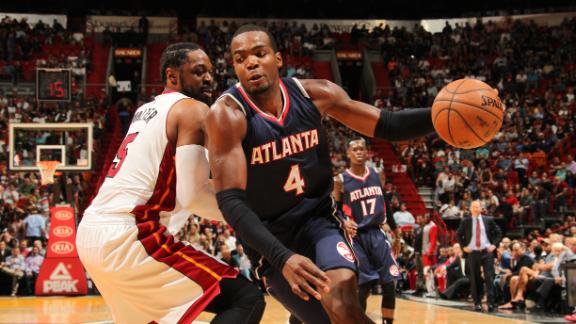 MIAMI -- Paul Millsap scored 22 points, Dennis Schroder added 16 points and 10 assists and the intentionally depleted Atlanta Hawks still had enough to beat the Miami Heat 93-91 on Saturday night.
Kent Bazemore scored 15, including a big 3-pointer with about a minute left that gave the Hawks an 89-80 lead. John Jenkins scored 12 for Atlanta, which turned 23 Miami turnovers into 31 points.
Dwyane Wade scored 22 points for Miami, which fell to 10-17 at home and still remains in the No. 7 spot in the Eastern Conference race. Hassan Whiteside finished with 14 points and a season-high-tying 24 rebounds for Miami.
It was the second straight night Miami lost by exactly two points.
The Hawks rested four regulars -- Al Horford didn't even make the trip because his wife just had a baby, while Pero Antic, DeMarre Carroll and Jeff Teague were all given the night off.
February, 28, 2015
Feb 28
7:31
PM ET
Associated Press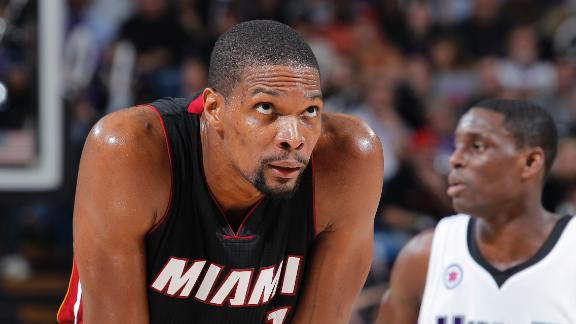 MIAMI -- All-Star forward Chris Bosh of the Miami Heat has been released from a South Florida hospital following a weeklong stay for treatment after blood clots were found on one of his lungs.
Bosh was hospitalized for just over a week and still will be monitored closely, but simply being released is a major step on his road back to health.
"That was his first goal," Heat coach Erik Spoelstra said. "He's been very anxious to get out of there. It was driving him nuts."
Spoelstra said Bosh was sent home Friday.
The situation was a huge scare for Bosh and the Heat, especially since his condition was diagnosed just days after former NBA star Jerome Kersey died because a blood clot traveled from one of his legs to one of his lungs. The team has not released any specifics about Bosh's condition, other than saying he had clots on a lung.
Bosh will miss at least the rest of the season.
His condition was diagnosed last week after he played with pain in his side and back for several days. His final on-court appearance was the NBA All-Star contest in New York two weeks ago, and he went to a hospital for evaluation after being stricken by severe pain while vacationing with Dwyane Wade in Haiti several days later.
There is no timetable for when Bosh -- who averaged 21.1 points and 7 rebounds this season -- is expected back at games, even if only home ones.
"We'll get there when we get to that point," Spoelstra said. "Right now, the big thing is he's at home and we'll take the next step when we get there."
February, 28, 2015
Feb 28
9:02
AM ET
ESPN.com news services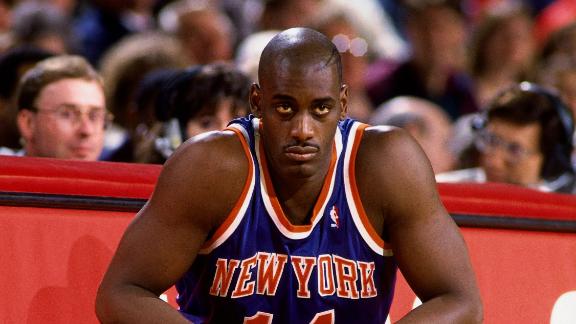 Anthony Mason, a longtime NBA player who helped the New York Knicks reach the 1994 NBA Finals, has died at the age of 48.
A Knicks spokesperson confirmed to ESPN that Mason died early Saturday morning. The 13-year NBA veteran had been diagnosed with congestive heart failure earlier this month.
"First I want to thank all those who offered prayers and well-wishes for my Father, our family really appreciates it," his son, Anthony Mason Jr., said in a statement Saturday. "Overnight, New York City and the world lost a legend, a friend, a brother ... but more than anything our father, Anthony Mason. As you all would expect our father -- Big Mase -- put up an incredible fight, dealing with a severe heart issue. I'm wishing this was something else I was writing, but Pops we've got to let you know we love you and know you'll always be with us."
The Knicks held a moment of silence for Mason before Saturday night's 103-98 win against the Toronto Raptors and aired a video tribute during the game.
Mason's other son, Antoine, is a senior basketball player at Auburn, which played at Texas A&M on Saturday. The Aggies held a moment of silence for the elder Mason.
Antoine Mason had said earlier this week that his father was "getting better" following multiple heart surgeries.
Mason's family released a statement Saturday morning, saying that he "fought like a warrior to the very end."
"We would like to thank everyone for their heartfelt thoughts and strong prayers," the statement said. "Anthony felt each and every one. He fought like a warrior to the very end. Please keep your prayers and thoughts with us through this very hard time -- it is a great loss for us. We ask for our privacy during this time."
Mason played for six teams but was best remembered for his five-year tenure with the Knicks. Mason's bruising, physical play epitomized then-coach Pat Riley's Knicks teams. The 6-foot-7 forward became a fan favorite for his physical play and also drew attention for the creative artwork and messages he had carved in his haircuts.
"Anthony Mason exemplified perseverance for all players fighting for their chance in the NBA," NBA commissioner Adam Silver said. "NBA fans and players around the league admired his tenacity on defense and playmaking on offense."
Mason teamed with Patrick Ewing, Charles Oakley
February, 27, 2015
Feb 27
10:48
PM ET
Associated Press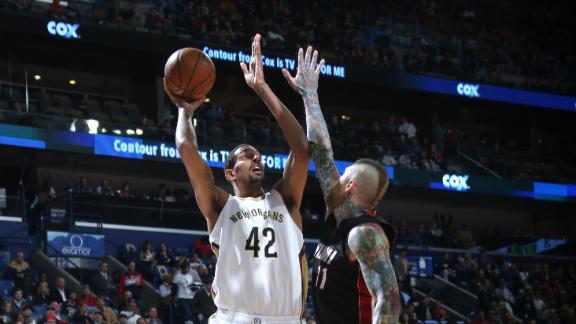 NEW ORLEANS -- Alexis Ajinca made the go-ahead layup with 26 seconds left and scored a career-high 24 points to help the New Orleans Pelicans won their fourth straight, 104-102 over the Miami Heat on Friday night.
Hassan Whiteside appeared to be going up for a tying dunk when he was blocked by fellow 7-footer Omer Asik, who secured the rebound, but his hasty outlet pass went off Eric Gordon's hands and out of bounds.
That gave Miami one more shot, but Dwyane Wade's 3-point attempt bounced out as time expired, dropping the Heat to its first loss in three games.
Gordon scored 20 points and Tyreke Evans had 19 points and 11 assists for New Orleans before fouling on a charge with the scored tied at 100 and 1:23 left.
Whiteside's dunk then put Miami in front, and Ajinca tied it with his first of two baskets in the last minute.
February, 26, 2015
Feb 26
1:10
PM ET
Associated Press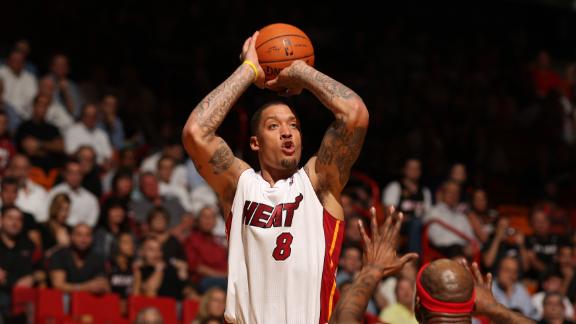 MIAMI -- Looking for help for the stretch run, the Miami Heat turned to a familiar face.
Michael Beasley is with the Heat for a third time, signing a 10-day contract on Thursday with the team that drafted him with the No. 2 overall pick seven years ago.
He said returning to the Heat feels "like I never left, honestly."
Beasley participated in an optional practice in New Orleans on Thursday, working on his shooting and adding a soaring one-handed dunk before walking off the court. He expects to be in uniform against the Pelicans on Friday night.
"I feel great," Beasley said. "I'm definitely blessed and humbled for yet another opportunity, and I'm ready to take it by storm."
Beasley's addition comes less than a week after the Heat learned they would lose All-Star forward Chris Bosh for the remainder of the season because of blood clots on a lung. Miami (25-31) entered Thursday in the No. 7 spot in the Eastern Conference standings.
Beasley spent this season in China, putting up monster numbers, including a 59-point performance in his league's all-star game. He said he's returned to the NBA a wiser, more patient player who has emphasized trying to "slow down, let the game come. I focus on trying to make the whole group better."
"I'm still explosive. It's just about when to use it and how to use it," Beasley added. "I've just learned a lot about myself, learned a lot about my body and the most efficient ways I can move to help the team, and I just want to show it."
He has been working out in Miami for several days, even practicing in the team facility -- a courtesy that the team extended to him, and a sign that yet another Beasley reunion could be looming.
Now it's official, with Beasley wearing a team T-shirt as he signed his contract on Thursday.
February, 26, 2015
Feb 26
6:47
AM ET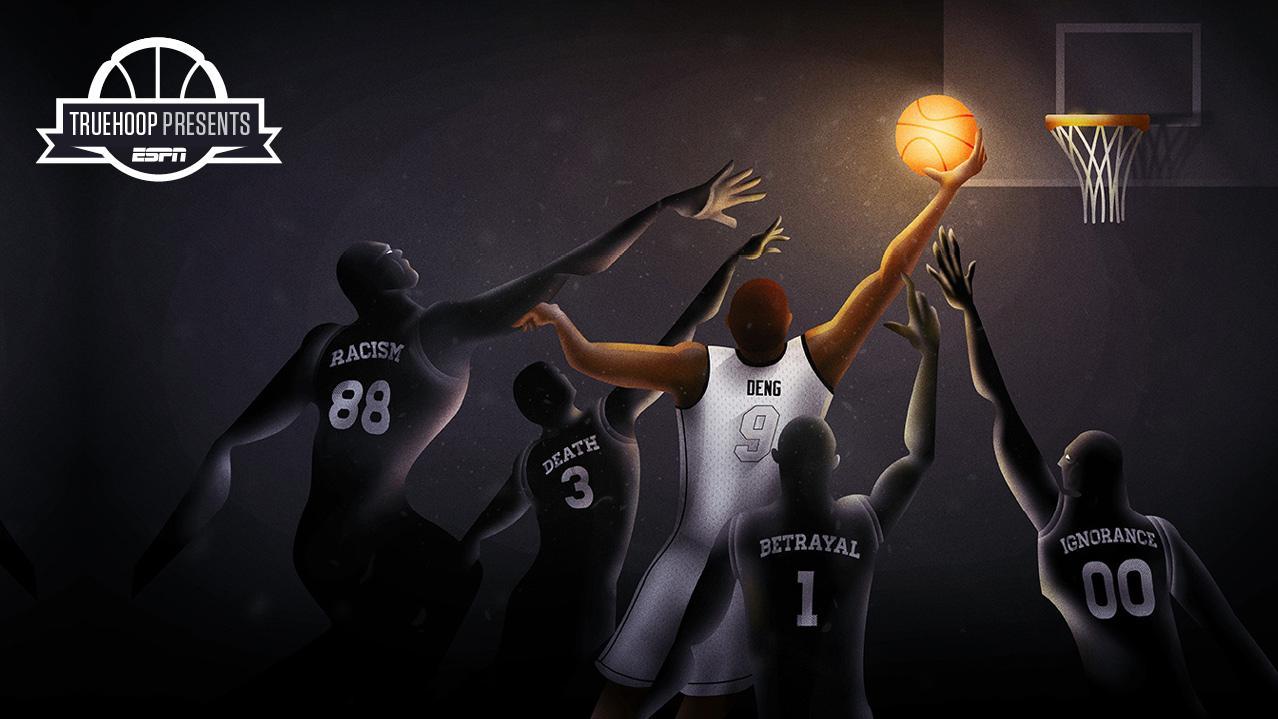 MIAMI -- On good days, the worst hurled at Luol Deng in grade school were the racist slurs a Sudanese refugee child was far too young to comprehend yet never quite able to forget.
Samara, meaning black.
Hunga bunga, mockery for ape.
Shakshuka, epithet from a cheap north African meal.
On bad days, those classroom slurs escalated to slinging fists in the schoolyard.
"It was just constant," Deng, a Miami Heat forward, says 25 years later. "I had this one teacher, and as I got older and translated things he used to say, it was racist and hatred stuff he was saying toward me and my brother. A lot of times, we fought because of that stuff."
Yet this was the better life.
This was the safe haven -- the relative oasis -- during the early 1990s in Alexandria, Egypt, where Deng and eight siblings fled without their parents to escape a decades-long civil war in their native Sudan between the Muslim north and Christian south. Luol's father, Aldo Deng, was a Sudanese government official who, according to British media reports, was jailed in 1989 during a violent coup by Muslim rebels who imposed Sharia law.
Released after three months, Aldo and his wife Martha put their children on a plane to sneak to Egypt under the care of the eldest siblings, who would work and live as refugees. Luol's memory is sketchy from those moments at age 4, but he's heard stories of everyone "waking up at night and leaving all of our belongings behind to get onto a plane, hoping and praying they wouldn't figure out who our father was."
Aldo and Martha then escaped to Europe seeking asylum -- a search that ultimately separated the Deng family for five years, connected only by the struggle they endured a continent apart.