February, 22, 2015
Feb 22
1:50
AM ET

By Israel Gutierrez
ESPN.com
Archive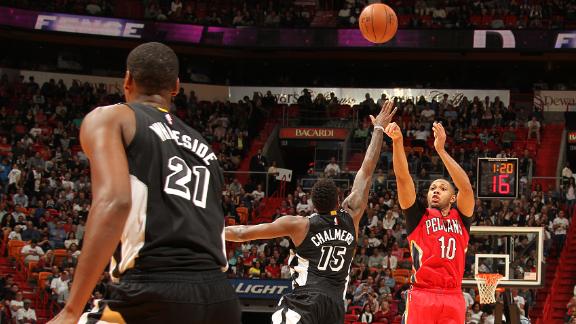 MIAMI -- In its simplest description, Saturday night's game between the
New Orleans Pelicans
and
Miami Heat
was a battle of two teams fighting for playoff berths in their respective conferences.
But in no way would that sufficiently describe a game with so many levels of awkwardness and oddity and misfortune.
Hours before the game, the Heat finally announced what most had feared, that
Chris Bosh
will miss the remainder of this season while treating blood clots in his lungs, though it came with the positive prognosis of a full recovery and an expected return to the court next season.
The news seemed to reset this tumultuous Heat season once again, with the team having to incorporate newly acquired point guard
Goran Dragic
, only now as something of a replacement for Bosh instead of a complement to him.
That process started Saturday afternoon, with all of 45 minutes of preparation in the Heat's practice court at the AmericanAirlines Arena, making for a predictably awkward beginning for Dragic.
[+] Enlarge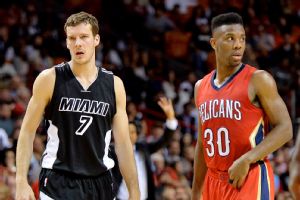 Steve Mitchell/USA TODAY SportsHeat newcomer Goran Dragic was outplayed by former Heat guard Norris Cole, who was playing in his first game for the Pelicans.
Meanwhile, the Pelicans entered the game looking as close to full strength as they've been all season, essentially missing only
Jrue Holiday
, but having
Anthony Davis
back for a second game after missing All-Star weekend with a right shoulder injury.
That lasted less than nine minutes, as Davis reinjured that same shoulder, writhing in pain while play continued before leaving to the locker room and not returning.
About five minutes later, the news got worse for the Pelicans, as
Ryan Anderson
took a spill and needed help getting off the floor with what the team called a right knee sprain.
Pelicans coach Monty Williams said both players will be re-evaluated Sunday, likely with MRI exams, but he couldn't offer much more in terms of a prognosis.
Williams said his franchise forward, though, was particularly frustrated.
"He was down about it," Williams said. "He said, 'It's the second time, coach.' I said, 'Hey, you're not going off to war. You're not sitting in a hospital somewhere with some disease, so get your head up, that's life.'
"Right away he perked up and said, 'You're right, coach.' But he's more frustrating with not being there for his teammates. He's not frustrated with the injury."
Bosh, however, was actually sitting in a hospital, presumably watching his team struggle mightily in his absence.
The Heat forward sent an
Instagram photo and message
thanking everyone for their positive messages and included the hashtag #Iwillbebacksoon.
As it turns out, one of his teammates revealed he can relate to Bosh's situation, having experienced blood clots in his lungs following surgery for a foot injury during the 2010-11 season.
Udonis Haslem
was already projected to miss significant time that season with a Lisfranc injury, so the Heat didn't release news of the blood clots complication, but Haslem discussed it Saturday night.
"First of all, the pain, it's excruciating," Haslem said. "Every time you try to inhale to take a breath, it's like somebody's stabbing you in your lungs.
"Secondly, watching the games from a hospital bed on TV, it sucks. I remember watching the game on Christmas in L.A. from a hospital bed.
"Obviously the most important thing is that they caught it and they're going to be able to take care of [Bosh], because it can be fatal. Basketball is secondary, and his health is the most important thing at this moment."
Haslem returned approximately six months after his surgery and subsequent blood clots complication, including an inspiring performance in Game 2 against the Bulls in the Eastern Conference Finals.
Haslem's recovery could hearten Bosh and the Heat as they anticipate the 10-time All-Star's return next season.
This season, however, already seems like an epic journey for Miami, filled with pitfalls, none greater than the loss of Bosh.
"I've seen a lot in this league, been in a lot of situations, but nothing like this," Haslem, an 11-year veteran and three-time champion, said. "Every time it seems like we're getting our heads above water and make strides to turn the corner, something else happens.
"But we continue to push through it. And one thing I'll say about this team is we haven't hung our head and felt sorry for ourselves."
Dwyane Wade
, playing in only his second game after missing seven games with his second significant hamstring injury of the season, said subtracting Bosh and adding Dragic will equal just one more unknown for Miami during this final playoff push.
"We gotta do it, right?" he said. "[These] are the challenges of this season for this team. We'll see if we can do it. I believe that we can."
Heat coach Erik Spoelstra said the team has had internal discussions about adding another big (the team also traded center
Justin Hamilton
in the deal that nabbed Dragic), with names like
Andray Blatche
and
Michael Beasley
being tossed around in reports.
In the interim, Dragic will ironically have to play in three-guard lineups that were part of his frustration with the
Phoenix Suns
this season.
"The first thing we have to do is get everybody comfortable and our game might be a little different than it was with Chris, but we have our weapons," Spoelstra said. "We just have some work to do, and tonight showed that."
Adding just another layer to the bizarre, surreal Saturday evening,
Norris Cole
played his first NBA game in a uniform other than Miami's, and it happened to be in his former home arena.
The Heat played a touching tribute to Cole during a timeout, and the crowd responded with a rousing standing ovation for the fourth-year guard who's been to three Finals and won two rings.
Cole, a career backup, ended up outplaying Dragic, a third-team All-NBA performer last season and reigning Most Improved Player.
That in itself could've been an interesting storyline on any other night in the NBA regular season.
But on this night -- a night that saw an MVP candidate reinjure his shoulder while another franchise cornerstone lay in a hospital bed officially out for the season -- it was merely a footnote.