January, 23, 2015
Jan 23
10:14
PM ET
Associated Press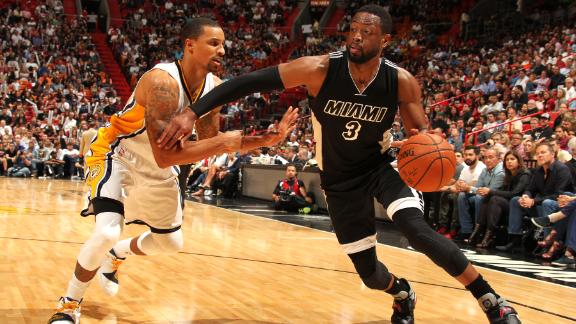 MIAMI -- Luol Deng scored 23 points, Chris Bosh added 19 and the Miami Heat survived another second-half struggle at home, hanging on to top the Indiana Pacers 89-87 on Friday night.
Dwyane Wade scored 13 for Miami, which led by 20 late in the third quarter before Indiana ripped off an 11-0 run and got right back into the game.
Indiana closed within one on Ian Mahinmi's basket with 1:38 left, but David West lost the ball under the hoop on the next Pacers possession. The Pacers would eventually get within one again on George Hill's layup, Wade made one free throw with 6.9 seconds left, and Indiana's hope at overtime went awry when C.J. Watson's open 20-footer from the right corner rimmed out at the buzzer.
Luis Scola scored 14 points, Hill and Watson each scored 13 and West had 12 for the Pacers, who dropped their seventh straight.
January, 22, 2015
Jan 22
9:43
PM ET
Associated Press
NEW YORK -- Miami guard Dwyane Wade has been fined $15,000 by the NBA for making an obscene gesture during the Heat's 78-76 loss to the Charlotte Hornets on Wednesday night.
Rod Thorn, the NBA's president of basketball operations, announced the fine Thursday night.
Wade stuck out his middle finger at some fans at the end of the third quarter in the game at Charlotte's Time Warner Cable Arena.
January, 21, 2015
Jan 21
10:54
PM ET
[+] Enlarge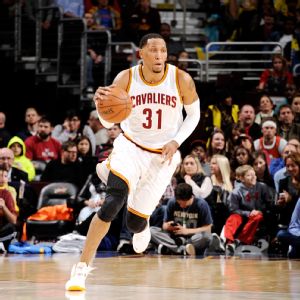 David Liam Kyle/NBAE via Getty ImagesCavs forward Shawn Marion says he will retire at the end of the season, his 16th in the NBA.
CLEVELAND -- Shawn Marion is making his 16th year in the NBA his final one and will retire when the Cleveland Cavaliers finish the 2014-15 season.
Marion, 36, has career averages of 15.4 points, 8.8 rebounds, 1.9 assists, 1.5 steals and 1.1 blocks per game while building a defensive reputation as someone able to guard all five positions on the court.
"I wanted to go out on my terms," Marion told the Arizona Republic in a story published Wednesday afternoon, adding that being away from his first child, 8-month-old son Shawn, is driving the decision.
He spent his first eight and a half seasons in Phoenix after being drafted by the Suns out of UNLV with the No. 9 pick in 1999. Marion then bounced around with short stints in Miami and Toronto before spending five seasons in Dallas, winning a title with the Mavericks in 2011.
The 6-foot-7 forward was a four-time All-Star and named to the All-NBA 3rd Team twice in his career.
January, 21, 2015
Jan 21
9:44
PM ET
Associated Press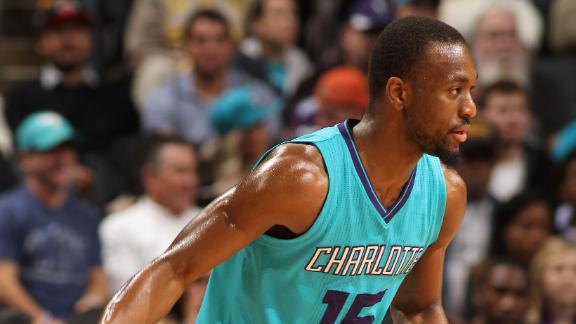 CHARLOTTE, N.C. -- Kemba Walker scored 15 points, Bismack Biyombo had 12 points and 12 rebounds, and the surging Charlotte Hornets edged the Miami Heat 78-76 on Wednesday night.
Charlotte won for the eighth time in nine games despite going without a field goal in the final seven minutes. The Hornets had a 56-41 rebounding edge against the Heat, who played without Hassan Whiteside and Luol Deng.
Miami had a chance to win the game on its final possession, but Chris Bosh missed a 3-pointer from the top of the key. Mario Chalmers ran down the loose ball and fired up another 3 that missed from corner.
Bosh and Dwyane Wade each had 17 points for Miami.
January, 21, 2015
Jan 21
6:54
PM ET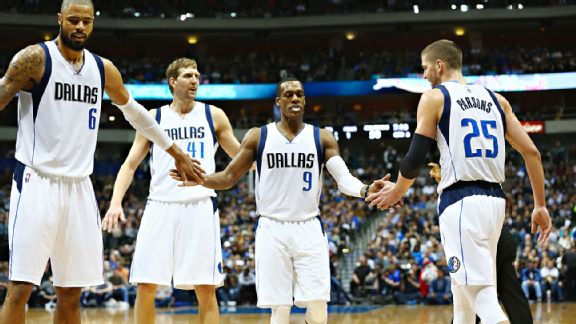 Ronald Martinez/Getty ImagesThe Mavericks' remodeling has included deals for Rondo and Chandler and signing Parsons.
DALLAS -- Drastic change has become the norm for the Dallas Mavericks' roster.
Dirk Nowitzki has been the lone constant on the roster since the Mavs' 2010-11 title run and NBA lockout the following offseason. He has had 53 teammates during the past three and a half seasons. The starting jobs at point guard and center, in particular, have been filled in revolving-door fashion.
After recent offseasons that will be remembered for big swings and misses, the Mavs' front office hopes that has changed after its most recent remodeling job. The Mavs turned an aging eighth seed into a team they believe will be legitimate contenders, acquiring center Tyson Chandler, small forward Chandler Parsons and point guard Rajon Rondo since the end of last season.
It should be much easier to keep this core together than it was to create it in the first place. For various reasons, the odds were against the Mavs acquiring Chandler, Parsons or Rondo on an individual basis. Parsons was a restricted free agent who had a significant part in his former franchise's plans for the future. Chandler and Rondo were trade targets the front office described to Nowitzki as "very long shots."
The chances of landing all three?
January, 21, 2015
Jan 21
11:27
AM ET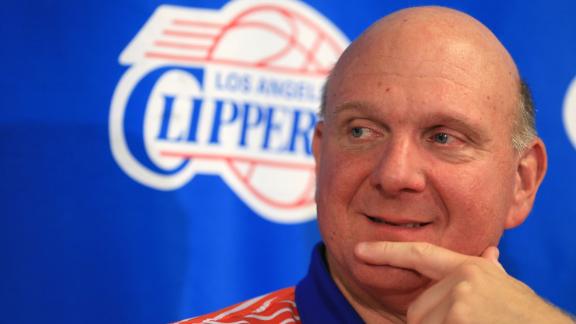 Boosted by Steve Ballmer's league-record $2 billion purchase of the Los Angeles Clippers, the franchise values of NBA teams rose an average of 72 percent in one year, according to new estimates released by Forbes on Wednesday.
That's the biggest one-year value gain since Forbes started estimating team prices in 1998.
Last year's list had only three teams -- the New York Knicks, Los Angeles Lakers and Chicago Bulls -- worth more than $1 billion, but this year, Forbes says those three teams are worth at least $2 billion. And eight other teams are worth more than $1 billion.
The magazine says the Lakers top the league at a $2.6 billion valuation, followed by the Knicks ($2.5 billion) and the Bulls ($2 billion). Even though Ballmer paid $2 billion for the Clippers, Forbes values the team at $1.6 billion, fifth among teams, immediately following the fourth-ranked Boston Celtics ($1.7 billion).
The Brooklyn Nets (who are currently on the market) came in sixth at $1.5 billion, followed by the Golden State Warriors ($1.3 billion), Houston Rockets ($1.25 billion), Miami Heat ($1.175 billion), Dallas Mavericks ($1.15 billion) and San Antonio Spurs ($1 billion). Last year, when Forbes valued the Mavs at $765 million, owner Mark Cuban called it "way too low," saying it was worth more than $1 billion.
January, 21, 2015
Jan 21
2:35
AM ET

By Michael Wallace
ESPN.com
Archive
MIAMI -- There are just some things about this
Miami Heat
team
Dwyane Wade
isn't ready to admit.
Ask Wade where this team stands in terms of its identity at the midway point of the season, and he'll tell you he needs another five or so games to offer a valid and honest assessment.
Ask the Heat's leading scorer how well the team has handled the injuries and adversity that has made the initial stages of this post-LeBron era a mixture of headache and heartache so far, and Wade will say it's too soon to know for sure because there are always issues on the horizon.
[+] Enlarge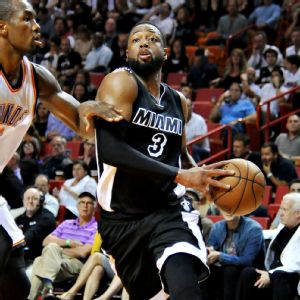 Steve Mitchell/USA TODAY SportsDwyane Wade's Heat are the only team in the NBA that has a winning record on the road and a losing one at home.
But probe the prideful Wade about whether the Heat have enough this season, and he'll perk up just as he did Tuesday night when that subject was broached.
"Enough for what?" Wade shot back.
Enough to make the playoffs this season.
"Yeah, we have enough for the playoffs."
The Heat haven't done much to consistently instill confidence this season. But Wade offered that bit of assurance without feeling the need or the desire to elaborate beyond those assertive seven words he spoke before Tuesday's game against Oklahoma City.
And then his team went out and suffered two more losses. First, the Heat lost promising center
Hassan Whiteside
in the first half to a sprained ankle that prevented the 7-foot dunker and shot-blocking extraordinaire from traveling with the team for Wednesday's game in Charlotte. Then, the Heat continued a disturbing trend of faltering at home in a 94-86 loss to the Thunder.
Tuesday's setback at least temporarily halted the small strides and momentum Miami returned with from a surprising 3-2 trip out west that included wins against the Clippers, Lakers and Kings. The Heat (18-23) are the only team in the league that has a winning record on the road and a losing one at home, now having dropped 13 of their 20 games at AmericanAirlines Arena.
For the past four seasons with
LeBron James
, the Heat stood alone as the first team in 30 years to reach the NBA Finals four consecutive seasons on the way to winning two titles. But the Heat are now flirting with a far less flattering distinction if they continue these helter-skelter ways. They could become the first team in 10 years to miss the playoffs the season after making it to the Finals.
The last team to sink that low that quickly was the 2004-05 Lakers, who missed the playoffs a year after losing to the Pistons in the Finals. The Heat benefited from that falloff by the Lakers, who traded Shaquille O'Neal to Miami after the season. That move launched a rebuilding job in Los Angeles and propelled the Heat to the No. 1 seed in the East that next season and made them champions in 2006.
The Heat are potentially staring at the other side of that dilemma now. Even in a forgiving Eastern Conference this season, there are no guarantees of a spot in the postseason. Approaching the stretch run of the season, Miami is seventh in the East and lumped with Brooklyn, Charlotte, Detroit, Indiana, Orlando and Boston as a group of seven teams separated by 4½ games for the final two playoff spots.
That was one reason why Wade, who returned Tuesday from a two-game absence to recover from a strained muscle in his left leg, cautioned he needed to take a wait-and-see approach before taking a full midseason inventory of his team. This rest of this week could reveal plenty about Miami.
On Wednesday, the Heat face a Hornets team that has won seven of their past 10 games and appear on the verge of overtaking Brooklyn for the eight spot in the East. On Friday, Miami returns home to play an Indiana team that is already 2-0 in the season series. And Sunday, a trip to Chicago looms to visit the desperate Bulls, who have had their own home struggles through a 12-10 record at the United Center.
After that, Milwaukee, Dallas, Boston and Detroit await.
"It's just [about] trying to get a comfort level with each other, understanding each other and playing our game," Wade said of the challenges still facing the Heat. "We just can't be a team that plays basketball. We're not that talented to just play basketball. We have to play with an edge. We have to mess things up a bit. We just can't be comfortable on the floor. If we get comfortable, we get beat most nights."
The Heat certainly haven't gotten comfortable at home, and Tuesday was the latest example. Another round of flu-like bug is going around the team and left
Luol Deng
's status as a game-time decision. He pushed through a sluggish performance to finish with eight points and four rebounds in 28 minutes while having to defend
Kevin Durant
most of the night. Deng was too ill to travel after the game, meaning Heat will be without two starters against the Hornets.
Deng didn't travel with the team to Charlotte, meaning the Heat will be without two starters Wednesday against the Hornets.
And just as Wade comes back from an injury, Whiteside exits the rotation with another. The last thing the Heat should have as they limp through this season is a sense of postseason entitlement.
"I'm not above this and we're not above it," coach Erik Spoelstra recently said of the harsh realities amid this transition from so much success the past four seasons to so many obstacles so far this season. "We have to go through it and get through it. We're not above having to fight for this, fight through this."
The Heat have enough.
Enough talent if Wade, Bosh, Deng and Whiteside can get -- and stay -- relatively healthy.
And also enough time, with 41 games remaining to sort out the kinks entering the season's stretch run.
"It's a long season," Bosh said Tuesday. "There are still things that we have to work on."
They can start by fixing the problems at home before things get any worse.
Otherwise, they'll be home for the season much earlier than expected.
January, 20, 2015
Jan 20
10:09
PM ET
Associated Press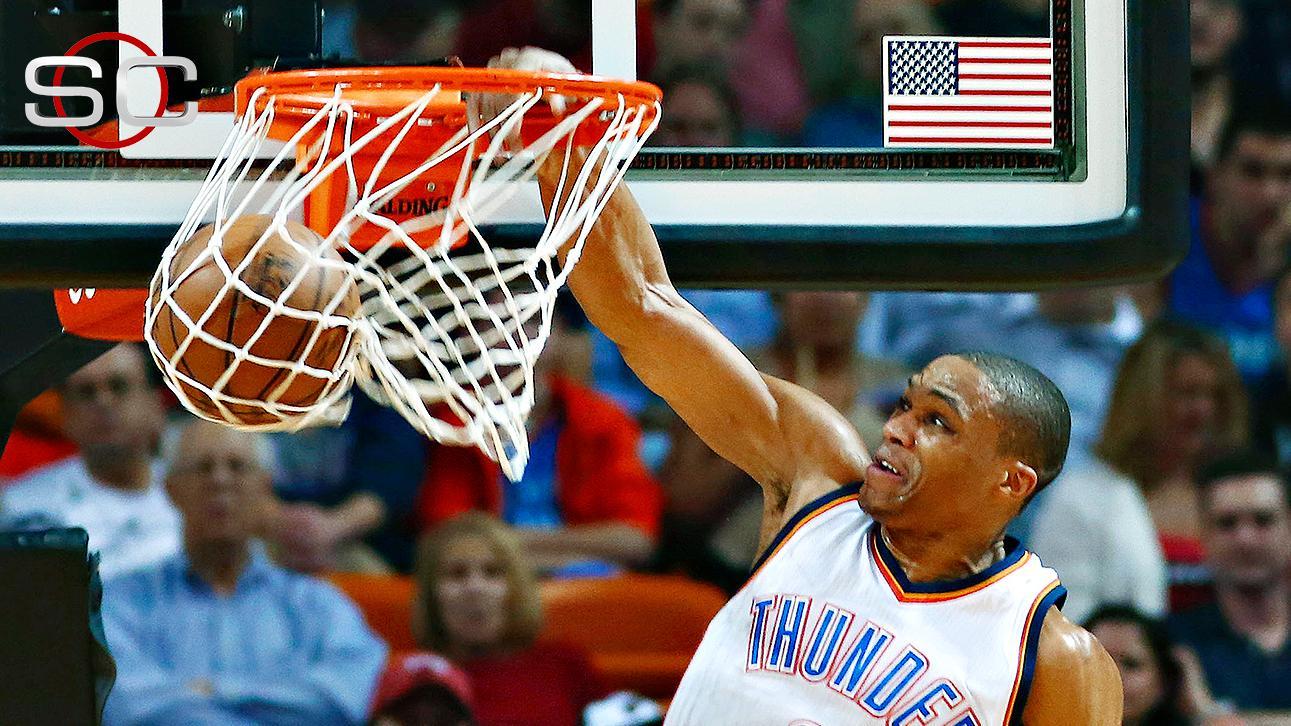 MIAMI -- Russell Westbrook scored 19 points and grabbed 10 rebounds, Kevin Durant added 19 points and the Oklahoma City Thunder moved over the .500 mark for the first time this season with a 94-86 win over the Miami Heat on Tuesday night.
Durant also had eight rebounds and eight assists for the Thunder, who've won 18 of their last 26 games. Reggie Jackson scored 16 points and Anthony Morrow added 12 for Oklahoma City.
Dwyane Wade scored 18 points and Chris Bosh added 16 for Miami, which fell to 7-13 at home.
Durant was 0 for 8 from 3-point range -- matching the second-worst showing of his career -- and the Thunder got to the foul line only 10 times, less than half their team average coming into the night.