Kawhi Leonard had 22 points and nine rebounds in the Spurs' 95-81 victory over the Heat.
Kawhi Leonard scored 22 points, Tony Parker added 16 in his 1,000th NBA game, and the Spurs added more steam to their playoff push by beating the Heat 95-81 on Tuesday night.
The Heat's Mario Chalmers hit a buzzer-beater at halftime versus the Spurs, and Gregg Popovich was not happy about it.
Marc Stein and Cary Chow on the ultra-dependent Spurs rounding into playoff shape. Week 22 of the ESPN.com NBA Power Rankings.
The Miami Heat and starting center Hassan Whiteside had a good Monday as he returned to practice and there is a chance he could rejoin the active roster soon.
ESPN NBA Insider Chris Broussard discusses the possibility of the playoff realignment in the NBA.
Dwyane Wade scored 40 points as the Heat defeated the Pistons 109-102.
Dwyane Wade scored 40 points one day after having fluid removed from his balky left knee, Udonis Haslem set season highs with 18 points and 13 rebounds, and the undermanned Heat beat the Pistons 109-102 on Sunday night.
The Hawks cruised past the Heat 99-86 to clinch the top seed in the Eastern Conference for the first time since 1993-94.
DeMarre Carroll scored 24 points, and the Atlanta Hawks clinched the top seed in the Eastern Conference playoffs with a 99-86 victory over the Miami Heat on Friday night.
Who are the best and worst owners in the NBA? Our ESPN Forecast panel weighs in.
Who are the best coaches in the NBA? Worst coaches? Our ESPN Forecast panel weighs in.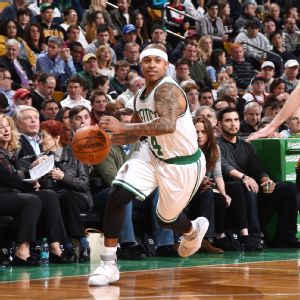 BOSTON -- Boston Celtics guard Isaiah Thomas admitted before Wednesday's game that he was worried about his first fall and so it seemed to take a minute for him to react when he hit the parquet floor hard in the final minutes of the first half while absorbing a charge from former teammate Goran Dragic.
Goran Dragic scored 22 points to help the Heat top the Celtics 93-86.
Injury-riddled Heat beat Celtics 93-86
Mar 31, 2015

,

11:02 PM ET
Spurs cruise past Heat