Miami Heat Index:

2011 NBA Draft
October, 20, 2012
10/20/12
7:12
PM ET

By Tom Haberstroh
ESPN.com
Archive
MIAMI -- LeBron James might have sat out Saturday's game, but he was on his feet cheering on the reserve corps while it bested the Spurs down the stretch 104-101.

Here are five takeaways from the Heat's win.

1. Dwyane Wade is back.

With the reigning MVP taking the day off, Wade got every opportunity to hush any doubt that he'll be hampered by his left knee, which was operated on this offseason. He made the best of it. The first half of Saturday's win might have been Wade's most impressive half since Game 3 of the Indiana series. He finished with a ho-hum 13 points and five assists in 26 minutes, but he was vintage Wade.

He carved up the Spurs' defense by varying his tempo and exploiting the seams of the Spurs' front line. And then there was the Euro-step. Barreling down the lane, Wade went directly at former teammate Eddy Curry in the paint, stepped right and sliced left past a stunned Curry for 2. It must be said that Curry is no Dwight Howard underneath, but it speaks volumes that Wade had both the confidence and wherewithal to victimize an opponent with his signature move.

2. Still waiting on Ray Allen.

Allen is in a 5-for-19 shooting slump over his past two games, which wouldn't be alarming for your average NBA player, but this is Walter Ray Allen we're talking about.

If Allen were forcing bad shots and hijacking the offense, it might be a little more concerning, but he has gotten good looks and the shots haven't gone down. It happens.

The four turnovers in 25 minutes, however, should raise some eyebrows. Considering that Norris Cole has more turnovers than assists this preseason despite playing mostly with three of the 25 best players in the game, the Heat could use Allen as the backup point guard behind Mario Chalmers this season. Saturday's outing certainly didn't make Erik Spoelstra feel warm about the prospect of Allen taking over significant ballhandling duties. Alas, it's preseason.

3. Rashard Lewis shows life.

Judging from his lackluster play in the previous four preseason games, Lewis probably was one of the most unlikely candidates to lead the Heat in scoring. With essentially an entire season off the court, Lewis had been out of rhythm and showing little in the way of basketball instinct, and it appeared as if he was running in mud out there.

That all changed Saturday. Lewis poured on 15 points with three 3-pointers and four steals on the defensive end (although he should be docked two steals for picking up two loose balls and then immediately throwing them away for turnovers). Lewis showed body control off the dribble and finally showed that his quirky release can lead to positive results. Whatever Wade and Lewis did to solidify their balky knees in the past couple of days, it's working.

4. Mike Miller punching rotation ticket.

In the postgame news conference, Spoelstra admitted that he had no idea what to expect from Miller this season after seeing how much pain he endured during the 2011-12 season. There were times last season when Miller chugged energy drinks at the scorer's table before checking in just to give his body the necessary jolt to perform.

But like Wade and Lewis, Miller looked like a whole new person in this win. He drained four of his five 3-point tries and collected five assists along with the way. However, the most important contribution might be his rebounding -- Miller grabbed five boards in 19 minutes in this one -- which will be desperately needed with Miami's woefully undersized bench.

5. Josh Harrellson and Dexter Pittman vie for backup center duties.

So who's going to replace Chris Bosh this season when he checks out of the game? Will the Heat really play the 6-foot-8 Udonis Haslem or scoring-challenged Joel Anthony against opposing 7-footers? They might have to, but Harrellson and Pittman stated their cases Saturday. Harrellson showed some touch inside as well as his shooting stroke on a clutch 3-pointer in the final minute to clinch the win.

And Pittman? He managed to play 17 minutes without fouling out, which is a plus. We didn't get to see the Curry-versus-Pittman battle that many of those in attendance wanted to see (or at least all of press row), but Pittman had his best performance of the preseason by far. Maybe in his professional career. Alas, I repeat: It's preseason.

One last note: If there are two roster spots to be won, this man's opinion is that Harrellson and Garrett Temple are in the lead.
June, 22, 2011
6/22/11
10:29
PM ET

By Michael Wallace
ESPN.com
Archive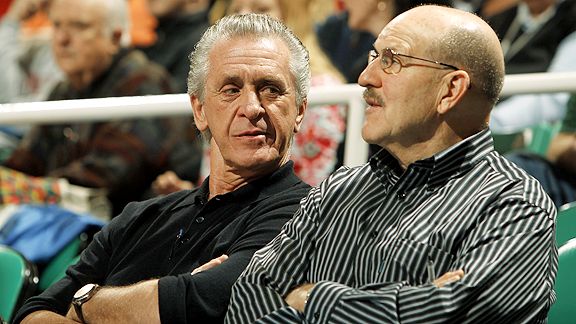 Bob Donnan/US Presswire
For Pat Riley and Chet Kammerer, the Heat's vice president for player personnel, the draft is not a make-or-break event.
MIAMI -- Chet Kammerer confirmed the moment he entered the media room at AmericanAirlines Arena on Wednesday, the eve of the NBA draft, that he holds one of the league's toughest jobs.
Kammerer, the Miami Heat's scouting czar and vice president for player personnel, had his annual pre-draft session with the media one day after team president Pat Riley met with reporters in the same room, albeit in front of a larger audience.
"I've got to talk to someone about the scheduling," Kammerer joked Wednesday as he nodded in the direction of the Heat's media relations staff. "You [normally] have the warm-up act, and then you follow with the main event. Yesterday, you guys had the main event. And now, you're following with the warm-up act. I'm just glad to have somebody here."
If Kammerer thought following in Riley's footsteps with the media was hard work, try convincing the Heat's top basketball decision-maker that there could be a second-round pick in one of the weakest drafts in recent years who could help boost a veteran roster that fell two wins short in the NBA Finals.
Rookies, especially those who aren't high lottery picks in the draft, generally have been a tough sell on Riley, who despises the process of building through the draft and prefers to supplement his teams with veterans through trades or free agency.
So Kammerer could have his hands full yet again Thursday night, when the Heat enter the draft with the No. 31 overall pick, which is the first selection of the second round. Miami's needs are clear: point guard and power forward/center.
Kammerer and Riley can agree on at least one thing entering the draft: The Heat certainly could use an infusion of youth and athleticism to fit around the nucleus of LeBron James, Dwyane Wade and Chris Bosh.
"To have an enthusiastic young talent would be good for us on our roster next year," Kammerer said. "Of course, our job is to find that right blend and the right person to fit that role. That's what I'm hoping to find. I think we can use a player like that."
Riley echoed that sentiment Tuesday in his postseason wrap-up of the Heat's 2010-11 campaign that ended in a 4-2 series loss to the Dallas Mavericks in the Finals.
"You do want to marry experience with athleticism," Riley said. "We will continually try to find one or two young players who will provide the energy and athleticism and talent necessary to help the key players who play a lot of minutes. We will look to upgrade in that area with younger players."
That's about as romantically as you'll hear Riley speak about building through the draft, particularly when Miami is picking late in the process.
Since Miami won its lone NBA championship in 2006, the team has had a total of 10 draft selections. Only two of the players the Heat have selected or acquired in draft-night trades were on the roster this season: third-year guard Mario Chalmers and rookie center Dexter Pittman, both second-round picks.
Major trades and free-agency acquisitions that transpired after the draft also have played a significant role in the Heat's decision to periodically cast off -- and sometimes throw away money -- on draft picks. That was the case in 2004, when Miami dealt 2002 lottery pick Caron Butler as part of a trade package to the Los Angeles Lakers to acquire Shaquille O'Neal.
Last summer, the Heat essentially gave away Michael Beasley, the No. 2 pick in 2008, to Minnesota for the No. 31 pick Miami will use -- or trade -- Thursday night. Beasley's departure created room under the salary cap for the Heat to add the supporting cast of Mike Miller and Udonis Haslem around James, Bosh and Wade.
Last July's free-agency coup also rendered the Heat's June draft-night work essentially moot. Of the Heat's four second-round picks last year, only Pittman survived the final roster cuts. Miami spent nearly $3 million in guaranteed salary on second-round projects Da'Sean Butler (2010) and Patrick Beverley (2009) only to release them.
Each decision along the way could be viewed as a no-brainer -- especially when Riley is the brains behind the operation. Whether he was attempting to build around Alonzo Mourning and Tim Hardaway in the 1990s, O'Neal and Wade in the mid-2000s or Wade, James and Bosh now, Riley's view hasn't changed all that much when it comes to his draft philosophy.
"I don't think you win championships with young athletic players that don't have experience," Riley said this week. "I think we learned over the years that building with young players is very frustrating. The only team that's really done that through the draft is Oklahoma [City]. They do a great job. They hit two home runs with [Kevin] Durant and with [Russell] Westbrook. That's a long process. I don't think anybody here wants to wait any longer."
The Heat's limited resources -- and Riley's insistence upon keeping his core group intact this offseason -- might force Miami's hand this time around with the draft. By holding the first pick of the second round, the Heat maintain the flexibility of landing a quality player without having to commit to a guaranteed contract.
With four or five potential roster spots expected to be available -- even with the uncertainty of the league's labor situation and free agency this summer -- the Heat potentially could add another player or two who are undrafted free agents. Haslem and center Joel Anthony were once undrafted projects who were developed by the Heat into productive contributors to the regular rotation.
"We've done pretty well with guys like that," Kammerer said. "What I look for in the draft is trying to add a piece to the nucleus we have that's different than what we presently have on our roster, a dimension of a player that brings us something we don't have presently. Hopefully that piece can fit in to make us a better team. You always struggle trying to look between production and potential."
Kammerer said the Heat have held seven workouts that have included more than 40 players. Among that group, 15 were either point guards or combo guards -- so that tells you where the Heat might be headed.
The process is to hope that a player the Heat have rated in the 20s somehow slips to them at No. 31. That's exactly how last year's draft worked, when Pittman -- then a project center out of Texas -- was rated as a late first-rounder by the Heat but fell to them early in the second round.
Perhaps Boston College's Reggie Jackson or Duke's Nolan Smith, who recently worked out for the Heat, will take a similar slide in what Kammerer believes "will be one of the more unusual and intriguing drafts" there's been in the past few years.
Riley has sat with Kammerer during several scouting trips to watch conference and NCAA tournaments the past three years since he left the bench to focus solely on his executive role. During the years Riley's duties were split between coaching and running the front office, he maintained a win-now priority that often fueled his preference for veteran roster help.
Now that Riley is exclusively in an "upstairs" capacity and is forced to see the bigger-picture perspective, there's an eye toward developing young talent to the future, blended, of course, with the urgency of winning championships sooner rather than later.
"If there's somebody that I am totally convinced that we need, I think he's open to that," Kammerer said of his sales pitches to Riley on draft prospects. "Things changed a couple of times. We've made big changes in our roster until the time when the draft happened to the time our season began. Then, all of a sudden, we're not looking to a developing player. We were looking for veterans because we had a nucleus we need to add to."
Now, the focus is to acquire both veteran experience and youthful energy.
"The best absolute player available at the position of greatest need," Riley said when asked what he hoped to get out the draft and free agency. "Everybody says we need a [center] and we need a [point guard]. And there's some truth to that. We'd like to get size, with great length. We have enough. But we're going to get more than enough."
June, 19, 2011
6/19/11
4:03
PM ET

By Beckley Mason
ESPN.com
Archive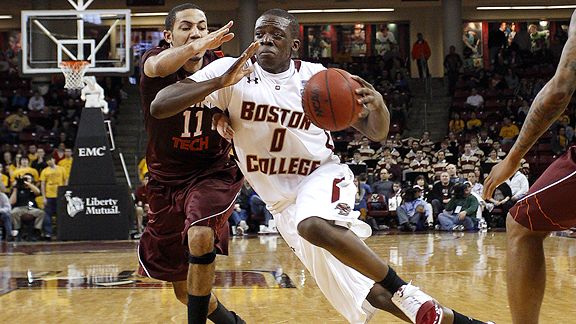 Mark L. Baer/US Presswire
If the Heat draft Reggie Jackson, they'll get a reliable defender with some promising offensive skills.
Any evaluation of Reggie Jackson begins with his absurd 7-foot wingspan. Jackson's length is important not only because it's his most distinguishing physical attribute, but because it's an asset he uses so well all over the court.
Jackson is not an elite athlete. His footwork is good, but he struggles, perhaps in part because of his length, to change direction laterally with explosiveness. But his ranginess, impressive understanding of angles and advanced court awareness more than compensate for any athletic deficiency -- something that often dooms point guard prospects.
In his final season at Boston College, Jackson took a major step as an organizing presence on offense. He is a smooth operator, always playing with his head up and at his own, somewhat slower, pace. Instead of trying to break defenders down at will, Jackson relies on screen-and-rolls and moments when his team's motion enables him to attack the rim. He has a very long first step that's particularly effective off of his shot fake/triple-threat game. If Jackson has a signature move, it's probably his low and very wide crossover. It's not devastating, but he can create plenty of space and uses the flashy move judiciously.
Jackson prefers to attack in a straight line to the basket and elevate off of one foot. Because he lacks great leg strength, he sometimes struggles to finish in traffic or off of two feet. However, he is also comfortable jump-stopping and passing out if he can't get the angle, and generally excels at driving and kicking to shooters.
As a passer Jackson is precise, if not all that creative. On pick-and-rolls, for example, Jackson rarely wows with a brilliant pass to the roll man. However, he makes the fundamental play almost every time, and shows an extremely advanced understanding of his third and fourth options. That is, he'll pressure the defense by driving, then look for his roll man, then the man popping to replace the screener, then the corner shooter -- whoever is open gets the ball.
That patience is perhaps the most striking aspect of his offensive game. He takes his time, doesn't get sped up by pressure defense and consistently uses his length to his advantage.
Jackson's consistent shooting motion is flawed, but should still translate well to the pro level. His shot pocket is a little low, though it may appear more awkward because his arms are so long. He shoots a set shot from distance and doesn't show great elevation even on closer pull-ups (a side effect of his issues exploding off of two feet). However this also encourages him to get his feet set every time, setting a solid foundation for his deep stroke. Jackson's follow-through is regular, and he looked comfortable in his few attempts from NBA range. Considering all the 3-point attempts he was forced to take late in the shot clock as his team's primary scorer last season, his 42 percent mark on 3s may undersell his ability.
The Heat likely see Jackson as a steady offensive player with strong decision-making skills and a passable 3-point stroke. His shot-fake game certainly helps, as well. One imagines him making good decisions about shooting and driving as a play finisher, rather than creator -- important within the Heat's "off the ball" point guard role. Jackson will need to beef up his frame to become the kind of screener that the Heat's offense demands from its guards, but his disposition on the court suggests he will be willing to do the dirty work.
But if the Heat do pick Jackson, it will likely be his defensive potential that drives the decision.
On the ball, Jackson uses his long arms and solid footwork to stay in front of his man without having to get too close. He rarely reaches or takes chances, opting instead to force his man into a contested jump shot. That's due in part to Boston College's conservative defensive strategy, but it's a style that suits Jackson as his ability to change directions laterally is only average. Instead of forcing his man to change course or "turn" by cutting him off, Jackson tries to take him off a direct line to the hoop then force the driving player to finish or pass over his outstretched arms. Against taller scorers like North Carolina's Harrison Barnes, Jackson does not appear at all undersized and should be able to defend both guard positions well once he adds strength.
Jackson is a nightmare in the passing lanes. He will make ridiculous interceptions and deflections, anticipating well and often surprising opponents by erasing passing angles with rangy strides and long arms. Jackson is especially dangerous when a driving or otherwise harried player tries to get rid of the ball, because he rotates aggressively and understands his opponent's options. As a weakside defender, Jackson has the unique ability to cut off the primary outlet then sprint to intercept a pass to the second player.
It's easy to envision Jackson fitting in well with the Heat's defense, sparking "skirmishes" with his intelligent and athletic play in the passing lanes. He has the wingspan of a small forward, and his solid decision-making in the transition game suggests he would take full advantage of live-ball turnovers. Although he is not an elite individual defender, he would be a major upgrade over Mike Bibby defending quick point guards. The Heat's defensive scheme demands that defenders guard multiple positions, rotate presciently to close out shooters and gang rebound. Jackson fits that bill to a "T."
Overall, Jackson leaves something to be desired. He isn't a knockdown shooter from NBA range like, say, Ben Hansbrough, and he's not a shutdown one-on-one defender like Nolan Smith. But he is a trustworthy floor general who knows his game and limitations, and projects to be a terrorizing team defender. He should be a capable backup from day one, and could develop into a Derek Fisher-esque steady-handed point guard on a championship-level team.
June, 19, 2011
6/19/11
11:08
AM ET

By Tom Haberstroh
ESPN.com
Archive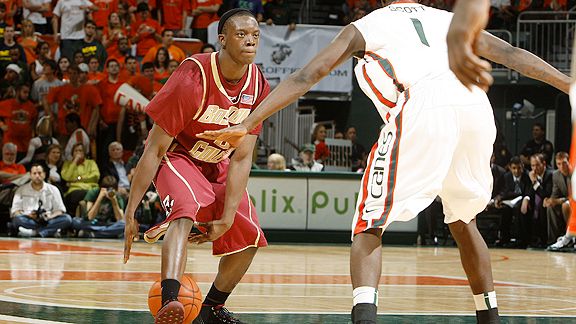 Joel Auerbach/Getty Images
Looking at the numbers, there's a lot to like about Boston College standout Reggie Jackson.
The Heat are reportedly targeting Boston College point guard Reggie Jackson with the 31st pick in the 2011 draft. With Mike Bibby and Mario Chalmers both hitting free agency this summer, the Heat potentially have a large void at the point guard slot heading into next season.
What do we know about Jackson?
He's a 21-year-old hyper-efficient point guard who left Chestnut Hill after his junior year, in which he was selected first-team All-ACC. Recently, he shut down all his workouts after he underwent a minor knee procedure on May 17. He has great size for a point guard (6-foot-3, 208 pounds and a 7-foot wingspan). For reference, he is longer fingertip-to-fingertip than Dwyane Wade, John Wall, Derrick Rose and Russell Westbrook.
First, his traditional per-game averages last season at Boston College: 18.2 points, 4.5 assists, 4.3 rebounds, 1.1 steals, and 2.4 turnovers; 50.3 field goal percentage, 42.0 3-point field goal percentage, 79.6 free throw percentage.
When looking at prospects, it's important to look beyond point totals, where Jackson excels, and focus on efficiency since they won't see nearly as many shots in the pro game. And Jackson shines there as well. The Heat need a guy who can spot up from downtown and capitalize on the few scoring opportunities he receives. Jackson scored 55.6 percent on 2s and, as listed above, shot considerably above average from beyond the arc and at the foul line.
If the Heat want an efficient point guard, Jackson's their guy. Jackson led the ACC in true shooting percentage (61.8 percent) which is a metric that incorporates 3-point shooting as well as free throw shooting. The last time a point guard led the ACC in true shooting percentage? Denver Nuggets starting point guard Ty Lawson in 2008-09 when he posted a 65.9 true shooting percentage for North Carolina. Ranking second that season was Jeff Teague, a combo guard from Wake Forest, who had his breakout performance in the playoffs this season for the Atlanta Hawks.
The 3-point shooting from Jackson is a recent development. During his first two years at Boston College, Jackson shot just 28.4 percent from downtown, which posed as a major drawback for his prospects as a future NBA player. But last season, he drilled 42 percent of his 169 3-pointers during his junior year. Statistically speaking, 3-point shooting in college has a stronger correlation to NBA 3-point shooting than regular field goal percentage.
Looking at his Synergy numbers, Jackson nailed 40 percent of his 88 catch-and-shoot jumpers, a shot he'll need to get used to if he plans on playing in Miami. Among the 45 players in the ACC who put up at least 50 such shots, Jackson's conversion rate ranked 18th. For reference, Chalmers shot 43 percent on his catch-and-shoot jumpers for Kansas during his NCAA championship season.
The Heat are a unique team in that they don't need a distributor at point guard so much as they need a knockdown shooter. Take the case of Mike Bibby this past season. The veteran point guard watched his assists per 36 minutes rate drop from 4.3 in Atlanta to 3.4 in a Miami uniform. Chalmers also experienced a similar dip in his assist numbers this season just by virtue of playing alongside two other ball distributors in Wade and LeBron James. If the Heat select a point guard, he'll be asked to hit shots more than create them for others.
With this in mind, Jackson's assist numbers at Boston College may seem underwhelming at 4.5 per game, but keep in mind that (A) NCAA games are shorter and (B) generally speaking, college players can't shoot a lick. Jackson actually ranked third in the ACC in the assist-per-game category. He also outranked fellow point guards Brandon Knight, Kyrie Irving and Jimmer Fredette in assist-to-turnover ratio.
Statistically, Jackson should hold great value for whoever selects him in the late first round or early second round. If the Heat can snag him at 31st, they may have found their backup point guard next season without spending a dollar in free agency.