Miami Heat Index:

Atlanta Hawks
April, 13, 2014
Apr 13
12:04
AM ET

By Michael Wallace
ESPN.com
Archive
ATLANTA -- After missing nine games over a stretch of three weeks,
Dwyane Wade
knew he'd face plenty of questions Saturday in his return from a nagging hamstring injury.
Among the least of his concerns were the inquiries about rhythm.
With the two-time defending champion
Miami Heat
a week away from starting the playoffs, Wade brushed off suggestions he might initially struggle to re-establish the timing and continuity he's had with
LeBron James
and
Chris Bosh
when the team performs at its best.
Wade instead countered with a bit of a history lesson. He pointed to the relatively turbulent 2010-11 season when the Heat's Big Three first came together and stumbled off to that 9-8 start.
"We didn't have rhythm our first year together, and we went to the Finals," Wade said Saturday of overcoming kinks three years ago before Miami ultimately lost in six games to Dallas. "That's not really a big worry of mine. The best rhythm for us is [having] all of us out there together on the floor, giving ourselves an opportunity every night ... to be a very, very good team. I just wanted to be back on the floor with them. That there, the rhythm, it will take care of itself."
Wade's play was the only silver lining from the Heat's otherwise sluggish and lackluster performance in a 98-85 loss to the Hawks at Philips Arena. With the victory, Atlanta clinched the eighth and final playoff seed in the East and eliminated the
New York Knicks
from postseason contention.
And with the loss, the Heat (54-26) fell back into a tie with the
Indiana Pacers
(54-26) with two games remaining for both teams. A horrendous, 13-point third quarter was the difference in Saturday's outcome for the Heat, which came a day after Miami dominated the Pacers in that same period to pull away for a victory that provided the half-game cushion in the standings.
But everything the Heat gained from one of their most impressive wins of the season a night earlier was squandered Saturday when they missed 19 of 25 attempts from 3-point range, 10 of 19 free throws and surrendered 29 points to the Hawks on 20 turnovers. Players and coaches acknowledged the blunders and admitted to lacking the focus, energy and defensive intensity that led to Saturday's meltdown.
[+] Enlarge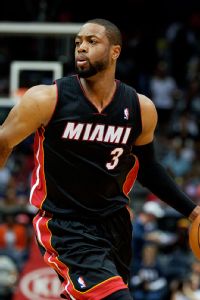 Kevin Liles/USA TODAY SportsDwyane Wade made 10 of 14 shots en route to 24 points in the loss to Atlanta.
Yet overall, the Heat seemed relieved in the locker room after the game.
They were glad to be done with a brutal stretch of five games in seven nights that had taken a mental and physical toll on the team like no other week in the season. And they were far more encouraged by the return of Wade, who made his first seven shots and finished with 24 points on a 10-of-14 clip from the field in the 23 minutes he played in six-minute increments.
Wade's night began with a dunk in transition on a pass from LeBron James during the Heat's first possession of the game. For the past three weeks, it would have been the sort of transition moment James would have exploited, a one-on-one matchup in the open court to attack the basket.
Instead, he deferred.
"That was the best part about tonight; we were able to get him out on the floor, get him into a good rhythm," said James, who had 27 points, eight rebounds and five assists in 37 minutes. "Me personally, the first play of the game, I had a break versus
Kyle Korver
. I usually go for that. But knowing [Wade] has been out for a while, trying to get him his rhythm, I was able to dump it off to him. The best thing you can get coming off an injury is a layup or a dunk. To come out of this without a setback is the best part."
The Heat have preached for weeks now that they much more prefer to enter the playoffs as healthy as possible than with the No. 1 seed in terms of how they'd manage the final stretch of the season. Their adherence to that philosophy somewhat explains the team's festive mood just moments after falling flat in a loss to an opponent they could see in the first round of the playoffs next week.
And the Heat's approach also sheds light on how they might approach the final two games of the season when they travel to face Washington on Monday and return home Wednesday against Philadelphia. James, Wade and Bosh each said after Saturday's game that they would consult with coach Erik Spoelstra and the training staff to determine whether the best course of action is to sit out either or both of the last two games, which would provide a full week of rest heading into Game 1 of their first-round series.
Spoelstra said that every decision he makes right now will be based on the team's overall health. He was encouraged by what he saw in Wade's first game back since he sustained the hamstring injury in the final two minutes of a March 26 loss at Indiana. The Heat trailed by 11 with six minutes left in the fourth -- still within striking distance -- when Spoelstra maintained the minutes restriction plan and pulled Wade out although Miami's second-leading scorer for the season showed no signs of slowing down.
"If we had gotten it closer," Spoelstra said before shifting his thoughts. "[Our trainer] and Dwyane said he could [continue] to go if needed. Obviously, we were very encouraged by that. We'll proceed with a very careful eye and see how he feels [Sunday]. He's been doing a lot of work behind the scenes. He probably felt like he should have been cleared a week ago, but we wanted to be very patient with him."
Wade, who admitted Saturday the hamstring strain was more severe than he and the team initially thought, spent the past week pushing through rigorous workouts in practices, during morning shootarounds and on game nights before the team took the court for warm-ups.
On two occasions, Spoelstra suggested Wade was on the verge of returning but the team opted to hold him out under further precaution. On Friday, Wade went through three different workouts before the Heat's game against the Pacers. After enduring another -- his fourth in a span of 24 hours -- he was cleared to play against the Hawks.
"I've just been a workout fiend," Wade said. "It's been good [to] go from where you can't do much, and then when you start feeling it turn a little bit and then you start feel yourself getting a little better, then you feel yourself getting much better. Now, you're able to start working and trying, as much as possible, to get some kind of flow, some kind of rhythm, some kind of confidence back in it. Being this close to the playoffs, I didn't want to come back too soon. So it's just trying to be as smart as I can be."
The next time Wade and James work in tandem again could come in the playoffs.
While Wade suggested he hopes to continue to build from Saturday's outing, James hinted that it just might be time for him to squeeze in a few days off before the postseason grind begins. As part of a routine that dates back to his days with the
Cleveland Cavaliers
, James prefers to take off the last week of the regular season. The decision usually is made easier by his teams having secured a specific playoff seed. That's not the case this season with Miami, which could be locked into the battle with the Pacers for the top spot in the East through the final night of the regular season on Wednesday.
"I'll be smart about it and go into the postseason as healthy as I can be," James said of weighing his next decision. "The last three years, I've kind of done that, and I felt pretty good going into the postseason. Even after this seven-, eight-month grind, there's nothing like the two months of the postseason. It's harder than the eight months of the regular season. So I've got to be smart about it."
Despite the loss, Saturday can be viewed as a win-win night for the Heat.
The result on the scoreboard was easily overshadowed by Wade's return and James' quest for rest.
No wonder they left Atlanta in a good mood.
January, 20, 2014
Jan 20
10:58
PM ET

By Kevin Arnovitz
ESPN.com
Archive
ATLANTA -- It's Day 13 of a six-game East Coast swing, and the
Miami Heat
are weary.
They've spent only five of the past 27 days at home, and the fatigue was apparent in the locker room pregame, as guys shuffled to and from the training room and on the floor against the
Atlanta Hawks
, where contests at the rim were late and half-hearted.
The Heat won't say it publicly, of course, but they're dog tired.
LeBron James
looks gassed.
Dwyane Wade
less so, but that's only because he was on the bench in street clothes conserving his fuel. Chris Bosh's eyelids were heavy as he offered explanations for the daze that surrounds the team. Even head coach Erik Spoelstra seems like he needs a double shot of espresso.
Whether it was exhaustion, a lack of focus, poor execution, iffy schemes or the lunar cycle, the result was defensive carnage at Philips Arena, where Miami fell 121-114 to Atlanta. The loss completes a lackluster 2-4 road trip.
"I can't pinpoint what it is," James said. "It was a little bit of everything. At some point we have to figure it out."
That was the sentiment on Monday night as the team packed up to return home to face Boston on Tuesday. There was no specific diagnosis, no reference to pick-and-roll coverage or defending the point of attack or rim protection or defensive rotations. The Heat insist that the issues reside in the more general realms of focus, effort and accountability.
[+] Enlarge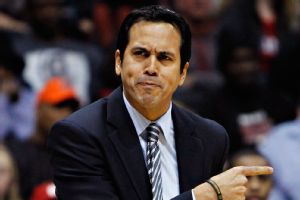 Brett Davis/USA TODAY SportsHeat coach Erik Spoelstra found some of the viewing tough to watch during the loss in Atlanta.
"There just wasn't a lot of pride on that side of the court tonight," Spoelstra said. "We tried to win it on a shootout, and then when our offense came up dry toward the end -- a couple of missed shots and turnovers -- we weren't able to secure a win."
In what's become an unsettling pattern, the Heat bled for 24 minutes in the first half. In 50 brisk possessions, Miami gave up 71 points -- the most they've surrendered in any half this season.
The Hawks went at Miami early, after both makes and misses, sending backpedaling Heat defenders into disarray. Once
Jeff Teague
, Lou williams or
Shelvin Mack
crossed half-court, the Heat never caught up. They played rearview mirror defense for most of the night.
Credit
Kyle Korver
or, more times than not, the
threat
of Korver on the floor for the pockets of space that allowed the Hawks to bludgeon the Heat in the paint in the first half. Korver finished with a modest 12 points on 3-for-10 shooting from the field, but the Heat devoted a huge amount of attention to the marksman, and it cost them.
For example, early in the first quarter, the Heat switched on a weakside down screen to free up Korver, then switched again as Korver sprinted wing-to-wing past a cross-screen by
Paul Millsap
. In turn, Korver was covered by Bosh when he caught the pass at the spot, but the resulting confusion allowed Millsap to roll untouched to the rim, where Korver hit him. It's this kind of thing that freed up the Hawks' frontcourt for close-range shots all night, as Korver dished out a season-high six assists leveraging all that attention.
"We're just not taking away much,"
Shane Battier
said. "Usually when our defense is clicking, we're taking away a few things out of a team's offense and living with other parts of the team's offense. Right now, the other team has a full menu of what they want to get -- paint shots, 3s, transition."
When things are clicking, in Battier's words, it's not unusual to go 15 or 20 possessions without seeing a fundamental defensive mistake by Miami. Lately, the Heat are having trouble putting together consecutive stops. The Heat are failing NBA Defense 101. Simple angle pick-and-rolls -- like the one the Hawks ran in the third quarter that yielded a wide-open 3-pointer for Williams -- produce mass confusion with Heat defenders helping off the strong side perimeter (a major no-no).
The Heat's offense racked up 114 points on 97 possessions -- "We scored enough points to win," James noted -- and they roared back in the second half to take a brief lead in the fourth quarter. James finished with 21 points, while each of the other starters totaled double figures. The switch-happy defense normalized into their traditional show-and-recover coverage, which helped stop the bleeding.
But on a key possession during the final minute trailing Atlanta by two, the Heat's defense malfunctioned again. The Hawks ran a gorgeous set that started with a high pick-and-roll on the right side with Williams and Millsap, who rolled to the foul line. From there, it was elementary: The massive
Pero Antic
set a flare screen to free Korver to cut from the top of the floor to the left wing. Korver's defender,
Mario Chalmers
, crashed into Antic, crumbling to the ground, as the man who served as a decoy for much of the night seized control of the game for Atlanta.
"I was almost too open," Korver said. "Pero set a good flare screen for me, and I was wide open. It was one of those where you're so open and it's the end of the game, you better make it."
And that's what it has come to for Miami of late -- yielding shots at crucial moments that are so open that the opponent feels like he picked up found money off the hardwood. The Heat deny that it's exhaustion, but the most plausible alternative theory is even more damning: A team virtually locked into the No. 2 seed in January that feels as if it's playing for nothing.
December, 23, 2013
12/23/13
4:38
PM ET

The Hawks (15-12, third in the East), are in Miami to take on the defending champs. Our 3-on-3 crew previews the action.
1. Fact or fiction: Dwyane Wade is having the most impressive homestand of any Heat player.
Tom Haberstroh:
Fact. Wade is shooting an amazing 60 percent on the Heat's 4-0 homestand, which would draw more attention if it weren't for LeBron James. Basketball scholars will one day refer to this as the Wade Trade-off.
Michael Wallace:
Fiction. Wade certainly makes a great case, considering he has averaged more than 25 points while shooting better than 60 percent from the field the past four games. He's in a remarkable rhythm. When Wade is healthy, you sort of expect close to those numbers. Just as you expect LeBron to roll out of bed and flirt with a triple-double every game. But Chris Bosh's play has been the most impressive development. He's scoring 20.5 points and grabbing 8.5 boards -- a big man consistently playing like a big man. Finally.
Brian Windhorst:
Fact. It obviously has been his best four-game run of the season. He looks healthy. He has been moving well. His scoring average is almost back to 20. And, of course, he got engaged.
---
2. Fact or fiction: Jeff Teague and Al Horford are the best point guard-center starting tandem in the East.
Haberstroh:
Fiction. I'm going to go with Derrick Rose and Joakim Noah. Wait, never mind. Hold on, I've got one: Deron Williams and Brook Lopez! Wait. Ugh. Rajon Rondo and Kevin Garnett! OK, three strikes and I'm out. Let's just go with Jeff Teague and Al Horford. "Fact," I guess. This East is depressing.
Wallace:
Fact. As hard as that might seem to believe on the surface, Teague and Horford are about as consistently productive as they come. Deron Williams and Brook Lopez are a great tandem, but neither can stay healthy. Derrick Rose and Joakim Noah come to mind quickly, but Rose can't stay on the court, either. John Wall and Nene are legit as well. But Horford is as versatile a center as there is in the NBA, and Teague has become one of the league's best playmakers now that he's consistently playing under control.
Windhorst:
Fiction. This is a tricky one because there are quite a few point guards and centers who are hurt plus there's some big men who are technically put in positions when they actually aren't. Right now, for example, Deron Williams and Kevin Garnett are a PG/C tandem. Teague and Horford have been good but on any night Nene and John Wall, Kyrie Irving and Andrew Bynum and Brandon Jennings and Greg Monroe/Andre Drummond can be dominant.
---
3. Fact or fiction: The Heat's early season chemistry/cohesion issues are behind them.
Haberstroh:
Fiction. Only because there weren't any chemistry issues to begin with. The early season losses were probably just a mixture of good ol' randomness and November defensive apathy.
Wallace:
Fiction. But that's not necessarily a bad thing. Although Miami has been playing at a high level and has clicked throughout the roster in recent outings, there will be another challenging adjustment to be made once Michael Beasley returns from a hamstring injury that has kept him out most of this month. The Heat's shooters still have work to do to collectively emerge from that recent slump. But LeBron, Wade and Bosh appear to be on top of their respective game right now. And that's all that ultimately matters.
Windhorst:
Fiction. The Heat's issues are never fully behind them. An in-huddle mini-blowup is always just a bad rotation away. This team is used to starting and putting out fires. The only thing they are guaranteed is nothing will be smooth sailing, whether they've won 10 in a row or whether they're behind and in trouble in a playoff series. Both have happened a bunch.
November, 19, 2013
11/19/13
4:03
PM ET

The surprising Atlanta Hawks are flying to Miami to take on the Heat, who are riding a three-game winning streak.
1. Can LeBron sustain his 60-plus shooting percentage?
Israel Gutierrez:
As long as the players around LeBron James allow him to be this selective for most of the season, yes. With Dwyane Wade relatively healthy, Michael Beasley contributing at an efficient level, and the Heat shooters taking and making good shots, LeBron doesn't have to force much at all. And it's clear he wants to do better than last year's 56.5 percent. Getting to 60 is quite a leap, but it's also a heckuva milestone achievement for a "perimeter" player.
Tom Haberstroh:
Can he? Yes. Is it likely? No. That would represent the biggest year-to-year jump of his career. Yes, LeBron has raised his field goal percentage in each of his past seven seasons, but that becomes tougher the higher you go. But it's possible.
Brian Windhorst:
Probably not. We've never seen a wing-based player or a scorer like LeBron shoot 60 percent in a season in the modern era. The closest was Bernard King, who shot 59 percent in 1980-81. I was 3 years old at the time so I have no idea how he did it. That said, LeBron did shoot 57 percent last season, so it's not a huge stretch. Erik Spoelstra always says never to put a ceiling on him.
---
2. Is Rashard Lewis a fixture in the Heat rotation now?
Gutierrez:
He should be, at least until he shows signs of regression. He's shooting 50 percent from the floor (nearly 48 percent on 3s), he's not a liability defensively, and he's moving the ball quickly when his shot isn't available. He's not a major factor on the boards, and if that comes back to hurt the Heat, maybe his minutes will slowly diminish.
Haberstroh:
Sure, but don't count on his being part of it come playoff time. The Heat are just too deep, and at this rate, it's only a matter of time before Michael Beasley takes Lewis' minutes. Most imagined that James Jones would be the biggest beneficiary of Mike Miller's departure, but Jones has played four more minutes this season than I have.
Windhorst:
The Heat have eight players they steadily play when healthy, and Lewis is not one of them. The ninth is constantly changing, and sometimes there isn't a 10th. Spoelstra has been going to Lewis in that role rather often, but some of that is because of the health of a few of the top eight. Lewis has played well and probably will continue to get chances when there are injuries, or as that ninth or 10th guy when warranted.
---
3. Are the Hawks with Millsap and Horford a top-three East frontcourt?
Gutierrez:
The Pacers' frontcourt is the class of the East. After that, a handful of teams have a good case. When it comes to matching up with Miami, the Hawks' frontcourt is troublesome. But, when healthy, the Knicks' frontcourt is a matchup problem, and when the Bulls' Joakim Noah and Luol Deng are right, they're equally, if not more, of a problem. If DeMarre Carroll were more productive, it would put the Hawks up there. But right now, no.
Haberstroh:
Yes, if we're talking frontcourt tandems, but I'm an unabashed Paul Millsap-Al Horford fanatic. Assuming we're not counting LeBron as a power forward, I'll probably take the Pacers and the Pistons to round out the top-three. I just can't get on board with Kevin Garnett yet for Brooklyn to be included.
Windhorst:
According to the PER standings, they are the top frontcourt in the East at the moment. Of course, in current PER, Michael Beasley is seventh overall. Horford and Millsap are two of the more underrated bigs in the league, so their tandem is naturally going to be underrated. Where they rank will fluctuate depending on health elsewhere, but they're formidable.
February, 20, 2013
2/20/13
3:36
PM ET

By Tom Haberstroh
ESPN.com
Archive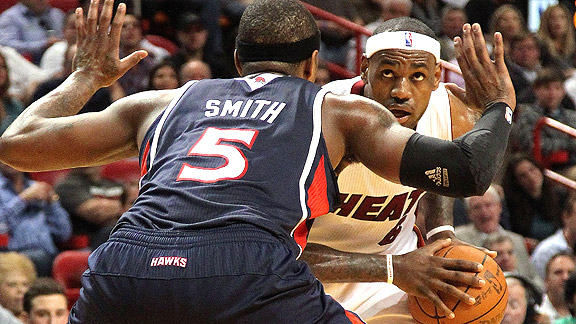 Mike Ehrmann/Getty Imagess
Josh Smith's last task as a Hawk could be guarding a red-hot LeBron James in Atlanta on Wednesday.
ATLANTA -- After missing a post-shootaround free throw,
Josh Smith
jogged up and down the court inside Philips Arena. He chatted with teammates and huddled up to conclude the team's morning workout.
Just another day at the office for Smith.
It could also be his last.
The league trade deadline is Thursday at 3 p.m. ET and Smith's name has been a mainstay in the rumor mill for weeks now. Wednesday's game against the
Miami Heat
will be the 649th game in Smith's career, all for the same franchise that drafted him straight out of high school with the 17th pick in the 2004 draft.
At Wednesday's shootaround, Smith denied having any conversations in the past 24 hours with his agent or with a front office that made waves this past offseason by trading
Joe Johnson
to Brooklyn. Smith insists that he is concentrating on the night's opponent.
"I'm just trying to stay out of the way and focus on what's in front of me and not worry about anything else," Smith said.
If this is indeed Smith's last game as a Hawk, what a send-off it would be. His assignment:
LeBron James
, who's shooting a solid 69 percent over his past seven games. Atlanta coach Larry Drew plans to "go big" and insert center
Zaza Pachulia
into the starting lineup and effectively make Smith the small forward opposite James.
"It's definitely going to be a challenge, but I like challenges," Smith said of guarding James. "He's been playing outstanding for about a month now. That team is rolling, so it'll be a good measuring stick on how we face up against this team."
There are only a few players in the league who can match up with James' size and athleticism. Smith, 6-foot-9 and 225 pounds, is one of them. But James isn't too worried about getting around him.
"I accept any challenge," James said. "I don't think there's one guy in this league that can guard me one-on-one. So I try to look at the second and third defense."
This isn't just a feeling that arose after his recent record-breaking performance of scoring 30 or more points while shooting at least 60 percent from the field in each of six straight games.
"I've been in that groove for a long time now, for years, where I feel like there's not one guy who can guard me one-on-one," James said. "But it's team basketball so you're not being guarded by one guy, you have to read and react to defenses, how they're playing you. You have to counter and find ways to exploit it."
Smith will try to shake James out of that groove on Wednesday. Even though James has never been the center of trade talks quite as Smith has been recently, the reigning MVP says he knows what it's like to play for a team embroiled in the rumor mill.
"I've been on both sides," James said. "We made trades in Cleveland at the deadline. Now we're in a position today where we don't. I've been on both sides, but it's good to be on this side right now."
James made the decision to leave Cleveland in the summer of 2010 after seven seasons with the franchise and ended up winning his first title with the Heat in 2012. When asked whether it'd be more satisfying to win a championship in Atlanta or for another team, Smith didn't mince his words.
"I just want to win, it doesn't matter," Smith said. "It doesn't matter where."