Miami Heat Index:

Atlanta Hawks
November, 19, 2013
Nov 19
4:03
PM ET

The surprising Atlanta Hawks are flying to Miami to take on the Heat, who are riding a three-game winning streak.
1. Can LeBron sustain his 60-plus shooting percentage?
Israel Gutierrez:
As long as the players around LeBron James allow him to be this selective for most of the season, yes. With Dwyane Wade relatively healthy, Michael Beasley contributing at an efficient level, and the Heat shooters taking and making good shots, LeBron doesn't have to force much at all. And it's clear he wants to do better than last year's 56.5 percent. Getting to 60 is quite a leap, but it's also a heckuva milestone achievement for a "perimeter" player.
Tom Haberstroh:
Can he? Yes. Is it likely? No. That would represent the biggest year-to-year jump of his career. Yes, LeBron has raised his field goal percentage in each of his past seven seasons, but that becomes tougher the higher you go. But it's possible.
Brian Windhorst:
Probably not. We've never seen a wing-based player or a scorer like LeBron shoot 60 percent in a season in the modern era. The closest was Bernard King, who shot 59 percent in 1980-81. I was 3 years old at the time so I have no idea how he did it. That said, LeBron did shoot 57 percent last season, so it's not a huge stretch. Erik Spoelstra always says never to put a ceiling on him.
---
2. Is Rashard Lewis a fixture in the Heat rotation now?
Gutierrez:
He should be, at least until he shows signs of regression. He's shooting 50 percent from the floor (nearly 48 percent on 3s), he's not a liability defensively, and he's moving the ball quickly when his shot isn't available. He's not a major factor on the boards, and if that comes back to hurt the Heat, maybe his minutes will slowly diminish.
Haberstroh:
Sure, but don't count on his being part of it come playoff time. The Heat are just too deep, and at this rate, it's only a matter of time before Michael Beasley takes Lewis' minutes. Most imagined that James Jones would be the biggest beneficiary of Mike Miller's departure, but Jones has played four more minutes this season than I have.
Windhorst:
The Heat have eight players they steadily play when healthy, and Lewis is not one of them. The ninth is constantly changing, and sometimes there isn't a 10th. Spoelstra has been going to Lewis in that role rather often, but some of that is because of the health of a few of the top eight. Lewis has played well and probably will continue to get chances when there are injuries, or as that ninth or 10th guy when warranted.
---
3. Are the Hawks with Millsap and Horford a top-three East frontcourt?
Gutierrez:
The Pacers' frontcourt is the class of the East. After that, a handful of teams have a good case. When it comes to matching up with Miami, the Hawks' frontcourt is troublesome. But, when healthy, the Knicks' frontcourt is a matchup problem, and when the Bulls' Joakim Noah and Luol Deng are right, they're equally, if not more, of a problem. If DeMarre Carroll were more productive, it would put the Hawks up there. But right now, no.
Haberstroh:
Yes, if we're talking frontcourt tandems, but I'm an unabashed Paul Millsap-Al Horford fanatic. Assuming we're not counting LeBron as a power forward, I'll probably take the Pacers and the Pistons to round out the top-three. I just can't get on board with Kevin Garnett yet for Brooklyn to be included.
Windhorst:
According to the PER standings, they are the top frontcourt in the East at the moment. Of course, in current PER, Michael Beasley is seventh overall. Horford and Millsap are two of the more underrated bigs in the league, so their tandem is naturally going to be underrated. Where they rank will fluctuate depending on health elsewhere, but they're formidable.
February, 20, 2013
Feb 20
3:36
PM ET

By Tom Haberstroh
ESPN.com
Archive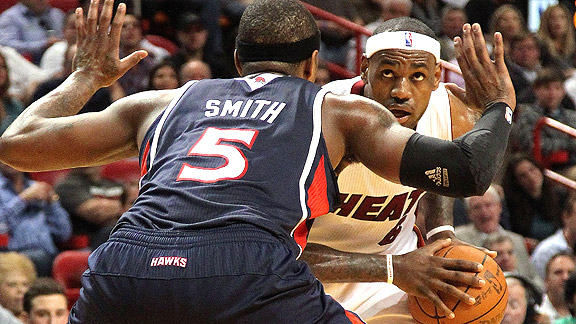 Mike Ehrmann/Getty Imagess
Josh Smith's last task as a Hawk could be guarding a red-hot LeBron James in Atlanta on Wednesday.
ATLANTA -- After missing a post-shootaround free throw,
Josh Smith
jogged up and down the court inside Philips Arena. He chatted with teammates and huddled up to conclude the team's morning workout.
Just another day at the office for Smith.
It could also be his last.
The league trade deadline is Thursday at 3 p.m. ET and Smith's name has been a mainstay in the rumor mill for weeks now. Wednesday's game against the
Miami Heat
will be the 649th game in Smith's career, all for the same franchise that drafted him straight out of high school with the 17th pick in the 2004 draft.
At Wednesday's shootaround, Smith denied having any conversations in the past 24 hours with his agent or with a front office that made waves this past offseason by trading
Joe Johnson
to Brooklyn. Smith insists that he is concentrating on the night's opponent.
"I'm just trying to stay out of the way and focus on what's in front of me and not worry about anything else," Smith said.
If this is indeed Smith's last game as a Hawk, what a send-off it would be. His assignment:
LeBron James
, who's shooting a solid 69 percent over his past seven games. Atlanta coach Larry Drew plans to "go big" and insert center
Zaza Pachulia
into the starting lineup and effectively make Smith the small forward opposite James.
"It's definitely going to be a challenge, but I like challenges," Smith said of guarding James. "He's been playing outstanding for about a month now. That team is rolling, so it'll be a good measuring stick on how we face up against this team."
There are only a few players in the league who can match up with James' size and athleticism. Smith, 6-foot-9 and 225 pounds, is one of them. But James isn't too worried about getting around him.
"I accept any challenge," James said. "I don't think there's one guy in this league that can guard me one-on-one. So I try to look at the second and third defense."
This isn't just a feeling that arose after his recent record-breaking performance of scoring 30 or more points while shooting at least 60 percent from the field in each of six straight games.
"I've been in that groove for a long time now, for years, where I feel like there's not one guy who can guard me one-on-one," James said. "But it's team basketball so you're not being guarded by one guy, you have to read and react to defenses, how they're playing you. You have to counter and find ways to exploit it."
Smith will try to shake James out of that groove on Wednesday. Even though James has never been the center of trade talks quite as Smith has been recently, the reigning MVP says he knows what it's like to play for a team embroiled in the rumor mill.
"I've been on both sides," James said. "We made trades in Cleveland at the deadline. Now we're in a position today where we don't. I've been on both sides, but it's good to be on this side right now."
James made the decision to leave Cleveland in the summer of 2010 after seven seasons with the franchise and ended up winning his first title with the Heat in 2012. When asked whether it'd be more satisfying to win a championship in Atlanta or for another team, Smith didn't mince his words.
"I just want to win, it doesn't matter," Smith said. "It doesn't matter where."