Miami Heat Index:

Free Agents and Trades
July, 22, 2013
7/22/13
11:12
AM ET

By Brian Windhorst
ESPN.com
Archive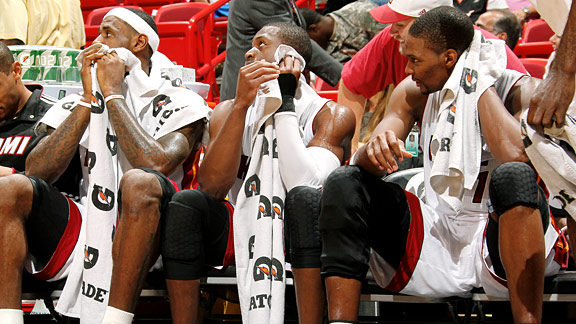 Victor Baldizon/NBAE/Getty ImagesMiami has its core intact for next season, but after the summer of 2014 things could look different.
In the wake of
Dwight Howard
's departure, the
Los Angeles Lakers
have been looking forward to 2014, when their options could be wide with a deep free-agent class and perhaps as much as $50 million in salary-cap room.
But there could be another huge player in free agency next summer, another destination team with a championship pedigree: The
Miami Heat
.
That may be hard to fathom at the moment because the Heat currently have a payroll of more than $80 million and a large luxury-tax bill that forced them to waive Mike Miller last week. But as of now, there is a possibility that every player on the Heat roster could be a free agent next summer.
The Heat are an example of the difference between a team with a full cap as opposed to a team that is capped out.
That's why it would be unwise to disregard the Heat's options when it comes to looking at next summer. There's a chance the Heat will have as much cap space as anyone to retrofit their team around the most-prized potential free agent,
LeBron James
, if he opts out of his contract as expected.
"When 2014 hits, we'll be ready to deal with that," Heat president Pat Riley said after the season. "We're just going to keep everything very fluid ... we'll be prepared for anything, as we were in 2010."
The two-time champs know they will have 13 players back from this season's title team for the 2013-14 season and Riley has made it clear he believes the status quo is the way to go as they attempt to establish a dynasty. But a year from now, the shape of the Heat roster is a bit of a mystery. Depending on the health of their core players and their competition for James, that could turn out to be a good thing. The roster is aging, but because of the flexibility of the contracts on the books, it's not necessarily a roster they are locked into.
First, James,
Chris Bosh
and
Dwyane Wade
all have opt-out clauses in their contracts. That represents a $61 million portion of the team's salary cap for 2014-15. It is hard to predict what each player will do because much will depend on health, the success of the team and other variables. But all three very well could opt out to re-do their contracts to assure more guaranteed years.
All three are earning less than the maximum salary and it is possible they could seek raises. However, all three have already shown a willingness to work with the front office to structure their deals in a way that will allow more flexibility.
In addition,
Mario Chalmers
,
Shane Battier
,
Ray Allen
,
James Jones
and
Rashard Lewis
all are headed into the final year of their contracts.
Udonis Haslem
,
Joel Anthony
and
Chris Andersen
all have player options.
Norris Cole
has a team option.
Even if Haslem, Anthony and Andersen bypass free agency next summer and the Heat, as expected, pick up Cole's option, the team still could have in the neighborhood of $50 million to play with depending on what the Big Three decide.
The Miller amnesty release last week was unpopular with some players and many of the Heat's fans. But it did more than save luxury-tax money, it also cleared extra cap space for the future. No matter how the Heat ultimately proceed, they will have an opportunity to revamp the roster following this season. If James decides to stay, he can be a drawing card for younger free agents as the Heat may look to replace some of their aging players.
Over the past three years, players have repeatedly taken less money to play with the Heat, often because Riley has been persuasive in contract talks. The team also has assistant general manager Andy Elisburg, who has proven to be a shrewd salary-cap manager during his long tenure with the team that has allowed the Heat to pull off some maneuvers that have shocked the league several times.
While several competitors will plot to poach James and perhaps Bosh, the Heat may be able to convince their stars to restructure their contracts in a way that would allow them to add another big name. Much of that may depend on Wade, who already showed a willingness to take the biggest pay cut to make room for teammates in 2010.
Bottom line, the Heat could end up being one of the most interesting teams in next summer's already fascinating free-agent game. Not just as a protector of their championship roster but perhaps as a hunter for a player or two who could help them stay on top for the back end of James' prime years.
Riley has dismissed rivals' transparent attempts to chase James or get into an arms race with the Heat because he's confident in how the franchise has positioned itself in the short- and long-term.
"What one other team does, I think it doesn't have any bearing on what we're thinking about," Riley said. "We're a three-time finalist. We won back-to-back championships. We've got our entire core back, signed, opted-in, and we're tickled to death with that."
November, 15, 2010
11/15/10
1:50
PM ET

By Tom Haberstroh
ESPN.com
Archive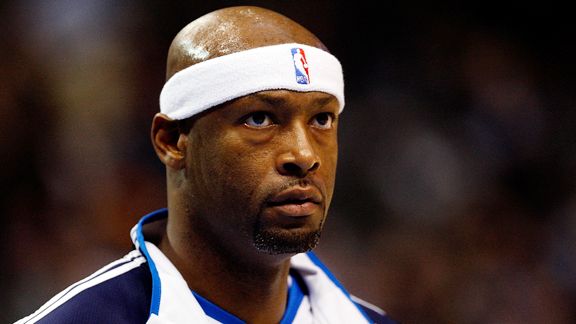 Ronald Martinez/Getty Images Sport
Could Erick Dampier help the beleaguered Heat frontcourt?
The Heat have already shaken up their depth chart at center this season, sliding Joel Anthony to the bench and inserting Zydrunas Ilgauskas into the starting five. Miami's thinness up front has been a punching bag for Heat critics. But that perceived weakness could turn into a strength with one move: signing free agent Erick Dampier.
The 14-year veteran offers the Heat a narrow set of skills as a big man but seeing that he's a free agent expected to sign for the veteran minimum of $1.4 million, that's par for the course. But what Dampier does do well -- rebound and block shots -- should draw the Heat's interest.
When asked after Tuesday's practice about possibility of adding Dampier to the frontcourt, head coach Erik Spoelstra expressed confidence in his current personnel.
"Really, this is who we have," Spoelstra said. "We feel like we have enough. You know, we tweaked the rotation so that might change things up a little bit. But it's far too early to make a real objective evaluation. My job is to coach these guys and worry about who's in the gym."
And there are some real worries. Along with their propensity to turn the ball over, rebounding has been a documented chink in the Heat's armor. Currently, the team's 23.0 offensive rebounding rate places them third to last in the NBA. It's unfair to knock the 7-foot-3 Ilgauskas for not collecting offensive boards, considering he's typically roaming the perimeter for pick-and-pops. But Anthony's a different story. The 6-foot-9 center has been a below-average offensive rebounder this season,
collecting 8.6 percent of available Heat missed shots
. This, despite being firmly planted around the basket in offensive sets.
For all the energy Anthony brings, his hyperactivity doesn't translate to beating others to the live ball. On the defensive end, the UNLV product is too busy fly-swatting others shots, rather than preventing the opposition from acquiring second-chance points. In fact, the Heat's defensive rebounding rate soars from 61.5 percent while Anthony's on the floor to 70.9 percent after he exits the game.
At 6-foot-11, Dampier has proven to be a skilled rebounder in his NBA career, and earned the 2003-04 crown as the very best in the league. As a 34-year-old last season in Dallas, Dampier collected an estimated 11.6 percent of the Mavericks' missed shots while he was on the floor, which ranked in the top 10 among regular centers. His glasswork has depreciated over the years but he should still be a substantial upgrade over Miami's current alternatives.
In contrast to Anthony, Dampier is long enough to block shots without relinquishing his box-out position or getting into foul trouble. The 35-year-old veteran was above average in both shot-blocking and defensive rebounding as a center in 2009-10, with 1.1 blocks and five defensive rebounds per game. The Heat may tout Anthony's visible effort in blocking shots, but they'd be far better off overall with Dampier's more conservative approach, which doesn't leave the paint vulnerable to put-backs or routinely send opponents to the charity stripe.
Offensively, Dampier represents a veritable upgrade to Anthony as well. They're built from the same mold in that they each fall under the category of low-usage and offensively limited centers. But Dampier's a more efficient option beneath the basket. When your scoring responsibility is restricted to easy put-backs, Anthony's career 48 percent field goal percentage should be of great concern. However, Dampier has enjoyed a similar offensive role over the past four seasons in Dallas and has connected on no fewer than 62.4 percent of his field goals in any of those seasons.
But there are reasons why Dampier hasn't been snapped up from the waiver wire yet. One is mileage. He's 35 years old, and through his 14 seasons, he has logged nearly 25,000 minutes in his NBA career. Concerns about his balky left knee are legitimate, as it hobbled him throughout 2009-10 and required minor arthroscopic surgery in May. Furthermore, a free-agent signing may send mixed signals to the locker room, one that Miami head coach Erik Spoelstra has been vocally reluctant to disrupt.
The Heat have passed over Dampier's services once this offseason before. But for the league minimum, he serves as a tangible upgrade over Anthony, at the very least. And on the high-end, he could challenge Ilgauskas for the starting gig -- and win it.
For $1.4 million, it's a deal that's growing increasingly hard to pass up.
September, 28, 2010
9/28/10
11:42
AM ET

By Henry Abbott
ESPN.com
Archive
LeBron James. Dwyane Wade. Chris Bosh.

Pat Riley and his staff get an A+ for how they handled the offseason. They got the big things so right that it almost didn't matter how they handled the little things.

However ... Let's be clear. Not all those little things went perfectly. If they gave separate grades for signing role players, the Heat staff would get a D for that.

If for some reason this team does not work out, if there are not rings for everybody in the years to come, it's worth noting that Riley and company had countless options in filling out this roster. They could have scoured Europe and the D-League. They could have coaxed all kinds of players to play alongside these stars. They could have used their vast scouting apparatus to uncover some gem.

The opportunity was huge. Instead, they are left almost entirely without young, developing players, and with a major shortage of bench athleticism and speed. With hardworking veteran leadership they have a great environment to get the best out of impressionable young athletes -- yet there are hardly any of those guys in Heat camp. With unbelievable quickness and size from the perimeter stars, the Heat has the chance be the the fastest team in NBA history -- but not with brittle aging athletes like Zydrunas Ilgauskas, Juwan Howard or James Jones on the floor.

Imagine if an executive with less juice -- say Billy King in New Jersey -- had filled the bench with the crusty half-dozen of Jamaal Magloire, Carlos Arroyo, Ilgauskas, Howard, Jones, and Eddie House (while drafting Dexter Pittman, Jarvis Varnado and Da'Sean Butler).

If someone besides Riley-on-a-hot streak had done that, they would have said indecent things about him on talk radio for three weeks, and he's have been left fighting to keep his job to the end of preseason.

When is the last time any one of those players had a great game, or even a decent season?

And before we get stuck arguing about the past, let's consider that all that matters is the future. If your mission is to win as many titles as possible while the SuperFriends are still in their primes, then wouldn't you like to have some upside around? Some players who will be getting better with time? Some players who can keep the energy level high when the stars need to rest? I know that Pat Riley has won more titles than I ever will. And I know he holds veterans in high regard, and I know that these are all good guys who are unlikely to make things difficult or cause trouble.