Miami Heat Index:

John Hollinger
April, 3, 2011
4/03/11
11:02
PM ET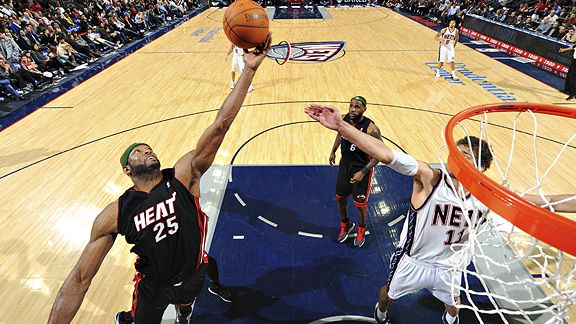 Jesse D. Garrabrant/NBAE/Getty Images
Erick Dampier was one of several members of the Heat's supporting cast to turn in a solid performance on Sunday.
NEWARK, N.J. -- I've written that
the Heat have the league's worst-performing roster in spots 4 through 12
, as players aside from the Big Three have posted the most miserable PER in the league. Certainly, that they're even mulling the idea of bringing in Eddy Curry lends further credence to that idea.
The good news from Miami's 108-94 win over New Jersey on Sunday, however, was that it looks like the Heat's Little Nine are starting to provide a bit more help. That's partly a function of health, as Mario Chalmers and Mike Miller returned from injury. It's partly a function of additions, as two players who weren't here at the start of the season -- Erick Dampier and Mike Bibby -- combined to play 55 minutes.
But mostly, it's because a couple of guys who didn't play well are perhaps playing a bit better.
Start with Dampier, who set season highs in both points and rebounds with his double-double. Granted, "season-high 10 points" is about as damning a four-word appraisal as you could make of his season thus far, but of far more interest are the 14 rebounds. Dampier had one of the highest rebound rates in basketball up until this season, when it mysteriously cratered. On this evening, grabbing a board every two minutes, he was hugely valuable.
"He had an impact, on both ends of the court," said Heat coach Erik Spoelstra. "Putting his big body under the rim, it's a tough cover against Lopez, but he stepped up to the challenge. That's three games in a row where Damp is starting to get his legs under him and having more of an impact."
Dampier was joined by fellow center Zydrunas Ilgauskas, who had 11 points in 20 minutes and provided some of the offensive rebound tip-in magic that he did so often in Cleveland, but rarely since joining Miami.
Ilgauskas has the fourth-highest PER on the Heat this season but had languished at the end of the bench of late; it's notable that he and Dampier shared all the minutes at the 5 while Joel Anthony got a DNP. While Z's game doesn't work against every opponent -- he's vulnerable defensively against strong pick-and-roll attacks -- he provides a lot more offensive support for the Big Three, and some size around the basket on defense.
"Both of our centers gave us very good minutes tonight," said Spoelstra. "They're big and give us a presence at the rim."
Meanwhile, the backcourt got a boost from the return of Miller and Chalmers, and while Chalmers didn't get any less mediocre during his absence, Miller provided some encouragement with a strong floor game.
Miller didn't make shots, and that remains a nagging concern, but the rest of his game was very solid and he ignited the night's best highlight. That spin-o-rama layup by LeBron James that will make every highlight reel? It came when Miller picked up Deron Williams on a switch and smothered his pass attempt, allowing James to scoop up the deflection and streak upcourt.
"I was encouraged," said Spoelstra. "He was giving us good defensive minutes, spreading the floor for us. It's not a factor to me whether the ball is going on or not, but he's a good rebounder, he helps your team win in a lot of different areas that don't show up in the box score."
Miller is indeed a vastly underrated rebounder -- he has one of the highest rebound rates of any wing player in basketball over the past few seasons -- but he came to Miami for his shooting. While a thumb injury has likely contributed to his struggles, the fact remains he's at 40.1 percent with a single-digit PER, and he missed all three 3-point attempts tonight.
The good news is -- everything else is there. And statistically, one has to think the shots will start falling, especially since the thumb should be less of a bother.
"He's too good of a shooter and he's proven himself," said Spoelstra, "I don't live and die with him making shots if he only gets three 3-point attempts in short minutes. You have to have a bigger sample than that. [And] whether the shots going in or not, he helps out spacing big time. Right before he got hurt, some of the rotations we had with Mike were really productive for us."
If Miller finds his stroke, perhaps tonight can mark a mini-turning point for Miami. Not the way the Cleveland game was a turning point, perhaps, but as a sort of awakening for the supporting cast. As we get into the playoffs, what productivity Miami gets from the two centers and Miller will go a long way toward determining whether the Big Three can get the big prize.
November, 9, 2010
11/09/10
2:23
PM ET

By Tom Haberstroh
ESPN.com
Archive
John Hollinger's Power Rankings are here
. And guess who sits on top? That's right, the Miami Heat.
Now, before you go and get all riled up and start theorizing that Hollinger's computer was manufactured in Miami-Dade County and therefore is a rotten homer, plenty of sound logic goes into these rankings. Remember, it's an automated power ranking that seeks to shake out any potential biases of opinion. As
he points out on Twitter
, it's the very same formula that judged teams five years ago.
So, let's cut to the point: how does a 5-2 team rank higher than a 7-0 team?
Hollinger explains:
Miami sits atop the inaugural Power Rankings with an overwhelming 116.15 rating. Because the league average is set to a rating of 100.0, that means our rating would favor Miami by 16 points against an average team on a neutral court. Despite two mishaps in the Heat's first seven games -- both narrow road losses to highly ranked opponents -- they have been so impressive in their other five games that they still earn the top spot.

...

So how do the Heat outrank the unbeaten Lakers? Well, as I mentioned, the two factors are scoring margin and strength of schedule. Although the scoring margins are nearly identical -- L.A, in fact, has a 0.4-point edge -- Miami has played the more difficult schedule.

Heat opponents have a .595 winning percentage when they're not playing the Heat, compared to .524 for Lakers foes. Although it seems odd to place Miami's 5-2 record ahead of L.A.'s 7-0, the Lakers have yet to face a night on their schedule as difficult as Miami's visits to Boston and New Orleans (their two losses), or even the Heat's home date against No. 3 Orlando (a 26-point Miami win). The Lakers' highest-ranked opponent to date is No. 8 Phoenix.
I'll fully admit that once upon a time I struggled to wrap my head around the concept that an undefeated team could be considered inferior to a team saddled with losses. But it's why mid-majors in college hoops have such a tough time cracking the top 25 rankings: strength of schedule.
These things even out as time goes on. The Heat have two tough games ahead -- Utah tonight and Boston on Thursday -- but then they don't play a winning team until Orlando on November 24th. After Thursday night's rematch against Boston, Miami's next five games are against teams that are a combined 11-23. That will even out their strength of schedule which also means they'll have to continue blowing out their feeble opponents if they want to hold their spot on the Hollinger throne.
Be sure to read
the whole breakdown at Insider
. You'll learn a thing or two about this young NBA season.
I know I did.
October, 22, 2010
10/22/10
10:52
AM ET
ATLANTA -- Remember how Boston's newly formed big three blew out of the gate like gangbusters in the winter of 2007-08, winning 29 of their first 32 games en route to a 66-win season and a championship?

Suffice to say I'm not getting the same vibe from the Miami Heat's new trio of stars.

Don't get me wrong -- this team will win a ton of games and is still my clear favorite to be the last one standing in June. But a 29-3 start does not appear in the offing. Based on the preseason, it's going to take more time for this particular unit to fully gel.

For starters, the Heat are struggling to develop the cohesion and continuity that those Celtics seemed to posses from Day 1. Miami lost for the fourth time in seven preseason games Thursday, a 98-89 defeat to the Hawks, and compared to the '07-08 Celtics face on crucial difference in the early going: Injuries.

Most obviously, Dwyane Wade played only three preseason minutes with LeBron James and Chris Bosh before checking out with a hamstring pull. Meanwhile, sharpshooter Mike Miller could miss the next two months with a thumb injury, taking two of the team's three key wings offline during a crucial phase in their meshing. Two other key guards, Eddie House and Mario Chalmers, also missed time before rejoining the lineup Thursday. While the good news is that Wade will rejoin the team in Tampa Friday before its final preseason game (though he's unlikely to play), the Heat have lost the opportunity to integrate their three stars before the real games start.

The difference was especially notable on this night for two reasons. First, I went to a preseason game and a regular-season contest broke out, mostly because both sides played their starters most of the game and left the scrubs on the pine. Heat coach Erik Spoelstra said afterward he was trying to use a regular-season rotation for this game, with LeBron James playing 38 minutes and Chris Bosh playing 40.

But second, I went to see the Miami Heat and a Cleveland Cavaliers game broke out. With James dominating the ball, a succession of second-rate Heaters trying to fill in for the injured Wade and Miller (James Jones started, for crying out loud, and played 34 horrifying minutes), and Chris Bosh weirdly ineffective, we largely saw a re-enactment of the Cleveland-era LeBron.

James was mostly brilliant, finishing with 38 points, 11 rebounds and a laughable two assists (he had at least three others that were clear-as-day, immediate-shot-after-the-catch dimes which somehow didn't land on his ledger), but by the middle of the third quarter he seemed weary from dribbling around for 20 seconds on every trip.

Moreover, just like with the Cavs, the Miami offense often degenerated into the pick-and-stand-around play -- the one where James retreats after a high screen and then works on one-on-one from the top of the key. The only times Miami's attack really seemed effective was in transition, where James remains an unstoppable freight train; on one play he completed a basket despite being tackled around the neck by Marvin Williams.

Granted, a LeBron-centric, Cleveland-esque attack isn't exactly chopped liver. That approach produced 127 regular-season victories over the past two seasons in Cleveland, and one presumes James could chart a similar course in Miami given his performance Thursday.

The problem, however, is that the 1-on-5 approach is precisely what it seemed he wanted to avoid by joining forces with Wade and Bosh in Miami -- not to mention part of what undermined Cleveland in the past two postseasons. And Thursday, it seemed somewhat counterproductive. James's stat line was brilliant, but his plus-minus was a minus-17; Miami's best sequence of ball movement came in the second quarter when five non-stars played while James sat.

With all that said, let's not overreact. This was the seventh preseason game played a group of unfamiliar faces trying to mesh into a unit, and they had a replacement-level player taking the minutes of one of the game's biggest stars.

But talking to Heat spies before the game, they were insistent that they need more time to mesh before we can see anything close to their full potential. Thursday offered some tangible insight as to why.
September, 28, 2010
9/28/10
6:04
PM ET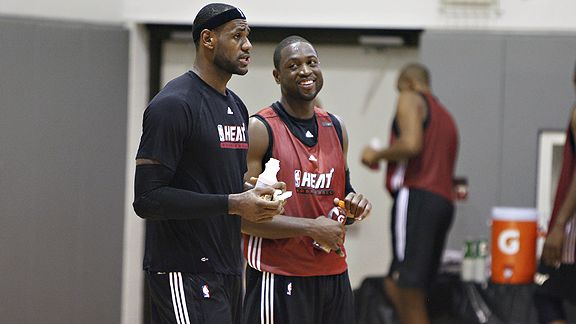 Issac Baldizon/NBAE via Getty ImagesLeBron James and Dwyane Wade began Miami Heat training camp on a military base.
HURLBURT FIELD, Fla. -- Ask the prognosticators and they'll say there's a good chance that the Miami Heat's season will end in L.A., as a result of both teams making the NBA Finals.
A lesser known fact is that the Heat's campaign is also starting in L.A. -- the
other
L.A., that is, which stands for Lower Alabama in the southern vernacular. It's so named for this stretch of Florida's far greater cultural and geographic proximity to its northern neighbor than to the bright lights of South Beach, nearly 600 miles away.
"Miles away" is a good description for where the Heat stand too, compared to where they were in recent years.
Less than 18 months ago the Heat played a seventh game in the playoffs and I was the only national media member in attendance. Today the Heat had a training camp practice in a small city in a different time zone, and I was one of about 75 people covering it -- including several from my own company.
When the media came on to the practice court, some players were stunned at the conga line of people that kept filing in.
"I didn't know it was going to be like that," said Udonis Haslem. "When the door opened I expected five or six guys like we usually do back home. I forget I have to [multiply] that by a hundred."
This is different from anything the Heat have ever experienced before. It's different, for that matter, from anything just about any team without Michael Jordan on it has experienced before. Not even major market powerhouses like the Lakers and Knicks have drawn mobs of this size to chronicle their daily grind. (And for those of you who will tell me that you're sick of the Heat already, unfortunately your actions belie your words. I could write about Dwyane Wade's choice of dental floss today and there's a good chance it would lead our site in eyeballs.)