Miami Heat Index:

Los Angeles Clippers
November, 14, 2012
11/14/12
5:52
PM ET

By Brian Windhorst
ESPN.com
Archive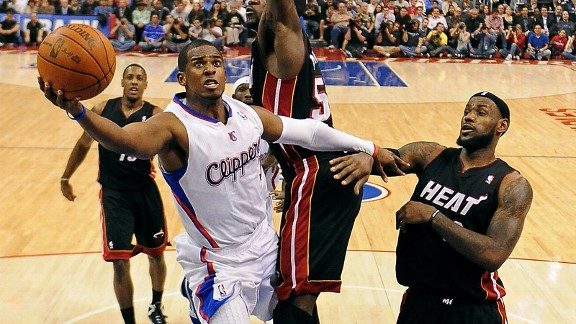 Jayne Kamin-Oncea/US PRESSWIRE
LeBron James has watched Chris Paul grow into a better player following major knee injury in 2010.
LOS ANGELES -- It was July 2010 and
Chris Paul
and
LeBron James
huddled together following a workout in Akron, Ohio, and discussed a career at the crossroads.
James' free-agent decision came that week, and that might've come up, too. But it wasn't the only important topic the two stars and longtime friends leaned on each other for during that time. Paul was also at a key moment in his career the same summer James ultimately decided to transfer his talents to Miami. At times like those, Paul and James have come to rely on each other.
Midway through the 2009-10 season, as the fires raged around James' future, Paul suffered a torn meniscus in his left knee. When Dr. James Andrews did the surgery, he removed the meniscus from Paul's knee -- a danger point for any NBA player, because the procedure opens up the possibility of future knee problems and can lead to bone-on-bone contact.
Paul wasn't going to be the same player he was before. He was going to have to change his game to remain at a high level. It was a complex transition. And since Paul's teenage days, he and James haven't attacked such major topics without consulting each other.
The men have been friends for more than a decade now. Long before they won gold medals together with Team USA, Paul was throwing alley-oops to James at the 2003 McDonald's All-American Game. Paul rode next to James in his King for Kids Bikeathon charity events. James bowled next to Paul in his charity events. Paul was at the hospital during the 2007 NBA Finals when James' fiancée gave birth to his son Bryce. James was at Paul's side in the summer of 2011 as the best man at Paul's wedding.
These aren't just "NBA friends" -- players who see each other at All-Star Weekend or offseason sponsor events and tap hands before games. Each became a support system for the other. Which is why when James talks about the changes Paul has made in his game in the wake of his knee injury, there's true meaning behind it.
"Chris was faster than everybody," James said. "When you're 16 or 17, you can run by everyone. But he's continued to get smarter and smarter and smarter. After he had the knee injury, there were people who didn't feel he was going to be fast anymore and it was going to limit his game. He came back and he was better."
Paul doesn't go to the basket as much as he did when he was younger, an effort to avoid the pounding on his legs and knee. He has instead developed a top-notch midrange game and is learning to create and score from the elbows.
Paul is also known for saving himself for the fourth quarters, setting up teammates for the heavy lifting before kicking it into gear for when it really matters. Along the way, he's become a master at maximizing possessions and clock management. His scoring, assists and minutes aren't quite what they were before the injury, but his stature in the league has never been stronger.
Paul averaged 22.8 points and 11 assists in 2008-09 with the
New Orleans Hornets
, the last full season before his injury. He was at 19.8 points and nine assists a game last season, his first with the Los Angeles Clippers. Since the injury, he has further cemented his status as the league's best point guard in an era that is being dominated by players at the position. And he's earned high praise from a close friend.
"Both me and CP have adjusted our games throughout the years," said James, who has taken on a point-power forward role with the Heat this season. "It's not like he's running past people like he used to, but he's doing it with his mind. He's doing it with his determination."
However, don't expect on-court compliments when the Heat face the Clippers in L.A. on Wednesday night (10:30 p.m. ET, ESPN). While James is impressed with how Paul has changed as a player, they are well-known for their intensity when playing against each other. Paul got plenty of attention for his famous 2010 toast at Carmelo Anthony's wedding, when the point guard talked about becoming part of a new Big Three in New York to battle James' version in Miami. That drew criticism, but it was born out of the rivalry the two have with each other.
A rivalry that will continue Wednesday night.
"It gets intense; while we're great friends, we've had some great battles," Paul said earlier this year. "We're not necessarily battling each other. As great a friends as we are, we're ultimate competitors. As great a friends as we are, we hate to lose to each other. When we're together, playing video games or whatever, we hate to lose."
J.A. Adande contributed to this story.
February, 6, 2011
2/06/11
4:48
PM ET

By Brian Windhorst
ESPN.com
Archive
MIAMI -- Official Ed Malloy was squinting at the monitor, watching Eddie House blast Blake Griffin and ruin a potential highlight transition dunk for about the fifth time, trying to decide whether or not to eject House with a flagrant foul.

Frustrated with the waiting, LeBron James called over from the Heat beach.

"I've got a Super Bowl party to go to, c'mon," James said.

James and the Miami Heat were indeed all business in their Super Sunday matinee, taking apart the Los Angeles Clippers 97-79 for their sixth consecutive win. After getting derailed in the back half of January with injuries to James, Chris Bosh and Dwyane Wade, the Heat are healthy again and winning again. It's beginning to get them focused on playoff seeding.

"Now it is time to start thinking about the standings and really start feeling out where you want to be in the playoffs," said Bosh, who had 16 points against L.A. "Everybody wants that No. 1 seed. … We have to maintain our sense of urgency."

Despite a 2-6 slide during the spate of injuries, which started when James sprained his ankle in Los Angeles in a loss to the Clippers last month, the Heat have some traction again. Their defense, which held the Clippers to 33 percent shooting, is putting some performances together and their offense is getting more consistent.

Right now the Heat are also enjoying a softer part of the schedule. Sunday marked the second of an eight-game stretch in which there's just one contest against a team with a winning record. That exception is the Boston Celtics, who will host the Heat in a potential judgment game next Sunday.

Their recent positive stretch has put the Heat right to the Celtics' heels in the Eastern Conference standings and also enabled Miami to hold off the charging Bulls, who are right behind them. In case you haven't been following, those teams are intensifying the race for the top three seeds.

Already 0-2 against Boston this season following losses in October and November before they'd found a stride, the Heat can't help but focus on the Celtics now that they're mostly healthy.

"I think we have big-picture and small-picture goals," James said. "You can't help but to look at the big picture. There are games that mean a lot. That game next Sunday could mean a lot if we continue to handle business right now."

This Sunday that meant avenging last month's loss, where the Heat were steamrolled for 44 points in the first quarter at Staples Center as they were overwhelmed by Griffin and some of his energetic teammates. This time, perhaps with some help from an early tip-off in a popular road city, the Clippers didn't score their 44th point until well into the third quarter.

Griffin had his moments, throwing down three dunks and racking up 21 points with 16 rebounds as he builds another double-double streak. But he was just 7-of-17 shooting and that still represented the best offensive option the Clippers had.

"We came out with incredible energy at both ends of the court," Heat coach Erik Spoelstra said. "We were as active as we can be."

Spoelstra has slowly turned up the praise on his team during the winning streak. While he's attempted to sequester his team from expectations and urged them to pay attention to the in-house schedule of development during the season, this recent streak has even allowed the coach to start peeking at the standings.

"This last two to three weeks has been a segment of the year where we feel we're getting complete," Spoelstra said. "Guys are encouraged by our health and everyone is getting comfortable in their roles. We can make a push and get some momentum going into the break. It's not the most important thing right now. We're not obsessed with the other teams in the standings but what I told the guys is we might as well as put ourselves in position next Sunday to pass [the Celtics]."

Looking a bit ahead, past Tuesday's game against the Indiana Pacers and Friday's game in the Detroit Pistons, marks an unexpected departure in decorum from Spoelstra.

But he seems to be saying what all of his players must be allowing themselves to think now that the injuries and early-season issues appear to have been ironed out.

Some players, it seems, are allowing themselves to consider the current string of games and what their relevance could mean months from now. That's prudent, of course. But it is also a sign of the Heat's rising confidence.

"We'd rather play a Game 7 in Miami than in Boston if it comes down to it," Bosh said. "It puts extra importance on every game we play right now. We can catch them if we play consistent."

January, 13, 2011
1/13/11
4:09
AM ET

By John Krolik
ESPN.com
Archive
On Jan. 12, 2004, LeBron James and the Cleveland Cavaliers came to Los Angeles to take on the mighty Los Angeles Lakers. The Cavaliers weren't setting the NBA on fire, and had long been one of the worst teams in the NBA, but hope had arrived in the form of a 6-foot-8, 240-pound rookie named LeBron James, who had come into the league as the most hyped rookie in NBA history and immediately justified some of that hype by averaging 23 points, nine rebounds, and 8.5 assists in his first two NBA games.

The Cavaliers weren't a good team yet, and their record wouldn't even become respectable until they won 11 of 13 games during a late February/early March stretch, but for the first time in years they were something to see. The Cavaliers might not have been the favorites to win on any given night, but there was always that chance that LeBron was going to do something special. Maybe it would be one play that showed just how prodigiously gifted of a basketball player he was, or maybe it would be a wire-to-wire performance that hinted at just how dominant he could become if he managed to get his game together. Either way, the 18-year-old James was more than worth the price of admission.

The Lakers, meanwhile, were the only team anybody really wanted to talk about, and for good reason. Shaq and Kobe had established themselves as two of the best players in basketball. They were both in their primes, and adding Karl Malone and Gary Payton in the off-season gave the Lakers a starting lineup that featured four potential Hall-of-Fame players. There were also off-the-court factors that made the Lakers so fascinating -- Kobe Bryant was the NBA's most controversial figure after being accused of sexual assault the previous summer, and many wondered if his image would ever recover.

Everything was set for a matchup between the league's most talented team and an upstart squad led by a young superstar whose maturity and team-first attitude had repeatedly been praised

But the actual game was anticlimactic: LeBron was held to 16 points on 6-for-20 shooting from the field. Shaq and Malone both missed the game with injuries, while Kobe scored only 10 points before leaving the game with an injury of his own, and the Lakers were able to cruise to an 89-79 win that featured no real fireworks on either side.

Seven years to the day after LeBron's Cavaliers played the super-Lakers, a lot has changed. LeBron has added at least 25 pounds of muscle, switched positions and become a small forward, turned his formerly abysmal outside shot into a strength, transformed himself from a mediocre/below average defender to one of the best defensive players in the league, taken Cleveland to the finals and won two MVP awards. He has suffered disappointing playoff losses twice, become the best player in Cavalier history, the most hated athlete in Cleveland sports history, the most controversial figure in sports, and has ultimately replaced the teammates he suited up with seven years ago -- Erik Williams, Carlos Boozer, Kendrick Brown, and Zydrunas Ilgauskas -- with Dwayne Wade, Chris Bosh, Carlos Arroyo, and, well, Zydrunas Ilgauskas. (Kobe, meanwhile, may or may not have led to Shaq getting traded, missed the playoffs, watched Shaq win a championship with LeBron's future team, win an MVP award, win two championships, and become the most respected player in basketball.)

Seven years after LeBron led his Cavaliers into the Staples Center, it was his Heat who were the favorites against Blake Griffin, the most exciting and productive rookie since LeBron, and the upstart Clippers, who have won eight of their last 11 games after a dismal start to the season. Unlike LeBron's Cavaliers in 2004, Griffin's Clippers were able to pull off the upset and snap the Heat's road winning streak behind 24 points, 14 rebounds, and 6 assists from Griffin. The rookie never appeared the least bit tentative against one of the best defenses in the NBA, nor was he afraid to keep his team from losing the lead when the Heat made runs and threatened to take over the game.

The only thing more exciting than Griffin's performance were the glimpses Blake showed of how much better he can become. Only one of Griffin's nine field goals came from outside of the paint, and there were a few moments when Griffin blew a finish at the basket after freeing himself up with a beautiful up-and-under or spin move. Griffin's energy, athleticism, and intelligence have made him into one of the league's best power forwards as a rookie . When he starts making his jump shots and free throws more consistently, improves on his already-prodigious ability to face his man up and beat him off the dribble, and gets more comfortable with advanced post moves, he'll be frightening.

Before the game, LeBron praised Griffin's talent and compared him to Karl Malone, Antonio McDyess (the young version) and Shawn Kemp because of Griffin's ability to play above the rim. Those are all favorable comparisons, and LeBron meant them as compliments to Blake, but think of all the things that prevented those players from winning a championship.

Kemp was a victim of his own immaturity. Malone was struck down by Michael Jordan. Injuries kept McDyess from reaching his potential and LeBron James prevented him from going to the finals when McDyess played for the Pistons. Microfracture surgery, a lack of commitment to defense, and the "leaving the bench" rule have kept Amare Stoudemire from reaching the finals in his career, although he's currently having a great season for the Knicks. Even LeBron, who entered the Staples Center as more or less of a finished product last Wednesday, has failed to win a championship thanks to inferior teammates, bad luck, and bad performances at the exact wrong times.

Blake Griffin and LeBron James would be the first people to tell you that they're different in a lot of ways. Blake is a power forward who lives in the paint, loves crashing the boards and has an intuitive sense of how to work off the ball to free himself up for dunks. LeBron is a perimeter player who passes and handles the ball as well as any point guard in the league, can drain a 3-pointer from anywhere on the court and is only now learning how to work without the ball in his hands. Off the court, Blake is soft-spoken. He snuck up on the league somewhat after missing what would have been his rookie year with a knee injury, while LeBron is an extrovert who has been the focus of tremendous hype and controversy since Sports Illustrated called him "The Chosen One" as a high-school junior.

Still, it's impossible to watch Blake Griffin now and not remember what LeBron James was seven years ago -- a thrilling young player with all the talent in the world, the savvy to use his strengths to take over games, the drive to shore up his existing weaknesses, the maturity to be a historically poor team's franchise player as a rookie and the hopes of a long-suffering fanbase on his shoulders.

Will Blake ever take his game to the level that LeBron took his to? Will the Clippers be able to surround Blake who complement him the way LeBron's supporting cast in Cleveland did or have the kind of talent LeBron's current teammates have? In 2018, will we be wondering why Blake hasn't won a championship yet? Will we be thinking about him at all? Or will we be wondering if he's the greatest forward since Tim Duncan? And will he ever become as important to the Clippers as LeBron was to the Cavaliers and the city of Cleveland, or as unpopular as LeBron is now both in and outside of Cleveland?

Nobody knows the answers to those questions, and now probably isn't the time to ask them. There will be plenty of opportunities in the years to come to analyze Griffin, pick apart his physical and mental weaknesses, put his performance in context, talk about what he does or doesn't represent about his generation, scrutinize every statement that comes out of his mouth or smartphone, talk about what Duncan would have done in a given situation, ask him to be responsible for a group of people he never met or asked to represent and forget about what it is that made Griffin so interesting to us in the first place.

Now is the time to marvel at a 21-year old rookie sealing a win against the NBA's best team by ducking under a Wade clothesline, double-clutching, hanging in the air, and slamming the ball through as 19,803 of the most historically downtrodden fans in NBA history lost their collective minds in appreciation. There will be plenty of time to tear down or build up Griffin for our own purposes later.

Now is the time to simply appreciate how good he is already, and dream about how great he may some day become.
January, 13, 2011
1/13/11
3:52
AM ET

By Kevin Arnovitz
ESPN.com
Archive
Every locker room has at least one guy who sincerely enjoys engaging in chalk talk. Fast forward fifteen years and they might be walking a sideline or working color commentary for a broadcast. In the Heat locker room, James Jones is that guy (though Zydrunas Ilgauskas is your man when you want to talk pick-and-roll coverage). Ryan Gomes fills that role for the Clippers -- and every other team for which he's played since the dawn of time.
Gomes had an unremarkable night, finishing with 11 points, four rebounds and a pair of assists, though he logged a game-high +14 during his 38 minutes on the floor. But rest assured, nobody was paying closer attention to what transpired on the court.
The Heat turned in one of their worst defensive outings of the season on Wednesday night. They surrendered 58 points in the paint to the Clippers on 49 shots. That doesn't even include the 34 attempts at the stripe -- the majority of which were manufactured inside. There were a good number of transition buckets, but the Clippers were in the lane all night and the Heat seemed powerless to stop them.
How were the Clippers able to generate so many high-percentage shots? Gomes shared his thoughts:
We moved the ball well and we were cutting. We know they show on their pick-and-rolls hard and they rotate the bottom guy. So what we did was, when they rotated, we made sure we had the center or another guard go into the middle of the paint. That's how we got them a little lost and create open looks for everyone. That was our scheme tonight.
The Clippers exposed one of the Heat's weaknesses, namely that the rotator at the bottom of the defense is often Zydrunas Ilgauskas. Big Z has logged tens of thousands of defensive rotations from the back line over his 13-year career, but he just doesn't have the feet to do it promptly, one reason why we've seen more Joel Anthony lately. With Bosh jumping out hard at the top of the floor on Baron Davis, that rotator has to slide over and pick up a rolling Blake Griffin.
Go ahead and try it.
What about containing the Heat on the other side of the ball? The Heat worked themselves plenty of decent looks, but the Clippers got timely stops when they needed them, particularly in the second half when their offense stalled a bit. Gomes explained it this way:
What we did was push up on the screens. They like to run a lot of angle pick-and-rolls and side pick-and-rolls. So we pushed up with our big men and made them take wider angles. That forces them to take perimeter shots. We know they have Ilgauksas, who can pop, and Bosh who can pop and hit jump shots. But we have to clog the paint – especially on LeBron. We don't want him to get down the middle of the lane because that's where they get in, throw pitch-back passes, dunks. They also do a lot in transition, so we made sure we had guys back every time a shot went up.
Heat coach Erik Spoelstra has spoken about this strategy at length. Teams like to bring another man over to the strong side of the floor -- right in front of that angle pick-and-roll Gomes is talking about. While that's going on, Griffin and DeAndre Jordan, Al-Farouq Aminu or Gomes push the penetrator away from the basket. The Clippers' big men were far less successful against Dwyane Wade than they were LeBron James. Wade is too crafty reversing course, crossing over or just finding the crease against that kind of pressure. But the Clips did a nice job against James. Having quick feet helps, and the Clipper big men are exceptionally mobile.
Gomes also points out that the Clippers were particularly vigilant about their transition defense. They gave up only nine fast break points to Miami primarily because, as Gomes states, they reacted quickly when the Heat launched a shot. The Clippers are the league's second-ranked offensive rebounding squad, and you've certainly seen at least one of Griffin's monstrous putbacks -- but you didn't on Wednesday night. Against the Heat, the Clips posted a 21.4 offensive rebounding rate, far below their season average of 29.9. That's because the Clippers wisely sacrificed a few potential offensive boards in favor of a much tighter transition D. Wise choice, and it paid dividends against the Heat, who could never get their transition attack rolling.
Denver is a team in flux -- and James may not play on Thursday against the Nuggets -- but watching Tom Thibodeau's defensive blueprint against the Heat in Chicago will be fascinating to watch.
January, 12, 2011
1/12/11
11:45
AM ET

By Kevin Arnovitz
ESPN.com
Archive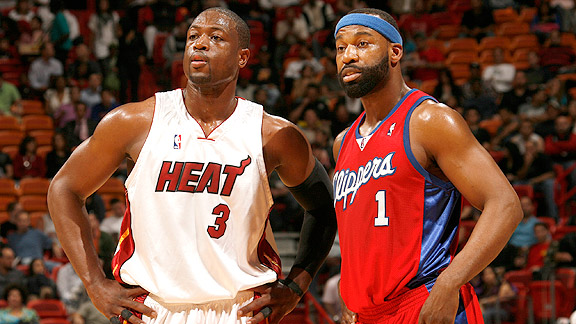 Evan Gole/NBAE/Getty Images
Dwyane Wade and Baron Davis will undoubtedly watch Blake Griffin do something otherworldly.
Heat big men, meet Mr. Griffin
You know how coaches like to yell, "Put a body on him!"? You can't put a body on Blake Griffin. He's simply too agile, physical and hungry to muscle away from the hoop. If the Heat want to combat Griffin with size, they could hand the assignment to Erick Dampier or Zydrunas Ilgauskas. Their size might give Griffin momentary pause, but the presumptive Rookie of the Year is far too quick for them. Joel Anthony had success using his quick feet and defensive instincts against Amare Stoudemire, but Griffin is more explosive at this point in his career. Chris Bosh? He's performed fairly well this season defending the post (surrendering only .76 points per possession in post-up situations), but he'll have to summon every last one of his superpowers to keep Griffin away from the rim. Furthermore, checking Griffin isn't just a matter of challenging him when he has the ball on the block. Half a defender's grade will come when Griffin is off the ball, setting screens for Eric Gordon, cutting sharply to the hoop and hanging out on the baseline waiting to pounce on the offensive glass.
Know what would be glorious to see? LeBron James guard Blake Griffin. Which brings us to ...
Can Heat afford to go small again?
On Sunday night in Portland, Heat coach Erik Spoelstra reached into his "back pocket," where he keeps all his unconventional options. He plucked out the Heat's small lineup of Carlos Arroyo, Dwyane Wade, James Jones, James and Bosh for the final stretch against Portland. Down seven late in the fourth, the Heat caught the Trail Blazers in regulation and surged past them in overtime. Miami won its 7-minute small ball stint 25-11. What made the decision interesting was the opponent. Portland is a lanky unit that ranks first in the NBA in offensive rebounding. The Clippers, meanwhile, are the league's second-best rebounding team and have the largest offensive rebounding differential. Griffin, DeAndre Jordan -- even Ike Diogu and Al-Farouq Aminu -- have been pummeling teams on the offensive glass. Those highlights you see online of Griffin and Jordan brutalizing the rim? They're the results of the Clippers' ability to use their size and athleticism to get easy buckets at close range -- only Memphis and Charlotte take a larger percentage of their shots inside of 10 feet. James and Griffin are roughly the same size, but Bosh and Jordan are not. Going small in Portland opened up the court beautifully for the Heat in crunch time. But Miami might want to find a more standard way to do so in Los Angeles on Wednesday.
Force the Clippers to move on defense
The Clippers rank only 20th in defensive efficiency but have improved a great deal since the beginning of the calendar year. They have mobile big men who can hold their own on the perimeter and a couple of sturdy wings in Gordon and Ryan Gomes who won't embarrass themselves in isolation situations. Gordon did a nice job on Wade when the Heat and Clippers hooked up last January at Staples Center, keeping Flash off the line and limiting his playmaking. Impatience only plays into the Clippers' hands, but force them into making decisions and you can find points in the half court. After struggling against the Clippers for three quarters, Atlanta picked them apart in the fourth by running a 1-2 pick-and-roll for Joe Johnson. The Hawks drew the switch virtually every time and rode that scheme to a comeback win. A few nights earlier against Utah, the Clippers turned in their worst defensive performance since ...
their last game against Utah
on Nov. 28. Utah's constant motion disoriented the Clippers, who overreacted to the Jazz's cutting big men, left Gordon Hayward wide open and were slow to commit help to Al Jefferson down low. When the Heat aren't flowing offensively, they tend to let defenses off the hook with quick jumpers. Against the Clippers, who often feature a zone, they should demonstrate patience. A good shot will usually materialize, but it might not be immediately apparent.
Keep an eye on the Clippers' backcourt
Griffin's exploits are electrifying NBA fans, but nobody is having more fun watching Griffin than Baron Davis. The point guard has had a tumultuous two-plus seasons in Los Angeles, but this season he's deferred to the Clips' young tandem of Griffin and Gordon. He's taking far fewer shots from 16 feet and beyond and has made finding Griffin at the rim his first offensive priority. Those alley-oops, deep feeds and nifty interior passes off drag screens that feed the Griffin highlight reels don't happen by accident. Griffin's freakishness finishes the plays -- but Davis' playmaking usually starts them. Like most teams that face the Clippers, the Heat will likely be posterized by Griffin at some point Wednesday night. If the Heat want to limit the fallout, they should pay Davis ample attention, because when it comes to setting up big men for pure, high-percentage looks,
Davis is among the best in the business
. Gordon, meanwhile, has become one of the league's most reliable and efficient perimeter scorers. The Gordon-Griffin angle pick-and-roll is the Clippers' bread-and-butter. As devastating as Griffin might be diving to the basket, Gordon exacts the most damage -- only Kobe Bryant, Kevin Martin and Wade have scored more per 40 minutes at the shooting guard position. The 6-foot-3 bowling ball pressures defenders because he's a potent double-threat: Gordon's 3-point touch has returned after a rough start to the season, so he must be guarded from distance. But play Gordon too close and he'll unleash his hard dribble and bully his way to the hole.
Get back to attacking the basket


When you scan Miami's game log, one fact rises to the surface: The Heat post their most efficient offensive games when they make a concerted effort to get to the line. That's true of most teams, but few squads have the one-on-one ability to force the issue more capably than the Heat. Yet over their past four games against inferior offensive opponents, the Heat are about even with the competition in free throw rate. On Wednesday night, the Heat will be tempted again to take perimeter jumpers (Clippers opponents shoot nearly 40 percent from the arc), but their best course of action will be to force the Clips to defend them on the attack. Watch out for Jordan, who has blocked 22 shots in his past four games and has become one of the league's most menacing weakside defenders. Both he and Griffin are prone to foul trouble (the former more so than the latter). Though it would be a tragedy to see Griffin sit for extended stretches of the game, the Heat shouldn't worry about entertainment value. Instead, they must force Griffin to defend actively each time down the court.