Miami Heat Index:

New Jersey Nets
April, 17, 2012
4/17/12
1:16
AM ET

By Brian Windhorst
ESPN.com
Archive
NEWARK, N.J. -- It was going to be a setback night, a forgettable night, a how-fast-can-you-get-to-the-airport night.
It was going to be a "this is everything that's wrong about the NBA" night, one team thinly disguising a tank job and the other team stuck in a zone between resting too many players and not resting players enough in a relentless season.
Then LeBron James produced an illusion. He was able to go back in time two years or three years when his reality was different. To a time when he had a road crowd in one palm and the ball in the other. Where there was no concern about anything but his teammates getting the hell out of the way. No catalog of bad recent late-game memories, just a clear conscience and not a hint of regret.
For a few minutes it was not about the Heat's chase for a championship, not about who would be the "closer," not about anything except a hugely gifted athlete showing a mastery for the game. An unexpected vacation for everyone at the Prudential Center.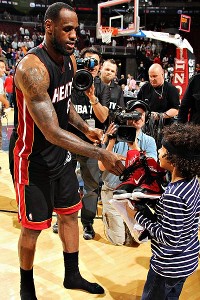 Getty Images
LeBron James gave away his shoes to a young fan after the game.
James scored 17 straight points in a blur of speed, force and finesse in a five-minute span Monday night in a game that went from bland to brilliant in a blink. Down five points to the New Jersey Nets, James waved his hand and the Heat won by three points, 101-98.
It completely won over the crowd, most rushing to their cell phones to take pictures and fire off texts and tweets about what they were seeing.
"It was amazing, honestly," said James, who ended up with 37 points. "Last year I never thought I'd hear 'Let's Go Heat,' that I'd hear 'MVP' on someone else's floor. What we've been through in the last year -- I'm happy to be part of it."
All the hype and the highlights, the commercials and billboards, the free-agent rumors and expectations exist because James is one of the few players in sport who can command a moment like this.
No, it wasn't against the 1971-72 Lakers or the 1995-96 Bulls. In fact the Nets were a shell of the shell of a team they are. Deron Williams and Gerald Wallace sat out with minor injuries and, of course, there was no Brook Lopez. So it was not a performance for the ages. But it was a reminder of why James is so popular and in demand.
Yes, there were thousands of Heat fans who came to the game and cheered throughout. But the series of plays he made won over the impartials and probably some of those that had been mixing the standard road boos for James earlier in the night.
As he made five baskets, all within a few feet of the rim in a wave of force that no one saw coming when the Heat fell behind by 13 points earlier in the second half, he captured the audience. Just like he used to before the infamous television broadcast up the road in Greenwich, Conn. And the rally in Miami. And the few bad nights in Dallas.
"Where were those fans earlier?" said Nets forward Kris Humphries, who was on track to being the game's hero with 29 points before James took over. "They should be screaming the whole game; don't just show up when they get on top."
The fans showed up when James brought them to their feet.
"The guy is so big and strong," Nets coach Avery Johnson said. "We attempted to double team him twice and he just overpowered our guys. And then when the third defender came, he beat the third defender. Then when guys fouled him, he still scored."
That's pretty much how it went. After coming back into the game with 5:35 left, James made four layups and a short jumper in the paint, and hit all seven free throws he attempted.
One time he went right through Humphries, listed at 6-foot-9 and 235 pounds, going chest-to-chest at the rim before flicking a left-handed bank shot. That gave the Heat their first lead of the game with 50 seconds left.
Then he zig-zagged through four Nets defenders on the same play – it was not inspiring execution by the Nets but James still beat four NBA players in the final seconds of a tight road game – to give the Heat a 3-point lead. Then he made two clutch free throws to finish it off.
There was no need to be concerned about deferring to Dwyane Wade, who sat the game out to rest. James has been amazing in situations like these this season. His scoring average improves four points a game, he gets to the foul line more and the Heat usually win. They are now 11-1 this season when James plays and Wade doesn't.
"I try to do the things that need to be done to help us win; I know that my scoring has to go up a little bit more when D-Wade is out," James said. "I was looking at the scoreboard and seeing we were making a run. I knew I was making some plays. I didn't know I scored 17 straight."
April, 3, 2011
4/03/11
10:50
PM ET

By Michael Wallace
ESPN.com
Archive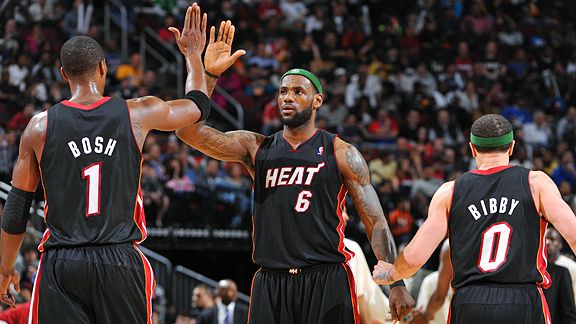 Jesse D. Garrabrant/NBAE/Getty Images
The Heat's most challenging adversary over the next 10 days isn't Boston, but boredom.
NEWARK, N.J. -- The final five games of the Miami Heat's schedule suggest the biggest obstacle between now and the start of the playoffs is Sunday's showdown against the Boston Celtics.
LeBron James disagrees.
To him, it's not Boston the Heat are most concerned about over the season's stretch run.
It's boredom.
"Being complacent," James said Sunday as the Heat sleepwalked their way, at times, through a 108-94 victory over the lottery-bound New Jersey Nets. "As long as we don't get complacent, we're good going into the postseason in two weeks. It's all about not being complacent. We're trying to get better, no matter who we're playing -- whether it's New Jersey, Boston, Orlando or Toronto."
On Sunday, it was the Nets.
And no matter how many nifty crossovers and nice passes Deron Williams made on his way to 12 assists and 18 points, or how many times his team flirted with making a game out of what was a decisive mismatch from the moment Sasha Vujacic lined up to guard LeBron, the Nets had a difficult time keeping the Heat interested and motivated.
Even in wrapping up its eighth division title with Sunday's victory, Miami is far from a fine-tuned machine going into the playoffs. But when a season reaches this stage, specifically when New Jersey is the final stop on a four-game trip to face teams that were a combined 154 games below .500 on Sunday, it could be difficult to focus on the finish line.
Case in point: The Heat sprinted out to a 21-point lead in the first half on Sunday and should have put the Nets away. Instead, James, Dwyane Wade and Chris Bosh spent the rest of the game battling boredom and stretches of complacency.
The Nets rallied to trail 83-77 midway through the fourth quarter, making Sunday's game a lot harder for the Heat than it probably should have been. But that was a microcosm of the Heat's week. That same level of complacency combined with inconsistent energy and focus came back to haunt Miami in Tuesday's 12-point loss in Cleveland, which owns the league's worst record in addition to victories this season over the Heat, Lakers and Celtics.
Those occasional bouts with boredom on Wednesday gave the Southeast Division-worst Washington Wizards an opening to trade blows with the Heat -- literally -- before Miami made a late run in the fourth quarter to pull away in the same fashion it would on Sunday.
That same "slippage" coach Erik Spoelstra has warned his team about the past two weeks also surfaced briefly on Friday in Minnesota, where the Timberwolves led at halftime before the Heat used a 25-1 blitz to start the second half and ignite the rout.
"It feels like we've been on the road for three weeks, and really, it was a short trip," Spoelstra said Sunday. "In perspective, we started off with a stumble, but we were able to finish off with three wins. However you get them, you have to find a way."
Finding a way to overcome adversity -- and apathy -- remains a challenge for the Heat. But they did enough Sunday to fight to the finish line through a number of hurdles.
Injuries continue to leave Spoelstra's rotation spinning like a revolving door. Point guard Mario Chalmers returned against the Nets after missing six games with a knee injury. Small forward Mike Miller also was back after sitting out three games with a knee injury.
But just when Chalmers and Miller were entering the game in the first quarter, Wade was on his way to the bench with a bruised thigh that stemmed from a collision with Nets forward Travis Outlaw. Wade left the game momentarily, was treated in the locker room, then came back to finish off the Nets.
Wade said he wasn't certain if he will play in Wednesday's home game against Milwaukee.
"I just wanted to gut it out," said Wade, who had 18 points in 27 minutes. "It didn't get better at any point. These next couple of days, I'm going to really need [rest]. It's a really deep thigh bruise. So we'll see how it feels [Wednesday]. I just wanted to play. I couldn't hurt it any more unless I got kneed again. It was just about getting a win. I just wanted to play basketball. One leg or not, I just wanted to play."
James helped the Heat regain -- and maintain -- their balance, with 31 points, 11 rebounds and 7 assists to lead six players in double figures. That included 10 points and 14 rebounds from veteran center Erick Dampier, who had his first double-double since Dec. 26, 2009 while with Dallas.
The Heat also experienced another rarity: Two reserves -- Chalmers and Zydrunas Ilgauskas -- from the one of the league's least productive benches scored in double figures.
"It was a good attack mentality game, and we made enough defensive plays to win," said Spoelstra, who essentially shrugged when asked for his reaction to winning his first division title as coach. "We don't want to be jaded. We'll take whatever we can get right now. That's the first step. It's not our ultimate goal, but we'll gobble up as many of those things as possible."
After facing some of the league's worst teams this week, the Heat now shift their focus to a couple of squads that will certainly grab their attention. Miami's next two opponents -- Milwaukee and Charlotte -- are fighting for the eighth and final playoff seed in the East.
Next Sunday's game against Boston, which is 3-0 against Miami this season, could decide the No. 2 seed in the East and home-court advantage through the second round of the playoffs.
"You can go out there with talent and win games," James said of Miami's approach over the previous four games. "But at the same time, you can't go out there and disrespect the game by going out there and playing the wrong way. You have to continue to play the right way, continue to build off that."
With so many expectations awaiting in the playoffs, it's a tough task to get through the final handful of regular-season games. But the Heat won't have a problem staying motivated this week.
"It's a big mental challenge," Wade said. "You look forward to games like Sunday against Boston and Monday in Atlanta. You go down to the end of the year, it's a slugfest unless you're chasing. But still, it's still hard. So we just have to keep focused. We let one go in Cleveland, so that was our slipup."
November, 7, 2010
11/07/10
12:52
AM ET

By Tom Haberstroh
ESPN.com
Archive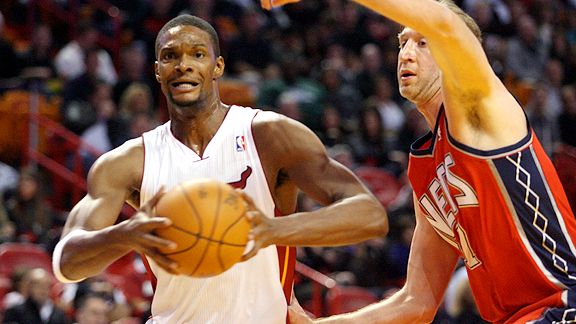 Marc Serota/NBAE/Getty Images Sport
Chris Bosh's season-high 21 points ended a drought not seen since 2004.
MIAMI -- Of all the highlight-reel acrobatics and buzzer-beaters from LeBron James and Dwyane Wade, it was Chris Bosh who induced the most raucous cheer from the AmericanAirlines Arena crowd during the Heat's Saturday night's 101-89 victory over the Nets.
With about seven minutes to go in the third quarter, Bosh received a no-look dish from LeBron, soared through the air and downed a thunderous dunk over a flying Brook Lopez to put the Heat up six, starting a 20-8 run that iced the game.
Feeding off the electricity from the audience, Bosh then took a moment and unleashed a roar to the crowd. This wasn't showboating; it was a charged sigh of relief.
It took seven games, but the five-time All-Star finally eclipsed the 20-point threshold Saturday night, scoring a season-high 21 points on 6-for-12 shooting from the floor. Bosh's output snapped his sub-20-point streak at six games, his longest since 2004.
We often hear about a player having a breakout game and a few months from now, we may very well refer to tonight's performance as Bosh's coming out party in Miami. Admittedly, it feels a bit silly that a home game against the lowly Nets -- a team that the Heat already beat by 23 points one week ago -- would be a worthy stage for a statement game.
But consider the circumstances.
Entering Saturday's game, Bosh was in the midst of one of his worst stretches of his career. He had grabbed only one rebound in two of his previous three games, which is almost unthinkable given his status as one of the league's most productive rebounders. After averaging 24.0 points last season, Bosh hasn't led the Heat in scoring in any of the team's previous six games, despite Wade and James having their own off-nights in the points column.
It's safe to say that, statistically, the 6-foot-10 power forward was in a funk entering Saturday night's game -- and it went much deeper than the numbers. Bosh looked timid and disoriented in a Heat uniform.
"I've kind of just been on my heels for the first part of the season," Bosh said. "I'm starting to figure it out. It's starting to come to me.
"I get a little lost out there because it's different," Bosh said. "We have a system but at the same time when the games happening so fast, sometimes I get lost. I don't know whether to cut, whether to go, whether to get back. Playing with those talented two guys, it gets real fast."
It took a while, but after the exultation of the third-quarter slam, Bosh looked like himself again -- not just the aggressiveness but the emotion, too.
"I've always shown my emotion, the excitement, and the controlled rage," Bosh said. "I think that's always been a strong point for me. I really have to get back to that."
It's fitting that it was James who set up Bosh with the high-flying dunk. The two-time MVP and the struggling former Raptor each spoke after the game about a much-needed chat they shared during their overnight flight back from their New Orleans defeat Friday.
"I knew a little about Chris but I know a lot more now from last night's conversation," James said. "He was able to open up to me and I was able to listen and get a good feel where he is coming from. That conversation definitely helped and it showed in his play tonight."
Bosh finally got back to initiating contact and drawing fouls on Saturday night. His ten free throw attempts was a season-high.
"It was the most efficient game he's had," James said. "I think when you get to know someone off the court and get to know what they're all about, it makes the game that much easier."
The Heat will undoubtedly face a tougher test on Tuesday night when they host the Utah Jazz in front of the Miami crowd. If Bosh's performance serves as any indication, he's starting to feel at home.
October, 31, 2010
10/31/10
5:18
PM ET
By ESPN Stats & Info
ESPN.com
Archive
The
Miami Heat
struggled with
LeBron James
,
Dwyane Wade
and
Chris Bosh
on the floor in their first two games against the
Boston Celtics
and
Philadelphia 76ers
.
In the last two games, Miami is beginning to find some chemistry. The Heat have outscored the
Orlando Magic
and
New Jersey Nets
, by 17 and 15 points, respectively, with the "Big 3" on the floor.
The Heat entered Sunday shooting 38.7 percent in the half-court, ranked 27th in the NBA. Against the Nets, they shot better than 50 percent in the half-court (51.6) for the first time this season, outscoring New Jersey, 92-75.
Bosh, James and Wade were a combined 12-of-15 from the floor within six feet of the basket. Forty-four of their 55 points came from within six feet of the basket or at the foul line.
While it's just four games, the Heat are showing a propensity to run more. Last season Miami had an NBA-low 721 plays in transition, which equated to 8.8 per game. In four games this season, Miami is averaging 13.0 transition plays and 14.8 points per game.