Miami Heat Index:

Oklahoma City Thunder
January, 30, 2014
Jan 30
1:54
AM ET
MIAMI -- In the 2012 NBA Finals against the
Oklahoma City Thunder
, Heat coach Erik Spoelstra had a revelation.
Rather than try to match OKC's size up front, Spoelstra decided to venture in the other direction. Go small. Start
Shane Battier
. Create chaos on defense and rain from downtown. This was the pinnacle of "pace and space" and it helped deliver them a championship as OKC coach Scott Brooks was slow to counter.
On Wednesday, Brooks finally punched back. Turns out the Thunder ended up beating the Heat at their own game.
After the Heat jumped out to a 15-2 lead in the opening five minutes of the game, Brooks made the unconventional move to sub in
Jeremy Lamb
for
Kendrick Perkins
.
The score from that point on?
Thunder 110, Heat 80.
The Heat were amiss and the Thunder got everything they wanted. With Perkins looking on from the bench, the Thunder upgraded by downsizing. From then on, they blitzed the Heat in transition, scoring 20 fast-break points off of a barrage of Heat turnovers. With an extra 3-point shooter on the floor, the Heat scrambled to keep up with
Kevin Durant
and the rabid ball movement. The Thunder's 16 threes were the most they've ever made since being known as the Thunder.
No, the Thunder won't shoot about 60 percent from downtown every night. That's not sustainable;
Derek Fisher
, who scored 15 points off the bench, can only bank-in so many threes.
But what may be sustainable is the blueprint -- the one Spoelstra drew up for the Heat almost two years ago. Go small, put the all-world player at the 4 and spread the floor with shooters.
"I figured they would [go small],"
LeBron James
said. "They have some guys that can play multiple positions like we do."
It's a blueprint that has worked wonders for the Thunder, but Brooks hasn't fully trusted that formation until Thursday when he kept Perkins on the bench to begin the second half. Since 2011-12, the Thunder have played 234 minutes with Perkins off the floor against the Heat, according to NBA.com data. In those minutes, the Thunder have beat up Miami by 48 points over that time, or approximately 10 points every 48 minutes.
But when Perkins is on the court? The scoreboard gets turned upside down. The Thunder have been outscored by 56 points in 246 minutes, or 10.9 points every 48 minutes.
That's a 20-point swing.
By moving Perkins to the bench on Wednesday, the Heat got a taste of their own medicine. The thinking has always been that Perkins anchors the Thunder's gritty defense. But on Thursday, the Thunder strangled the Heat with go-go-gadget arms, relentless energy and athleticism. The two-time champs looked like a team that wasn't mentally prepared against one of the greenest teams in the league.
[+] Enlarge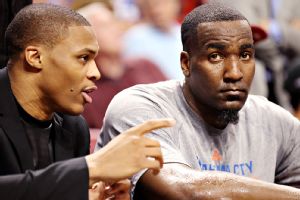 Marc Serota/Getty ImagesInjured Thunder guard Russell Westbrook had plenty of chances to talk with Kendrick Perkins, who played five minutes.
"You do have to credit them for [going small] but they certainly put some pressure on us and forced us into uncharacteristic mistakes," Spoelstra said. "They do have length, but we play ourselves all the time [in practice]."
Meanwhile, on the other side of the floor, the Heat's potent offense, which entering Wednesday's game ranked No. 1 overall in efficiency by a hair over the Portland Trail Blazers, looked completely out of sorts dealing with the Thunder's ubiquity. Bosh got off to a masterful start against Perkins, making four of his first five shots of the game. At one point, Bosh jab-stepped from the right corner, put the ball on the deck and blew right past Perkins for an easy one-handed flush.
"Judging by the start they had, I figured it made sense for them to put a little more athleticism out there," Bosh said. "It worked out for them. It spread us out."
No matter what, the Heat are going to look bad when they make 14 fewer 3-pointers than the opponent. But it's possible that Wednesday's game provided a tipping point for Brooks. The Thunder aren't a 3-point shooting team as a whole. Entering Thursday's game, the Thunder ranked 18th in 3-point makes and 18th in percentage.
But that all changes when Perkins rides the pine. With Perkins on the bench, the Thunder score 110.8 points per 100 possessions with 23.1 percent of their points coming from 3s. When he's in the game the Thunder's scoring output drops to 102.7 points per 100 possessions and the portion of 3-pointers drops to 17.7 percent, according to NBA.com. Statistically, the defense doesn't change in effectiveness either way.
All of these numbers come as no surprise if you watched Wednesday's blowout. The Thunder are a different team with Perkins. As a plodding, turnover-prone big man who sets hard screens, it's easy to see why the Thunder would be more powerful with him out of the picture against most teams. Brooks may have found the recipe against the Heat.
But was Wednesday's performance definitive enough to start phasing out Perkins in general and go with speed instead?
"I thought to win this game that we had to make a decision to go with a smaller lineup," Brooks said, defending Perkins. "It's just this game. It's not something that we have to do all of the time. Perk brings so much to us."
That's a no.
Remember, this isn't just a blip. The Thunder have found success against the Heat when they go away from Perkins, who should only be a spot starter at this point. If the two juggernaut teams meet again in the Finals, maybe it'll be Spoelstra who will have to find a counter.
June, 13, 2012
6/13/12
3:25
AM ET

By Michael Wallace
ESPN.com
Archive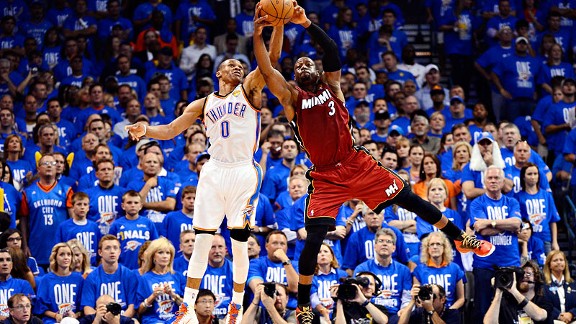 Ronald Martinez/Getty Images
Russell Westbrook and the Thunder seemed to have more spring in their legs than the weary Heat.
OKLAHOMA CITY -- Coach Erik Spoelstra didn't need long to sum up his thoughts on the
Miami Heat
's loss Tuesday to Oklahoma City in Game 1 of the Finals.
Moments after watching the Heat wither late in succumbing to the Thunder's depth, energy and athleticism, Spoelstra sat down at his postgame news conference and reacted as if Game 1 ended 10 days ago.
In reality, it had only been about 10 minutes since the Heat dragged themselves off the court after a 105-94 setback. The loss sends them into Game 2 on Thursday in what already might seem like desperation mode.
"Well, this one is behind us now," Spoelstra said, unprompted. "We were thinking we were putting ourselves in position to win, and they just went away. That's what they do. They keep on coming. They're relentless."
They would be
Kevin Durant
,
Russell Westbrook
and a Thunder team that easily proved in Game 1 why they are the biggest challenge the Heat have faced since
LeBron James
,
Dwyane Wade
and
Chris Bosh
came together for what the Heat figured would be the start of a dynasty.
But if the Heat aren't careful, they could watch the Thunder cut in line and get to a championship first. Former heavyweight champion Mike Tyson used to say that all of his opponents entered the ring with what sounded like a pretty good game plan -- until they got hit in the mouth.
Make no mistake about it: The Heat were smacked down Tuesday by a younger, more aggressive and -- as Spoelstra mentioned while trying to collect his thoughts -- relentless team that has the ability to counter every Heat strength.
We saw James go for 30, yet Durant topped him with 36.
There was Wade stumbling and fumbling his way through another erratic playoff performance this postseason on the way to missing 12 of his 19 shots. But the equally sporadic Westbrook was able to overcome a shaky start to close with 18 of his 27 points in the second half along with 11 assists.
And when it comes to role players, few teams in the league can roll them out in bunches like the Thunder. That explains how OKC can absorb
Shane Battier
knocking down 4 of 6 from 3-point range and finishing with 17 points, then raise Miami with
Thabo Sefolosha
's defense,
Derek Fisher
's timely shooting and
Nick Collison
taking over on the boards and flirting with a double-double.
One game is all the Thunder won on Tuesday in protecting their home court at the outset of the series. But the outcome of that singular performance shows that Miami's Game 1 strategy might not keep them competitive, let alone win it.
And as a result, Spoelstra immediately went into adjustment mode because this way of doing things grew stale in a hurry. Spoelstra hinted at three vital adjustments the Heat might make for Game 2 as they attempt to steal one of the first two before the series shifts to Miami for the next three.
It starts with Bosh, who could regain his starting assignment after struggling to find his rhythm off the bench Tuesday against the Thunder. Bosh had big moments in Game 7 of the Boston series as a reserve, but it might be time to get him going from the opening tip against the Thunder.
Bosh was never a factor Tuesday. His long jumpers didn't fall consistently, he didn't attack well enough to get to the free throw line and he grabbed only five rebounds despite playing 34 minutes in his fourth game back from an abdominal injury.
"We will be able to get him closer to his game," Spoelstra said of Bosh. "He's been very accepting of just trying to fit in. But I think we're going to need more from him offensively and try to get him in spots where he is able to be aggressive -- right before he got hurt -- at a high level."
The same plan the Heat had to spread the floor against Boston by spotting shooters up on the perimeter didn't go over as well against the Thunder. Bosh agrees that a more aggressive approach needs to be taken into Game 2.
"We have to do a better job of executing our offense," Bosh said. "Sometimes we have to attack the rim, because if you're not making shots and you're shooting jumper after jumper, (Oklahoma City) is getting out in the open court, and that's what they do."
Another tweak Spoelstra mentioned was the need to expand his playing rotation. Miami relied primarily on six players, with Bosh being the lone reserve to log more than 10 minutes.
Having just emerged from a draining seven-game series with James and Wade playing heavy minutes against Boston, shortening the rotation Tuesday seemed to backfire.
The Heat came out with energy in the first half, but couldn't keep up the pace in the third and fourth quarters. The Thunder outscored the Heat 58-40 in the second half, which included a 31-point fourth quarter to run away with the win.
Fatigue didn't seem to be much of a problem against Boston, even as James played 44 and 48 minutes over the last two games to lead the Heat back from a 3-2 deficit. But on Tuesday, Wade and James were doubled over, clutching their shorts and gasping for air during breaks in play.
Spoelstra said he couldn't go deeper into his bench "because of the circumstances," but wouldn't reveal what issues some players may have had. A team spokesman confirmed after the game that
James Jones
was dealing with a migraine.
Mike Miller
has been slowed by back soreness. Both players usually come in to give James or Wade a break.
James never made an issue of being tired against Boston. But he said Tuesday their minutes could be managed better.
"We're going to have to have more guys in there to give me and D-Wade a rest," James said after he played 46 minutes. "But Spoelstra will figure that out. We'll be more conscious about it, just trying to get a minute or two here or there so we can finish strong. But I don't think it was much of a problem tonight."
A third adjustment for Spoelstra will be to figure out a way to get Wade going offensively. Wade has had a pattern of slow starts during the playoffs. He refuses to say if he's dealing with any physical ailments, but Wade did have his troublesome left knee drained during the second round against Indiana. Midway through the fourth quarter, the Heat ran their offense through Wade, who had seven points and two assists in the quarter but couldn't stop Westbrook.
"We'll get him opportunities to attack," Spoelstra said of Wade. "He had a couple of good opportunities to get into the paint there in the fourth, a couple of them he wasn't able to convert. But he was aggressive in that quarter, and so we'll try to get him in places where he can continue to be aggressive."
The Heat have faced many of these same questions and issues before and have found a way to bounce back.
They trailed 2-1 in the series against the Pacers after Wade's legs seemed shot in Game 3, but ran off three straight victories to win the series. Wade averaged 33 points in those final three games.
They were behind 3-2 and facing elimination against Boston before James answered the call with a couple of wire-to-wire dominant performances to get Miami to the Finals.
But this burden against the Thunder already feels different.
It seems much heavier.
Still, it would be foolish to count out the Heat after Game 1. A year ago, the young and relentless
Chicago Bulls
dominated Miami in similar fashion in the first game of the conference finals. How'd that turn out?
Some will write the Heat off anyway.
I'll save the ink.
For now.
June, 12, 2012
6/12/12
3:07
PM ET

By Brian Windhorst
ESPN.com
Archive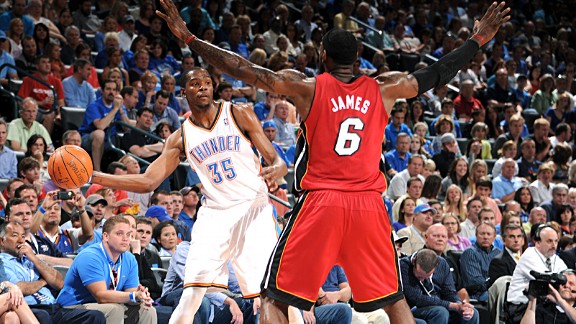 Garrett W. Ellwood/NBAE/Getty Images
Dwyane Wade believes LeBron James will benefit from having to guard Kevin Durant.
OKLAHOMA CITY -- Fans, journalists and historians have spent the last few days getting excited about the LeBron James-Kevin Durant Finals matchup. In short, such a marquee head-to-head battle between players at the same position at the Finals is exceedingly rare.
Among all the commentary offered in the standard build-up, one observation stuck out. It came from Dwyane Wade about his teammate, and what the challenge of covering Durant will mean to James. It wasn't something you'd expect to hear, which made the remark so interestinog.
"I'd rather for him to be guarding Kevin Durant than to have to guard DeShawn Stevenson or Shawn Marion like last year where he wasn't as involved," Wade said. "With Kevin Durant, you've got to have your antennas up at all times. I think that's going to bring out the best out of both of them."
References to last year's Finals often make the Heat a little nervous and James a bit short. Without totally retracing old ground, it was clearly the worst series in James' career and that was a major reason the Mavericks won the title. James' play was the target of much criticism, specifically that he didn't exhibit his normal aggressiveness and, at times, looked detached from the moment.
As James said Monday in a mildly curt and certainly once-and-for-all way: "I didn't play well. I said that a hundred times this year."
Heat players don't often speak of last year's Finals and, for obvious reasons, don't often elaborate when asked -- all of which made Wade's comments on the value of having Durant to engage James more intriguing. Facing Durant, Wade seems to believe, will force James to stay locked into the action.
"I'm glad that (James) has that challenge because it's going to make him focus more," Wade said. "It's going to make him play a little different."
Just how much time James will spend guarding Durant is yet to be seen. Thunder coach Scott Brooks seems prepared to use Durant on James nearly exclusively, and is not worried about foul trouble or fatigue on his star.
"Kevin's job is to play whoever we have him guard; he's not one to hide," Brooks said. "You can't be a good defensive team when you have one guy not playing defense and he has to be able to commit to that end."
When the teams last met in a wonderfully played game in Miami in April, James and Durant put on a show during the second half. They guarded one another exclusively, each striking blows on the other, like boxers working the jab and trying to set up the hook. James ended up with 34 points, Durant with 30 as the Heat won by five points.
Heat coach Erik Spoelstra, though, isn't so willing to say he'll have James dedicated to defending Durant. With James logging heavy minutes -- he averaged 46 a night in the conference finals against the Celtics -- Spoelstra hinted he may look, at times, to other players to handle Durant in order to ease the burden on James.
"That's part of the versatility we have with our roster," Spoelstra said. "We have some proven wing defenders and we were tested with that in the last two series. (James) did the bulk of the work on (Danny) Granger and (Paul) Pierce, but Shane (Battier), Dwyane and even (Udonis Haslem) and Chris (Bosh) were able to help. I anticipate that a lot in this series."
March, 24, 2012
3/24/12
7:56
PM ET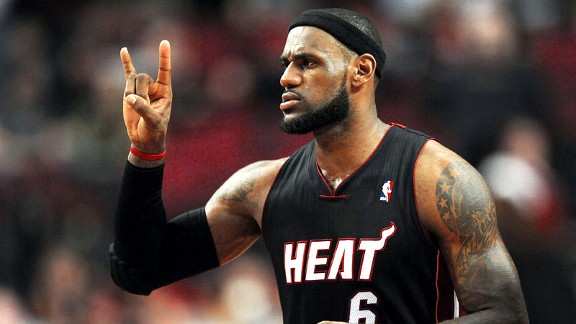 Steve Dykes/US Presswire
Will LeBron James' second chance at a title with Miami come against the Thunder?
Editor's note: The growing consensus is that Sunday's showdown between the Oklahoma City Thunder and the Miami Heat
(ESPN, 8 p.m. ET)
is a likely preview of what's to come in the Finals. If that's the case, who would win it all? Royce Young of TrueHoop Network's Daily Thunder
states his case for Kevin Durant and Co.
while Tom Haberstroh of the Heat Index lays out five reasons why the Heat will triumph in June.
1. The Heat boast the two most efficient players in the game
That's right, two. There's no question anymore whether LeBron James is the best player in the league. To see why, here's a timely demonstration. LeBron scores just as much as Kevin Durant, drops more dimes than Russell Westbrook and grabs more rebounds than Serge Ibaka. Sure, it's amazing that Durant has shot about 50 percent this season, but here's what's more amazing: Durant could make 75 of his next 75 shots and he still wouldn't be able to catch LeBron in field goal percentage. Let that marinate for a minute.
And then there's Dwyane Wade. Erik Spoelstra has kept Wade's minutes down to a career-low 32.9 per game thanks to a torrid stretch where the Heat were blowing out everybody and Wade forgot what it was like to play in the fourth quarter. On a per-36 minutes basis, Wade and LeBron are set to become the first teammates to average 25 points-5 rebounds-5 assists in the history of the league. Put it all together and you begin to see why LeBron and Wade look down on everyone else in the
PER rankings
. Then throw in the fact that they play all-world defense, which is the blind spot of PER. Sorry, Durant and Westbrook, you're just not on their level yet.
2. Shane Battier is the antidote to LeBron's Finals ills
Still grasping for reasons why LeBron sputtered in the Finals against Dallas? It's time we mentioned the elephant in the room: LeBron was exhausted. He'll never admit it publicly because that's not the macho thing to do (Can you
imagine
the vitriol if LeBron complained that he was tired?), but Spoelstra was playing him about 45 minutes a night and then asking him, "Hey, can you go and lock down Derrick Rose, the quickest point guard in the game, in crunch time for me? Thanks."
Spoelstra had no other choice. The alternatives were playing James Jones, who had a broken toe, or Mike Miller, who didn't have working thumbs. Enter Shane Battier. The Heat loaded up on wing players in the offseason because they needed to keep Wade and (especially) LeBron's minutes down in the home stretch. Armed with a defensive specialist like Battier, Spoelstra can finally give LeBron a breather on that end – which is far more taxing than on offense -- and not skip a beat. The truth is that the Heat didn't win it all last season because LeBron wasn't, well, LeBron in the Finals. Adding Battier ensures that this time around, LeBron will have enough left in the tank.
3. Mike Bibby doesn't play for them anymore
Mike Bibby should be forever in debt to LeBron for his Finals struggles. Why? Because people forget how badly Bibby played in the playoffs last season. In a perilous fit of cognitive dissonance, the Heat kept throwing Bibby out there despite the fact that he was in the midst of the
least productive postseason in NBA history
. And he certainly wasn't making up for it defensively or outside the box score.
The Heat finally came to their senses this season and gave the keys to the starting gig to Mario Chalmers. Not only that, they drafted a sparkplug in Norris Cole so that they could never let off the gas. The Heat are actually getting production from their point guard slot this season rather than asking Carlos Arroyo and Bibby to pass the ball and get out of the way. The Heat often devolved into 3-versus-5 in the playoffs and it's safe to say they've recognized that's not the best strategy going forward.
4. Champions dominate on both ends
As a graduate of Pat Riley's school of coaching, Spoelstra understands that a team can't be a championship contender if it doesn't play defense, and that's where he spends most of his time in practice. The Thunder may clamp down defensively in crunch time (fifth-best team in defensive efficiency in clutch situations, according to NBA.com), but Thunder coach Scotty Brooks has yet to figure out how to get the Thunder to do that all game (the Thunder rank 12
th
overall on defense). That's something that Spoelstra already has his team doing.
Even though the Heat don't possess a traditional center, they still boast the third-best defense in the league. And in crunch time? They rank fourth-best in the league, which is slightly better than the Thunder. Yes, the Thunder might get stingy when it matters most, but what do they do in those other 43 minutes of the game? Elsewhere, the Heat stomp on their opponents' necks from start to finish.
5. The "Who takes the last shot!?" debate isn't interesting anymore
The Heat became such a compelling team last season because they consistently failed on the biggest stage. Not only did they lose the Finals, but during the regular season, they famously couldn't hit the game-winning shot when it mattered most. In the regular season, Wade shot 1-for-4 in shots to tie or take the lead with less than 24 seconds left. LeBron? He was worse, 1-for-8. Collectively, the Heat shot an abysmal 3-for-20 (15 percent) in those critical situations.
There were endless questions going into last season about who was going to take the last shot and there's no doubt that their failures added truckloads of fuel to the fire. LeBron and Wade have admitted recently that they didn't fully trust each other and their teammates in those situations last season. This season is a different story. The Heat are now shooting 5-for-12 in those same dire situations and each of the Big Three have come through with a bucket on life support. The sample size is tiny enough that it's not a reliable predictor of what will happen. But more than anything, the self-conscious doubt that plagued them last season just isn't as heavy anymore. For the Heat, the lingering question now is not "Who takes the last shot?" but rather, "Who cares?"
March, 16, 2011
3/16/11
3:27
PM ET
If our "5 things to watch" for tonight's Thunder-Heat game aren't your speed, check out
The Onion's keys to the game
. Among the crucial factors:
Kevin Durant must continue to play his game; if possible, everyone else should play Kevin Durant's own game too.
February, 22, 2011
2/22/11
1:29
PM ET

By Brian Windhorst
ESPN.com
Archive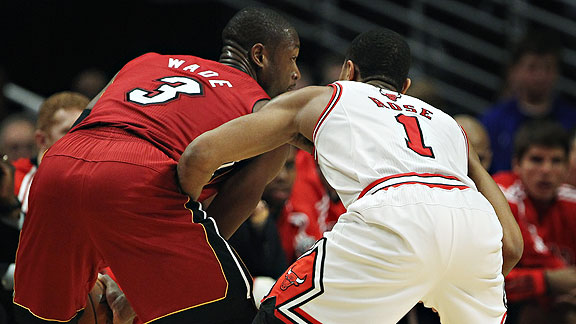 Doug Pensinger/Getty Images Sport
The Heat face Chicago on Thursday -- the first in a series of tough matchups.
MIAMI – Now 56 games into their season, the Heat have a sterling record but a bit of an unsteady reputation.
They came out of the All-Star Break with the third-best record in the league, right on the heels of the Celtics for the top mark in the Eastern Conference. But they are 0-6 against the teams with the five best records in the league, and 4-8 against the top five teams in each conference.
According to the raw numbers
, the Heat have gotten to 41-15 by playing the second-easiest schedule -- though that is somewhat circumstantial because Miami has played 31 road games, the most of any team. The Heat have also played the third-most total games, meaning they've had less time off and practice time than most teams, all of which makes their schedule tougher than it looks.
But all of that is about to get settled. The Heat are about to enter the most favorable yet demanding part of their schedule.
Starting Tuesday night against the Kings, the Heat will play 10 of their next 12 games in Miami. They will play 12 of their next 14 against teams currently in playoff position in both conferences.
This week it's games against the Bulls and Knicks, and next week it is an Orlando-San Antonio back-to-back. In two weeks the Heat start a homestand that includes the Lakers, Bulls, Spurs, Trail Blazers and Thunder.
In short, the Heat are headed for a graduate-level course load in what could become an intense battle for the top seed and a referendum on their championship hopes.
"We think we're the most improved team since the end of November," Heat coach Erik Spoelstra said. "And people are saying that we haven't played up to par against the best in the league."
That is what people are saying, especially after the Heat dropped to 0-3 against the Celtics last week. It is also why there's going to be some pressure on Thursday's game in Chicago, a team the Heat have not yet beaten, when Joakim Noah is expected back from injury.
"We look forward to the big games and we'll make sure our focus is there," Dwyane Wade said. "It is a good thing. We're going to focus going into the playoffs."
Though Udonis Haslem is still on the sideline with a foot injury and Mike Miller is recovering from a serious of head injuries, the Heat are generally as healthy as they have been all season. That health enabled them to go into the All-Star break winners of 10 of their last 11 games. They will also get numerous off days and practice sessions during this challenging period.
They have been together since September and worked out many of their major issues. Now is the time for fairly judge them and how good they truly are.
"We'll find out in the next few weeks," Spoelstra said. "I think we're all looking forward to it."