Miami Heat Index:

Portland Trail Blazers
March, 25, 2014
Mar 25
12:33
AM ET

By Michael Wallace
ESPN.com
Archive
MIAMI -- Amid the noise, frustrating losses and seemingly relentless scrutiny they've endured recently, leave it to the
Miami Heat
to find solace and a much-needed diversion in a trip to the circus.
Well, it wasn't actually the circus.
Instead, it was
Chris Bosh
's circus-themed, outdoor 30th birthday party.
That's where the Heat players and coaches found themselves in Miami on Sunday, a day after they returned from New Orleans with their seventh loss in a stretch of 11 games. The raw emotion and stinging critiques that left
LeBron James
frustrated with his teammates' excuses and Bosh ripping everything from the Heat's shoddy defense to their lack of meaningful communication had eased.
Nothing tends to let off a bit of steam from a difficult few days of work quite like adult-beverage-flavored snowcones, gift-giving clowns, carnival-style games and a dunk tank. Especially when the opportunity presents itself to go from dumping on the coach's system to actually dunking the coach into a tub of water with a perfectly thrown strike.
Monday's 93-91 victory against the
Portland Trail Blazers
provided the kind of result the struggling Heat (48-21) desperately needed on the court. But the team's get-together Sunday night at Bosh's bash offered them the sort of release and reprieve they needed to blow off some steam.
[+] Enlarge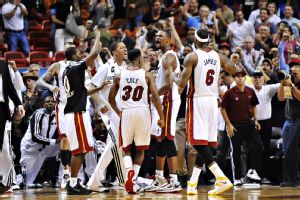 Steve Mitchell/USA TODAY SportsChris Bosh swatted the final Portland shot and then let out a roar.
There are at least three things that can be said with certainty about the Heat since James, Bosh and
Dwyane Wade
joined forces as teammates four years ago.
They are two-time defending champions.
They are like Teflon when it comes to handling adversity.
And they know how to party under any circumstances –- even when the season has hit rock bottom.
"It's always good to have something like [Bosh's party] in the middle of the season, whether you're winning or losing," James said Monday, when he finished with 32 points, six rebounds, five assists and four steals against Portland. "It definitely helps with losing, to get your mind off it."
"It" is what James also described as "the elephant in the room" that had been gradually suffocating the Heat over the past three weeks as the losses piled up. "It" was multiple headaches for Miami. And "it" included a collection of issues that ranged from atrocious play on defense, a lack of accountability among players that left the locker room fractured to an extent and a missing sense of urgency about anything.
"We were able to get it out the last couple of days," James said about the proverbial elephant.
At some point between Bosh's circus and Monday's game, perhaps the elephant vanished.
But a festive time Sunday and a close win Monday hardly suggest the Heat's problems and concerns are completely behind them. Miami won without playing particularly well. A 17-point lead in the fourth quarter was completely squandered, the offense bogged down and contributions from the supporting cast were minimal beyond the 13 points and 11 rebounds
Chris Andersen
provided off the bench.
But the Heat had two things going for them Monday: a good vibe among players and coaches that carried over from Bosh's party and a visit from a team struggling just as mightily as Miami had been.
Like the Heat, the Blazers had come in losers of seven of their previous 11 games. And also like Miami, which saw Dwyane Wade sit out with ankle and knee soreness, Portland was missing an All-Star as
LaMarcus Aldridge
sat out with a back injury.
Still, the Blazers were right there at the end.
But that's when the strong rhetoric from James and Bosh from Saturday's postgame locker room in New Orleans was transformed into game-winning plays to avert another demoralizing setback.
It was James, playing despite a sore back and sprained ankle, who scored on a lefty layup over
Robin Lopez
with 11.4 seconds left to put the Heat ahead. And it was Bosh, two days after saying the Heat's defense couldn't stop a nosebleed, who blocked Damian Lillard's layup attempt on the final play.
Those two plays from two of Miami's three leaders were examples of the kind of results coach Erik Spoelstra was looking for to back up the rhetoric that rang out from the locker room in New Orleans.
"Nobody's happy about the way we're playing," Spoelstra said. "And the only way to fix it -- sure, emotions can motivate. But change has to come with action. What I really want is action. That's what this game does to you. It takes you to the brink. And if you're passionate and care about winning, there's going to be emotion. But that alone doesn't take care of anything. There has to be action behind it."
Spoelstra said he welcomed some of the "insanity" that has surrounded the team the past few days. He believes the comments James and Bosh made after the loss to the Pelicans were well-intentioned and came from a good place. But he also knew it made them only bigger targets if the losses kept coming.
"If you're going to go out there and put it on your shoulders, you have to make those plays," Spoelstra said of James' go-ahead basket and Bosh's ensuing defensive stop. "Our enthusiasm, our energy. That was contagious, and guys were really feeding off each other. I wanted LeBron to be aggressive and everybody else would follow."
At one stage midway through the game, Spoelstra showed his appreciation for James' aggression by running onto the court with a celebratory shove of the four-time league MVP during a break in play. Maybe it was a bit of payback for Spoelstra being dunked into the tank by his players a night earlier.
"I saw him coming toward me, but I didn't know he was going to shove me," James said. "But I loved it. I loved the enthusiasm. We had it back tonight."
The mission is now to maintain that energy heading into Wednesday's marquee showdown with the
Indiana Pacers
, who hold a two-game lead over the Heat for the No. 1 seed in the Eastern Conference. Both teams have been on a slide recently, but they've split the first two meetings of the season.
"I miss them," Bosh said of facing the Pacers. "It's coming down to a photo finish. We have a unique opportunity, no matter what happened this whole season. We were struggling; they were struggling. We had our chances. We still have our chance. Everybody was trying to make the games important back in December. Well, now they're important. Everybody's getting what they want."
Greg Oden is
expected to start
for the Heat on Monday night when Miami plays Portland -- Oden's former team. Our 3-on-3 crew weighs in on the game.
1. What's the source of LeBron James' biggest frustration?

Tom Haberstroh:
A little bit of everything. He turned his ankle in a loss to a team that was 12 games under .500 in a game that Dwyane Wade did not play. Those three details -- the ankle turn, the loss and the Wade absence -- provided some fertile ground for vented frustration.
Michael Wallace:
There's no politically correct way to put it, but LeBron has been uncomfortable all season with the Dwyane Wade maintenance plan. He has talked about how Wade being in and out of the lineup has disrupted his comfort level and has affected the team's chemistry. Getting Wade healthy for the playoffs is the ultimate priority, but it has been a painfully frustrating process at times for LeBron. He's no longer hiding it. Considering the load he has carried, LeBron could use a night or two off for physical and psychological rest. It's clear his patience has been wearing thin in recent weeks.
Brian Windhorst:
Losing. In the past six seasons, this is one of the worst streaks he has been a part of (remember, he won 60-plus games his final two seasons in Cleveland). After that 9-8 start in 2010 -- which everyone on the Heat speaks of as if it were childbirth -- this has been the toughest regular-season stretch in years. So he's not used to this and he's not used to him and his teammates not responding. There are individual details that are bugging him, but overall, it's about the losing.
2. Is Portland or Miami coming off the more disappointing loss?
Haberstroh:
Portland. In the great scheme of things, Saturday's Heat loss did little for Miami's playoff positioning, but the Blazers not only got blasted by a sub.-500 team, they also failed to create a more comfy cushion ahead of Golden State, which is a game and a half back for the 5-seed. That hurts.
Wallace:
It's Portland, and not just because a 30-point blowout on the road is worse than the 10-point loss Miami suffered in New Orleans. The Blazers are in a true identity crisis right now as they fight for playoff position. It's been a tale of two halves of the season for Portland. A strong case can be made they lost to a Charlotte team headed for the playoffs and Miami's loss was to the lottery-bound Pelicans. The difference is the Heat have a longstanding track record of what they are. We're still trying to figure out exactly what these Blazers are all about.
Windhorst:
The Blazers are having a miserable month because their fairy tale season has hit the skids with uneven play, bad defense, and after months of near-perfect health, some derailing injuries. That 30-point loss to the Bobcats to start a five-game road trip was perhaps a low point of the season. The Heat are not in a good place right now, but they didn't get beat by 30.
3. From 1 to 10, what is the level of concern for the Heat right now?
Haberstroh:
5. No major injuries, and they'll still finish with just under 60 wins. Things could look a whole lot worse. The Pacers have been a mess as well, so Heat coach Erik Spoelstra and team president Pat Riley may lose some sleep, but we haven't nearly reached DEFCON 1/2011 levels.
Wallace:
7. The Heat have treated this season like an 82-game exhibition slate. Between the injury and rest issues with Wade to the uncertainty surrounding Greg Oden and Michael Beasley, this team has been shuffling and reshuffling all season and never really settled into a sustained offensive rhythm. They're not as good as they were the past two title seasons defensively. The supporting cast consists of guys in their mid-30s and they just don't seem to have the same matchup advantages against stiffer competition they once did. The league has closed the gap on Miami. That said, they are not likely to be pushed to the brink until the conference finals at the earliest.
Windhorst:
4. Completely agree with Chris Bosh's assessment Saturday when he described the situation as "not troubling but upsetting." In general, the Heat have their health, and that is what is most important. They have the ability to get themselves together -- everyone knows and believes this. The fact their defense has been lagging is a concern because defense is a habit, and that's the only reason I have a "4" up there. After everything the Heat have been through, seriously, right now this ranks low on the scale.
December, 29, 2013
12/29/13
3:24
AM ET

By Kevin Arnovitz
ESPN.com
Archive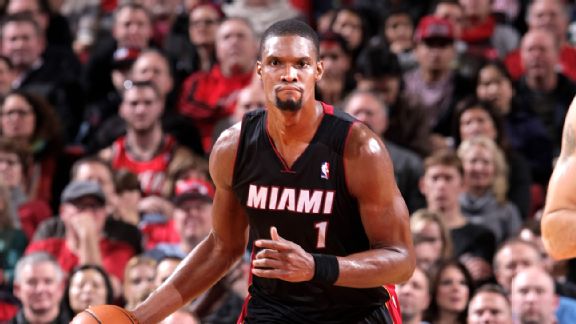 Sam Forencich/NBAE/Getty ImagesChris Bosh made three clutch 3s in the fourth quarter, none bigger than the one with 0.5 seconds left.
PORTLAND, Ore. — It wasn't the play Erik Spoelstra had in mind for
Chris Bosh
with the
Miami Heat
trailing the
Portland Trail Blazers
107-105 and 7.7 seconds remaining.
"My call at the end of the game was more conservative," Spoelstra said. "I drew something up to get him on the move and he said, 'No, I want it for the 3.' So he overruled it and became a prophet."
Spoelstra's original blueprint had Bosh receiving the ball from
Dwyane Wade
at the foul line extended, the midrange spot from which Bosh led the NBA last season in field goal percentage and has made a good living. A successful shot would've tied the score and likely sent the game to overtime. Then Bosh did the math.
"I kind of figured that it was going to be a long 2, and I didn't want that," Bosh said. "I knew I would be open and have more space if I popped for 3. In that situation, I wanted to go for the win," Bosh said.
The way Bosh saw it, this was the game's decisive possession and his attempt would ultimately win or lose the game for Miami. That being the case, Bosh wanted a more rhythmic shot.
"My momentum was going to be taking me away and I was going to have to stop, set and there wasn't much time. I wanted to come kind of downhill a little, to step into it."
The play would begin with Wade on the attack. That's the Heat's preferred offensive mode when
LeBron James
is sidelined, as he was Saturday night after straining his right groin in an overtime loss at Sacramento on Friday. Guarding Wade was the Trail Blazers' rangy forward and best on-ball defender,
Nicolas Batum
.
"We had Dwyane on the move," Bosh said. "He was able to go right. I kind of set a little brush screen a little bit and popped back. He kept being aggressive. They put two on the ball."
This is the point where Wade had to make a decision. Had he continued on his path to the rim when he encountered both Batum and
LaMarcus Aldridge
(Bosh's man) in the paint, it wouldn't have been the first time he fought traffic to get a big bucket. Yet Wade knew the degree of difficulty would be high -- and he knew Bosh was open behind him.
"My mindset was to turn the corner and be aggressive," Wade said. "In my peripherals, I saw LaMarcus coming, or one of the bigs, so I knew I was going to have to make a tough shot. I saw Chris was open, so I just threw it back."
A 3-pointer with the game on the line and James resting isn't an unprecedented situation for Bosh. Last March in San Antonio, Bosh hit a go-ahead 25-footer from the top of the arc after hooking up on a pick-and-pop with
Ray Allen
. In a crazy triple-overtime win at Atlanta in January 2012, Bosh got the ball from
Mario Chalmers
on a pick-and-pop to tie the game in regulation.
On Saturday, Wade was the assist man, though he won't win any style points. The pass was treacherous, a knuckleball in the dirt that Bosh had to pick up on the short hop.
"He threw a crazy pass a little bit," Bosh said with a broad smile. "I'm not going to lie, but I was able to see it. Nobody was in the vicinity so I didn't have to rush."
Bosh's shot fell through the net and sucked the oxygen out of a stunned Moda Center with 0.5 left on the clock and the Heat leading 108-107.
"It was a cold-blooded 3," Wade said. "It was cold-blooded."
Incredibly, the Trail Blazers came within a whisker of winning the game when they orchestrated a beautiful inbounds play with that half-second. From the left sideline, Batum floated a perfect inbounds pass to Aldridge just in front of the rim. In one motion, Aldridge caught the ball two-handed and tossed it toward the basket, missing wide left as the horn sounded.
"It was exactly what we wanted," Blazers guard
Damian Lillard
said.
With time expired, the Heat erupted in celebration, one that was uncharacteristically boisterous for December, but given the context entirely understandable. Miami threw a game away in Sacramento on Friday. The Heat beat a team with the best record in the league Saturday on its home floor, all without James, who was on the bench in earth tones -- camouflage tee, tan jacket, brown leather pants.
And then there's Bosh, who finished with a game-high 37 points and 10 rebounds. Not only did Bosh hit a game winner, but he called his own shot from beyond the arc -- even as he was about to share the floor in a two-point game with the league's all-time leading 3-point shooter in Allen and the best slasher of his generation in Wade.
"He already hit two 3s," Spoelstra said. "He was feeling it. He wanted it, and as soon as he said it, I said, 'Yeah, that makes sense.' It was much better than what I had planned."
December, 28, 2013
12/28/13
3:52
AM ET

By Michael Wallace
ESPN.com
Archive
SACRAMENTO, Calif. -- If there is any benefit to playing a tough back-to-back set on the road, it's that the
Miami Heat
won't have long to stew over the sting from Friday's overtime loss to the
Sacramento Kings
.
Up next on the schedule: Saturday's stop in Portland to face a Trail Blazers team that is tied with Oklahoma City for the NBA's best record at 24-5. Arguably the league's most surprising team, the Blazers will be catching a Heat team that will be limping into Portland.
LeBron James
strained his right groin and also aggravated his sprained left ankle in Friday's 108-103 loss to the Kings, and said he wasn't sure if he would play in Saturday's showdown between the two-time defending champions and the upstart Blazers.
The Heat are also dealing with injuries issues that kept
Dwyane Wade
(knee rest),
Ray Allen
(knee soreness) and
Chris Andersen
(back) out of Friday's game against the Kings. James has yet to miss a game this season despite dealing with a variety of nagging ailments that also include his early-season battles with back spasms.
James is slated for treatment throughout the day Saturday, and will be reevaluated before the game against the Blazers. Regardless of the injury report, Heat center
Chris Bosh
said Saturday's game still sets up as a significant test for both teams as they try to carry momentum into the new year.
"They're pumped up, and they feel that they have a pretty good chance this year," Bosh said of the Blazers. "I'm sure that they're using this game -- just like we are -- as a measuring stick for where they are, and just to get up there and compete. We're playing one of the best teams, record-wise, in the league and it should be a lot of fun."
Miami has split the first two games of the trip after beating the
Los Angeles Lakers
on Christmas. But the Heat will try to regroup from Friday's loss that ended a six-game winning streak -- and also stopped them one victory short of tying the Boston Celtics' record of 20 consecutive regular-season victories against Western Conference opponents.
The Heat squandered a 17-point, first-half lead and saw the Kings close the gap on a flagrant foul
Mario Chalmers
committed when he shoved
DeMarcus Cousins
with 1 minute, 19 seconds left in the fourth quarter and Miami ahead by four. Cousins made both free throws and
Rudy Gay
's jumper on the ensuing possession tied it at 89 and forced the extra period.
Despite the injuries -- and poor play in the third quarter, when the Kings outscored the Heat 29-18 -- Heat coach Erik Spoelstra said there were no excuses for the loss. Miami lost despite holding a sizeable lead and converting 23 Sacramento turnovers into 23 points. But that's behind the Heat now.
The next challenge on the schedule looms even larger.
"We'll have to rest up and get ready," Spoelstra said. "[Saturday] night at 7:30 [PT], we'll have to lace them up."
Wade, who is expected to be back in the lineup against Portland, said the Heat have a chance to respond to increasingly difficult opponents.
"Four games on the West Coast, and they get tougher and tougher as we go along," Wade said, with the trip ending Monday against Denver.
"But this should be a great test for us. Right now, we're just trying to find ways to win. And that's what the season is about. You're going to have some impressive nights and everything is going to go well. But sometimes it's not. And you just have to find a way. That's what this team is great about -- just finding a way."
January, 10, 2013
1/10/13
12:46
PM ET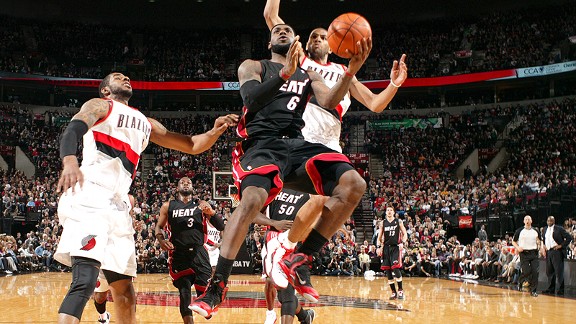 Cameron Browne/NBAE/Getty ImagesLeBron and the Heat will try to snap out of their funk in Portland, where the Blazers are tough to beat.
In another installment of the Heat Index's 3-on-3 series, our writers give their takes on the storylines before the Heat face the Trail Blazers on Thursday.
1. Agree or disagree: Rebounding is Miami's biggest problem.
Tom Haberstroh:
Agree, but I think it's way overblown. Here's something that doesn't get mentioned nearly enough: Ray Allen, Shane Battier and Mario Chalmers have shot 24 percent in the Heat's last four losses. If any of Miami's shooters had gotten hot in any of those games, we probably aren't asking this question.

Michael Wallace:
Agree. It's gotten to the point where it would be irresponsible to dismiss or downplay these recent disturbing results on the boards. That said, a point can be made that turnovers and poor shooting doomed the Heat in Indiana as much -- or more -- than giving up a season-high 22 offensive rebounds to the Pacers.
Brian Windhorst:
Disagree. The Heat's biggest problem is motivation. The way they have chosen to play requires a significant amount of effort. It's tiring mentally and physically to trap pick-and-rolls and sprint back to recover. It wears you out to have to rely on toughness and technique instead of size to rebound. Always playing against bigger opponents is draining. With no one gaining on them in the standings really, that's a hard sell every night in December and January -- probably February too.
---
Haberstroh:
Disagree. LeBron vents frustration by doing postgame workouts; Bosh says the sky is falling. Two different people, two different methods.
Wallace:
Disagree. I understand the case Bosh was trying to make, but it was one of the few times the most cerebral star on the team seemed to lose perspective. It's a different level of urgency in the playoffs. The Heat have proved that when they're locked in, they easily overcome their shortcomings in the postseason.
Windhorst:
Disagree. Wholeheartedly. Someone needs a hug.
---
3. Agree or disagree with LeBron: Damian Lillard is the Rookie of the Year.
Haberstroh:
Agree. If Andre Drummond got the playing time he deserves in Detroit, this would be a closer race, but Dame's the name. Lillard's the reason Portland is 19-15 despite being outscored this season; he wins seemingly every neck-and-neck game. Lillard is three years older than Drummond and Anthony Davis, which makes his performance a tad less impressive, but holy smokes has he been good in Year 1.
Wallace:
Agree. Lillard certainly has the endorsement of the Heat's Big Three. You'd be hard-pressed to find another rookie having more of an impact on a team in playoff position than Lillard. His scoring, on-court demeanor and leadership make Lillard seem like he has been in the league for four years instead of four months.
Windhorst:
Agree. Have you seen what this rookie class has been doing? Not exactly a lot of competition. Anthony Davis, now healthy, is finally giving Lillard some challenge. All I'm going to say is Bradley Beal won East Rookie of the Month in December when he shot 18 percent from 3-point range as a member of a horrific team -- and nobody thought he was the wrong choice.
March, 8, 2011
3/08/11
1:29
PM ET

By Kevin Arnovitz
ESPN.com
Archive
Guerrilla warfare

It seems like eons ago when the Heat played one of their most dramatic games of the season in Portland on Jan. 9. The Rose Garden was electric that Sunday evening, as the Heat and Trail Blazers went to overtime in a game that featured LeBron James' taunting the crowd en route to 44 points, a furious comeback and a procession of adjustments from each bench over the course of the game. For Miami, it marked the first time the team went full throttle with its small-ball attack during a crucial stretch of play. Down seven with only a couple of minutes left in regulation, Spoelstra inserted James Jones for Joel Anthony. In an instant, the floor opened up, as Jones dragged LaMarcus Aldridge to the perimeter, leaving James and Dwyane Wade with room to operate in the half court. The Trail Blazers are a disciplined but conventional squad that thrives in a structured game, and Spoelstra's tactic disrupted their flow. During the overtime period, James actually guarded Marcus Camby -- to no ill effects. Since then, small-ball has ceased to be a novelty for the Heat, but look for Spoelstra to take some risks against a team that prefers to play by the book.
What happens in a tight game?
It's the question that's been gnawing at the Heat during their current slide. The last time these two teams hooked up, the Heat were downright intimidating in overtime. They carried into that extra frame an aura that said to Portland, "You had your chance to wrap this one up in regulation. Tsk, tsk." Now the Heat are 5-13 in games decided by five points or fewer.
Is this a lack of clutch-ness on the Heat's part or just random noise?
Do we take James at his word that, in fact, he's getting exactly the kind of shots he wants in pivotal possessions and just not converting them, or is there something fundamentally flawed with the Heat's approach to these situations? Whatever the case, here's a fool-proof way to avoid a late-game meltdown: Don't let the game come down to a possession or two. Instead, get your work done early, particularly at home against a team coming off the second half of a back-to-back.
Move and spread against the Blazers' zone
Portland plays one of the steadier zone defenses in the league, something that gave the Heat fits through much of the teams' first meetings. They deploy it strategically and, against the Heat, it induced excessive dribbling and ill-advised jumpers. Then the Heat adapted by applying their quickness off the ball to attack the zone's soft spots. They reversed the ball, used Chris Bosh strategically as a screener and, most important, moved Wade along the baseline underneath the defense. If the Heat can get the Trail Blazers on their heels, move consistently throughout the possessions and embrace the fact that Wade is a human zonebuster, they should be successful.
Defending LaMarcus Aldridge
A lot of observers took a wait-and-see approach when Aldridge came out of the gate this season as a more willing post player. Aldridge has always had the ability to score on the left block, but seemed more comfortable as a spot-up midrange shooter. Was this uptick in his productivity a temporary commitment to working down low, or a true evolution of his game? The growing body of evidence suggests that Aldridge the post player is here to stay. Some tentativeness might still linger some nights against bigger defenders, and the hook still needs work, but Aldridge can now do something he wasn't capable of doing 12 months ago -- anchoring Portland's offense even without a devastating perimeter slasher. His footwork -- particularly his spin move -- has flourished and he's putting the ball on the floor with a specific plan to attack. On Tuesday night, Bosh will need to do a better job anticipating the cross-screen for Aldridge that frees him up for a deep catch on that left block, and use his forearm to push Aldridge off his spot.
Protect the ball
The Heat's turnover rate sits about at the league average, but they've been above that in each of the four games during the losing streak. Wade, alone, has racked up 19 over the past four games as he has strained to make plays against active, collapsing defenses. Moving screens, getting caught in the air without a plan and air-mailed skip passes have become commonplace when the Heat need solid possessions to reverse momentum. Against a resurgent Portland defense that now features Gerald Wallace, the Heat will need to be more careful than ever. The Trail Blazers rank second in the NBA in opponent turnover rate. They have a way of inducing opponents into doing stupid stuff late in the shot clock.