Miami Heat Index:

Sacramento Kings
December, 28, 2013
12/28/13
3:52
AM ET

By Michael Wallace
ESPN.com
Archive
SACRAMENTO, Calif. -- If there is any benefit to playing a tough back-to-back set on the road, it's that the
Miami Heat
won't have long to stew over the sting from Friday's overtime loss to the
Sacramento Kings
.
Up next on the schedule: Saturday's stop in Portland to face a Trail Blazers team that is tied with Oklahoma City for the NBA's best record at 24-5. Arguably the league's most surprising team, the Blazers will be catching a Heat team that will be limping into Portland.
LeBron James
strained his right groin and also aggravated his sprained left ankle in Friday's 108-103 loss to the Kings, and said he wasn't sure if he would play in Saturday's showdown between the two-time defending champions and the upstart Blazers.
The Heat are also dealing with injuries issues that kept
Dwyane Wade
(knee rest),
Ray Allen
(knee soreness) and
Chris Andersen
(back) out of Friday's game against the Kings. James has yet to miss a game this season despite dealing with a variety of nagging ailments that also include his early-season battles with back spasms.
James is slated for treatment throughout the day Saturday, and will be reevaluated before the game against the Blazers. Regardless of the injury report, Heat center
Chris Bosh
said Saturday's game still sets up as a significant test for both teams as they try to carry momentum into the new year.
"They're pumped up, and they feel that they have a pretty good chance this year," Bosh said of the Blazers. "I'm sure that they're using this game -- just like we are -- as a measuring stick for where they are, and just to get up there and compete. We're playing one of the best teams, record-wise, in the league and it should be a lot of fun."
Miami has split the first two games of the trip after beating the
Los Angeles Lakers
on Christmas. But the Heat will try to regroup from Friday's loss that ended a six-game winning streak -- and also stopped them one victory short of tying the Boston Celtics' record of 20 consecutive regular-season victories against Western Conference opponents.
The Heat squandered a 17-point, first-half lead and saw the Kings close the gap on a flagrant foul
Mario Chalmers
committed when he shoved
DeMarcus Cousins
with 1 minute, 19 seconds left in the fourth quarter and Miami ahead by four. Cousins made both free throws and
Rudy Gay
's jumper on the ensuing possession tied it at 89 and forced the extra period.
Despite the injuries -- and poor play in the third quarter, when the Kings outscored the Heat 29-18 -- Heat coach Erik Spoelstra said there were no excuses for the loss. Miami lost despite holding a sizeable lead and converting 23 Sacramento turnovers into 23 points. But that's behind the Heat now.
The next challenge on the schedule looms even larger.
"We'll have to rest up and get ready," Spoelstra said. "[Saturday] night at 7:30 [PT], we'll have to lace them up."
Wade, who is expected to be back in the lineup against Portland, said the Heat have a chance to respond to increasingly difficult opponents.
"Four games on the West Coast, and they get tougher and tougher as we go along," Wade said, with the trip ending Monday against Denver.
"But this should be a great test for us. Right now, we're just trying to find ways to win. And that's what the season is about. You're going to have some impressive nights and everything is going to go well. But sometimes it's not. And you just have to find a way. That's what this team is great about -- just finding a way."
December, 27, 2013
12/27/13
3:48
PM ET

The Heat continue their road trip by visiting the Sacramento Kings, who lost in Miami one week ago. Our 3-on-3 crew previews the rematch.
1. How will LeBron and Dwyane's next lob dunk go down?
Tom Haberstroh:
Off the expressway, over the river, off the billboard, through the window, off the wall,
nothing but net
.
Michael Wallace:
There isn't much these two can do to top the lob-and-lefty-finish-off-the-backboard stunt they pulled Christmas Day in L.A. But I totally see something along the lines of Wade attempting to catch a poorly thrown lob from Mario Chalmers, then deflecting the ball in midair to a streaking LeBron for the finishing flush. A double lob throwdown.
Brian Windhorst:
Their best dunks to me have always been the touchdown pass variety rather than the 2-on-1 break versions. At some point, Wade is going to leak out on a missed jumper or free throw and LeBron is going to throw him a 90-foot alley-oop. They've been close. But I'm talking backboard-to-backboard pass and slam.
---
2. Fact or Fiction: DeMarcus Cousins is the third-best player in Friday's game.
Haberstroh:
Fiction. Until Cousins learns to play defense, I'm still going with Chris Bosh on this one. And if you don't think Bosh is an above-average defender, you're not paying attention. If Cousins dedicates himself to that end of the floor as much as he does to pouting, then he'll be top 3 in this game.
Wallace:
Fiction. But it depends on whether Wade plays or opts to sit out the first game of the back-to-back set with Portland on deck Saturday. If Wade sits, a strong case can be made that Cousins would only take a backseat to LeBron in terms of raw talent, athleticism and overall skill set. Consistency and attitude remain Cousins' biggest challenges.
Windhorst:
Fiction. I'm going to use this pulpit to explain that Chris Bosh is, at this moment, a Hall of Fame player. This is a statement that tends to rile people up. It is not a commentary on Bosh's magnificence as much as it is who gets in the Hall of Fame. He's about to make his ninth All-Star team, he has two rings, a gold medal and he's not even 30. Check your history; there are many Hall of Famers without such a résumé. Also, he's one of the best shooting bigs in this era. Sorry, DMC.
---
3. Over/under: The Heat will score at least 60 points in the paint.
Haberstroh:
Over, if Dwyane Wade plays. Under, if he doesn't. Considering this is the first game of a back-to-back and the Heat are playing at Portland on the second night, I'd assume Wade kicks up his feet for this one. If that's the case, it's tough to imagine the Heat getting into the paint as much without him. But anything is possible against the Swiss cheese that is the Sacramento defense.
Wallace:
Under. Although the Heat scored a season-high 70 points in the paint when these teams met last week in Miami, these teams tend to get into strange shootouts in Sacramento. Last season saw Chalmers tie a franchise record for made treys. And Kings guard Isaiah Thomas nearly matched him shot-for-shot. This is more likely a game for Miami's 3-point specialists to get on track.
Windhorst:
Under. This is not a tip of the cap to the Kings' defense but because Wade, the highest scoring guard in the paint this season, may not play. If I were the Heat, I'd want him playing in Portland tomorrow.
December, 21, 2013
12/21/13
1:02
AM ET

By Tom Haberstroh
ESPN.com
Archive
MIAMI -- It was
Sacramento Kings
rookie
Ben McLemore
's "Welcome to the NBA" moment.
In Friday's first quarter,
Miami Heat
guard
Mario Chalmers
set a high screen for
LeBron James
to strategically force a mismatch. This wasn't just any mismatch. Chalmers was being guarded by
Isaiah Thomas
, who stands all of 5-foot-9.
Predictably, James turned Thomas into a traffic cone and barreled toward the rim, where McLemore stood in his way. McLemore, bless his heart, had rotated over from the weak side and tried to take a charge in James' path.
You can probably guess what happened next. James skied over him with a patented tomahawk, flattening McLemore and sending the nearby Heat bench into a screaming frenzy as James towered over the rookie. No charge called.
"It sucks that it was him," James said after the game. "Because I like him. That sucks."
After the game, McLemore was in good spirits, laughing off the play. James and McLemore go back to the rookie's high school days in Missouri.
"I just went over there to try and take the charge," McLemore said before letting out a smile. "And he dunked the ball."
[+] Enlarge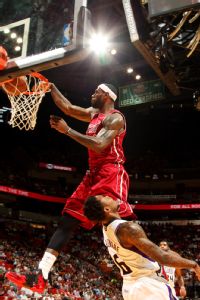 Issac Baldizon/NBAE/Getty ImagesNext time, Ben McLemore may think twice about contesting a LeBron James dunk attempt.
There's a lesson underneath the highlight reel. You see, the play showcased a classic dilemma in the game: Do you bravely challenge a player launching for a dunk? Or just let him roll through -- maybe the cowardly thing to do in some eyes -- to avoid the potential humiliation?
McLemore made his choice, but not without second-guessing himself.
"Afterwards, I thought maybe I should have just fouled him," McLemore said. "Knowing it was LeBron, I knew they weren't going to call (a charge), but I was just playing to my defensive principles. Even though they didn't call it, I didn't let that mess my game up."
In the eyes of Kings head coach Mike Malone, McLemore made the right play, the more admirable one. McLemore could have given up and let James score an uncontested bucket. But instead, McLemore made a play, trying to cover for his teammates who blew the pick-and-roll coverage.
"Some guys would duck and get out of the way because they do not want to be on the ESPN highlight tape," Malone said. "But Ben is a competitor and he hates to lose. I'm proud of Ben."
After much pondering,
Shane Battier
thinks it was a rookie mistake. As one of the foremost charge-takers in NBA history, the Heat forward has been in McLemore's spot countless times.
What did the expert think of McLemore's choice?
"You get out of the way," Battier said. "Even if you go for the foul, you're going to hurt yourself. At some point, you just cut your losses and do the fake trip and or something and say, 'Oh well, I tried.'"
Battier continued his lecture.
"That's a skill, a learned skill," Battier joked. "I don't expect a rookie in his first 20 games to understand that. That's the biggest difference between the NBA and college: the speed of the game. You have to understand what you can get away with. So he'll learn. It was a learning experience."
James' dunk will be replayed over and over, but it also symbolized the game. The Heat scored a season-high 122 points against the porous Kings defense and won easily, by 19 points. The defensive intensity of Friday's matchup was on the level of the All-Star Game. Maybe lower.
Put it this way: The Kings shot 58.1 percent from the floor and lost by almost 20. In fact, a team hasn't shot that well and lost by that much in over 25 years.
Not since April 5, 1986, when the
Phoenix Suns
shot 61.1 percent and lost by 19 to, ironically enough, the Kings. How's this for perspective:
New York Knicks
head coach Mike Woodson was starting for the Kings at shooting guard.
All in all, James' dunk on McLemore was just one of 20 dunks in the game, the most in any NBA game this season. Believe it or not,
Ray Allen
dunked for the first time this season. And then dunked again, marking the first time he's dunked twice in a game since Feb. 10, 2011, against the
Los Angeles Lakers
.
"Ray looked good getting up there," James said. "I was watching 'He Got Game' last night and he dunked a lot. Jesus Shuttlesworth was out in full effect."
With the victory, the Heat move to 20-6 on the season, tying the best 26-game start in franchise history, set last season. It was the 13th straight game that the Heat have scored at least 100 points against the Kings, setting a franchise record for consecutive triple-digit games against an opponent.
The Kings aren't an NBA-caliber defense just yet. This was the second game in a row that they've hemorrhaged at least 120 points to the opposing team, dropping their record to 7-18. Since
Rudy Gay
's arrival, the Kings have allowed 111.8 points per 100 possessions, which would rank dead last in the league. The offense has barely improved. Gay had seven turnovers in his fifth game in his new uniform and the Kings shot 41.7 percent from the free-throw line.
Despite 27 points of his own,
DeMarcus Cousins
barely slowed
Chris Bosh
, allowing the Heat big man to score a season-high 25 points on 11-for-16 shooting. After the game, Cousins sat at his locker, eating a plate of chicken fingers before leaving the room without speaking to reporters.
Needless to say, Malone wasn't pleased with the Kings' performance and proceeded to rail on his team's defensive effort.
"We have nobody that is protecting the basket," Malone said outside the Kings' locker room after the Heat scored 70 points in the paint. "I question how many guys that we have on this team who will take pride in their defense. I think a lot of guys are worried about their numbers and the offense, but they are not committed to defense. That's apparent every night you watch us play.
"Every day in practice, every shoot-around, every team meeting and every film session, all we talk about is our defense. Obviously the message isn't getting through. They're not accepting it or they're unwilling to accept it, I'm not sure what the problem is; but I have to find five guys (Saturday night) in Orlando that are willing to compete on the defensive end of the floor."
Moments before Malone's rant, James
videobombed Bosh's postgame TV interview
by wheeling
Dwyane Wade
around like a wheelbarrow in the background.
Two different vibes for two different teams.
Just another Friday night in Miami for the two-time defending champs.
December, 20, 2013
12/20/13
12:54
PM ET

The rebuilding Kings visit Miami to take on the Heat. Our 3-on-3 crew previews the matchup.
1. Fact or Fiction: Miami should start Chris Bosh and Chris Andersen together in the frontcourt.
Gutierrez:
Fiction. The idea of starting both would come with the assumption that more minutes for Andersen is a good thing. And frankly, his impact is lessened with extended minutes. Play them together more, sure, against bigger teams. But start them? Unnecessary.
Haberstroh:
Fiction. The Heat can use that for spurts against big teams (Memphis, Detroit and Indiana), but they shouldn't overreact here. That lineup causes a traffic jam on offense, which won't make LeBron James or Dwyane Wade happy. The Big Three need shooters around them.
Wallace:
Fact. This might be just the kind of shakeup and energy boost the Heat need to get through the dog days of the midseason. Bosh obviously is more comfortable at his natural power forward position. And considering how Andersen is unafraid to launch the open jumper, whereas a struggling Shane Battier has been reluctant to shoot, the Heat don't necessarily lose as much from a spacing standpoint. What they gain is size, rebounding, defense and confidence. Seems like a win-win tweak to me.
---
2. Fact or Fiction: The current Sacramento Kings would be a top-five team in the East.
Gutierrez:
Fiction. Moving them to another conference wouldn't raise the maturity level of that team. Plus, the Kings are 1-4 against the East this season. They can, and usually do, lose to anybody.
Haberstroh:
Fiction. They just got thumped by Charlotte and Atlanta, moving their record to 1-4 against East teams. I know Rudy Gay just joined the squad, but I still see him as a high-volume chucker who probably won't thrive on a young team. Also, I don't see them being better than Detroit, which is currently the fifth seed in the East.
Wallace:
Fiction. Once you get past Indiana and Miami, it's wide-open in the East, with no team appreciably better or that much worse than the next. That said, the Kings have already lost to Atlanta and Charlotte on this East swing, and those boast the third and fifth-best records, respectively, in the conference. Rudy Gay has regained his scoring touch since arriving in Sacramento. DeMarcus Cousins and Isaiah Thomas are gifted, young talents. So they're top eight maybe. But not top five, even on the weaker side of the league.
---
3. Fact or Fiction: Miami will overtake Indiana for first place in the East by New Year's Day.
Gutierrez:
Fiction. The Pacers have a friendlier schedule, as the Heat finish the calendar year with games at Portland and Denver. Also, losing in Miami this week will only keep the Pacers driven to maintain that top spot, knowing how critical the top seed would be to them.
Haberstroh:
Fiction. I'll say they will be tied. The Heat soon play at Portland and at Denver (which is death for Miami). The Pacers play four of their next five games against below-.500 teams. So I'm going to pump the brakes on Miami's No. 1 seed on Jan. 1.
Wallace:
Fiction. Although the Heat's victory Wednesday proved that the Pacers haven't distanced themselves quite as far in the standings as they anticipated, Indiana has a chance to create a bit of breathing room based on the more favorable schedule the rest of this month. Miami plays four of its next six on the road, including difficult stops in Portland and Denver. The Pacers play four of their next five at home, where they have only one loss. They'll maintain just a bit of breathing room over the Heat.