Miami Heat Index:

Turning Up The Heat
October, 17, 2011
10/17/11
3:58
PM ET

By John Krolik
ESPN.com
Archive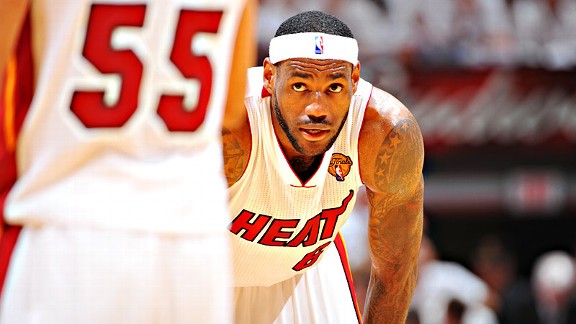 AP Photo/Lynne Sladky
LeBron James may be the most complete player in the league, but he's far from perfect.
What worked
Once again, James showed that he is the best all-around player in the NBA, and one of the best talents the game has ever seen. Even though he had a "down" year statistically compared to his last two seasons, he still led the NBA in PER once again, and could have won his third straight MVP award if his late-game issues hadn't cost the Heat the East's top spot. In the playoffs, James went to another level, eviscerating both the Celtics and the Bulls with brilliant offense, lock-down defense, and some incredible crunch-time play.
What didn't work
Then the finals came. For the second straight season, James simply melted down in a playoff series, and was nowhere to be seen in the fourth quarter of Game 2 or the entirety of Game 4, both of which the Heat could have easily won. James didn't make up for it in Games 5 or 6, and the Heat lost a Finals that they could easily have swept largely because of LeBron's stunningly passive and ineffective play.
What can be improved
Obviously, the most important thing for LeBron is that he needs to make it all the way to the finish line next season without imploding, but that's a battle that will take place between his ears.
A more tangible improvement that LeBron can make is to start playing more like a big man. James is a very large human being, who does not utilize his size as much as he could on the basketball court, specifically on the offensive end. James is currently listed at 6'8, 250. That number is a bit of a joke. When LeBron came into the league, he
looked like this
and was listed at 6'8, 240. If you think
this player
has gained zero inches in height and only 10 pounds since his rookie year, I don't know what to tell you. Many scouts believe LeBron has gained an extra inch since coming into the league, and almost everyone agrees that he now weights somewhere between 260 and 275 pounds.
If LeBron was a power forward, he would be slightly short for the position, although he certainly wouldn't be the shortest power forward out there, and he'd probably be one of the strongest and bulkiest power forwards in the league.
In spite of that fact, LeBron absolutely refuses to play like a big man. I'm not even talking about LeBron's embarrassing lack of a post game, which is definitely an issue, but LeBron's lack of a post game is just a symptom of a greater disease; even though LeBron has the speed to play point guard and the size to play power forward, he only chooses to fully utilize the former attribute on offense.
LeBron's lack of a post game has been discussed at length by a lot of people,
including me
, so I won't spend to much time on it here. For now, let's just say that we can all agree that a little more footwork, a little more patience under the rim, and a lot more aggression in the post would serve LeBron very well when he gets matched up against smaller players. LeBron doesn't even need a McHale-like set of counter-moves or Kobe-like footwork to be effective in the post -- LeBron has roughly the same size and strength advantage against opposing swingmen as Shaq did against opposing centers, and Shaq dominated in the post for years with a jump hook over his left shoulder, a spin dunk over the right shoulder, and a modified, weird-looking righty hook over his right shoulder if he wasn't close enough to dunk it. All LeBron needs to do to be a force in the post is commit to getting deep position, develop a reliable baby hook or floater over his left shoulder along with a counter-move over his right shoulder (and remember, LeBron is almost completely ambidextrous around the rim), and he's an instant force, but LeBron prefers to just tentatively dribble in, wait for the double-team to come, and pass out.
However, I'm less focused on LeBron's post game, or lack thereof, than most people. LeBron in the post is a dangerous weapon, but it's still one-on-one basketball unless LeBron gets a double team and passes out of it, which he already does the vast majority of the time he has the ball in the post. A post game would make James that much harder to defend, but he's already very, very difficult to defend one-on-one. A post game would certainly help LeBron, but it wouldn't be the end-all be-all for him.
What could make LeBron even more unstoppable than a post game would be a willingness to work to create offensive opportunities without the ball in his hands. According to Synergy Sports, LeBron only had 29 possessions as the "roll man" in a pick-and-roll last year, 120 possessions coming off of a cut, and only 71 possessions were initiated by LeBron grabbing an offensive rebound. Overall, less than one percent of LeBron's possessions came as the "roll man" in a pick-and-roll, coming off of a cut, or after an offensive rebound. For a 6'9, 265 (best guess) pound behemoth of a man, that's an embarrassingly low figure.
Possible lockout viewing material
Even though Blake Griffin only has one year of NBA experience under his belt, James could learn a thing or two by watching the reigning Rookie of the Year play basketball. Griffin isn't a franchise player just because he has an unmatched flair for finishing alley-oops; he's constantly working his butt off to get opportunities at the rim, whether that means setting the screen and rolling hard, finding a weak spot and cutting through it, crashing the offensive glass, or looking for a lob in transition.
According to Synergy, Griffin, who is roughly the same size and has the same off-the-charts athleticism as James, had 257 possessions as the "roll man" in pick-and-roll situations, 199 possessions off of cuts, and 192 possessions after he grabbed an offensive rebound. Obviously, Griffin created far, far more opportunities by using his size and working without the ball than LeBron did last season, and there's no reason that LeBron can't be the same kind of force on pick-and-rolls or cuts. (Rebounding is more of an innate skill, and has always been the most overrated part of James' game because of the triple-double fixation, but LeBron could probably work harder on the offensive glass as well.)
The fact of the matter is that LeBron already has two MVP awards and two conference championships with his current package of talent and skill, but remains ringless because he failed to apply those skills when it mattered most. At this point, it's far more important that LeBron understand what happened to him mentally in the Dallas series and make sure it doesn't happen again than it is for him to make any mechanical improvements to his game. However, if LeBron starts using his size like he should, both in the post and off the ball, he will become far more dangerous than he already is, and that will help him on his quest for the championship ring he's still desperately trying to obtain.
October, 14, 2011
10/14/11
11:43
AM ET

By John Krolik
ESPN.com
Archive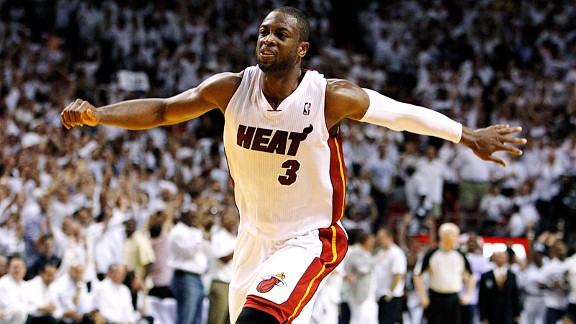 AP Photo/Lynne Sladky
Dwyane Wade was still among the game's most lethal slashers last season in Miami.
Before there was "The Decision," there was a championship parade in Miami, and Finals MVP Dwyane Wade was the one who made it possible. Wade didn't make it out of the first round in between 2006 and "The Decision," there was little doubt that it was Wade's brilliance that made the Heat's incredible off-season possible -- no matter how nice Miami might be in February, there's no doubt that the Heat wouldn't be the team they are today if they hadn't drafted Wade back in 2003.
So how did Wade fare in his first season with LeBron, Bosh, and the first truly competent band of teammates he's had since he won a championship? Pretty darn well. Wade had fewer points and assists per game than he did in 2009-10, but he made up for it by raising his field goal percentage from 47.6 to an even 50.
Wade, who is nearing 30 and has battled injuries throughout his career, appeared to be running out of steam in the Eastern Conference Finals, when the Bulls held him to 40.5 percent shooting from the floor and only 2.2 assists per game, but he still made big plays down the stretch in that series to help the Heat return to the Finals. Against Dallas, Wade looked like himself again, and averaged 26.5 points and 5.2 assists per game while shooting a blistering 54.6 percent from the field. Wade couldn't have gotten to the Finals without LeBron, but LeBron's Finals meltdown almost certainly cost Wade his second career Finals MVP award.
What worked
Wade is among the best slashers in the game, and is at his most effective near the rim -- Blake Griffin and Dwight Howard were the only players to average more made baskets at the rim per game than Wade, who gives up at least half a foot to both of those players.
Opinions on Wade's defense vary, but he's certainly a high-energy player on that end of the floor who is capable of making a big steal or block that leads to a fast break at any time.
What was interesting about James and Wade in the 2010-11 season was that while LeBron has quietly become a very good outside shooter, and is now dangerous from all areas of the floor, he didn't show much interest in working without the ball to get himself easy opportunities at the basket. Wade, on the other hand, worked harder off the ball than any of the Heat's other superstars, and never stopped trying to get to the rim, where he knows he's at his most effective. Whether Wade is cutting without the ball, trying to split a double-team, or working a smaller guard in the post, his pursuit of high-efficiency shots is relentless, and that's why he's one of the five best players in the league.
When Wade's mid-range jumper is on, the game is simply unfair. Unlike LeBron, who tends to decide whether he's going to shoot a long jumper or go to the rim when he's at the 3-point line, Wade is capable of starting a drive to the rim and seamlessly pulling up for a jumper. Wade's ability to change directions in a fashion that seems geometrically impossible makes him all but impossible to stop when his jumper is off -- when he's making his jumpers, the defense might as well just give up.
What didn't work
Unfortunately, while James has become an improved outside shooter, Wade is still a flat-out bricklayer on 3-pointers and long 2s, and there were plenty of times where he would simply throw possessions away by firing up a deep jumper early in the shot clock. Wade will occasionally make his outside shots, and does seem to have a knack for making them when it counts the most, but statistically speaking, he's a bad shooter who makes just enough of his long jumpers to convince himself it's okay for him to take long jumpers -- the ultimate nightmare for a coach.
What makes Wade's jumper a true enigma is that, like a lot of superstars (including his teammate LeBron James), Wade seems more comfortable taking difficult long jumpers than open catch-and-shoot opportunities. According to Synergy Sports, Wade only made 15 spot-up 3s all season long, and he seems far more comfortable shooting a 3-pointer when he can dribble into the shot than he does taking a three from a standstill position. Inside of the 3-point arc, Wade is all but unstoppable when he's hitting his step-back jumpers from the 15-18 foot range, but all too often he settles for a long step-back two early in the shot clock, and Wade only made 37 percent of his shots from the 16-23 foot area last season.
Wade has been a bad outside shooter throughout his career, but I believe he can improve with some work on his shot and a big change in his attitude.Wade's shooting mechanics aren't top-notch by any stretch of the imagination, but we're not talking about Andre Miller or Rajon Rondo here -- Wade has the ability to make 3s. Now that Wade is playing along his current supporting cast, there's no reason that the Heat should have to pay what I call the "possession tax" that is incurred when Wade (or LeBron, for that matter), decides to fire up an early-clock contested three instead of attempting to run the offense. Wade took to moving without the ball in order to get opportunities at the rim like a duck takes to water -- if he could master the art of the open catch-and-shoot 3, the Heat offense would be something to behold.
Another thing that could be mentioned here is Wade's passing. Despite playing with Bosh and James, Wade's assists per game, assist ratio, and assist-to-turnover ratio
all plummeted in 2009-10. A lot of that can be blamed on James and Bosh -- even though Wade was the smallest of the three, he seemed to be the most determined to work without the ball and make himself available for passes at the rim -- but it would be a shame if Wade's gift for playmaking was as absent next season as it was last season.
Possible lockout viewing material
Guys like Matt Barnes, Bruce Bowen, and DeShawn Stevenson aren't pure shooters, don't have the prettiest shots, and didn't really shoot 3s their first few years in the league, but all of them managed to become good enough at catch-and-shoot 3s to keep the floor spaced for their teammates, and no Heat fan can forget just how automatic Stevenson was whenever he got an open look at a 3 in The Finals.
Wade is obviously far more talented and effective than all three of those players, but if he can ditch his "hero" 3s for safe catch-and-shoot, space-the-floor 3s, the Heat will be a more efficient offensive team. Another player for Wade to watch is Jason Kidd -- not only has Kidd worked tirelessly on his unorthodox jumper to become a true 3-point threat, but he's obviously still one of the best playmakers in the league, and a good role model for Wade if he wants to work on making his outside shooting and playmaking anywhere near as effective as his slashing, defense and leadership already are.
Coming Monday: LeBron James