Miami Heat Index:

Utah Jazz
February, 9, 2014
Feb 9
2:42
AM ET

By Brian Windhorst
ESPN.com
Archive
SALT LAKE CITY -- For the past decade,
LeBron James
has been like the circus in Salt Lake City. He would arrive once a year, put on a memorable show for everyone, then pack up and move on.
Once, on a night when he put up 51 points in the arena at the corner of
Karl Malone
and
John Stockton
Drives, he even got a standing ovation from the home crowd as then Jazz coach Jerry Sloan looked around with a scowl. Two years ago, he scored 17 points in the fourth quarter of a game the
Miami Heat
ended up losing.
The memorable road games in James' career have been in places such as Detroit, Boston, New York and Indianapolis. But James has dominated in what is now called Energy Solutions Arena like no other place on the NBA map, averaging 33 points, nine rebounds, seven assists and 52 percent shooting over his first 10 years in the league.
All of which made what happened Saturday night all the more unexpected. James played probably his worst game of the season as the juggernaut Heat offense went into a shell against the worst defense in the league, losing to one of the worst teams in the Western Conference 94-89.
[+] Enlarge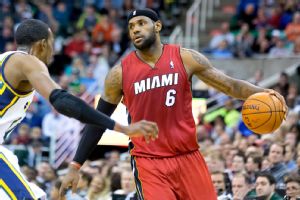 Russ Isabella/USA TODAY SportsLeBron James went 4 of 13 from the field en route to 13 points in the loss to the Utah Jazz.
Winning in Utah over the years has always been hard for various reasons. The Jazz have been historically good, once going on a run in which they made the playoffs in 20 straight seasons. They don't play Sunday home games here during the regular season because of a large portion of the fan base's religious beliefs, so they often get teams playing there on back-to-backs coming off the West Coast. And the arena is designed to keep the fans very close to the floor, which makes it a hard place to play and often a hard place to officiate.
But this is a bad Jazz team, one of the worst ever by any measure. The Heat hadn't played since Wednesday and the Jazz played, and were smacked around, Friday night in Dallas.
Here's a little story to put this game in perspective. Several hours before the game, Jazz assistant coach Sidney Lowe brought rookie
Trey Burke
to the court so he could sit in the front row of the stands to watch Ray Allen's pregame shooting routine.
That is how the Jazz are using this season, as a teaching experience, putting themselves in the role of students when facing the Heat. So when the Jazz got up by 14 points in the first quarter, it was surprising. When they outplayed the Heat in the fourth quarter to get a victory for the season highlight reel, it was another reminder to be careful wagering on NBA games.
Burke, by the way, hit a shot with 24 seconds left that essentially clinched the game for the Jazz and officially clinched it when the teacher, Allen, missed a few moments later. That's how it went.
"This was one of those wins we were looking for, where it is not necessarily going our way, where you find a way to dig and win ugly," Heat coach Erik Spoelstra said. "And we weren't able to do it."
When the Heat left on this road trip, which will last three weeks because it straddles the All-Star break, they set their sights on establishing consistency. But beyond that hard-to-define goal, they started it three games back of the
Indiana Pacers
for the No. 1 seed in the Eastern Conference.
With one of the hardest remaining schedules in the league, beating the Jazz was supposed to be a gimme. It didn't go that way.
Utah came in giving up 108 points per 100 possessions, 30th in the NBA. But the Heat shot just 43 percent, one of their worst of the season, and didn't crack 90 points. James had just 13 points on 4-of-13 shooting, didn't make a basket in the fourth quarter and was outplayed by
Marvin Williams
, who had 23 points and made a huge shot late in the fourth quarter.
Williams, who hadn't cracked the 20-point barrier all season until the last week, now has three consecutive games of 20-plus points. His play, plus a near triple-double from
Gordon Hayward
, won the night for Utah.
James also had five turnovers, and he's averaging almost four per game over the past six weeks, a rate that has him on pace to finish with the most in his career. He was also just 1-of-6 on 3-pointers and is now shooting just 26 percent on 3s since Jan. 1.
"I had four turnovers in the third quarter and they were all careless ones," James said. "It was killing me, it got me out of rhythm."
That left
Dwyane Wade
to try to bring the Heat home, and James seemed happy to get out of his way, barely touching the ball as the Heat tried to mount a fourth-quarter rally. Wade had eight of his 19 points in the fourth, but three turnovers for him in that run undercut the effort.
James had been playing reasonably well by his standards over the past month, so this came from nowhere. He brushed it off with a reasonable commentary.
"You have some like this, it happens once or twice a year," James said. "I'm OK with that, I'll take those odds."
Fair point. Bottom line, though, the Heat are now four games back of the Pacers and their next four games are at Phoenix, at Golden State, at Dallas and at Oklahoma City. It's as tough of a gauntlet as they've run in the regular season, and their margin for error is narrowing.
Road losses this season at Sacramento, at Philadelphia and now at Utah have made it hard to keep up with Indiana.
Then again, in the Heat's world where the regular season's value is diminished, maybe not.
"I'm not concerned about anything," Wade declared. "Every year you go through losses on the road to teams, record-wise, that people don't feel you should lose to. But you do, and it builds character."
December, 17, 2013
12/17/13
1:51
AM ET

By Michael Wallace
ESPN.com
Archive
MIAMI -- The morning after is always the difficult part for
LeBron James
.
That was the source of the frustration for James late in the third quarter of Monday's game against the
Utah Jazz
as he limped off the court, dropped to his knees and pounded a stack of towels and pads near the
Miami Heat
's bench.
James' punch landed with so much force in front of a hushed crowd that the emphatic thud could be heard throughout AmericanAirlines Arena. The Heat were performing at an all-time high on the way to crushing the Jazz 117-94 while shooting a franchise-record 63.4 percent from the field.
But at that moment with 1:15 left in the third quarter, James was at an all-too-familiar low. The Heat star forward was doing what he'd done countless times before in leading the Heat in transition out in the open court. But this time, as he shifted direction to make a move toward the basket, James tripped over his own foot and sprained his left ankle in the process.
[+] Enlarge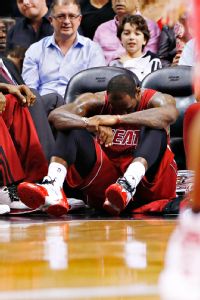 Robert Mayer/USA TODAY SportsLeBron James was down but not out, but concerns remain about his left ankle now.
"Just frustration," James said as he described his immediate reaction. "I was working my way back to 100 percent. I was feeling great coming into the game, going up and down the floor, rebounding, doing things. I didn't step on nobody's foot. My ankle just turned. So it's frustrating."
James eventually returned to the game in the fourth quarter and finished with 30 points, nine rebounds and nine assists -- finishing an assist and a rebound short of a triple-double for the second straight game. But the bigger concern wasn't how James allowed that rebound to get away to
Derrick Favors
or how
Ray Allen
could miss the wide-open look James set up for him that turned into a squandered assist.
Instead, the bigger concern was waiting to see just how large James' ankle would swell overnight as the Heat prepare for Wednesday's marquee showdown with the
Indiana Pacers
. James said it was too soon to determine his availability for that game, when the teams meet for the second time in eight days.
"I know I'll be sore in the morning, I know," James said. "I've been here before. So it's day to day. We'll see what happens."
James is likely headed for two full days of treatment before his status will be determined for Wednesday's game. He reduced the scare level surrounding his injury when he came back into the game -- with the Heat already well in control late in the fourth quarter -- to test the ankle. There were times when he appeared to drag his left leg through several possessions.
Then, James drove to the basket with 3:10 remaining for his fourth dunk of the game to further reduce those concerns and cap a night when he played 34 minutes and made 13 of his 17 shots.
"It can't get no worse by playing," James said when asked why he decided to come back in the fourth quarter. "It gets worse if you sit there and you let it get stiff. That's when it gets worse. I was excited I could go back out there and make some plays, finish the game off."
So it was no wonder James' teammates shrugged off any potential worries about his condition.
"It was the ankle that he has tweaked before a few times," Heat coach Erik Spoelstra said. "So we just watched him with a careful eye."
James has been an absolute tank for the Heat the past four seasons, so much so that his health and availability often seems to be taken for granted. But the reality is that James has been vulnerable at times this season and has come close to requesting time off to rest. Instead, he kept playing because others were dealing with more pressing injuries.
James has been dealing with a sore back for months and has also played with a twisted ankle and jammed fingers. Yet every time Spoelstra turns in his lineup card to the official scorer before games, James is always there. Even amid the most efficient season of his career, the most dominant aspect of James is his durability. He's the only Heat player to start every game this season, with backup point guard
Norris Cole
the only other person on the roster who has yet to miss a game.
Heat center
Chris Bosh
was only half-joking when he downplayed concerns about James' ankle Monday.
"He does it once a year, so this is his time," Bosh said. "And it's usually in December, too. [He] got that out the way, and we can keep moving on."
Chances are James will be back on the court Wednesday, although the Heat's general approach is to milk all of the uncertainty they can out of his situation. Spoelstra will likely follow his usual protocol and wait until 45 minutes before the game to reveal if James will actually play.
But the Heat would like to extend their regained chemistry and rhythm into the matchup against the Pacers. Miami is 2-0 on their five-game homestand since returning from a 90-84 loss Dec. 10 at Indiana. The Pacers overcame a sluggish first half to hold the Heat to 37 points over the final two periods.
By comparison, the Heat scored 36 points in the pivotal third quarter Monday, when they overcame a 50-47 halftime deficit against the team with the second-worst record in the league. Miami scored 70 points in the second half, their most in a half this season, to win their franchise-record 17th game in a row against a Western Conference team.
While James sat out the first seven minutes of the fourth quarter, the Heat ran their offense through Wade and Bosh, who combined for 47 points and 11 rebounds. Miami stretched an 11-point lead to 18 before James decided to test his ankle in the final minutes of the game.
"A guy like LeBron goes down and the other two guys are going to step up," Jazz coach Tyrone Corbin said. "Wade and Bosh were special. Wade is the guy who is going to carry the load for them. Then Bosh got going some. They know what and who they are. They know how to play in different situations."
But they aren't accustomed to playing in many situations when James isn't available.
And James doesn't want to disrupt the flow just when his body was starting to cooperate and his team was beginning to click. So it wouldn't be surprising if he summons those quick-healing powers again.
"I know him; he has super ankles," Wade said. "I just know he needed to tie [his shoes] tighter. The next day whenever you sprain ankles, you'll be sore. But he has another day before we play, so he'll be fine."
Considering James' recovery track record, his team couldn't fathom it any other way.
December, 22, 2012
12/22/12
1:49
AM ET
Steve Mitchell/US PresswireHow will Miami's small-ball lineup fair against Utah's size in the paint?
The Miami Heat search for their fourth straight win when they host the Utah Jazz Saturday night. Have LeBron James & Co. regained their championship form? What do the Jazz need to do before the trade deadline? Which team's scheme is best for a title run? Our team of Heat writers breaks ahead of the matchup in South Beach.
1. Have the Heat rediscovered their mojo?
Tom Haberstroh:
Yes. They rediscovered
Joel Anthony
. As much as it seemed like an effort crisis for the Heat, it really was just a matter of personnel. The lineup data underscores the fact that
Rashard Lewis
wasn't cutting it as a rotation member, even though he was shooting well from downtown. Anthony, on the other hand, makes Miami's defense so much more formidable and provides a spark for the transition game.

Israel Gutierrez:
They never really lost it. In fact, the brief slide might've been a result of too much mojo. This group, seemingly like any great team, is at its best when it's challenged. The Heat needed to be questioned before they showed off consistently great play.
Michael Wallace:
I'm not totally convinced yet, but it's certainly looking like the Heat are starting to at least turn a corner.
LeBron James
has led the way to three straight victories by a combined 56 points. Miami has also improved its defensive ranking, moving from the bottom third in the league two weeks ago to just outside the top 10. We always knew the Heat had this in them, but the bigger issue is whether they are motivated enough to sustain this level of play right now.
---
2. What should the Jazz do at the trade deadline?
Haberstroh:
Trade at least one of their bigs. If there isn't a "#freefavors" hashtag on Twitter, we've failed.
Derrick Favors
is ready to step in now, but
Paul Millsap
and
Al Jefferson
haven't let him get the playing time he deserves. Both Millsap and Jefferson are expendable because of Favors and
Enes Kanter
but because of they're expiring contracts. They need backcourt help if they want to make a move into the elite West circle.
Gutierrez:
Get as much as they can in return for Millsap and/or Jefferson. With Favors and Kanter as their bigs of the future, Utah needs to sacrifice this season for a chance to grab some quality players under contract for a few years. The Jazz can't rely on free agency to lure talent.
Wallace:
The Jazz are just one of those teams that seem to have two of everything, but no one really, really special at any position. From a performance standpoint, they're essentially the
Atlanta Hawks
of the Western Conference. My guess is they move Millsap and his expiring contract to land a quality player on a longer deal. Perhaps even the Lakers might be interested in some sort of deal to swap power forwards with Utah.
---
3. Which style do you prefer: Supersized Jazz or small-ball Heat?
Haberstroh:
Small ball. All else equal, I want athleticism and spacing. Post-up basketball isn't nearly as fun to watch from a basketball aesthetic standpoint. Give me open court, attack and kick-out ball every time -- the more movement, the better.
Gutierrez:
To watch? It's easily the Heat's small ball. To win in the regular season? The big-man style is probably easier, assuming they're talented. To win in the postseason? These days small ball might be better, if only because there aren't enough talented bigs.
Wallace:
How about "LeBron-ball," which is whatever style is played when James is making majority of the decisions with the rock in his hands. That said, the last time the Jazz visited Miami they overcame a triple-double from James and 39 points from
Dwyane Wade
and rallied from a 22-point early deficit to win in overtime. So it's obvious that anything can happen. But the Heat seem to have regained their defensive footing, and it's not like they're all of a sudden afraid of big teams.