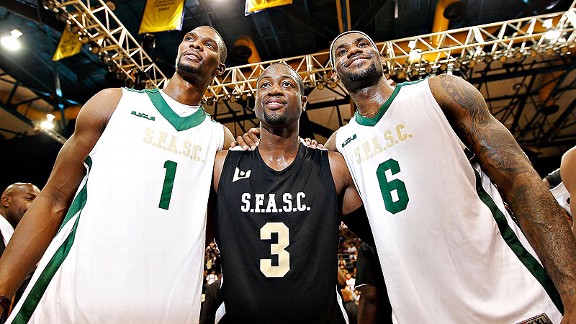 Mike Ehrmann/Getty Images
The Heat haven't had to worry about the Big Three going overseas, but will that change?
As the lockout creeps into Thanksgiving, the Heat's Big Three have largely stayed away from the overseas hysteria. Instead, the Heat trio has chosen to train stateside and play in exhibition games on familiar ground. However, Dwyane Wade became the first member of the Heat trio to publicly acknowledge that he's exploring possibilities abroad, telling his agent to "take a peek" at the potential landing spots. Interestingly, if Wade makes the jump, he'd be the first Heat player to play abroad during the lockout.

But will Wade or any of the Heat's Big Three actually put on a foreign uniform? Should they risk a potentially serious injury in order to play competively? Should any of the Heat's players go abroad?
In this installment of Heat Index's 3-on-3 series, our writers debate whether the Heat should join the exodus to foreign leagues.
1. Fact or Fiction: Miami's Big Three will not play abroad.
Tom Haberstroh: Fact. LeBron James and Chris Bosh have already declared they're staying put, and I don't see Dwyane Wade following through with his threats. The rank-and-file of the league isn't swimming in endorsements like these three, so going abroad would be more ka-razy than ka-ching.
Michael Wallace: Fact. As a collective unit, at least. But individually? I can see one or two of them testing the foreign waters. Of the three, I believe LeBron would be most likely to play overseas just because he's been willing to play anywhere at any time in just about any sport during this lockout. For different reasons, Bosh (other creative interests) and Wade (family obligations) are less likely to go abroad.
Brian Windhorst: Fact, unless you count some exhibitions. It just comes down to money. The insurance premiums required to cover the roughly $90 million each have left on their deals plus the lack of serious bidders who can cover them will just prevent it. The ledgers don't add up and those three don't need the money. Their sponsors will want them to get out there so I suspect there would be some international appearances but can't see them on a EuroLeague or Chinese Basketball Association roster.
---
2. Fact or Fiction: J.R. Smith's injury should deter stars to play overseas.
Haberstroh: Fiction. It's unfortunate, but who's to say that injury wouldn't have happened to LeBron driving to the rim in an exhibition game? It's easy to prop up Smith's injury in China and say, "I told you so!" but the truth is that physical mishaps occur sometimes in a physical game. Smith's injury doesn't change that, as painful as it looked.
Wallace: Fiction. Because a sprained knee or twisted ankle doesn't necessarily have a specific jurisdiction. There's a risk every time you hit the court. What happened to J.R. Smith in the Chinese league's season opener was unfortunate. But the same sort of injury could have happened to LeBron, Dwight Howard or Kevin Durant in any of the exhibitions or flag football games they've played domestically.
Windhorst: Fact. At the end of day, the high-paid stars shouldn't need the money. Players who are strapped for cash will probably continue to take the risks. There's a reason so many players flirt with it then don't pull trigger. When they examine the risks, they decide it's not worth it. Smith's injury followed by the stories of him sitting in parking lot to wait for an ambulance cement it.
---
3. Fact or Fiction: Pat Riley would want Pittman and Cole to play abroad.
Haberstroh: Fact. Each player has to do a cost-benefit analysis for himself, but even Riley could see the opportunity here. If I'm Riley, these are the only two players I'd be cool with risking an injury. At this stage, they need to be playing against NBA-caliber talent, rather than letting their skills go stale at a ripe age.
Wallace: Fact. Dexter Pittman and Norris Cole, yes. LeBron James and Dwyane Wade? Not so much. The Heat have shipped several of their late draft picks or development projects gain experience overseas, including guard Pat Beverley, forward Robert Dozier and shot-blocking specialist Jarvis Varnado. At that stage in their careers, there's no substitute for getting games under their belts. Besides, there aren't any local alternatives.
Windhorst: Fiction. He'd want them running wind sprints on the beach at dawn, in weight room until noon, drills until sundown and free throws under the moonlight. Repeat.