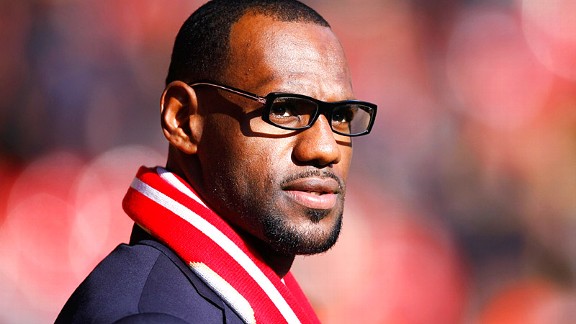 AP Photo/Tim Hales
LeBron James spoke candidly about his 'Decision,' his legacy and Cavs owner Dan Gilbert.
LeBron James does not give many one-on-one in-depth interviews. It fact, it almost never happens. There are a number of reasons for it, ranging from the demand to time to public relations to personal reasons. This is usually true overseas as well; James regularly conducts controlled media sessions in China.
Last week, however, James sat for a lengthy discussion with The Guardian's Donald McRae in London. It was a promotional stop for James, a Nike event at the London School for Basketball. Kobe Bryant visited there last year. England is almost completely devoid of basketball journalists and James' profile there has increased recently only because he's taken a fractional ownership stake in the soccer club Liverpool as part of a larger business deal earlier this year. In a display of just how different James' popularity is in England from the rest the world, The Guardian waited eight days to publish the interview.
McRae was able to get some insightful answers from James. Some revealed some thoughts James had not talked about before. Several excerpts stood out:
Q: Did you feel vindicated by the way that Dan Gilbert responded (to Decision)?

A: I didn't need that to vindicate my decision. I think Dan Gilbert was talking out of anger. And I don't take anything personal. As a professional athlete a lot is going to be said about you – but I just try to move forward and try to achieve my goals.

Q: You've been quoted as saying it's not impossible you could play for Cleveland again?

A: It's not impossible [smiling].

Q: But unlikely?

A: It's not impossible [laughs]. I still love the city. I have so many great memories of all those fans – so it's not impossible.
When James previously had been asked about Gilbert's infamous letter – in the last such interview he did over a year ago with GQ – he said "You will see the light of people when they hit adversity. You'll get a good sense of their character. Me and my family have seen the character of that man."
Gilbert and James obviously have a complex relationship, both before and after his time in Cleveland. There's still plenty of tension. The two were in the same room for several hours recently during a negotiating session in New York. One observer said James would not look at Gilbert. In this interview, James seems to have moved past some of the animosity. Not that the two will be sending holiday cards.
On the seemingly far flung notion that he might return to the Cavs someday, James has been consistent on this issue. He has always left the door open, much in the same way he always left the door open that he might not re-sign with the Cavs when he was asked in the two-year build up to his free agency.
Q:Great players before you, from Magic Johnson to Larry Bird to Michael Jordan, all seem to have said that they would never have wanted to team up with their rivals.

A: Right, right.

Q: Do you think their argument has no substance - because the game has changed so much?

A: Um, well I believe that when Magic was drafted to the Lakers he had Kareem and, as the team was built, James Worthy was part of that team, as was Jamaal Wilkes, and Bob McAdoo so he had four Hall of Famers right there on his team. And Jordan went through his bumps and bruises coming up with Chicago but they were eventually able to draft Scottie Pippen and then they got Horace Grant – two great players – and then they got Dennis Rodman – another Hall of Famer. So that team was built for Jordan. Same with Larry Bird. He had Kevin McHale, Robert Parish, Danny Ainge – all great players. And eventually Bill Walton went to the Celtics. So I know the history of the game. Individuals get a lot of the spotlight. But there's never just been one individual who has done it by himself. You can go all the way back to when Oscar Robinson dominated at a high level and he was averaging triple-doubles season after season. But it was not until he teamed up with Kareem that he was able to win a championship. Same thing goes with Jerry West. Not a lot of people know that Jerry West went to the finals nine times and lost the first eight times. He won it at his ninth try.
Now this is the answer James probably should've given the night the Finals ended and not saying "At the end of the day, all of the people that were rooting for me to fail, tomorrow they'll have to wake up and have the same life they had before they woke up today. They got the same personal problems they had today and I'm going to continue to live the way I want to live and continue to do the things I want to do."
James instantly regretted that quote, which was said rather clearly as a defense mechanism in the moments after one of the most bitter defeats of his life. The next day he tried to take it back but it was too late. With months to reflect by now, James combines eloquence and a sense of history to continue to express his thinking leading up to his decision.
Coming to that decision created such a wave of reaction with many questions about James' methodology. It took him months to start to articulate his thought process and make it public. It started the night the Heat beat the Celtics in the playoffs when James said:
"I knew deep down in my heart, as much as I loved my teammates back in Cleveland and as much as I loved home, I knew it couldn't do it by myself against that team. The way it panned out with all the friends and family and the fans back home, I apologize for the way it happened. I knew this opportunity was once in a lifetime. To be able to come down here and pair with two guys and this organization -- in order for me to move on with my career, that team that we just defeated, we had to go through them."
James goes further with The Guardian, referencing how much history played a role with his choice to join up with Dwyane Wade and Chris Bosh. He also talks about two players he seems to truly relate to, continuing to offer an in-depth window into his mindset.
Robertson had some of the best statistics in history but waited until his 11th season -- five of which he didn't even make the playoffs -- before getting a title with the Milwaukee Bucks. The West comparison is new and telling. Now eight years into his career with the ninth season in doubt, James is clearly feeling his legacy.
In a way, this is a defense mechanism too. It is James bringing up all-time greats and comparing their individual histories to his own. It's a valid point, a response to critics and a personal buttress all in one swoop. It may be just an answer to a question to an interview but James has clearly thought about this prickly topic.
Q: When you met Pat Riley, before deciding to join Miami, and he showed you the Championship rings he had won, was that a key moment?

A: Definitely. It was a great moment. I know the history of the game so I knew how many rings he has won as a coach and how he was a player at Kentucky – and all those other intangibles that go with a great career like he's had. But what made me a really big believer in the team and the franchise was the fact that they talk a lot about family. They take care of their guys and it's not just all about winning. That was a huge thing for me.
There have been both veiled and direct references to potential tampering by the Heat before James became a free agent. There were reports of clandestine meetings and the like. There is little doubt that the most important factor was Wade selling James on joining him and doing it in Miami, not in Chicago or anywhere else. Even Wade, he has told friends, was surprised James actually pulled the trigger on it. Regardless, James has referenced his official meeting with the Heat and its importance several times over the last year.
The Heat were the third team to meet with James on the morning of the second day. Their entourage arrived nearly an hour before James did on that morning and Riley paced the halls of James' Cleveland offices preparing himself for the sale. Heat coach Erik Spoelstra talked, owner Micky Arison went to the extreme measure of wearing a suit and tie, and Alonzo Mourning cried.
But Riley's move of pulling out his title rings and putting them on the table resonated with James then and apparently continues to this day.