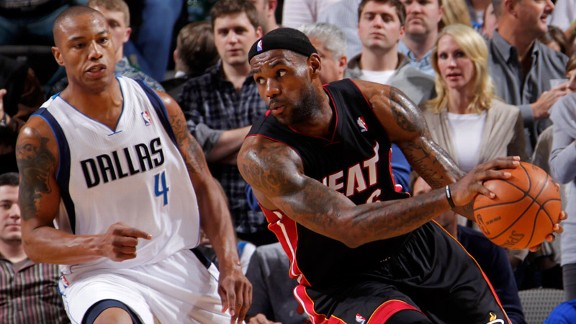 Mike Ehrmann/Getty Images
Could Caron Butler return to the Heat and join LeBron James on another title quest?
MIAMI – Pat Riley and the Miami Heat could very well have their eyes again fixated on the Dallas Mavericks in gearing up for the start of the coming season.
Not just because the Mavericks were the team that stormed back to defeat the Heat in six games of the NBA Finals last season.
Also not because those very same Mavericks will likely hold their championship ring ceremony on Dec. 25 before hosting the Heat in the nationally televised season opener.
The reason Riley might be focused on Dallas also goes beyond the fact that highly regarded center Tyson Chandler is widely considered the top free agent prize at a position of need for the Heat, with the recruiting period having started between teams and player agents Wednesday morning.
The Mavericks and Heat won't be linked by the memories and key players Dallas prefers to hold onto from last season's triumph. Instead, it's about the possibilities involving who Mark Cuban and his defending NBA champions might have to let go.
With about a half-dozen key free agents to make decisions on in the coming days, conventional wisdom suggests Dallas won't be able to bring all of them back and also keep some of the rotation players who had a significant impact on last season's title run.
Two scenarios could very well intrigue the Heat. Most signs point to Cuban doing whatever he has to do to retain Chandler, whose camp will at least have a courtesy conversation with the Heat as Riley tries a home-run swing on a pitch to land a center.
But the Heat's more realistic hope could be to see Chandler's asking price rise so high that it might make the Mavericks consider releasing the other 7-footer on their roster through amnesty.
That would be Brendan Haywood. The same Haywood who is still owed about $45 million on his contract, including his 2011-12 salary and a team option in the final season of his deal. He would also be the same Haywood who would be the most expensive backup center in the league if Dallas kept him, or a player whose departure would help alleviate what stands to be a huge tax burden for Cuban.
More importantly, he's the same Haywood who still speaks fondly of how he found Riley and the Heat's recruiting team on the front steps of his Greensboro, N.C. home to bid for his services. That was one stop on Miami's 2010 free agency tour that ultimately brought together LeBron James, Chris Bosh and Dwyane Wade.
The Heat were certainly interested in Haywood before, and would be again if the right things fell into place. Understandably, it would be a long shot. A very long one. Cuban has given no indication that he might have to rid the team of Haywood to fit Chandler and their other free agent priorities. On top of that, Haywood wouldn't even become a possibility for the Heat until he slipped past several teams with salary cap space who could competitively bid on his services.
With productive centers such a rare commodity in the league, Dallas would be much better off finding a suitable trade partner to get assets in return than by simply releasing Haywood through amnesty, which means Cuban would still pay the contract although it wouldn't count against his cap.
Another reason this could be an intriguing scenario is because the last time the amnesty provision came into play in 2005, Cuban was at the table to ante up. And Riley was there lurking in the shadows.
Six years ago, the Mavericks used the amnesty provision to release guard Michael Finley and the $51 million he was due on the remainder of his contract. Dallas tried to trade Finley but couldn't find a suitable partner, and instead ushered him into immediate free agency to avoid a huge luxury tax bill.
The Heat reportedly offered Finley a mid-level deal to join Shaquille O'Neal and Wade on a team that went on to win a title that season. But Finley instead signed with the San Antonio Spurs. Cuban, a billionaire who has among the deepest pockets in the league, would probably rather swallow the tax bill and maintain his Chandler-Haywood tandem at center than gift-wrap a starter to Miami.
But history also sometimes has a strange way of repeating itself. Which brings me to another Maverick who also has a fond connection to the Heat.
That would be free agent forward Caron Butler.
Yes, the same Butler who Riley selected with the No. 10 pick in the 2002 lottery but had to trade two years later in the deal that brought Shaq to Miami. He's also the same Butler who has remained extremely close to Wade since their playing days together with the Heat.
And he's also the same Butler who sat out the second half of last season to recover from knee surgery and painfully watched the Mavericks win the title without him. During an appearance alongside Wade, LeBron and Bosh at a recent charity basketball game in Miami, Butler told reporters that his options remained open but that Dallas and Miami were among his preferred choices.
To handicap Butler's situation, consider this: The Mavericks have an overwhelming advantage in the money they could offer. But the Heat have the sentimental edge in memories.
Again, history sometimes has a strange way of repeating itself. Just two years ago, another Heat short-timer with long and fond memories from that 2003-04 Heat season strongly considered leaving a champion to return to Miami for the mid-level. But Lamar Odom had a stronger force pulling him back to Los Angeles.
Kobe? Perhaps.
But mainly a Kardashian.
The question with Butler is whether a potential $5 million mid-level offer from Riley and relentless recruiting from Wade are enough to make up the difference?
If you're Riley, the Mavs' dealings with Butler, Chandler and Haywood are worth keeping an eye on.