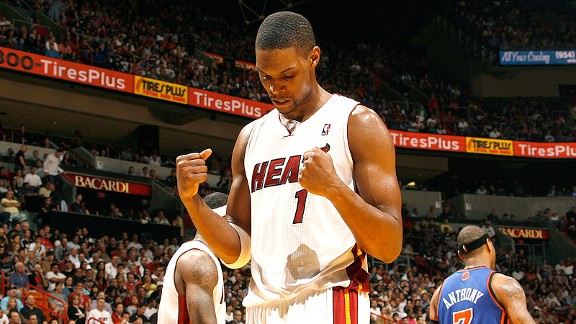 Issac Baldizon/NBAE/Getty Images
Chris Bosh turned some heads with his larger physique, but his words may carry more weight.
MIAMI – There's a bolder, bulkier and more brash big man working out in the Miami Heat's practice facility these days.
No, Pat Riley hasn't secretly reeled in a free agent center to address the Heat's biggest position of need. And nor did Riley coax former center-turned-team-executive Alonzo Mourning out of retirement.
The new beast in the building is Heat power forward Chris Bosh, who has added about 10 pounds of muscle to his less wiry frame and some much-needed mental and physical toughness to his game. After referring to last season's six-game loss to Dallas in the Finals as unacceptable, Bosh spent considerable time in the following moths dissecting the breakdowns.
Not only did Bosh embrace the disappointment, he also appreciated its purpose and perspective.
"You're going to come up short sometimes," Bosh said of coming up two victories short of a title in his first season alongside Heat superstar teammates LeBron James and Dwyane Wade. "It was our first time in the Finals. If we would have won, it would have kind of been unprecedented. But I'm kind of happy that we didn't win because we probably would have gotten complacent. Would I have worked as hard this summer if we won? I couldn't say. But we didn't win and it's been motivation for me."
Bosh addressed a wide range of issues in his first extended interview session with the media after Heat players returned to work out at AmericanAirlines Arena in wake of a NBA lockout settlement. We present Bosh, unfiltered, as he prepares his mind and body for the Dec. 9 start of training camp.
On coping with the 149-day lockout:
"I was always optimistic. I never thought that we weren't going to play. But it was looking bad a few times. People kept asking me. I didn't know what to say. We were sitting ducks, waiting. It was very difficult. So many times we thought the season was coming back. It was looking good, and then it was done. It breaks your spirits. I saw the ups and downs and the emotions of how it can affect your workouts and everything. But I'm pretty proud of myself. I stuck with it and I'm ready. (A deal) came at the last minute and we're back. Hopefully, it'll be official pretty soon."
On playing the season-opener at Dallas potentially after the Mavericks ring ceremony:
"It's a bit ironic. I think everybody did it on purpose. Whatever for the ratings, right? But I use it for motivation. I know they're going to be pumped up. This is the worst time to be at home for me (Dallas native). But everything happens for a reason. We're going to have to watch it, take it all in and use that as fuel for the rest of the season."
On the Heat being favored to win title in 2011-12:
"That's right where we should be. We're thinking championship. I'm not afraid to say that. We came up a little short last year, but it's all good. We have to learn from that. We're going for a championship this year, and we need to put that out there as soon as possible. Given the way that last season happened, coming so close to accomplishing your goal and coming up short, that's a type of pain I've never felt before. All I ask is another chance. That's all I ask. We've been like caged animals out here. Hopefully, Christmas Day is just the first day of our (championship) journey."
On dealing with Heat critics:
"I'd tell them to use some new jokes. Get some new material. That's old. That's last year. For me, I love it. I accept it. Like I said, it gives me fuel every day. I'm coming out and trying to be one of the best forwards in the NBA. That's always been my goal. I got that one year under my belt. I'm not fresh anymore. I know what to expect and I'm ready to attack this season."
On accepting Pat Riley's challenge to bulk up this offseason:
"I'm leaps and bounds better, in my opinion. Not only did I want to get better on the court, I wanted to get better in the weight room and really put the work in and improve my body and endurance. Be in the best shape possible coming into the season, because it's physical down there. There shouldn't be a season where I don't average 10 rebounds. I felt like (last season) I let my team down. And that's not going to happen again. And the only way I can do that is to get stronger, get more physical and be more of a presence on the boards."
On tangible areas of improvement, including his strength:
All that stuff. I'm a specimen. Just weight room every day. Just work. That's one thing I kind of didn't do. I don't think I worked hard enough last year. I was in a position where I didn't know what to expect. I was kind of caught in the headlights a little bit and couldn't catch up. Now I know what to expect. I played in a championship series. I came up short. And now I know what it takes to get over that hump. It's on me to keep putting in the work."
On his offseason workout regimen:
"I took a little time off (after the Finals). I got away from everything a little bit. I'll say within a month, I was back in there. One thing I said I wanted to focus on was getting back in that weight room. And now, I'm going to stay in there the rest of my life. I'm lifting 50, 60, 70 pounds more than I did before."
On whether he obsessed over the Finals loss and criticism:
I watched each game about three or four times, at least. Rewind. Play. Rewind. Play. If we don't learn from that, I think we're doing ourselves a disservice. It became an obsession in so many words. It's been a lot of motivation, too. I see all the mistakes I made and with all the jokes going on around me, I kind of let that happen a little bit by not being as aggressive as I could be. I feel that it's in my hands now. So now, I'll crack some jokes, too. If a dude tells a good joke, it's a good joke. But if it's stale, it's stale. I got to the point where I couldn't even watch TV. And I like watching TV. I like watching ESPN and all that stuff. So I'm not going to let that deter me from doing the stuff I like to do."
On confronting one of his biggest critics, ESPN's Skip Bayless, on air:
"I've been working on confrontation this summer. I'm serious. Mean? Not mean. Just putting all your cards on the table. I'm more comfortable with myself. Going through all that last year has been a learning experience. I just roll with myself and be confident. If you're not confident in yourself, if you don't believe you're the best out there, then nobody else will. If I stunk it up last night, I won't be afraid to say it. Last year, I didn't rebound, play the way I was supposed to. I shot under 50 percent (from the field) and averaged under 10 rebounds. That's unacceptable for me."
On accountability and demanding a bigger role at the tail end of last season:
"During that time, it was cool for that week. But then I kind of forgot about it after a couple of weeks. Then I went right back to what I was doing before. It's all about staying in that moment, going as hard as possible, playing one game at a time and trying to win every game."
On changes or stability needed with the Heat roster:
"Stick with what we have. I believe in our guys. I know the front office is going to try to make us better. But I think our nucleus is there. I know we're going to try to make minor changes to get better. But for the most part, we can't rely on changes all the time. We have to do it with the guys we have in the locker room right now."
On his openness to playing center, if necessary:
"Every time I try to run from it, it just comes and pulls me back in. So I accept it. So if I'm the (center), put me down there. Have me guarding the biggest guy. That's fine. I accept the challenge. It is what it is. Every year I say, nah, I'm not doing it. I (end up) in it anyway."
On committing extensively to the weight room for the first time:
"I was 200 pounds when I got to college. I did it once before, but I didn't keep it up. But that's one thing I've really wrapped my head around. It's great to do the work during the offseason, but you really have to sustain it during the season. It's nice right now, but we have to keep going."
On his mission to eventually workout in the weight room alongside Alonzo Mourning:
"Zo? Man, I've gotta get ready for Zo. We've had many talks about it last season. He planted the seed. He was like, 'You've got to get in there.' And I was like, 'Yeah, you're right.' He was one of the main motivators for me getting in there. He told me (he) was once thin, too. And I was like, 'Yeah, right. Sure.' But I've just gotta stay in there. That's a big part of being a big man."