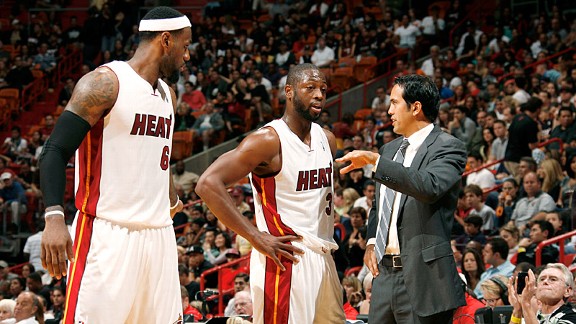 Issac Baldizon/NBAE/Getty Images
LeBron James, Dwyane Wade and Erik Spoelstra had work to do after last season. How've they done?
MIAMI – Where do matters stand with the Miami Heat now that the two-game preseason and condensed training camp are already halfway over?
Depends on which player or coach you ask.
"We're making some progress," coach Erik Spoelstra said after Miami's 118-85 destruction of the Orlando Magic in Sunday's preseason opener for both teams. "This was an encouraging step forward. We just have to look to get better. Our focus can't be on anything but getting better."
Considering the Heat have had only 10 practices, a scrimmage and one preseason game so far, it can be difficult to gauge just how far the team has come since training camp opened on Dec. 9. But there already have been a mix of encouraging surprises and disappointments as Miami prepares for the Dec. 25 opener against the Dallas Mavericks in a rematch of last season's NBA Finals.
There's already a strong sense that Miami is grounded in reality as the Heat rebuild from that disappointing finish in the six-game series loss to the Mavericks.
"We can't win a championship today," guard Dwyane Wade said. "We have to work our way back up."
The development of rookie first-round draft pick Norris Cole at point guard has been a highlight of camp. But injuries to potential impact additions Shane Battier (quad strain) and Eddy Curry (hip flexor) have tempered some of the enthusiasm as the Heat limp forward in a quest to build chemistry around Wade, LeBron James and Chris Bosh.
In other words, the Heat remain very much a work in progress – albeit a promising one – heading into the second full week of camp, which includes one more tuneup Wednesday against the Magic. In the meantime, let's take a look at where the top 15 players in camp stand in our Heat Progress Report.
Joel Anthony, C
UPSHOT: Perhaps Anthony might have journeyed with LeBron to Houston last summer to get a few post-up pointers from Hakeem Olajuwon. There are signs Anthony has improved at catching and finishing around the basket. He's at least looking to be accounted for on offense. He was never a threat last season, which often forced Miami to play four on five. Anthony had his hands full in Sunday's preseason opener against Dwight Howard, but he was much more aggressive in last week's scrimmage.
DOWNSIDE: The Heat have twice before tried Anthony as the starting center, and twice it proved to be a difficult experiment because Anthony, undersized at 6-9, struggles to stay out of early foul trouble. He's better cast as a second-unit center, where his energy and defense tend to provide a spark.
BOTTOM LINE: With Eddy Curry yet to establish himself with the team and Dexter Pittman still a work in progress, the Heat don't have many choices than to start Anthony. "I'm confident knowing I have Joel out there beside me when I go out there," Bosh said. Miami might get away with it in the regular season, but the void down low could ultimately come back to haunt them again.
Shane Battier, SF
UPSHOT: The coaching staff is already salivating about the deep corner three-point shot opportunities Battier will feast upon playing alongside LeBron and Wade. Defensively, there's also talk in camp that Battier is making LeBron work as hard in practice as he's ever had to in his career. Ideally, Battier is the perfect complement to this team. He's gritty, experienced, a good shooter and an eager defender.
DOWNSIDE: We have to take the players' and coaches' word for it, because a quad strain has kept Battier out of the scrimmage and preseason opener. He insists the strain is mild, and it's likely he'll give it a go at practice Monday, which means he could be available for Wednesday's final tune-up.
BOTTOM LINE: On a team that didn't have great depth to begin with, Battier's presence is essential. The Heat can least afford to go through another season waiting to get whole. "Caution is the word right now," Battier said of his injury. "The last thing you want to do is rush anything and make it worse."
Chris Bosh, PF
UPSHOT: What's been the biggest difference in Bosh's approach during this camp? "I'm definitely trying to show more parts of my game," he said. "I'm not really boxed into just one thing. I feel like I have confidence to open up my game." We've seen the versatility, from handling the ball in transition to stepping comfortably into three-point shots. He also had three steals and two blocks on Sunday.
DOWNSIDE: We've seen Bosh just about everywhere on the court except consistently in the one area where his team needs him the most: down low. With Miami's options at center either limited or inexperienced, Bosh needs to embrace the challenge of being a beast on the block. The time is now.
BOTTOM LINE: The reason why Bosh worked out so extensively in the weight room in the offseason wasn't to take more 18-foot jumpers. Or, at least it shouldn't have been. The day he sees playing a power game as more of an obligation and responsibility than an occasional option is the day the Heat reach their full potential. It's truly time for more jams and fewer jumpers.
Mario Chalmers, PG
UPSHOT: This tells you all you need to know about one of the sources of Mario's motivation. "Even with the new contract, people are going to say I didn't deserve it," he said. "Plus, we didn't win the Finals. So that's all going to be my motivation." Confidence and a desire to execute in the clutch remain Chalmers' strengths. He finally regained the starting job he had three seasons ago as a rookie by default. And there seems to be a calmer, more controlled pace to his play in camp. He's also matured, as his stat line from Sunday suggests: 8 points, 5 assists, 2 steals, 0 turnovers.
DOWNSIDE: He's in a no-win situation – unless the Heat win big with him as a starter. The three-year, $12 million deal he signed recently is seen as a questionable investment by the Heat, considering it still doesn't seem they are totally convinced he's their top priority at point guard moving forward.
BOTTOM LINE: Lucrative contract aside, as long as there are viable point guard options available via free agency or trade, and as long as rookie Norris Cole continues to progress, Chalmers won't ever ease into a comfort zone. And the Heat don't want him to, either. The last place they need him is content.
Norris Cole, PG
UPSHOT: The media attention the rookie, first-round draft pick garners these days rivals the crowds that gather around LeBron, Wade and Bosh. He followed a 21-point scrimmage with a productive, yet at times uneven, preseason debut. Cole had eight points, a team-high eight assists and four turnovers Sunday against Orlando. But the two shots he nailed were spectacular. The first was a pull-up jumper over the outstretched arms of Dwight Howard. The second was a cross-over, step-back 3-pointer he buried against Jameer Nelson. The crossover sent Nelson sprawling toward Key West while Cole pulled up to hit the jumper from Hialeah. Speed. Poise. Confidence. Cole is showing it all right now.
DOWNSIDE: He only knows how to play the game at one speed: blur. That creates timing and pace issues with teammates. He also tends to over dribble and loses sight of where he is on the court. "I don't ever want him to take the pedal off the metal," coach Erik Spoelstra said.
BOTTOM LINE: Cole is on pace to be a key contributor to the rotation. His play and development – even more so than Chalmers' – will determine if the Heat stand pat at the point or go out and seek help.
Eddy Curry, C
UPSHOT: If 'Big E' can get right, the Heat will get a huge return on their veteran minimum investment in Curry to help fill a major void at center. Despite having played just 10 games in the past three seasons, Curry rolls out of bed possessing two qualities the Heat sorely lack: size and, well, more size. But for now, he remains the Big Enigma. "He's talented, first of all," Heat president Pat Riley said in camp of Curry. "He's proven that if he can stay healthy, he's an 18 (points) and 10 (rebounds) guy."
DOWNSIDE: But so far, Curry has offered very little reason to have hope. A hip flexor injury has limited him to just one full practice since camp opened, and he's missed the scrimmage and Sunday's preseason game. There's no telling when he'll be available or in suitable game shape. "I want to be out there. I need to be out there," Curry said. "Nobody more than me wants to get out there and do what I came here to help this team do."
BOTTOM LINE: Nothing is guaranteed here for Curry. Not his contract. Not any playing time. Not even that he'll be on the team for the next practice. Having said that, the Heat didn't maintain an interest in Curry throughout the offseason to cut bait at the first sign of trouble.
Terrel Harris, SG
UPSHOT: I initially didn't plan to include fringe training camp roster guys in this progress report. But the fact that Harris occupies this space is a sign of the surprising impact he's having in camp. After scoring 17 points in the scrimmage, Harris came back with 16 points on Sunday against Orlando. He shot 60 percent from the field in those two appearances, and has hit 5 of 6 from 3-point range. The rookie from Oklahoma State is making a case to stick around.
DOWNSIDE: A logjam of wings will be almost impossible for Harris to overcome regardless of how well he plays in camp. In a perfect world, he'd be make a perfect case as to why it would make sense to keep a young talent over an end-of-bench veteran such as Eddie House or Juwan Howard. But this is a franchise that has long valued experience over upside. Perhaps Harris will be a rare exception.
BOTTOM LINE: Shooters and athletic wing defenders are always needed in Miami. Harris possesses all of those assets. He's the second coming of Anthony Morrow in Heat camp, and the coaching staff still kicks itself for letting Morrow get away a couple of years ago while locked into Daequan Cook.
Udonis Haslem, PF
UPSHOT: There probably isn't a player on the roster who came to camp in better game shape than Haslem, who professes to be 100 percent healthy after overcoming foot and shoulder injuries that cost him most of last season. "I only know how to attack this game one way," Haslem said. "And that's by giving it everything I've got. It's amazing what finally being healthy can do for you." What it's done is return Haslem to being the double-double contributor off the bench the Heat didn't have last season. When he's good to go, count on contributions like the 11 points and 9 boards he produced Sunday.
DOWNSIDE: Every time Haslem hits the floor, everyone on the team cringes. His heart and hustle don't erase the fact that he remains undersized at power forward, let alone center. He plays with reckless abandon, and there's a concern that the wear and tear will eventually catch up to him.
BOTTOM LINE: The Heat absolutely must find a way to limit Haslem's minutes at center in order to get the most out of him at his natural power forward spot. "I make this team better," Haslem said. But the Heat shouldn't overburden him.
Eddie House, SG
UPSHOT: You won't find a more fearless or streaky shooter off the bench in the league. House made the most of his limited minutes last season, and is back to provide a similar spark this season – even though his opportunities might be even harder to come by this time around.
DOWNSIDE: For the second time in as many training camps with Miami, House is sidelined while recovering from an offseason surgery. Last year it was his shoulder. This season it's his knee. House is likely to be out another four to six weeks, and is only able to shoot on the side. "I don't really want to put a timeframe on when I'll be back, because my thing is to get back before whenever they tell me," House said. "I'm feeling a little better every day."
BOTTOM LINE: House opted to return for the second and final season on his contract for the veteran's minimum. There's plenty of incentive to keep him around. But there will also might be a huge temptation to eat his contract and release him if the younger, bigger Harris continues to surprise.
Juwan Howard, PF
UPSHOT: The best quote in camp came from Wade a few days ago. "If there is a fountain of youth somewhere, Juwan's hiding it from everybody," he said. Howard is back for his 18th season but is playing like he's only 10 seasons in. The 38-year-old forward dunked in both the scrimmage and Sunday's game. More importantly, he's savvy enough to play emergency minutes at center. Howard will be the first to correct you; he's not here to be a "locker room guy." He's here to contribute.
DOWNSIDE: While his experience and professionalism are invaluable, one has to wonder if an already aging Heat team wouldn't have been better off using the roster spot on a younger and more athletic big. Reloading with youth and athleticism was supposed to be among the offseason priorities.
BOTTOM LINE: The fact that Howard is willing to play center without being an offensive liability is enough to not only keep him around, but also keep him on the cusp of the playing rotation.
LeBron James, SF
UPSHOT: When you're already the most scrutinized player in the league, it's difficult to do anything on the court without every aspect of your game being over-analyzed. But the truth is there have been some modest strides made in LeBron's post-up game so far. If nothing else, he's been a remarkable passer out of the mid-post position. Riley challenged James to shore up his mid-range game, and he appears to have taken that command seriously. LeBron seems to actually realize when he has a clear advantage on mismatches, which happens almost every time he touches the ball anywhere near the basket. "For me, it's just all about being more comfortable at this point," James said after he finished with 19 points and six rebounds in Sunday's exhibition. "I'm more calm now."
DOWNSIDE: Maybe it's too much to expect for a few sessions last summer with Olajuwon to transform LeBron into a "Mini Dream" but there has to be more of a desire to use those post moves for the purpose of attacking the basket. Again, this gets back to that comfort issue. Until this becomes a comfortable part of LeBron's game, it will always be served as an appetizer instead of a main dish.
"It's going to take some time," Spoelstra said. "But he's absolutely serious about improving that part of his game. And you can already see it when he's out there."
BOTTOM LINE: LeBron already has all the tools he needs to be the most dominant player in the game on both ends of the court. So the focus shouldn't be on his game. It's all about his attack mentality.
James Jones, SF
UPSHOT: James sacrificed money and potential playing time to return to the Heat, hoping to retire with his hometown team. He deepens Miami's arsenal of long-range shooters capable of stretching the floor for LeBron, Wade and Bosh. Last season's 3-point shootout champion at All-Star weekend, Jones falls behind Battier and Miller as a rotation priority, but he'll be ready when needed.
DOWNSIDE: He's another player who can be viewed as a wing luxury on a roster that has obvious shortages at point guard and center. Jones' ball-handling and defense also leave plenty to be desired, meaning he's a shooting specialist in every sense of the word. But he's struggled with his shot so far in camp, which is understandable considering he spent all that time in New York negotiating the new collective bargaining agreement as the union's secretary-treasurer.
BOTTOM LINE: Jones is insurance in case Miller or Battier are injured, which both are currently.
Mike Miller, SF
UPSHOT: Miller is said to be ahead of schedule in his recovery from a fourth surgery in the past 14 months. He's already back on the court getting up plenty of shots in practice and hopes to be back from hernia surgery in early January rather than the latter part of the month. "It still hurts a little to cough, but not to laugh anymore, so that's a good thing I guess," Miller said. "I'm running out of places to get hurt, so hopefully that means I should be good moving forward." This Heat team won't reach its full potential until Miller gets his mind and body right and ready to contribute on a regular basis.
DOWNSIDE: The Heat chose not to use the amnesty provision on Miller, which would have given the team more flexibility to pursue a center in free agency. But with even the likes of Kwame Brown going for $7 million a season, the Heat wouldn't have had enough money to get an impact big man. Considering Miller's recent injury history, there is not a lot of confidence that he can stay healthy.
BOTTOM LINE: "We know what Mike is capable of doing," Wade said. "We just want to see him get to a point where he can get on the court and help us become the team we're capable of being."
Dexter Pittman, C
UPSHOT: The second-year center can help the Heat this season. Pittman showed flashes of his potential in the second half when he went toe-to-toe with Howard and didn't flinch in the second half of Sunday's game. In 13 minutes of playing time, Pittman made all three of his shots and grabbed three rebounds. But more impressively, he used his wide body to wrestle Howard away from the basket. He also refused to back down when things got intense. Pittman has also been a rebounding machine in practice, according to his teammates. That can only help the Heat.
DOWNSIDE: Foul trouble and footwork continue to be Pittman's demons, but that's to be expected considering he's still working his way into the level of conditioning the Heat demands. "Those were good, valuable, important minutes for (Pittman), playing against a perennial All-Star," Spoelstra said.
BOTTOM LINE: Spoelstra wants to use Pittman as the first center off the bench behind Anthony. It's a stretch to suggest Pittman's a certified rotation player right now, but Sammy Dalembert ain't walking through that door right now. This is a move out of necessity.
Dwyane Wade, SG
UPSHOT: Wade came to camp leaner than he's been in years and also more willing to take some of the pressure off LeBron's shoulders by being the more outspoken team leader. He already declared that the season would be "a bust" if the Heat doesn't win a championship. "We had our time in the sun," Wade said Sunday night. "It's our job to come in and worry only about basketball. No matter what the outside expectation is, we expect even more from ourselves in here." Wade has vowed to take his all-around play-making skills to a new level, and showed examples with 14 points on 5-of-8 shooting to go with five assists, four rebounds, a steal and a block in 22 minutes Sunday.
DOWNSIDE: As he approaches his 30th birthday next month, there's no telling how many more years Wade will have at the peak of his game. That, in part, was the reason behind his push to get in the best shape possible entering camp. Expect Wade to "pick his spots" more efficiently this season than ever before. But that means LeBron and Bosh must be more aggressive and effective from the outset.
BOTTOM LINE: After confessions of never having gotten to their preferred game and pace last season, it's imperative that Wade, James and Bosh reach a level of balance and cohesiveness that brings out the best in all of their talents this season. That process starts with Wade. He's the conductor. He's also the finisher. Roles must be more clearly defined this season, and Wade is eager to lead the way.