A few of takes on today's simmering issues surrounding the Miami Heat.
TAKE ONE
Burning Notice: When in doubt, let Wade figure it out.
After watching how Heat coach Erik Spoelstra drew up the final plays for a lumbering and struggling Dwyane Wade in Wednesday's game at Charlotte, Fox Sports columnist Jason Whitlock wrote what I've been saying since 'The Decision' – that when push comes to shove, and all things are even, it all comes down to one reality for the Miami Heat: It's D-Wade's town. And it's D-Wade's team. Here's what Whitlock wrote after Wade drilled a driving back shot with 2.9 seconds left after missing most of the third quarter with a foot injury: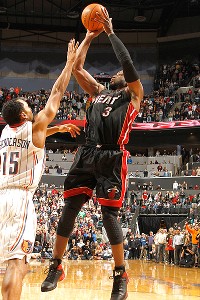 Kent Smith/Getty
Dwyane Wade hit the shot, but let's not rush to judgment.
"Now, I don't really believe in the 'closer' theory. I'll take a winner over a 'closer' every time, and James is a winner. We've seen him close, too. But the way that game finished Wednesday night is a clear indication of the pecking order in Miami. It's Wade's team."
Wade was having a horrible game even before the foot injury. So he was most surprised when Spoelstra drew up the play for him during a timeout in the final seconds. LeBron was having one of his finest games, and had carried the Heat – and a struggling Wade – through the early doldrums that left Miami trailing by as many as 15 points. James would finish with 35 points, seven assists and six rebounds – and as a spectator on the play when the game hung in the balance. In essence, so would Chris Bosh, who had 11 points in the fourth quarter and would finish with 25 for the game.
"I ain't even going to lie," Wade told reporters in Charlotte after the Heat's 96-95 victory. "When (Spoelstra) called it, I was shocked because this guy (James) had it going and I wasn't in the flow. I was about to say, 'Let LeBron run it,' but I said, 'You know what? I'll do it,' and I embraced it after I thought about it."
Bottom line: Spoelstra couldn't have gone wrong regardless of which member of the Big Three he chose to go to at the end of the game. Wade went from goat to hero in a span of 10 seconds in Charlotte. It was his blown coverage that left Gerald Henderson alone on the perimeter for the 3-pointer that put the Bobcats in front by one on the previous possession. So it was on Wade to make it right. LeBron will certainly get his share of late-game, closing moments this season – as he did last season. But in this case, it was Wade's example of "equal opportunity" options at its best.
TAKE TWO
Burning Notice: The battle for Battier's services
Oklahoma City forward Kevin Durant told reporter Darnell Mayberry in Thursday's edition of the Oklahoman that his recruiting and attempts to lure Shane Battier to the Thunder were legitimately strong. Just not strong enough to overcome the pitches made by the Heat's Big Three.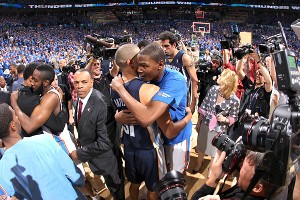 Joe Murphy/Getty Images
Kevin Durant did his best to lure Shane Battier to OKC.
"Let's be real," Durant said. "Guys like LeBron (James) and D-Wade and (Chris) Bosh, they're lobbying for you as well. And it was me and Nazr Mohammed and Nick Collison lobbying for him. And you look at the names there, you look at Miami, the weather and just that whole aura around those guys and of course he's going to pick them. You can't really be upset about it."
That's likely to be the only time Durant is willing to concede anything to the Heat this season. The funny thing about it is Bosh was asked about the Heat's recruiting efforts to get Battier in free agency, and the Heat power forward used an analogy that had the media room rolling in laughter. "If (Michael) Jordan was recruiting you and Sam Bowie was recruiting you, where would you go?" Bosh joked during the Heat's media day earlier this month.
So assuming LeBron or Wade was playing the role of Jordan in that analogy, then I guess that would make, um, Nazr the equivalent of Sam Bowie? All kidding aside, Bosh never attached a specific team or set of players in his remarks. And, he's gone on repeatedly to praise OKC as a strong title contender.
Bottom line: The Thunder and Heat are a popular pick to meet in the Finals this season, which would make for a star-studded showdown of prolific scorers and athletic defenders. But it's the type of defensive intangibles and perimeter shooting a player such as Battier brings to the table that might make the difference in a battle of evenly-matched teams.
TAKE THREE
Burning Notice: Mario's Cole-shouldered treatment
As I tweeted yesterday, it would be wise to refrain from making this Mario Chalmers versus Norris Cole debate over control of the Heat's point guard position. For one, Chalmers has been fueled throughout his career by being overlooked and counted out among the masses. (As a quick aside, I remember Chalmers once telling me one of the first things he thought about after hitting that big shot in the Final Four to lead Kansas to a title was Roy Williams should have never dissed him on that scholarship offer to attend North Carolina.)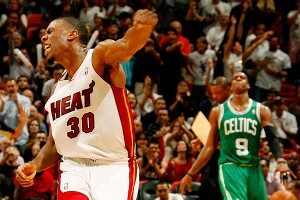 Issac Baldizon/Getty Images
Don't hand the starting gig to Norris Cole just yet.
Cole, the Heat's rookie, first-round draft pick, has and will continue to be an impact player in the rotation. But Chalmers, awarded a $4 million a year contract this month, is and will be the starter for the Heat moving forward. Fans and media often clamor and hype the latest thing and cling to the hottest topic. Cole certainly deserved the gushing he received after scoring 14 of his 20 points off the bench in the fourth quarter to lead the Heat past Boston in Tuesday's home opener. But this isn't a Cole-or-Chalmers equation.
Miami will need both to be effective at that position this season – Cole's quickness and scoring as well as Chalmers' defense, confidence and fearless 3-point shooting. Spoelstra reiterated as much after watching Chalmers bounce back from a bad game against Boston with 15 points, four assists and just one turnover in 31 minutes against Charlotte. We'll learn a lot more about both in their Friday's matchup against Minnesota's Ricky Rubio and J.J. Barea.
"We have two great, young point guards that we think bring two different things to the table that we really like, and, most importantly, help our team win," Spoelstra said.
Bottom line: The pecking order at the point will feature Chalmers opening games in the starting lineup. How the two perform from there will determine which of them – if either – deserves to be on the floor among the five in the closing lineup. What we know for now is that Cole's rapid development has quieted any talk of the Heat needing to bring in a veteran for now. Sure, competition is good thing between Chalmers and Cole. But cohesion between them is even better for the Heat.