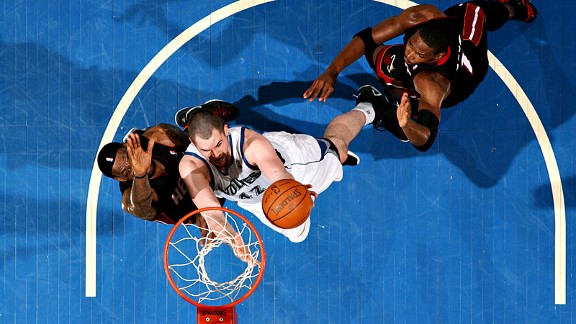 David Sherman/NBAE/Getty Images
Kevin Love won't be doing it alone against the Heat this season. He has Ricky Rubio in tow.
On Friday night, the Heat look to continue their hot streak in the tundra of Minnesota. Sporting a 3-0 record, the Heat have ridden their new up-tempo playing style in victories over the Dallas Mavericks, Boston Celtics and, most recently, the Charlotte Bobcats.
Now, the Heat are poised to finally meet their equal -- in terms of pace at least. The Timberwolves were the fastest-paced team in the NBA last season, and with the addition of Ricky Rubio, there should be nothing but fireworks in the open court Friday night. LeBron James, Dwyane Wade and Chris Bosh enter Friday night's game averaging 67.3 points per game along with 18.3 rebounds. Kevin Love? He's averaging 16 rebounds per game by himself.

Lots of good fodder heading into the game. Was Ricky Rubio the biggest teenage sensation since LeBron James? Is Kevin Love better than Chris Bosh? Are the Timberwolves more entertaining than the Heat on the hardwood? Was Michael Beasley at No. 2 the wrong call by the Heat? Will the Heat win by double-digits?
In another edition of Heat Index's 5-on-5 series, our stable of writers play some "Fact or Fiction" with some of the biggest storylines heading into Friday's fast and furious matchup.
1. Fact or Fiction: Ricky Rubio had the most teenage hype since LeBron.
Kevin Arnovitz, ESPN.com: Fiction. Sebastian Telfair's entry into the league in 2004 was a huge event. Like LeBron, he'd been featured on the cover of Sports Illustrated as a prep player. And there was an entire mythology built around his career at Abraham Lincoln High School in Coney Island.
Tom Haberstroh, Heat Index: Fact. It's easy to forget now, but aside from LeBron, no one was stamped with the "young phenom" label more than this guy. He played pro ball at 14 -- the youngest ever to do that, mind you -- and started getting Pete Maravich comparisons shortly thereafter. His dishing skills, international appeal and catchy name made him into a teenage hype machine. Doesn't mean he deserved it.
Zach Harper, Daily Dime Live: Fact. Unless I'm able to make some joke about Justin Beiber. The thing about when LeBron came into the league and when Ricky came into the league is a lot of the hype died off for Rubio because he waited two years after being drafted. It wouldn't have been as intense as when James entered the NBA, but we would have made a much bigger deal out of it.
Michael Wallace, Heat Index: Fiction. Freddy Adu quickly comes to mind in this discussion on highly hyped teenagers in sports. Heck, I could even argue Michelle Wie had more worldwide hype and acclaim when she entered professional sports. And even if you want to limit the debate to NBA players, Dwight Howard didn't do too badly in the publicity department when he jumped from the prom to the pros as the top draft pick in 2004 a year after LeBron.
Brian Windhorst, Heat Index: Fiction. Maybe if Rubio had come to the NBA when he was a teenager and the unknown factor was higher. Rubio isn't even starting for a lower level team at this point. I think there was more interest nationally in Dwight Howard, Kevin Durant and Derrick Rose when they came into the league. Perhaps Greg Oden as well.
---
2. Fact or Fiction: Kevin Love is better than Chris Bosh.
Arnovitz: Fiction ... by a hair. Love will win the point-and-rebounds battle and has already established himself as a lethal threat from beyond the arc, but Bosh has a more varied game than Love and is a far more capable defender. Feed the ball to Bosh at 18 feet and he can make any number of things happen. On the other hand, credit Love for being able to manufacture offense without being fed.
Haberstroh: Fiction. Yes, it seems crazy to say that a guy who averaged 20-and-15 last season isn't better than a guy who averaged 18-and-8. But here are two things to keep in mind: context and defense. I love Kevin Love's unique talents as much as the next guy, but if Bosh played on that team and played at that blinding pace, he'd post some eye-popping numbers too.
Harper: Fiction. I would rather have Kevin Love on my team because age, skill set, etc., but I think technically Bosh is an overall better player. It's mainly about the defense for me. Love hasn't showed that he can be a consistent defender yet. Once he even gives us a glimmer of being a decent defender, he'll be hands down better than Bosh.
Wallace: Fiction. More productive statistically? Certainly. But better overall player? Nope. At least not yet. While Love would be a double-double machine on a strong playoff contender right now, it's not outlandish to suggest that his stats are at least slightly inflated by the fact that he's been on a young and struggling team in Minnesota. Now that I think about it, Love is similar to what Bosh was when Chris played in Toronto from a production standpoint -- back when those 24-and-12 nights came far more frequently north of the border.
Windhorst: Fiction. It is potentially a nice debate, but I don't think Love is better. They are comparable certainly. Love is clearly a better rebounder. But Bosh is more offensively skilled, though Love's improving jumper could have him there soon.
---
3. Fact or Fiction: Michael Beasley was the right pick for the Heat at No. 2.
Arnovitz: Fiction, but it's a fait accompli now. The Heat wanted a versatile frontcourt player, and Beasley was brimming with potential. In retrospect, they could've taken Kevin Love or Ryan Anderson -- or opted for a point guard such as Russell Westbrook.
Haberstroh: Fact. But they should have immediately traded him for known quantities while his stock was at its peak. That said, hindsight is 20/20, and for all I know, the Heat probably tried like mad to deal him for a big-impact veteran and then some. Someone had to have valued him more than the Heat did.
Harper: Fiction. He was definitely the player who should have been taken second in the draft, but I'm still confused as to why the Heat kept the selection. I don't know what the trade options were, but I find it hard to believe someone wasn't willing to spend heavily on acquiring the potential and talent of Beasley. You know... if you want him back, I'd be willing to arrange a Beasley and Randolph for LeBron package...
Wallace: Fiction. At the time, Beasley was a no-brainer at No. 2 for the Heat. He was the best player available on the board. The Heat needed a point guard, but Rose was taken No. 1 overall when the pingpong balls didn't fall Miami's way. The second-biggest need was at center, and nobody was taking Brook Lopez at No. 2 at the time. But I credit Pat Riley for being apprehensive from the start about taking Beasley. He seriously considered trading down in the draft to pick up an All-Star-caliber veteran and a later lottery pick.
Windhorst: Fiction. It's understandable why they didn't go with O.J. Mayo because they had Dwyane Wade. But the team needed a point guard badly at the time, and Russell Westbrook had the perfect makeup to play with Wade. Beasley had a high talent level, but Westbrook's makeup looked like a better fit.
---
4. Fact or Fiction: The Timberwolves are more watchable than the Heat.
Arnovitz: Fiction. Watching the Heat's offense morph into something more dynamic and less predictable is the best game in town right now -- but as League Pass wild cards go, you can't do much better than the Baby Tees.
Haberstroh: Fiction. Once Ricky Rubio announced he was finally coming over, everyone wanted to put the toddler Timberwolves atop of the League Pass rankings. But then the Heat decided to play their own version of Showtime and that was that.
Harper: Fiction. The Wolves were extremely fun to watch opening night against the Thunder. If you asked me that after the first game, I'd say absolutely. However, under Terry Porter against the Bucks, it was liking watching the debacle of last season all over again. Give Rubio 30-plus minutes per game and I'll easily be swayed. We're just not quite there yet.
Wallace: Fiction. For me, at least. If you prefer video games, stat-sheet stuffers and open-court shootouts, then I guess you'd prefer the Timberwolves' brand of carefree basketball. But you'll often be left walking away with entertaining losses. The Heat are a far more attractive team to watch because there's more starpower, more defense, more quality structure and more experienced players who know how to win together. It'll be fun to see Minnesota really grow this season. But the Heat are a more worthwhile investment of my time.
Windhorst: Fiction. Wade and LeBron James. That is all.
---
5. Fact or Fiction: The Heat will win by more than eight points tonight.
Arnovitz: Fact. The Heat were feeling pretty invincible during the season's opening week, but the Charlotte game served as a wake-up call. No matter how prolific they were against Dallas and Boston, this still isn't as easy as it looks.
Haberstroh: Fact. But I predicted the Heat would blow out the Bobcats too, so clearly I'm a moron when it comes to picking games.
Harper: Fact. I think we've got a competitive game on our hands here. The Wolves should be able to go small with a Love-Williams-Beasley frontcourt and find themselves right in the thick of this game. And I think Rubio can traverse the passing lanes being stalked by LeBron and Wade. However, the score might get away at the end. I'll say Heat by 11 but a close 11.
Wallace: Fiction. Might as well keep rolling on the "fiction" since I've taken it this far. I had the Heat easily beating the Bobcats the other night, and look what happened. The dynamics of a game can change the instant a key player comes down awkwardly on an otherwise routine play. Expect birthday boy LeBron James to have a big game, but Minnesota has enough firepower to keep it relatively close. This also is a getaway game for the Heat, who will return home after playing their third game in four nights.
Windhorst: Fiction. The Heat have a strong chance of doing it, but as a general rule, I always assume the home team will keep it close.
---