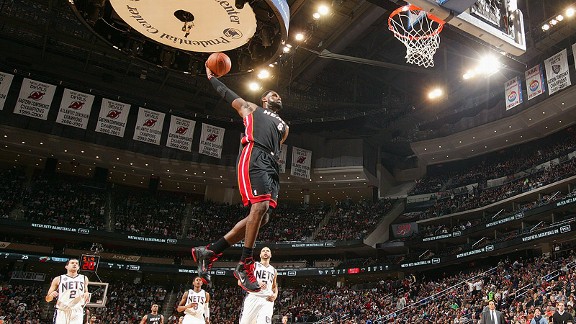 Nathaniel S. Butler/Getty Images
LeBron James and the Heat are flying high right now. What did we learn from Saturday's rout?
With Dwyane Wade sitting out another game with a left foot injury, LeBron James led the Heat with 32 points in a romp Saturday over the New Jersey Nets, who were playing short-handed themselves. LeBron came out on fire, outscoring the Nets in the first quarter and nailing his first seven shots from the floor.

The Heat were leading by double-digits for most of the game, but the Nets tried to make it interesting in the final minutes. Alas, LeBron and the Heat proved to be too much for the Brook Lopez-less Nets to handle.
In another installment of Heat Index's 3-on-3 series, our writers give their takes on Miami's eighth win of the season and what lies ahead.
1. What is the biggest takeaway from the Heat's win over the Nets?
Tom Haberstroh: That Miami was able to get away with playing LeBron without the forward sustaining an injury. I still don't think the reward was worth the risk, but Pat Riley and Erik Spoelstra can exhale now that LeBron didn't re-aggravate his ankle sprain. Ultimately, that's more important to the Heat than the actual win.
Michael Wallace: That the Heat should be thankful the Nets are pretty much garbage right now. Aside from LeBron's big first quarter, Miami basically was able to sleepwalk through this one. Looks like his ankle is just fine. The win in Jersey moves Miami to a league-best 8-1 on the season.
Brian Windhorst: The Heat showed a nice sense of urgency. This was a potential letdown game even though LeBron was back from injury. But the team started very fast and generally played well from start to finish against a bad team.
---
2. What is the biggest concern from the Heat's win over the Nets?
Haberstroh: Chris Bosh isn't racking up big rebounding numbers. He picked up just five Saturday. Wade always steals a few boards from Bosh, but his absence didn't give Bosh more tally marks in the rebounding column. After saying his objective this season was to average double-digit boards, Bosh (8.6 rebounds per game) isn't doing any better than last season (8.3).
Wallace: Turnovers and sloppy offense at times were major concerns. I understand that it's difficult to get up for some teams and maintain that killer instinct. But 2-0 is 2-0, which is where the Heat stand two games into this five-game road trip.
Windhorst: Mildly concerned about Wade's foot injury. The team is just being cautious, and sitting him is smart. But it is rather clear that it is a significant injury.
---
3. What is the biggest question going forward for the Heat?
Haberstroh: There just aren't many question marks surrounding this team right now. Wade's foot injury doesn't appear to be serious, and the Heat's biggest issue is how they can fit Mike Miller in the rotation, which is really not a problem at all. With games against the Warriors on Tuesday and the Clippers on Wednesday, here's my big question: Is it Wednesday yet?
Wallace: How will Spoelstra tweak the rotation once Wade and eventually Miller are available? It's a good problem/concern to have, considering the productive options Miami is developing off the bench.
Windhorst: Will this be the best rebounding season of Udonis Haslem's career? He had another double-digit rebound game Saturday with 12. He's showing no ill effects from last season's foot injury, and that should not be taken for granted. That was an injury that could have affected him the rest of his career, but he looks to have overcome it.