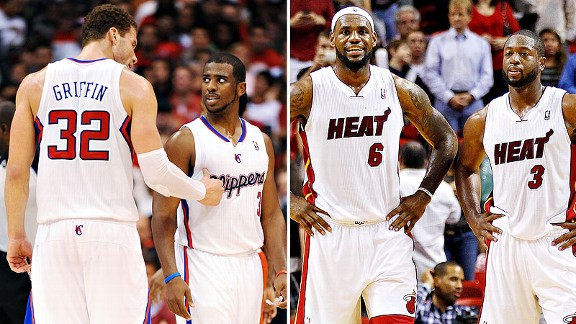 Getty Images
Is Blake Griffin and CP3 more devastating in the pick-and-roll than LeBron and D-Wade? Let's debate!
Blake Griffin and Chris Paul play host to the Heat's Big Three of LeBron James, Dwyane Wade and Chris Bosh for the first time this season.

Should the Clippers be considered title contenders along with the Heat? Is Blake Griffin better than Chris Bosh? Is Chauncey Billups better suited for the Clippers than the Heat? Is Vinny Del Negro sitting on the same hot seat as Erik Spoelstra did last season? Who has the deadliest pick-and-roll?
In another edition of the Heat Index's 5-on-5 series, our stable of writers play some "Fact or Fiction" with some of the story lines surrounding the Lob City and Hollywood Heat matchup.
1. Fact or Fiction: the Clippers and Heat are both title contenders.
Kevin Arnovitz, ESPN.com/ClipperBlog: Fact, but this is a louder statement on parity in the Western Conference than it is on the readiness of the Clippers. If they can address their defensive shortcomings, it's not outrageous to believe the Clippers could advance out of the West, even if they're not a morning-line favorite.
Tom Haberstroh, Heat Index: Fact. Too early to rule the Clippers out. We have a trade deadline and 50 games worth of marinating before we see the final product of the Clippers. Oh, and yes, the Heat are title contenders.
Michael Wallace, Heat Index: Fiction. The Heat clearly are. We've seen the evidence. The Clippers are a promising playoff contender. That's about all I'll give them right now. They haven't shown us much of anything yet. Could they make a surprising run through the wide-open west? Sure. But when I look between the lobs, I see a team that must sort through conditioning and chemistry issues and learn how to win together on the fly. They may well be on their way, but they're not in that title class just yet.
Brian Windhorst, Heat Index: Fiction. Different people will have different definitions here but this Clippers team hasn't won a playoff series since Sam Cassell and Elton Brand were roaming around. Perhaps in the next few years but I don't see them as a title contender right now.
---
VOICE OF THE FAN, (via Facebook)
Rian Fike: Fact. Dallas was gutted, Oklahoma City has not proven they have the heart, and the Lakers might explode. We saw last year here in Miami how top-tier talent can find a way to make it to the Finals, even without the time to fit together just right. The Heat are title contenders for at least the next five years. The Clippers have the natural ability to join them, starting right now.
---
2. Fact or Fiction: CP3/Blake's pick & roll is more deadly than Wade/LBJ's
Arnovitz: Fiction. Paul and Griffin will quickly establish a rapport and will make beautiful music together. But last season's numbers don't lie: Wade and James are a devastating pick-and-roll tandem -- and that was before James developed a modest appreciation for being a screener.
Haberstroh: Fact. Consider this a protest to Erik Spoelstra: Why must he hide the most intriguing basketball play known to man? I get why Spoelstra wants to keep it in his back-pocket, as he likes to say, but can we all agree that it might have been useful against the Warriors? Basketball junkies everywhere demand more Wade-LeBron pick-and-rolls. Let's make it happen.
Wallace: Can I go "non-fiction" here? It's not a fact because I still think LeBron and Wade are the most feared tandem in the league regardless of what set you have them in. But it's also not necessarily fiction to say Blake and CP3 are more deadly for the simple reason that they both know and embrace their roles as soon as the set is called. That gives them a slight crease of an advantage over the Wade-James pick-and-roll threat. But I'll defer to the stat guys on this one.
Windhorst: Fact. First, Wade and LeBron don't run pick-and-rolls for various reasons. Second the best screen roll teams in history have involved great point guards and great big men. That's what Clippers have.
---
VOICE OF THE FAN, (via Facebook)
Shanna Jones: Fiction. If you really think hard about it, everything that Blake can do in the pick and roll, LeBron can do as well. The advantage that LeBron has on Blake is that he has a better mid-range shot as well as can dish it if he gets trapped on the roll. Paul is clearly a better dribbler than Wade, but who scares you more?
---
3. Fact or Fiction: Del Negro's seat is hotter than Spoelstra's was last year.
Arnovitz: Fiction. The pressure surrounding Spoelstra last season could fuel a reactor. Del Negro will be closely scrutinized, but won't encounter anything along the lines of what Spoelstra faced prior to his extension. If the Clippers get antsy, they're more likely to make their move during the summer.
Haberstroh: Fact. I don't think Spoelstra's job was seriously in jeopardy mid-season just like I don't think Del Negro is really sweating his job right now. But Del Negro doesn't have a precedent of getting teams to play championship-caliber defense; Spoelstra did. For now, Del Negro's seat is as lukewarm as his track record.
Wallace: Fiction. Or at least it should be. This should be about reasonable expectations. And the fact is, the Clippers are still the secondary team in Los Angeles, a distinction they'll carry under current circumstances as long as Kobe Bryant is in a Lakers uniform. There is far less pressure on Vinny to win it all right away - or at least get to the Finals - than what Spoelstra faced last season amid that 9-8 start. Take this for what it is - a view from afar. Vinny's seat should always be uncomfortable, but not so hot just yet.
Windhorst: Fact. Spoelstra's seat didn't ever get hot last year, Pat Rliley was not coming back to the sideline. As for Del Negro, the dynamics of this team have changed to create new pressure. Plus there's a few out of work high-profile coaches who would love his job.
---
VOICE OF THE FAN, (via Facebook)
Ben Lash: Fiction. Del Negro could be forgiven for underachieving with a team that was put together ten days before the season. Even if the Clippers only reach the Western semifinals, it might be considered the best season in franchise history. Spoelstra, while a better coach, is squarely in championship-or-bust territory after last season's disappointing Finals loss. The expectations are simply higher.
---
4. Fact or Fiction: Chris Bosh is better than Blake Griffin
Arnovitz: Fiction, but measuring Bosh's value has become one of the more difficult analytic exercises in the NBA because he defers to two teammates who use the vast majority of his team's possessions. Griffin's value is less difficult to approximate -- he's easily one of the top-ranked big man in the league headed into Wednesday's game.
Haberstroh: Fiction. Here's how I frame the question: Would Erik Spoelstra and Pat Riley prefer Blake Griffin over Chris Bosh for this season if he had a training camp to teach him defensive principles? I think the answer's "yes" even if they'd never admit it. And that's not a knock on Bosh; this is close.
Wallace: Fiction. OK, you win. Full disclosure: Haberstroh is behind these Bosh comparison questions! Haha. Happy now? First it was Bosh vs. Garnett, then Bosh vs. Love, then Bosh vs. Horford. Eventually, Bosh will run into a comparison he can't win. This is one of them. In fact, I'd be surprised if anyone else on the panel says anything to the contrary about Bosh and Blake. I just can't wait until we start with the Shane Battier matchup comparisons.
Windhorst: Fiction. Today is a bad day to ask. Consult game film from Warriors game.
---
VOICE OF THE FAN, (via Facebook)
Jonathan Comack: Fact, Chris Bosh is a better overall player than Blake Griffin because he is vastly better on the defensive side of the floor. Blake Griffin does have only a third of a salary cap burden though...
---
5. Fact or Fiction: The Clippers needed Billups more than the Heat.
Arnovitz: Fact. The Heat seem just fine at the point guard, thank you, and without Billups are still title favorites. Minus Billups, the Clippers are starting Randy Foye or Mo Williams at shooting guard.
Haberstroh: Fact. Billups is a misfit there but he's hugely valuable. Also, by getting Billups, the Clippers built some leverage at the trade deadline to swing a deal and fill in the roster holes. Norris Cole and Mario Chalmers fit seamlessly with the Heat's brand of basketball this season anyway.
Wallace: Fiction. For the simple reason that I don't think either team really, really, really needed Billups. The Clippers have a point guard emporium. And what we've seen out of Mario Chalmers and Norris Cole, collectively, through the first 10 games should be enough for the Heat to at least be encouraged about what they have moving forward at the position. We wouldn't have been able to see that had the veteran Billups slipped through the amnesty cracks and ended up in Miami.
Windhorst: Fiction. Billups is a luxury item for the Clippers now that they have Paul. Wade and James were great in the Olympics playing with a great point guard and they've never been able to do that in the NBA.
---
VOICE OF THE FAN, (via Facebook)
Kevin Mayer: Fact: Who needs Billups when you've got Mr. Big Shot? While Mario Chalmers still makes mental mistakes from time to time, he's the leading the league in FG% for guards. On defense, his knack for creating turnovers is a big reason the Heat are able to run so much.
---