The Heat's big question at center
January, 15, 2012
1/15/12
4:27
PM ET

By Brian Windhorst
ESPN.com
Archive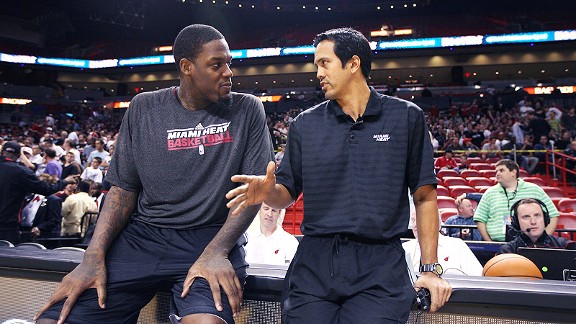 Issac Baldizon/Getty Images
Erik Spoelstra might not admit it, but the Heat could use a center. Is Eddy Curry the answer?
DENVER – Heat center Joel Anthony might not have a bigger fan than Erik Spoelstra, who has helped nurture him from a training camp project to a starter with a respected defensive resume.
But even Spoelstra couldn't take much of Anthony against the Denver Nuggets Friday night. After seeing the undersized Anthony get worked over continuously by Nene and Timofey Mozgov, Spoelstra pulled him seven minutes into the game and never brought him back.
It wasn't all Anthony's fault, those are poor matchups for him. The Nuggets certainly knew it, they attacked Anthony with their size right from the start. On one telling play Mozgov, hardly known as an enforcer, just shoved Anthony out of the way for a basket while Anthony helplessly fouled him. A few moments later Nene did the same. They rebounded over him and swatted Anthony's shots, too.
In short, it was not a game made for the Canadian big man. That's not a huge problem, in most games he's going to be effective in his role, which is to challenge shots and rebound. With the league going smaller overall and the Heat wanting to play with a more athletic lineup anyway, Anthony is the correct choice to be the starting center from the choices on the roster.
The problem is that the Nuggets' wide and rough front line is very much like what the Heat could face down the road in the playoffs. Both the New York Knicks and Chicago Bulls have big, bruising frontcourts that could make it hard to rely on Anthony. He did hold his own against the Bulls in the playoffs last year but the Heat had other center options at the time.
Friday, Spoelstra had to use Dexter Pittman at center for 15 minutes to attempt to slow Denver down. He was the biggest active player on the roster and sort of the last line of defense there. Pittman is also not in great shape and quite raw and it showed.
"We needed size at the rim … I thought Dexter gave us productive minutes with his size," Spoelstra said. "He got a couple of good rebounds, he got a block. That is what we're looking for, the physicality."
Spoelstra is both right and wrong with that one and he'll discover it when he watches the film from the game. Pittman actually had no rebounds and no blocks and missed several bunnies near the rim, shooting 1-of-4. But he did, to his credit, pick up the first assist of his career.
Spoelstra is correct, though, that the Heat are looking for that physicality. And so now comes the inevitable discussion: Eddy Curry.
Quietly during the Heat's road trip, Curry was able to put together several workouts with the team. This is a significant accomplishment. Curry hadn't been able to make it through more than a couple training camp practices for the last several years. This year, he hurt his hip on the second day.
But after dropping more than 70 pounds during the summer in an effort to get an invite to camp, it appears that Curry's conditioning work has cut off another 20 or so more since the start of camp. Now he's been cleared to rejoin practice. Curry now appears to be in the best shape he's been in in years.
The Heat are making it clear that they are not rushing Curry to do anything and nor should they. They don't need Curry to play a few minutes against Denver in a game in January. But there's a hole on the Heat's roster that Curry, or someone like him, is badly needed in down the line in a potential playoff series with the Bulls or Knicks.
It might just be 5-7 minutes a game, but it could make a difference. The Heat are well aware of it and what happened against the Nuggets, as Mozgov and Nene racked up
29 points and 20 rebounds on 12-of-21 shooting, was a reminder of why they have Curry around.
Those types of players just aren't available. Right now, for example, the NBA Development League is virtually devoid of prospects for this role. And so Curry continues to work out and take baby steps to see what might happen.
The Heat might not say so, but they're holding out hope he can somehow contribute in a role like they needed Friday night.
"We'll see," Spoelstra said. "We've got to get Eddy into some more practices and then we'll start to evaluate him."