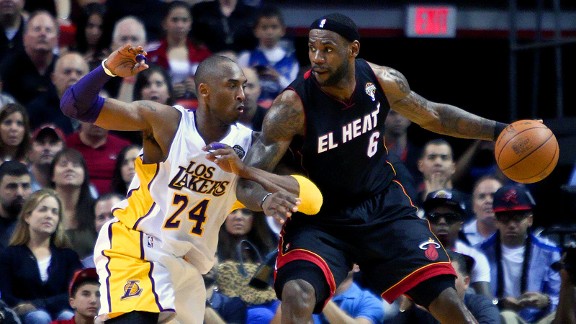 Derick E. Hingle/US Presswire
LeBron has doubled his post-up frequency since last season, but is Kobe still the king of the block?
Why can't LeBron be more like Kobe?
You've heard that question before. You might have asked it yourself. Whenever we appraise LeBron James' career, it always seems to drift into a forced comparison of his decorated predecessors. And that question is just one of them.
Will LeBron ever surpass Michael? Is LeBron more Magic than Michael? Will LeBron ever develop a post game like Michael and Kobe did?
Ultimately, the answer to those questions is a simple one: LeBron is LeBron. He is not Michael. He is not Magic. He is not Kobe. Despite our fascination with framing the present with the lens of the past, the truth is that LeBron is nothing like we've ever seen before. The package of greatness and shortcomings are unique in every respect.
"LeBron is a hybrid," Heat coach Erik Spoelstra said after Wednesday's practice. "He's hard to define or compare to historic players because there haven't been many players with his size, speed, agility and skill-set."
This much is true, but we still can't help ourselves. Even though comparing LeBron to Kobe feels like comparing a Range Rover Sport to a Porsche 911, it's still one of the most popular barstool debates as we head into Thursday's matchup between the Lakers and the Heat.
LeBron and Kobe might not belong to the same genus on the court, that doesn't mean LeBron can't learn a thing or two from Kobe. This past summer, LeBron followed Kobe's footsteps when the two-time MVP, humbled after losing the NBA Finals a second time, made a trip to see Hakeem Olajuwon. The objective? Get more comfortable on the block and develop a stronger post game.
Fans have been screaming for LeBron to make the Dream Shake pilgramage for some time now. LeBron, whether as a response to the critics or a self-motivated desire to get better, spent some days working out with Olajuwon and absorbing some off-court wisdom from the Dream. In the offseason, LeBron appeared in Nike commercials that literally put the spotlight on LeBron working on the block. In a sit-down interview with Rachel Nichols, LeBron vowed that we would see a new player in the post.
Has he lived up to the promise?
As we saw with Kobe after he visited Olajuwon, the biggest change can be found in LeBron's usage, not necessarily in technique. LeBron feels more comfortable than ever before and this comfort factor has been the obstacle all along.
"I get more comfortable with every game and every minute," LeBron said of his post game. "I'm just trying to find ways to exploit defenses. I feel good and I'm going to continue to get better down there."
The interesting thing about LeBron in the post is that he has always been effective in the post, but success hasn't bred confidence. In his final season in Cleveland, LeBron ranked better than anyone in efficiency on post-up plays among over 50 qualified players according to Synergy tracking. And last season? LeBron ranked sixth in efficiency ahead of Kobe, Carmelo Anthony, Dwyane Wade and dozens of big men with stronger reputations on the block.
But the issue with LeBron -- and perhaps a valid one -- is that he simply didn't go there enough for it to be considered a real weapon. Despite leading the league in efficiency on post-up plays, LeBron only used it on 6.3 percent of his overall scoring repertoire. For comparison, Kobe more than tripled that rate during that season; Carmelo doubled it. Last season, Joe Johnson, Vince Carter, Paul Pierce, Grant Hill and Stephen Jackson all finished plays from post-ups more often than LeBron.
It's as if LeBron has a grenade in his back-pocket, but he's afraid to use it on the battlefield.
But that's all changed now. Consider this:
If you pull up the wing leaders in post-up plays this season, two names sit atop the list:
Kobe Bryant. Then, LeBron James.
LeBron has soared through the ranks so far this season, surpassing the likes of Carmelo Anthony, Paul Pierce and Joe Johnson on his way. Although LeBron isn't intentionally chasing Kobe on the block, he's right there next to him on the leaderboard. LeBron has just about doubled his post-up frequency from 7.9 percent of his overall plays to 13.1 percent this season.
Has he been more effective than Kobe? Let's take a closer look at the numbers.
LeBron vs. Kobe in the post-up this season
Source: Synergy data
Looking at the report, two things stand out. First, Kobe has tallied almost twice as many post-ups as LeBron -- and LeBron has the second-most tally marks among wing players in the league. Part of that has to do with the fact that Kobe has played three more games than LeBron, but LeBron still has a ways to go if he wants to catch up with Kobe in frequency.
Secondly, the only thing that's holding LeBron back this season is his turnover rate (denoted as "TO%"). The difference in efficiency is incredibly thin -- for example, if two of LeBron's shot attempts roll in, he's got Kobe beat there -- but what separates LeBron and Kobe in the post this season is LeBron's tendency to cough up the ball, which has dragged his efficiency down slightly from last season.
Looking at the tape, LeBron's hesitation in the post lends itself to strips from help defenders. Additionally, double-teaming sometimes leads to awkward footwork from LeBron as he tries to escape the pressure; he has been whistled for traveling in the post on more than one occasion. As the season progresses, you will probably see teams try to exploit his raw footwork with pressure. You might see on Thursday night.
Overall, LeBron has taken a necessary step in incorporating the post game into his overall repertoire, even if it vanishes from time to time. The development of his post game has been a case of both need and desire: LeBron wanted to get better and the Heat needed him on the block to punish opposing defenses.
"We don't have a stereotypical power center and so we have to get it in other ways," Spoelstra said. "That's probably been the biggest difference LeBron has made this summer and so far this season: he has given us a presence in the box. Part of what we're trying to develop depends -- and demands -- that he's down there."
If you're expecting LeBron to post up on the block every play down the floor in Thursday's matchup, you'll be disappointed. That's just not how he, or Kobe for that matter, plays these days. But every once in a while, you'll see LeBron show a glimmer of polish in the post. His left-handed baby hook on the right block has been his go-to move in the early going. Being ambidextrous will allow LeBron to develop an array of moves, but he doesn't have nearly as many tricks up his sleeve as Kobe does.
But he's getting there. It's worth pointing out that Kobe didn't get serious about his post game until the aging process demanded it. For instance, he met with Olajuwon when he was 30; LeBron was 26. Given he wasn't physically capable of routinely capable of beating players off the dribble, Kobe migrated to a place where he could beat players with precision and technique. On the other hand, LeBron needed to go down there because he's built like Karl Malone.
On the block, Kobe is a mismatch of the mind while LeBron is a mismatch of muscle. Entering his prime years, LeBron is just now starting to embrace the size that makes him a nightmare to guard in the post. In time, LeBron could be an unstoppable force on the block, but right now, he's still learning to be comfortable in his own skin.
By developing his post game and evolving as a wing player, LeBron is following the path of Kobe. Although he's a few steps behind now, it might not be long before he passes him.