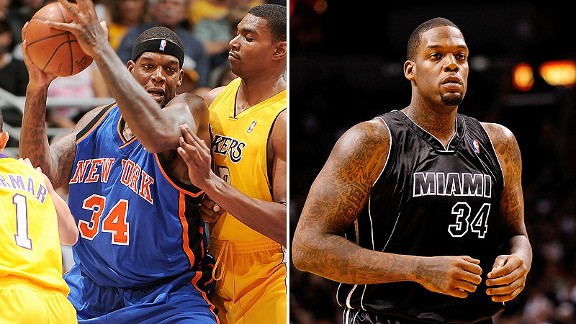 NBAE/Getty Images
Eddy Curry's anticipation to get a shot against the Knicks has been years in the making.
MIAMI – Eddy Curry had never been more nervous in his career than when he returned to the court after a more than two-year absence and did it on national television last week. So you can only imagine what emotions he might have seeing the New York Knicks again.
Whatever Curry is feeling, and it must be something, he's choosing to keep it private for now. He has insisted this week that he hasn't been eyeing Friday night's meeting with his old team and more specifically old coach Mike D'Antoni.
On this topic, Curry is not credible. There is no way he could not have been thinking about seeing his old team and making a statement or two. After years of being humbled, it is only human nature to want to respond when getting the chance.
But it won't come from words just yet. Is Curry looking forward to the game and showing off his weight loss and work that has allowed him to return to the league?
"I'm trying not to think about too much to be honest," Curry said. "That was the past and I'm just going to leave it there."
Now that he's proving that he can still play, does he feel that the Knicks didn't give him enough of a chance when they basically decided he was done because of his weight and injury issues three years ago?
"I don't even think about it honestly," Curry said. "I'm just focused on where I am now."
As for the Knicks, how do they feel about Curry being in the best shape he's been in years now that he's playing on a non-guaranteed contract for a million bucks instead of when the Knicks were paying him more than 10 times that amount? D'Antoni took the high road too, sort of.
"Motivation will do great things for you," D'Antoni told reporters earlier this week. "Good for him. He's a great kid. He got to a spot where he can perform. I hope it works out."
D'Antoni's implication there, of course, is that Curry was not as motivated when he played for him. Though he barely played at all, D'Antoni put him in games just 10 times in the three years they were together for a grand total of 73 minutes. He never made it through the first week of training camp after D'Antoni arrived mostly because of the center's conditioning.
From Curry's perspective, however, there are questions as to why the Heat have been able to get him in condition to play even in a long shot role when the Knicks weren't able to reach him when he was supposed to be their franchise center.
So, yeah, there's plenty of vinegar here.
This is one of those situations where each side has it's version of events and both probably have valid points. This is a story of many twists and turns but more than anything else, failures and setbacks. What is certain is that Curry's tenure with the Knicks, once so promising, turned out to be a disaster. Curry ended up being the embodiment of what had plagued the franchise for most of the last decade. Curry had plenty of talent and was highly paid but, like many of his teammates of the era, did not produce.
The Knicks didn't even want Curry around last year and told him to stay home until they traded him, which they did as part of a deal for Carmelo Anthony. When asked how he felt about that and what he was doing at this time last year when he was in exile, Curry just said: "I don't even know."
He does know but he doesn't want to talk about it. It's probably the prudent position. Curry has got to be tired of hearing all the jokes and re-hashing the past. His spot on the Heat's roster, and frankly in the league, is still tenuous. He's played just three games with the Heat so far and has had a few moments where he looked the a former high lottery pick – such as his putback dunk against the Lakers – and other times when he's looked rusty – such as when his dunk attempt Wednesday in Detroit was blocked by the rim.
There's little chance Curry will settle anything on Friday. But there's no way it isn't a night he's been anticipating for awhile.
"I think it can be really emotional for him," LeBron James said. "Hopefully it'll be good emotion for us."