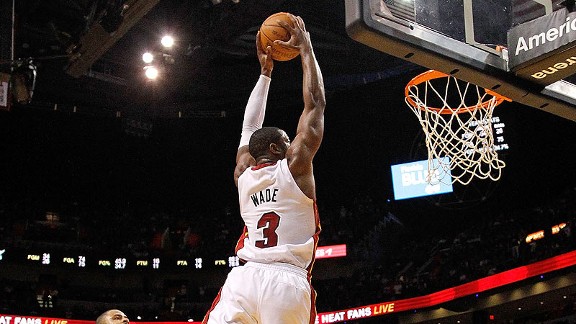 Mike Ehrmann/Getty Images
Friday's win over the Knicks was a reminder that the Heat can reach new heights with Dwyane Wade.
MIAMI -- On Dwyane Wade's 30th birthday last week he was given a $230,000 sports car, which was delivered to him in the middle of a rooftop swimming pool after being hoisted in by a helicopter.
This would seem like it would be the highlight of anyone's week. But, alas, Wade said he still had a few post-party blues.
"It took everything out of me not to play in that San Antonio game," Wade said. "It was the first time in the NBA they scheduled a game on my birthday. I wanted to play."
That wasn't all.
"Then the Lakers came in," Wade lamented. "I love that matchup against the Lakers and obviously one of the greatest players of all time."
For days on end during the Heat's five-game Wadeless homestand, Heat coach Erik Spolestra hopped on the podium and reported that Wade was "day-to-day" and "getting close." That was a strategic sell job for the Heat's opponents, making them unsure with their game plans. Selling Wade on skipping games he knew he could probably play in, especially games that had some meaning to him, might have included more profanity.
That discipline, though, appeared to pay off Friday against the New York Knicks when Wade emerged from a two-week healing hiatus and looked like he'd taken a few years off his legs. If Wade wasn't 100 percent, this is as close as he comes at this stage of his career.
He had 28 points, five dunks, five steals and two blocks in the Heat's 99-89 victory. It was hard to tell which dunk was most impressive. His baseline up-and-under jam past Amare Stoudemire? His clowning of Landry Fields when Wade wrapped the ball around Fields' head after a trademark Euro-step drive? Or his finishing of a lob from LeBron James when his elbow got to rim level?
Debate away -- even toss in his athletic block of Toney Douglas at the rim that left Douglas so frustrated that he tugged Wade to the ground -- on which was the best. The message was more important. All that time off to allow Wade to get over his right ankle sprain and various other maladies had worked.
"We had a collective franchise decision on this, we were going to make sure that we would get his body right," Spoelstra said. "In normal years he probably would have tried to play in the Laker game. We held him out another week just to make sure he felt right."
What Wade felt was restless. He said he spent hours watching television while also resting a foot injury that dogged him for several weeks even before he badly turned his ankle in Denver. In addition to ice, electric stimulation and whatever other secret treatments or devices pro athletes are deploying these days, Wade watched plenty of sports and sports pundits. As the Heat continued to win without him -- they were 5-1 during this absence and are 8-1 overall this young season -- he couldn't help but get irked by those asking whether the team was better off without him.
"I didn't have anything else to do so I watched a lot of TV and it came up every second," Wade said. "It's something to laugh about and I thought I'd get in on the joke as well. This is a good team with or without me. But better without me? I doubt that."
That was a salient point against the Knicks, who stayed in the game with high-volume 3-point shooting, but were overwhelmed by Wade's athleticism. James had 31 points, 11 coming in the deciding fourth quarter, but Wade was clearly a difference-maker.
In Wade's four previous games, when he was ailing with the foot injury and a minor calf problem, he was not himself. He shot just 38 percent and three times failed to score more than 17 points. Going from that half-full Wade to Friday night's version only deepened the shock of how healthy he looked.
The truth was Wade wasn't just sitting at home watching TV. He was back on the floor doing serious conditioning for a week before Friday night. The workout he went through before Wednesday's Heat game in Detroit was at full speed an as intense as any workout he's gone through this season.
Despite not playing for two weeks Wade said he actually lost some weight. That is not usual in players returning from leg injuries. He generally breezed through his 33 minutes against the Knicks, the result of the week of conditioning after the week of rest.
That plan, for the time being, sure seems to have worked.
"When people hear ankle sprains they think it is a day or two but mine was pretty strenuous," Wade said. "I tried to do what the doctors and the training staff asked me to do. I had to be smart and I had to think about longevity and what's best for this team. We've got good players here and I was able to do that. It took a real painful ankle injury to make me sit out."