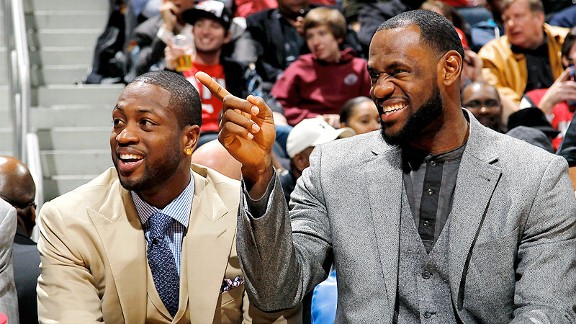 Kevin C. Cox/Getty Images
LeBron explains why he and D-Wade prefer to watch the dunk contest from the sidelines.
PHILADELPHIA – Let's just cut short the annual hedging nonsense. There's a zero percent chance LeBron James does the slam dunk contest this year. There was a zero percent chance in 2004 when he was a rookie and there will be a zero percent chance next year, too.
James has never done it for a very good reason: he has absolutely nothing to gain and everything to lose.
Think whatever you want about James' decision-making in his career, on this one he's spot on. He shouldn't feel the need to protect that reasoning, although he does every single year at this time by playing with the question when the media dutifully asks it.
So I'll just take him off the hook here. He's not going to do it ever and that is a good public relations decision. It may not be the best marketing decision, his sponsors would love to have him take part. But it's still not worth it.
Sure, true that fans would like to see him try it out. All-Star Weekend is, after all, supposed to be about the fans' favorite players putting on exhibitions. The dunk contest ratings would leap if James said he was going to do it.
But fans also would have expectations for James that he would not be able to fulfill. He's been there before, he knows the fallout from that situation. He'll have enough expectations to deal with in his normal day job that putting himself in a position where success is going to be hard to achieve.
Yes, Michael Jordan did it and did it well. No, James is not the same dunker as Jordan. Give him credit for admitting it.
"If I decided to do it then I would have to win," James said Thursday after the Miami Heat's practice. "Otherwise it would be a waste of my Saturday night."
Here's another reality: James probably wouldn't win because he isn't good at dunk contests. That last one he took part in was before the McDonald's All-American Game in 2003 when he was a high school senior. Anyone who watched that event knows that peer Shannon Brown probably should have won it. He had a couple dunks that showed off his amazing leaping ability that is still one of his assets nine years later as a role player for the Phoenix Suns.
James showed off a few feats of athleticism that night but, at 6-foot-8, he just didn't look as impressive doing it as shorter leapers Brown or Von Wafer, who technically finished second. Brown was docked some points for missing some dunks. But really, James won because it was being contested in Cleveland with local celebrities like Cleveland Browns players doing the judging. It was a gift.
"I was the home favorite," James admitted looking back on it. "They gave me the nod."
If James had much fun with that experience it was hard to tell. He knew he probably shouldn't have won and he took it as a lesson. The next year one of his main sponsors at the time, Sprite, was practically begging for him to take part in the slam dunk contest because it was the event's main sponsor. They worked on him for weeks offering who knows what kind of bonus. James said no then as a 19-year-old who wasn't yet even an All-Star. His resolve hasn't weakened in the years since.
"Why don't you take a poll and see if you think I have more to lose than gain?" James asked me Thursday.
I told him I didn't need to, I thought he didn't.
"Then write that in a column and I'll read it."
Consider it done. Consider the soaring jam James' had over the top of John Lucas III's head last weekend his offering to NBA fans as his dunk entry for the year. Making a highlight play in a game is where he's at his best.
Earlier this week, James listed his favorite dunks of his career. Of the ones that took place since he's been in the NBA, all came as a part of lobs over opposing players to dunks through opposing players. None were on those breakaway chances that are essentially mimicked in a contest.
Whatever you think of James' position on this matter, know he's hardly alone. Dwyane Wade is one of the most athletically-gifted players the league has ever seen. His catalog of dunks his plenty impressive. But he's never gone near the slam dunk contest either and his reasons are exactly the same as James.
"Yes, you do have something to lose," Wade said. "I'm not a dunk contest person. I'm not creative enough, I don't jump as high as those guys."
Wade can jump plenty high and he really could soar when he was in his first few years in the league when he had a standing invitation to take part.
But he always said no too and, like James, that was a smart move. No one would ever question Wade's talent as a dunker from his in-game exploits. But it might not be the same if he took part in a contest and lost out to lesser known young players that usually take part in the contest.
James and Wade already have enough expectations to juggle. On this topic, they've earned a pass and they're going to keep taking it.
"It would be a lot of jokes, a lot of things said and for years," Wade said. "I enjoy being a fan on the sidelines and not making a fool of myself."