The Heat have issues. They're not fatal or insurmountable, but they're a lot more pronounced than we thought they'd be headed into the season. Erik Spoelstra and Dwyane Wade have adopted as an article of faith that the team needs 20 games to jell. They believe a collection of players whose most unique attribute is instinct needs time to learn each other's on-court tendencies. Basketball is a collaborative effort and the synchronicity elite teams achieve on the court doesn't occur overnight.
While the Heat are waiting for all this to marinate, there are a few areas that need some work. On Monday we looked at facets of the game where the Heat are doing well. Today, we present the to-do list: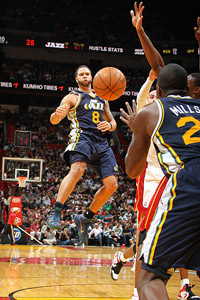 Nathaniel S. Butler/NBAE/Getty Images
The Jazz carved up the Heat by triggering multiple options.
Stopping the opponent's second option
Defensive slippage has been a prevalent theme in Miami ever since the Heat gave up 72 points in the second half to Utah last Tuesday. Over the first couple of weeks of the season, the Heat stifled opponents on nearly every possession, using their speed and length to swarm the ball, then recover with ease. At times, the Heat seemed to be playing 5-on-3, with a body in every passing lane and a hand in every shooter's face . But somewhere along the way -- right about the time Paul Millsap torched Miami for 46 points -- cracks in the defense began to surface. Opponents weren't necessarily getting easy buckets, but Utah, Boston and even Toronto were able to patiently wait out Miami's initial defensive stand, then pick the Heat apart.
David Thorpe explains that, in some sense, a half-court defensive possession is really a two-part exercise. "Most offenses run their primary action -- maybe a pick-and-roll," Thorpe says. "Everyone knows exactly where to be on that initial action. At the end of that, the pieces are in place on the chess board. Now you go and play. The second attack is much more about playing basketball -- and the same thing applies to the defense. A good defense knows how to defend that first action. It's that second option where instincts kick in, and that takes time to become fluent, whether you're on offense or on defense."
Utah and Boston feature offenses that almost assume defenses will stop that first option, which is why sets are designed with triggers to ignite second, third, sometimes even fourth options. Defend that high pick-and-roll? Fine, see what you can do on the subsequent misdirection and back screen.
By and large, the Heat have been doing fine on stopping the first half-court option. But they've been carved up later in the shot clock, after these refined offenses reverse the ball and go into their second action.
With about three minutes remaining in the third quarter of their upset over the Heat, Utah brings the ball upcourt trailing by 14. Paul Millsap has scored 14 points in the period, so it's no surprise Deron Williams calls his number. Millsap steps out to the right side just inside the 3-point line to give Williams a screen. The Heat defend this well. Bosh jumps out onto Williams' left shoulder while Wade traps Williams on his right side while still shading Millsap. When Millsap rolls, Zydrunas Ilgauskas promptly sticks his body on the Jazz forward. This coverage triggers the Jazz's next set of options, one of which is Al Jefferson flashing to the foul line. Big Al has his claws up ready to receive the pass, but LeBron James moves off Andrei Kirilenko, who is set up in the weak side corner, to pick up Jefferson. Option No. 2 extinguished. But almost in complete concert with the Heat's rotation, Kirilenko makes a hard cut to the basket along the baseline -- and there's a gift-wrapped lob pass waiting for AK-47 when he gets there.
Utah has made timing an art, whereas the Heat have made it a project.
Miami's proficiency should improve, but they're going to continue to run up against teams like Utah, Boston and New Orleans that know precisely what they want in the half court. For the Heat to limit these teams to under a point per possession -- something they have failed to do in four of their past give games (New Jersey, the exception) -- they need to figure out what they want to accomplish on each defensive possession. Do they stay at home on a Kirilenko, as Monty Williams is ordering his team to do on weak-side shooters? Do they throw so much artillery on the ball side that the pressure strangles the offense, as Doc Rivers demands?
Once the Heat figure out who they are as a defensive unit, they'll put away the checkers board and begin to play chess.
The Heat aren't getting easy buckets inside
On Monday, Dallas Mavericks owner Mark Cuban engaged in a little schadenfreude on talk radio as he celebrated the Heat's early-seasons struggles. Most of Cuban's comments were sheer bravado, but he also pointed out a startling stat. "They have the fewest points in the paint of any team and that's tough," Cuban said.
Crazy as that sounds, it's true. No team in the NBA has generated fewer shots inside of 10 feet than the Heat have. Miami isn't exactly a 3-point shooting, bury-you-from-the-arc sort of outfit. Combine that with the fact that Wade and James were 2nd and 4th in the league respectively last season among perimeter players in attempted shots at the rim, and the Heat's inability to generate close-range shots seems to defy explanation ... but let's try.
James is seeing fewer attempts in the basket area than ever. Those quick-hitting post sets for James and Wade Erik Spoelstra has been touting as a key to unlocking Miami's early offense? Post-ups for Wade and James have produced only 24 points all season for the Heat.
But the biggest culprit of the Heat's rim deficit is Chris Bosh, whom Miami has yet to establish as a viable post option. Bosh has always been most comfortable setting up at the elbow, a spot on the floor that allows him to be a triple-threat. Unfortunately, he's been unable to parlay his range of talents -- or those of his teammates -- to do much other than launch mid-range jump shots which, admittedly, he's been doing at a reasonably effective rate. That said, Miami didn't assemble these three superstars for James to become a pick-and-pop practitioner and for Bosh to operate exclusively a step-back jump shooter.
The opening night debacle aside, Miami hasn't looked much worse this season than in their loss at New Orleans. There's a stretch early in the second half that captures Miami's lack of creativity and willingness to settle. The half starts off well enough, as Bosh grits his teeth and establishes deep position early against David West on the left block -- far closer to the basket than we've seen this season. James attacks through the gut of the lane off the dribble, something that tends to draw every defender within 15 feet to him. Sure enough, as the Hornets collapse, James shuttles the ball to Bosh whose man, David West, turned his attention toward James. An easy, open bucket for Bosh from the edge of the paint.
But the next couple of trips are cautionary tales. On possession No. 2, the Heat run their isolation set for Bosh, whereby Wade punches the ball into Bosh off the mid-left post, then clears through to the right side. This leaves Bosh alone on the left side one-on-one against Emeka Okafor. No off-ball movement, no sincere attempt by Wade to run interference, nothing brewing on the weak side. Arguably the most talented team in basketball is going to allow Bosh to step back with a 6-foot-1o center on his hip and a hand in his face and attempt a contested jumper from 18 feet.
As a tactical move, the Heat often keep the lane clear while in a half-court set. This enables James and Wade to drive to the hole. It's a sound strategy -- but only if the aforementioned superstars take advantage of it. The next trip downcourt, Carlos Arroyo moves the ball ahead to Wade on the left side, meanwhile Wade's teammates deliberately scamper to the right sideline. This isn't the most creative use of talent, but Wade has Marco Belinelli on him, so an isolation drive might not be the worst play call. But what does Wade do? The 29 percent career 3-point shooter takes a crossover dribble to his left, then launches a bomb from beyond the arc with 15 remaining on the shot clock.
This isn't cherry-picking. Go to any barren stretch of Heat basketball, and you'll find a flurry of pull-up jumpers, stagnation and a stubborn unwillingness to use the likes of James and Wade off the ball. Superstars (and Baron Davis) will always be susceptible to testing their luck from long-range, but you can't perform a heat check in the cold. We can lay some blame at Bosh's feet for not being a more willing driver or more aggressive in establishing position. But we should also ask why Wade isn't backing down Belinelli on that previous possession, and not regularly drawing defenders and opening up the floor. The Heat can wallow in the fact they don't have pure long-range shooters. But a better course of action is to draw defenses low to free up space, or orchestrate side pick-and-rolls for James and Wade, which forces defenders to make help tough decisions. If Andrei Kirilenko can get an unmanned look underneath courtesy of a Williams-Millsap action, there's really no reason Chris Bosh shouldn't be getting a steady diet of opportunities underneath off a Wade-James two-man game.
Gobbling up missed shots is another simple way to generate easy, close-range buckets. The Heat haven't been helping themselves in that respect. They rank 29th in the league in offensive rebounding rate, while James has two boards on the offensive glass all season and Bosh is about half his career number. Those are free points the Heat aren't cashing in.
Transition Defense
Admittedly, the Heat have been merely mediocre in this area, but for a team with uncommon athleticism and agile big men who can run the floor (Big Z being the possible exception), there's no reasonable excuse for giving up 135 points in transition over 10 games, especially when you operate at the third-slowest pace in the league.
Transition defense has changed a lot in the past 20 years. Back in the day, it was almost unheard-of for teams to launch a pull-up jumper in transition. As a result, the focal point of your transition defense was to stop the ball and send defenders to the block to challenge layup attempts at the basket. Today, a PUJIT is almost as common as a Showtime-style break, which gives defenses a lot more to worry about. David Thorpe explains.
"Your first two guys back are usually perimeter players," Thorpe says. "One of those guys slows the ball, the other protects the basket and has 'first pass responsibility.' But here's the key: You have to get your bigs racing back to protect the basket, so the guards can be freed up to find the shooters."
Let's go back to the Celtics game, during which Ray Allen drained seven 3-pointers. Some of those bombs occurred in the Celtics' patented offense of back screens and staggers, but a good number of them were the result of garden-variety mental errors by Miami, particularly in transition. You can see on this possession that the Heat have a sufficient number of guys back to defend. Arroyo does his job by slowing the ball, while Bosh and Ilgauskas are actually the next two guys back. They both go to nearly the exact same spot in the paint. But James, whose chasedown blocks usually make him one of the most dangerous transition defenders in the game, doesn't commit himself to any specific task on this break. He allows Allen to slip right behind him to the left corner. Does James assume one of the bigs will close out on Allen? Whatever the case, Allen launches one of the easiest of the 6,400-plus 3-pointer attempts of his career.
Earlier in the game, we see a similar dynamic. Miami gets decent ball stoppage in transition, a strong presence to the paint but, again, nobody picks up the trailer -- a guy who just happens to be the greatest rhythm shooter of his generation.
What do both these clips have in common? Dwyane Wade is nowhere to be found. This isn't entirely Wade's fault. He plays so close to the rim and loves to crash the offensive glass, which means he's often not in a position to race down the floor. Certain coaches in the league, Stan Van Gundy for instance, discourage their guards from going to the offensive glass. But Wade resides near the rim and, quite often, finds himself on the hardwood after an acrobatic attempt. It's no coincidence that both of Allen's successful PUJITs come on Wade misses at the basket. Wade is unlikely to change, which means that the other perimeter players -- including James -- must learn to be much more attentive transition defenders.
The Allen examples aren't isolated incidents. Toronto got 14 points in transition during the second half on Saturday night, production that kept them in the game. Again, Miami had its defenders back, but in nearly every instance, the defense was disoriented with players uncertain of their responsibilities.
For Miami, each of these three shortcomings is imminently fixable. That fluency Thorpe refers to defending half-court sets will come with time, as will the ability to know who's doing what when defending the break. Finding opportunities close to the basket will be the greatest challenge because it's going to demand that Wade, James and Bosh each perform a little rewiring. For James, it means reclaimng some of the instincts he thought he was leaving behind in Cleveland. For Wade, it means doing more work off the ball. And for Bosh, it means abandoning any notion that he's the third banana and embracing the idea that, when he has the ball down low, he is Option Number One.
Special thanks to Sebastian Pruiti of NBA Playbook for his incredible, almost freakish commitment to detail.