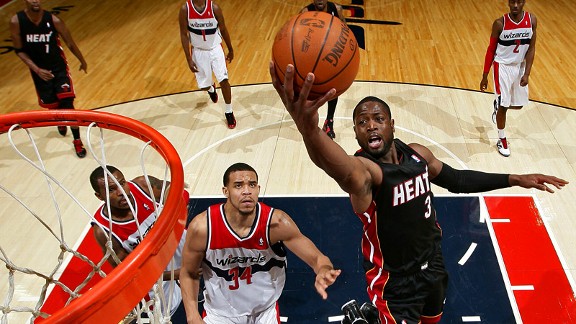 Ned Dishman/NBAE/Getty Images
Dwyane Wade and the Heat eventually pulled away from the Wizards.
Fans of contenders grind enamel to fingernails over games like this. The Washington Wizards? Really? It's akin to a teenager magnifying the minuscule problems of his small world into global tragedy. The Miami Heat beat the Wizards by 17 points, 106-89, on Friday night in Washington, but it was not without a struggle, depending on perception.
The lowly Wizards, with a 5-22 record on the season (two each of those wins coming against the Toronto Raptors and Charlotte Bobcats), were within one point with three minutes left in the third. Heading into the fourth, Miami held on to a narrow but seemingly more than comfortable seven-point lead. Washington won the third quarter 25-22, and it could have been worse had the Heat not cracked the Wizards' zone defense and gone on a 10-4 run to end the period.
Again, how does this happen against the Wizards? The anxious can't help themselves. The assumption is that if you're a contender playing the most lottery of lottery teams, you stomp on its neck. You jump out to a big lead, and you let the opponent with seven first- or second-year players (accounting for 63 percent of the team's minutes on the night) beat itself while you please the opposing but relatively bipartisan Washington crowd. That didn't exactly happen.
Did the Wizards play up a level, or did the Heat play down several? Maybe it was a little of both. Miami came out lacking. Let's not call it sleepwalking. And you can't really say Miami overlooked the quality of its opponent.
"This is a young team that's very challenging to defend," Erik Spoelstra said, crediting the athleticism and quickness of the young Wizards.
"John Wall puts a lot of pressure on your defense," he said. "And JaVale McGee just plays above the rim."
McGee finished with a season-high 24 points with 15 rebounds. Eight of his points came off dunks, but a couple of those came in garbage time. Wall was unable to finish at the rim early, as an attempt to blow past Chris Bosh and dunk came caroming off the iron. He switched to setting up teammates, racking up six assists and two turnovers by halftime. He started the third with three turnovers but then sparked Washington's run, finishing the period with 10 of his 15 points. Trevor Booker had 13 points, 15 rebounds and four steals on the night for the Wizards.
Washington didn't look particularly bad in the effort department, much better compared to the countless other times this season it has folded or given up. The Wizards weren't without their head-shaking plays and resulting poor body language, but against Miami, they were less susceptible to giving up. It was the carelessness that killed them. Missed dunks, unforced turnovers. Wall finished the night with 10 assists but seven turnovers.
"Every team plays hard against us. They bring their A-game against us; we understand that," LeBron James said. His partner Dwyane Wade said he knows they're going to get any team's best shot. The Heat were a little less hot with a purpose. Let the Wizards expend energy, and then make them haul the luggage to the bus. Wade and Bosh combined for 50 points, and James facilitated nine assists and had 18 points. Shane Battier continued to find his stroke with 15 points off the bench, going 3-of-6 from deep.
"We did some things that I felt that we could use from this game, couple sets that we ran, a couple offensive things that we did," Wade said. It almost sounded like he was talking about ... practice.
The Heat certainly had fun. Passing among each other, the trio of James, Wade and Bosh combined for 12 assists leading to 24 of each other's points. After the game, both James and Wade joked about a lob from the latter for the former late in the first half and how rookie Dexter Pittman thought it was for him.
Spoelstra called the win a good way to bounce back from the loss against the Magic and said it started with a "real, objective, raw film session and a productive shootaround after that." Miami held its morning session on the campus of Georgetown University, not at the Verizon Center like most NBA teams. "We couldn't just leave that game behind in Orlando."
But with superstars, Miami could afford to measure out what it needed in doses in the city for which LeBron expressed his love on Twitter. "After all these years I still love DC! Always show me so much Love back," he wrote at 2:33 a.m. Friday.
"We just weren't sharp enough to put them away until late," was how Shane Battier put it. Winning in comfort is one thing against the Wizards, but it's the developing habits that might legitimize fan concern.
"When the ball moves freely like it did there in the fourth quarter, there's a good karma to it," Spoelstra said about the final period, in which Miami put the game away by outscoring Washington 32-22 behind 10 points each from Battier and Bosh. Perhaps what Miami needs to realize is that champions can't thrive on karma alone.