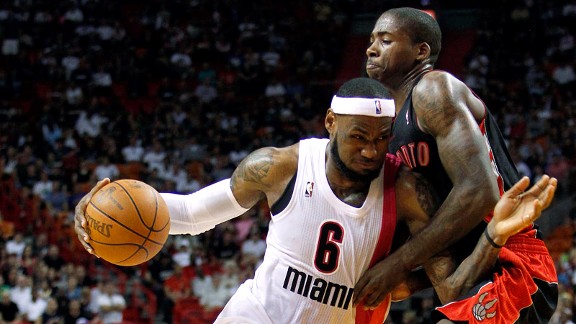 AP Photo/Alan Diaz
As LeBron James suits up for Toronto, we ask whether he's anywhere near 100 percent.
In another installment of the Heat Index's 3-on-3 series, our writers give their takes on the storylines before the Heat visit the Raptors (17-34).
1. Fact or Fiction: Last night's win was the Heat's biggest since All-Star break.
Tom Haberstroh: Fact. As far as March games go, they needed that one. Considering the emotional baggage that comes along with playing the Dallas Mavericks in Miami and how ugly the Heat's play has been as of late, there's really no other game I could point to recently that trumps Thursday's. One of the five-best wins of the season for them.

Michael Wallace: Fact. Considering what had happened the previous two games, and the general reaction had they lost a third in a row, the Heat got an important win. A big win. It also helped that they won with huge contributions from just about all who had been struggling.
Brian Windhorst: Fact. Not just because it was the Mavs. More so it was a response to the challenge to re-focus after that poor road trip. I'd still like to see them win a few important road games. But it was the best all-around performance they've had in weeks.
---
2. Fact or Fiction: Your best guess is that LeBron is above 75 percent healthy.
Haberstroh: Fiction. As preposterous as it is to use this as a measuring stick, I can't remember the last time I saw LeBron smile on the basketball court or elsewhere. The happy-go-lucky dude that he promised before the season has suddenly turned into Kendrick Perkins on a rainy day. He's literally bent out of shape, physically and emotionally it seems on the court. I say he's closer to 60 percent.
Wallace: Fiction. It's impossible to know anything for certain with regards to a player's true health status. But LeBron had to compensate for a lot just to get through Thursday's game. What I do know is the man has as high a threshold or tolerance for pain as just about any player I've seen in the league.
Windhorst: Fact. He's got some little issues and by not detailing them publicly he leaves room for speculation. But watching him move around and shoot, he doesn't seem to be bothered. I still contend that head injury was more than he or the team let on but that's just more of that speculation.
---
3. Fact or Fiction: This is a legitimate trap game for the Heat.
Haberstroh: Fact. Not only that, it's a big ol' bear trap game. Defensive guru Dwane Casey's going to have all sorts of tricks up his sleeve, especially knowing that LeBron is hobbled. The Heat will say that they're not looking ahead to Boston on Sunday, but that doesn't mean they're being honest.
Wallace: Fact. By definition? Yes, it's a trap game. This stop in Toronto is nestled between Thursday's win against the defending champs and a game at a Boston team that recently was the Heat's biggest villain. For Miami to take such a step back after such a promising step forward would be every bit of a disappointing stumble.
Windhorst: Fact. It's not even a trap game, it's a clear situation where the Heat are at a disadvantage. I just traveled from Miami to Toronto on a couple hours sleep and I'm really feeling it. But it's nice to have three All-Stars and that should be quite an equalizer.