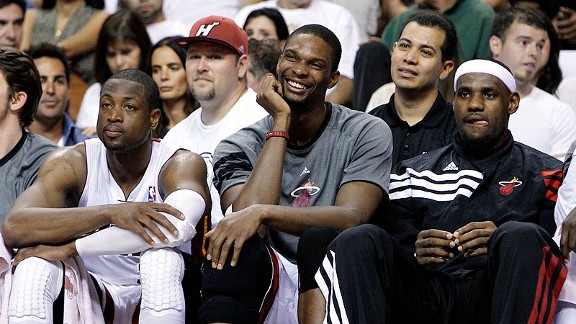 AP Photo/Lynne Sladky
Chris Bosh is thrilled about his series' statline: 39 points, 20 rebounds and one baby boy.
NEW YORK – Chris Bosh slept peacefully for nearly the entire Miami Heat flight last Wednesday afternoon. Little did he know that when he woke up and the plane landed he was going to be in for three of the busiest and most emotional days of his life.
Bosh's three-day itinerary was as preposterous as it was stressful but he came through it with a wide smile. He has a healthy newborn son, Jackson, and has been able to spend some time with him and wife, Adrienne. He was able to make the Heat's Game 3 victory over the New York Knicks, which put them ahead 3-0 in the series. He was even able to make the team's practice Saturday and presumably will be able to get some rest before Sunday's Game 4 when the Heat will try to close the Knicks out.
"My family is healthy, so I did my job; now I can do my other job," Bosh said. "It's a blessing what I have going on back home so I appreciate it both ways. I'm glad to be in the playoffs and I'm glad to have a son."
Here's a look at what Bosh's last few days looked like:
-Wednesday he landed at Newark Airport with the Heat at around 6:30 p.m. While the team was in the air his wife had gone into labor. There were a barrage of messages waiting for him. When he left he didn't think it was close, the baby was not due for two weeks. But the team had already arranged for a private jet to take him back to Miami. To get to the jet, though, Bosh had to take a car to another airport in New Jersey.
"I'm lucky with the schedule but I'm lucky to have such a great organization behind me," Bosh said. "At no time were they stressful. They were understanding and they encouraged me to do everything possible."
-Bosh got to Miami and then went immediately to the hospital, where he donned scrubs and went to the delivery room. His son was born about 3 a.m. on Thursday morning.
-After spending the rest of Thursday morning with friends and family sharing in the joy of the new arrival, Bosh went back to the airport to get another private jet back to the airport in New Jersey.
-Bosh arrived around 4:30 p.m. thinking he'd somehow been able to pull off this hurried trip to Florida with time to spare. The game was two and a half hours away and coach Erik Spoelstra, on word that he'd landed, put him in the starting lineup.
-Then Bosh got in a car to head to Madison Square Garden and ran into the teeth of rush hour. There was trouble on the surface streets. Then snarl on the New Jersey Turnpike. Then he got to the Lincoln Tunnel and it was at a standstill.
"Oh my gosh, it was terrible," Bosh said.
When he finally got into Manhattan he could see the Garden but was still stalled and it was just 45 minutes to gametime, almost two hours after he'd landed.
He considered just getting out and running to the arena.
"I thought about it, I'm not going to lie," he said.
Bosh got the locker room about 32 minutes before tip off and was mobbed by teammates. He later scored the Heat's first point when his teammates pushed him to the line after a technical foul. He finished with nine points and 10 rebounds in the 87-70 win.
-Friday morning Bosh left the team hotel, went back to the New Jersey private field and took another private jet for three hours back to Miami. He was able to spend the entire afternoon and evening with family and Jackson.
-Saturday morning Bosh was back at the airport in Miami boarding a jet for yet another flight up the coast. He missed Friday's practice but this time the traffic wasn't bad and he was at the Garden for the Heat's workout when it started around 1 p.m.
"It's nice to be able to know that they're healthy and that I can just concentrate on the game," Bosh said. "They want me to do that, we have a huge opportunity."