3-on-3 preview: Heat-Pacers, Gm 4, 3:30 ET
May, 20, 2012
5/20/12
11:04
AM ET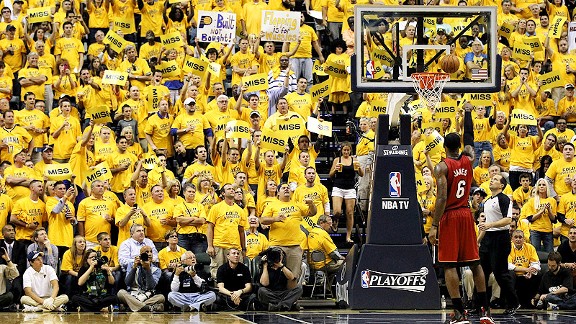 Jonathan Daniel/Getty Images
Have LeBron James and the Heat derailed in Indiana? It's time to be debate.
In another installment of the Heat Index's 3-on-3 series, our writers give their takes on the storylines before the Heat visit the Pacers in Game 4 of the East semifinals (ABC, 3:30 ET).
1. Fact or Fiction: LeBron is right, Game 4 is a must-win for the Heat.
Tom Haberstroh:
Fiction. The "must-win" meme is the worst thing to happen in sports analysis since the basketball adaptation of the "closer" term. That may be a bit strong, but our casual acceptance that a non-elimination game is a "must-win" has gotten a bit out of control. If the Heat lose Sunday, they still have potentially two games remaining at home. This isn't do-or-die. Yet.

Michael Wallace:
Fiction. I know the point LeBron was trying to make, but I think in a literal fashion, when it comes to this situation, it's not true. Elimination games are must-win games. Neither team's season would end based on the outcome of Game 4. I actually believe this game is bigger for the Pacers' psyche. The Heat can't go in thinking this series is over if they don't win Sunday. Even if they're down 3-1, there's still a game in Miami on Tuesday. Which means there's still a chance to start a rally.
Brian Windhorst:
Fact. I think it is rather obvious that getting down 3-1 without Chris Bosh and with the Pacers getting more confident by the minute is not a recipe for victory. The difference between 3-1 and 2-2 obviously is vast, especially because it would give the Heat back the home-court advantage. The Heat players have a lot on the line here: reputations and futures and legacies. Way more than the Pacers.
---
2. Fact or Fiction: D-Wade came off worse than Spoelstra in Game 3.
Haberstroh:
Fact. And that's a remarkable achievement by Wade considering that Heat fans were calling for Spoelstra's pink slip after the Pacers went up 7-0 during the Dexter Pittman Experiment of Game 3. And then sprinkle in the fact that Spoelstra had a heated argument with the team's most beloved star. And still, there's no question that Wade came off worse in Game 3. That's how awful Wade was in Thursday's game.
Wallace:
Fact. I asked Dwyane on Saturday if he felt he made a mistake by showing his frustrations in such a public fashion during that timeout blowup with Spoelstra. He said it was just the byproduct of a heated discussion during an intense time in the game. At the end of the day, I truly believe Dwyane was much madder with himself than anyone on that Heat bench. His body just wasn't cooperating. He lashed out. He looked bad doing it. Everyone insists it's behind them now.
Windhorst:
Fact. Spoelstra's Dexter Pittman experience and revolving door of subs was not exactly awe-inspiring. But Wade came off as petulant because of the way he was playing, especially his hard-to-explain effort level. Combined with his inexcusable flagrant foul in Game 2, Wade's attitude so far in this series has been has been poor. Including snapping at his coach at a crucial part of the game.
---
3. Fact or Fiction: The Heat should still be favored in this series.
Haberstroh:
Fiction. In light of the Wade injury stuff, I've moved from toss-up to slight nod to the Pacers. I still think the Heat have a good chance of turning this around and beating the Pacers, but I don't find it to be a likely scenario anymore. Not with Bosh out. Not with Wade playing on one leg. I don't think this is an X's-and-O's problem as much as it is a physical one. Does Wade still have the burst in his step to be himself? I'm not sure. If he doesn't, it becomes a 1.5-on-8 ordeal.
Wallace:
Fiction. Call me crazy, but I consider it a 50-50 series right now. Yes, the Pacers have a 2-1 series lead. But I've seen the Heat rally from a 2-0 deficit in the Finals to beat Dallas in 2006. And I've seen Miami hold a 2-1 series lead over the Mavs last season in the Finals and squander it. I've always said the Heat seem to respond to adversity far better than prosperity. But without Chris Bosh available and with Wade ailing a bit, nothing less than their A-game will beat Indy.
Windhorst:
Fact. If they split in Indiana, which is still possible, then they will have done exactly what was expected of them and they will have control of the series. Because this is still within reach, they are not yet desperate. They lose Game 4, of course, then they become a heavy underdog. In short, it's a big game.