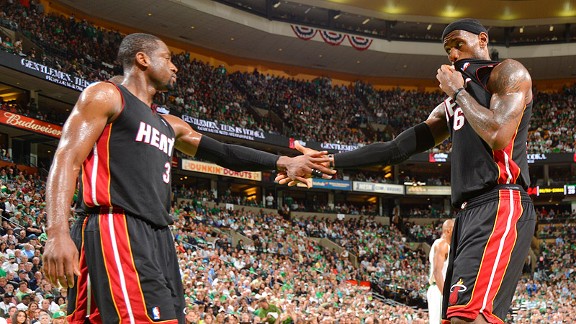 Jesse D. Garrabrant/Getty
How has the LeBron James-Dwyane Wade pick-and-roll fared so far? Take it from those involved.
MIAMI -- Without Chris Bosh in the first four games of this series, Heat coach Erik Spoelstra has been forced to reach deep down into his bag of tricks and pull out something we haven't seen in months: the LeBron James-Dwyane Wade pick-and-roll.
Spoelstra busted it out only once in Game 1. He didn't need to, as the Heat won by 14 points. Then, as early as the second quarter of Game 2 with the Heat down by 13 points, we saw it again. James set the screen for Wade. Two points. Then again in the third quarter. Another two points.
Again and again, the Heat went to the James-Wade pick-and-roll. Ever since, it's been one of Miami's go-to plays in critical moments, especially in the fourth quarter. And it's worked. Not every time, but enough to keep using it.
No, the James-Wade pick-and-roll isn't a dominant play yet, and credit goes to the Celtics for keeping the two in check when they impersonate John Stockton and Karl Malone. Even though Celtics coach Doc Rivers has seen the play dozens of times in this series, it doesn't mean he's figured out how to guard it yet.
When asked at Tuesday's shootaround about how the Celtics have been able to neutralize the James-Wade pick-and-roll, Rivers didn't want to give the impression that he's cracked the code.
"We don't think we have [neutralized it]," Rivers said, pointing to James' clutch 3-pointer that he hit resulting from screening for Wade. "We don't think we've done a very good job of it, honestly. We can guard it better. We're going to have to guard it better."
James has played like a big man before, but he's still getting used to the ins and outs of being the screener. More and more, you're seeing James roll toward the rim rather than migrating back to his comfort level on the perimeter.
"I'm feeling more comfortable as a forward, rolling," James said at Tuesday's shootaround. "I'll do whatever it takes that helps us win. We're successful a lot [using the James-Wade pick-and-roll], sometimes we're not. But if it's going to put more pressure on the defense, I'm all for it. I have to continue to be unpredictable offensively -- me handling the ball, setting the screens, coming off pin-downs, whatever the case may be -- just to keep the defense off balance."
Rivers knew the Heat were going to feature James as the screener more with Bosh being out, but he didn't expect it to this extent.
"Their biggest adjustment in Game 4 was LeBron setting picks all over the floor, not just on Wade," Rivers said. "Everywhere, he's rolling."
One of the primary objectives of the pick-and-roll is to secure a mismatch for the 6-foot-8, 260-pound James and to overpower Wade's defender with strength and size. Oftentimes, that defender is Rajon Rondo, who is listed at 6-1, 186 pounds.
James has done a particularly effective job of sealing Rondo after screening for Wade and ensuring the mismatch, but Rivers contends that it's a foul that the referees aren't calling.
"You mean the illegal roll that they would call on any big [man]? Because they would," Rivers said. "If that was Kevin or a big man rolling into your guy, that's a foul. When it's a guard, they don't call it a lot."
So if he doesn't get the foul call, how can the Celtics prepare for it?
"We have to do a better job of getting under that, and then we have to give help," Rivers said. "LeBron's a smart basketball player. When you watch him, you appreciate him more in things like that. Nine times out of 10 he slips it [by rolling to the rim earlier than usual]. You can see that's more from his IQ than the actual set. He's reading situations, and he's making it very difficult for us."
Of course, guarding James is never a one-on-one affair, and when he rolls to the rim, it's no different. The Celtics have fought the James-Wade pick-and-roll effectively by sending Kevin Garnett to help and stop it before it starts.
But if Bosh comes back, that won't be so easy. When assigned to Udonis Haslem, Joel Anthony and Ronny Turiaf, Garnett doesn't have to travel very far to meet James and Wade. Haslem has a short jumper in his arsenal. Anthony and Turiaf have no jumper to speak of. There are no repercussions, no charges to roaming.
How would Bosh change things?
"It makes it a longer roam," Rivers said of Garnett. "That's the thing with Bosh, we're still going to rotate, and we're still going to double guys. But with Bosh on the floor, instead of that roll coming from inside the paint, it may be coming from 10-15 feet out of the lane, and we'll be late at times. That's why we have to be sure about the pick-and-roll part of it. If we are late, we'll have time to get there."
As effective as Haslem has been at times with his jumper, Spoelstra misses that floor-spacing presence that Bosh provides.
"He makes it all work," Spoelstra said. "You can place him anyplace on the court seamlessly. Obviously, he's a very good shooter, so you have to stay near him. He keeps the defense honest."
Wade can't wait to have Bosh back. It means that when he turns the corner in the James-Wade pick-and-roll, he won't always have to see the wall of Garnett once he turns the corner. Garnett would have to stick on Bosh more.
Is Wade seeing Garnett more these days even when trying to avoid him with James-Wade pick-and-rolls?
"Yeah, no question, I mean it's obvious," Wade said. "He plays a little safety. We have other guys that he doesn't feel is much of an offensive threat. That's been the biggest difference in this whole series."
Ever after all these years in the league, this is some uncharted ground for Wade.
"I've played against Boston a lot of times, and they haven't been able to play the way they're playing me now," Wade said.
Wade suddenly lit up when he started talking about Bosh's potential return and what that effect could have in the pick-and-roll game. No more helping on James-Wade pick-and-rolls so freely.
"Obviously when Chris comes back," Wade said, "I would love for [Garnett] to keep doing that so I could get [Bosh] some easy touches and some better shots.
"I wouldn't mind."