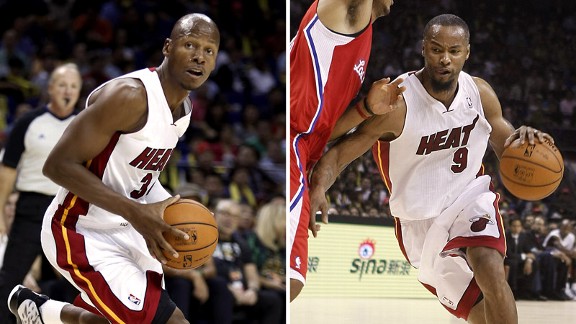 Icon SMI, AP Photo
Ray Allen is on a fast track to success in Miami, but the Heat will be patient with his fellow newcomer.
MIAMI -- Ray Allen admits he's struggling to adjust.
Sure, his shot has been slightly off through his first three preseason games with the Heat. But that's not what's eating away at Allen, the NBA's career leader in 3-point shooting.
Allen also has yet to establish any rhythm with other players projected to be on the Heat's second unit because of injuries. But he knows it's only a matter of time before Mike Miller, Udonis Haslem and Mario Chalmers heal.
There's only one real obstacle complicating Allen's transition from Boston to Miami, where he'll make his home preseason debut Thursday against the Detroit Pistons: South Florida traffic.
"U.S. 1 is the pits," Allen said of the oft-gridlocked route from his Coral Gables home to AmericanAirlines Arena downtown. "The toughest thing? Probably my commute. Just trying to figure out which way to go. It seems like there's traffic when there shouldn't be traffic. I'm sitting there trying to figure out why there's traffic. I was probably stuck there for 30 minutes and there was just one car pulled over and somebody left it there. So [traffic] was backed the whole way up to [Interstate] 95. Just ridiculous."
Other than that, both Allen and Rashard Lewis -- the Heat's two key free-agency acquisitions -- apparently are headed in the right direction in their new surroundings. But the two are progressing along vastly different paths in Miami.
Allen and Lewis are expected to play in front of the home crowd for the first time in Thursday's preseason game. While Allen continues to work out a few kinks and adapt to a likely sixth-man role with the Heat, Lewis is methodically trying to play his way back into NBA shape after battling injuries the past two seasons.
Allen, 37, has shown no signs of negative effects from offseason ankle surgery through the midway point of the preseason. Barring any setbacks, Allen is expected to seamlessly transition into a versatile role in Miami that already has seen him spend some time at point guard in bigger lineups.
For Lewis, however, each day he's able to complete a full practice and regain some rhythm and timing is essentially a success. His playing time has varied the first three preseason games and he has more turnovers than made baskets so far. For now, Lewis, 33, gauges his progress by the strides he makes in consecutive practices more so than he does his game performances.
"That's the whole goal … just to be out here every single day, when you have nagging injuries," said Lewis, who has missed 62 games the past two seasons with knee and leg injuries. "My goal is to keep pushing forward and not take a step backwards. I feel like I'm getting there, starting to turn the corner a little bit, getting my legs up under me."
While Allen is expected to make an immediate impact on the team starting with the highly charged Oct. 30 season opener against the Celtics, the Heat are taking a more cautious approach and a long view with Lewis. Allen will slide immediately into a perimeter rotation alongside Dwyane Wade and LeBron James. Lewis could eventually help bolster a relatively thin Heat front line that starts career power forward Chris Bosh at center and natural small forward Shane Battier at power forward.
Heat coach Erik Spoelstra believes both Allen and Lewis have been able to fit in at a faster pace because they've come from teams that have similar systems and philosophies as the Heat. In the past few seasons, Spoelstra has mimicked some of Boston's play calls and speaks highly of the Celtics' complex team defensive structure. Lewis spent four years in Orlando under Stan Van Gundy, who has been one of Spoelstra's best friends and mentors.
Spoelstra also said their championship-level experience and veteran leadership have made a potentially difficult adjustment process much easier for the two new additions. Allen won a title with Boston in 2008, and Lewis advanced to the Finals with Orlando the following season.
"They've both been in solid systems," Spoelstra said. "It's not too much different defensively in terms of the expectations, the detail, the intensity on that side of the floor. Offensively, that will take time. Ray, I think, is ready to step in and he's already gotten a feel. Rashard, it's great to have him out here every day. He's missed two years of rhythm and timing. That takes time. But we'll be patient."
The only thing Allen doesn't have patience for is the local traffic. As far as his rhythm, it's a work in progress. He's shot 44.8 percent overall from the field in three preseason games, but was just 4-of-14 from 3-point range. But he also had five assists and three steals in the Oct. 7 preseason opener against Atlanta and scored 15 points as the Heat's second-leading scorer in an Oct. 11 win against the Los Angeles Clippers in China. During that game overseas, Allen showed he's establishing chemistry with LeBron James, who assisted on two of Allen's four 3-pointers.
"I try to keep my mind in tune with whatever is happening for that moment. I try not to look too far ahead," Allen said of his approach. "For me, it's just physically getting my body together and being healthy, and getting stronger and just trying to understand my new surroundings better. I think it will take a while."
That process for Lewis involves an internal struggle. Mentally, he believes he still has the skill set of the All-Star player he was with the Magic. The challenge now is to get his body back to as close to its 2009 form as possible. Lewis has struggled with his shot and was a step or two slow defensively in adjusting to game speed. But he has benefited from extra minutes in practices and games because of injuries to Haslem and Joel Anthony.
"No doubt, I still know I've got a lot of basketball left in me," Lewis said. "I know I can go out and help this team win some ballgames. It's just, you can't do it overnight. There are a number of things you have to do to compete at the NBA level. I think sometimes I put too much pressure on myself because I know I can go out there and do better. But I've got to let it come and not rush it."
Allen said "it's hard to say" when he'll feel completely comfortable and in his normal rhythm. But he likes the direction things are gradually heading with the Heat.
"What I see of all the guys as a whole, Coach doesn't have to manage the team," Allen said. "It does make it easier on the veteran players. Look at myself, LeBron, D-Wade and Shane [Battier]. You figure all those guys are vets, with Mike and [James Jones] and Udonis. So there's not a lot that you have to say, because everybody knows how to do their job and come to work."
Getting to and from work in Miami?
Well, that's the only drag for Allen.
Otherwise, he's on the fast track to having a major impact.