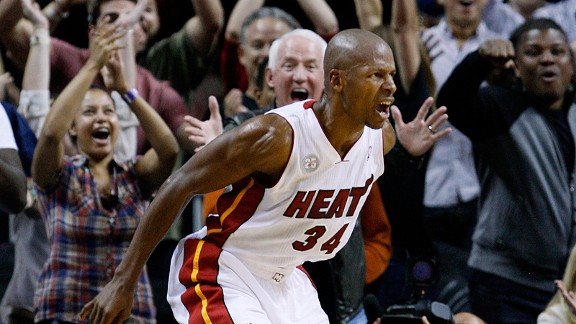 AP Photo/Wilfredo Lee
Ray Allen was the hero, cashing in on a LeBron James dish for a four-point play and a 119-116 win.
MIAMI -- When it comes to Ray Allen, the Miami Heat have seen it all before. But nothing quite like that.
Allen has hit over a dozen game-winners in his NBA career along with countless big shots against Miami. But a four-point play to seal a victory?
"I haven't seen it," LeBron James said after the game. "I've watched a lot of basketball but I've never seen one of those."
It was a textbook pick-your-poison play that set up the four-point dagger that sealed the Heat's 119-116 victory over a relentless Denver Nuggets team. With the clock winding down in the single digits and the Heat down by a single point, James took Kenneth Faried off the dribble at the top of the key, barreled down the left edge of the paint and saw Allen sliding over to the left corner.
It's a situation that we've diagrammed before: James driving down the lane and Allen waiting in the corner. How do you defend it?
What happened next was understandable from Denver's perspective, but it ultimately proved fatal. Allen's defender Corey Brewer chose to stop James, so he turned his back on Allen to help on the penetrating James.
Whoops.
"Brewer turned his head just one split second and LeBron found me," Allen said. "It was curtains."
Curtains, indeed. Allen caught James' pass, rose for his signature left corner 3-pointer -– a shot that he hit an NBA-best 57 percent of the time last season -- and released the ball as Brewer smacked his shooting hand.
Whistle. Splash. Bedlam in AmericanAirlines Arena.
Absurd, a potential four-point play to win the game.
"I think it's more absurd to see the greatest 3-point shooter of all-time to be open," James said.
After chest-bumping James, Allen walked up to the charity stripe with one thought on his mind.
"'Please make this free throw,'" Allen recalled thinking. "It'll be a better story to tell."
Allen sunk the free throw to give him 23 points off the bench and put the Heat up by three points with 6.2 seconds remaining. Although the Nuggets still had one final shot to tie the game, their fate was inevitably sealed. Danilo Gallinari's 3-pointer came up short and the Heat moved to 2-1 on the season.
Shortly after the game, Chris Bosh walked up to Allen and thanked him for making his offseason decision to join Miami.
"I'm glad you're on our team," Bosh recalled telling Allen. "We've seen that corner fadeaway three so many times. It wasn't a good feeling when it went in [then], but it's a reversal now."
Allen has experienced quite a dramatic opening week in his new threads. And it's hard to imagine a more adrenaline-packed game with the calendar reading "November." The Nuggets, coming off two disappointing losses to open the season, blitzed up and down the court as if they learned that a new rule was put in place that shaved the shot clock down from 24 seconds to 10 seconds.
"My neck is exhausted from going like this all game," Heat coach Erik Spoelstra said after the game, shaking his head side to side.
The game's final possessions blowing by at such a furious pace, it was hard to fathom what transpired on the court. How crazy was it? Consider that Bosh notched a new personal Heat-high with 40 points -- probably his best offensive performance as a member of the Heat –- and his night was merely an afterthought.
"Chris is always being overshadowed by something," James said while cracking a smile. "Chris had a hell of a game tonight, he kept us in the game. But Ray made a big one, too."
The Heat won the game on Allen's heroics and they should feel fortunate they escaped with a victory and not another humbling defeat. For the third game in a row to open the season, Miami's once-vaunted defense was embarrassed once again.
Just one night after hemorrhaging 104 points to the New York Knicks and a few days removed from allowing 107 points to the Celtics, the Nuggets scored a whopping 72 points in the paint en route to a total 116 points on Miami's home court. The Heat had never surrendered at least 100 points in three consecutive games all of last season, but they have already done that here in 2012-13.
It's a small sample size, to be sure, but the Heat won't be able to count on four-point plays and 40-point outbursts from Bosh to bail them out of another dismal effort on the defensive end. Whether it was Ty Lawson, Andre Miller or Andre Iguodala easily puncturing the Heat's perimeter defense or Faried cleaning up the glass for putbacks, the Nuggets absolutely bludgeoned the Heat inside where they're at their thinnest.
With no traditional center to bolster their front line, the Heat were forced to count on 6-foot-9 Joel Anthony, who made his season debut on Saturday, to help stop the bleeding. Still, JaVale McGee and Faried ended up with 38 points and 21 rebounds on 71 percent shooting.
"We know we have to get better defensively," Spoelstra said. "Our foundation is built on defense. We're not going anywhere unless we shore that up."
While Bosh was busy dropping 40 points, he needed help on the other end. Bosh got some relief inside from the 6-foot-4 Dwyane Wade, who tallied four blocks on Saturday including two on 7-footers McGee and Kosta Koufos. But 72 points in the paint? That's not going to cut it.
For now, the drama of Allen's four-pointer will hide the face that the Heat's porous defense hasn't plugged any holes so far this season. They were crushed from beyond the arc with 19 3-pointers by the Knicks on Friday and then proceeded to allow 36 buckets in the paint on Saturday. The defensive effort didn't sit well with James.
"We're happy with the win," James said. "But we're not satisfied with the way we played."