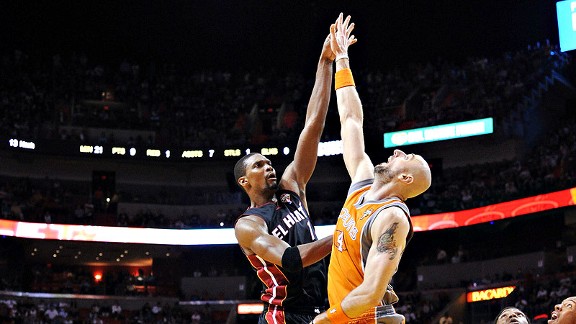 Steve Mitchell/US Presswire
Can Chris Bosh keep up his hot shooting streak against Marcin Gortat and the Suns?
In another installment of the Heat Index's 3-on-3 series, our writers give their takes on the storylines before the Heat host the Suns on Monday and try to go to 3-1 on the season.
1. Fact or Fiction: Miami should be concerned about its D.
Tom Haberstroh: Fiction. If the Heat continue to lay down and give up 100-plus for another week, then it's time to be concerned. But considering the personnel continuity and the sample size, chances are this is just a fluke start and they'll sharpen their defense soon enough. But if you're looking to diagnose, as NBA.com's John Schuhmann pointed out, Miami's bench is probably to blame for the early defensive woes.

Michael Wallace: Fiction. While fans, critics and media pundits will scrutinize any blemish this team shows, the reality is that Miami's core players know their defensive identity. They also know there will be stretches when the energy and execution will lag and opponents will get hot. But the general track record reveals the Heat are capable of being a premier defensive squad when they need to be. It's too early to worry.
Brian Windhorst: Fiction. I'm not sure "concerned" is the proper description. They need to focus more on it. Teamwide, the Heat are clearly excited about the position-less concept on offense and the freedoms that come with it. For it to work, however, the Heat have to be more diligent at the defensive end because teams are going to attack matchup issues. It's been quite obvious the effort level hasn't quite been there.
---
2. Fact or Fiction: Phoenix handled the Steve Nash situation correctly.
Haberstroh: Fiction. The Suns had forfeited most if not all their leverage by waiting to deal him at the 11th hour to the Lakers. Keeping him for sentimentality reasons is understandable, but that doesn't make it the smart long-term play. The Suns should have traded him at the deadline last season for better rebuilding assets. But instead, they have Michael Beasley as their No. 1 scoring option.
Wallace: Fact. There's no easy way to part with your franchise player. Especially an older vet who deserves a legit shot at a title. The Suns rebuilt on the fly and could prove to be a dark-horse playoff contender in the West. On top of that, they got a couple of assets and decent cap space by dealing Nash to the Lakers. Both teams are better-positioned as a result.
Windhorst: Fiction. They should've traded him last season before the trade deadline. Or, better yet, before last season. That was the best business thing to do. The Lakers trade was the best thing for the franchise at the time they made it, but all their options were gone.
---
3. Fact or Fiction: Bosh's 40 is a sign of things to come this season.
Haberstroh: Fact. You won't be seeing the Toronto Chris Bosh every game, but don't be surprised if big scoring nights become a semi-regular thing. It cannot be overstated how much breathing room Bosh has gained now that Joel Anthony isn't parked under the rim. With Shane Battier on the perimeter, Bosh can take his man off the dribble or post up without worrying about Anthony's defender coming to the rescue. A 20-point scoring average for Bosh is in play, for sure.
Wallace: Fact. LeBron James and Dwyane Wade both said during training camp that one of their priorities this season is to get Bosh going early and to consistently exploit the mismatches he creates on offense at center. Bosh won't average 30 a game, of course. But he is more than capable of going all Harden on foes once in a while.
Windhorst: Fact. Not that it'll always come from Bosh. This is the deepest the Heat team has been in three years, and they run an offense that encourages diversity. If the plan works, the Heat will still win games when neither LeBron or Wade has a great scoring night.