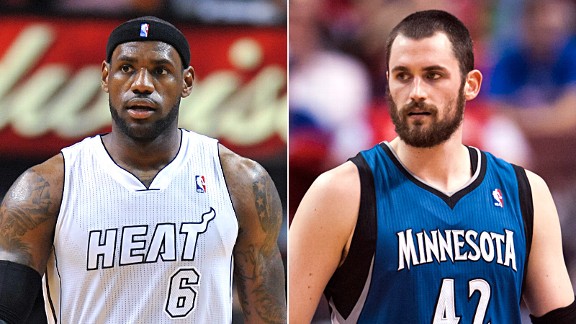 USA TODAY Sports
Ahead of Tuesday's game against Minnesota, would Kevin Love be the perfect fit next to LeBron James?
In another installment of the Heat Index's 3-on-3 series, our writers give their takes on the storylines before the Heat host the Timberwolves on Tuesday and aim to improve to 16-6 on the season.
1. Fact or Fiction: Sitting Ricky Rubio for tonight's game was the right call.
Tom Haberstroh: Fact. Lots of people think the Timberwolves should have rested Rubio against the Magic on Monday night instead. Me? I think the Timberwolves made the right move here. Let him slowly work his way back against easier competition rather than risk an injury from trying too hard. I think we can all agree: We all want to see Rubio healthy for the long term; let's not get selfish.

Michael Wallace: Fact. If the Timberwolves indeed follow through with their plan to avoid playing Rubio in both games of a back-to-back set this soon following his return from knee surgery, then it's the right call. Minnesota, a team with playoff expectations, has bigger hopes and plans than to risk pushing Rubio through a relatively meaningless back-to-back set in December.
Brian Windhorst: Fact. The Wolves believe Rubio is their most valuable asset, more important than Love, based on their actions. He's been back from injury for a week. If you want to dispute if he should've chosen Monday's game in Orlando to sit out, well, that's a different story. By the way, the Heat certainly seem to be catching an unusually high amount of teams on the second night after being in Orlando, instead of vice versa, so far.
---
2. Fact or Fiction: Love is the ideal big man in Erik Spoelstra's pace-and-space offense.
Haberstroh: Fact. We asked him about it this morning at shootaround and he gushed about Love's talents, calling him an "anomaly." Players like Love don't come around very often and all those 3s would be nice to watch, but imagine those quarterback outlet passes from Love to James or Wade down the court. Love was practically built in a pace-and-space lab, if ever there was one.
Wallace: Fact. Spoelstra would never admit it. Never. But I'm certain he'd be willing to part with Chris Bosh straight up in a deal for Kevin Love, whose combination of sharp shooting and relentless rebounding would make him a perfect fit in Miami. But this is a classic case of the icing-on-the-cake theory. Love's numbers might be a bit inflated in Minnesota because he's doing things no one else on his team can do. Sorta like it was with Bosh in Toronto.
Windhorst: Fact. But this is sort of a trick question, Love is a good big man for a lot of systems. Superior rebounder, excellent passer, strong outside shooter, 6-foot-10. I'd take that on my team. Heck, I'd sign him for five years.
---
3. Fact or Fiction: Minnesota should trade for Pau Gasol to play next to Rubio/Love.
Haberstroh: Fact, but do they have enough to get a deal done? Derrick Williams might be the worst 3-point shooter I've seen who's branded as a 3-point shooter. He's a career 27.9 percent 3-point shooter in the league. You think the Lakers want to take on that project? The Lakers aren't going to roll the dice on Williams, not at the price of Gasol. Maybe Minnesota can throw the video guy who produced the Kevin Love coat video into the deal. Maybe that will get the deal done. He might be untouchable.
Wallace: Fact. If the Timberwolves had their way, this trade would have been made a year ago, but it's not their call. The Lakers do -- and rightfully should -- want more for parting with Gasol than what Minnesota is capable of putting together, especially if the plan is to keep both Rubio and Love intact. If Gasol really wants to be there, he'll wait a year and perhaps go as a free agent when his contract expires.
Windhorst: Fact. Gasol is getting up there, but what is Minnesota waiting for? If the Lakers are thinking straight, they'll demand Rubio or Love in the deal, though. Lots of people are high on Nikola Pekovic, but I know I'd rather have Gasol.