Miami ready for more tweaks against Indy
May, 16, 2014
May 16
12:24
AM ET

By Michael Wallace
ESPN.com
Archive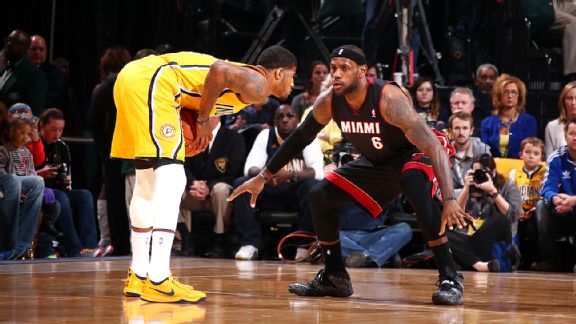 Nathaniel S. Butler/NBAE/Getty ImagesHere we go again: Miami and Indiana gear up for an Eastern Conference finals rematch.
MIAMI -- As the
Miami Heat
headed to the locker room after closing out the
Brooklyn Nets
to advance to the Eastern Conference finals for the fourth straight season, veteran forward
Udonis Haslem
went directly to the weight room for a workout.
Haslem had plenty of energy to burn after playing a total of three minutes in the five-game series.
The Heat had shifted to a smaller lineup to match up with the Nets' perimeter players, and Haslem was among Miami's big men who saw their roles diminish in the second round of the playoffs.
That, however, figures to change now.
With the top-seeded
Indiana Pacers
clinching a 4-2 series win against Washington on Thursday, the Heat will face their biggest nemesis in the Eastern Conference finals for the second consecutive season. The tall task begins when the Heat travel to Indiana for Game 1 Sunday at Bankers Life Fieldhouse (3:30 p.m. ET, ABC).
"I just had to get a little workout in, knowing what's coming," Haslem said. "Next round, I anticipate I'll be back in the rotation some kind of way. So you have to get your work in. I didn't really play in this series, but I just got done working to stay ready.
"Keep your mind right. Keep your body ready."
That flexibility has been a virtue for the Heat, who are prepared to tweak their rotation yet again around anchors
LeBron James
,
Dwyane Wade
and
Chris Bosh
as they face another opponent with a distinctive style. For the third consecutive series, coach Erik Spoelstra is expected to shuffle his rotation as the Heat try to counter Indiana's frontcourt size with 7-foot-2 center
Roy Hibbert
and rugged forward
David West
.
Miami has excelled at making these transitions appear seamless in recent seasons. That especially has been the case this postseason for the Heat, who opened the playoffs with Haslem starting at power forward alongside Bosh at center and also getting significant production from reserve center
Chris Andersen
.
The Heat went bigger during their first-round sweep of the
Charlotte Bobcats
to contend with the bulk of
Al Jefferson
. The dynamics changed against the Nets, who used 3-point shooters to spread the floor and interchangeable wing players. Miami made the adjustment early and replaced Haslem with
Shane Battier
in the starting lineup and used
James Jones
and
Rashard Lewis
more against Brooklyn.
Spoelstra pointed to the Heat's track record of quickly adapting to changing challenges when asked Wednesday night if he expected to alter his rotation for the conference finals.
"Based on our history, whatever is necessary," Spoelstra said. "I won't hesitate."
Spoelstra has said he approaches his supporting cast options in much the same way a baseball manager utilizes his bullpen. The Pacers usually force Spoelstra to essentially look down his bench, tap his right forearm and go with a bigger lineup. Haslem has had the most success this season in defending Hibbert. Miami could also dust off
Greg Oden
, whose last meaningful playing time came in a disastrous six-minute stint as a starter against Hibbert during a home win for the Pacers in March.
At least one thing has already become clear for Miami. The constantly changing lineups that were sometimes a source of frustration for the team as it sorted through 21 different sets of starters in the regular season has gradually become strength in the playoffs.
"It's back to a wrestling match now," Bosh said of shifting from the Nets to the Pacers. "For the latter half of the season, that's how we've been playing. So for us, I think it will be a smooth transition. This one was a little more difficult because Shane [Battier] hadn't played in a while and we were playing against a team that likes to switch everything. It's always tough trying to have an offensive package for that. But now we can kind of go to the classic style, really work on spreading [Indiana] out and play our game."
The Heat and Pacers split their four regular-season meetings, with each team winning twice at home. The teams have also split their past 14 games overall, but the Heat have lodged the most meaningful victories in the postseason. Miami defeated Indiana in Game 7 of the conference finals last season, and then went on to beat San Antonio in Game 7 to win its second straight NBA title. The Heat also eliminated the Pacers in six games during the second round of the 2012 playoffs.
This time, Indiana owns home-court advantage after posting the best record in the East. But the Pacers have also struggled extensively down the stretch. They rallied from a 3-2 deficit by winning the final two games of the series to get past eight-seeded Atlanta in the first round. After losing just six home games throughout the regular season, Indiana has dropped four of their seven home playoff games so far.
Despite all of their issues, no team brings out the best in the Pacers quite like the Heat.
"It's only going to get tougher," Pacers forward David West said of overcoming months of problems on and off the court to finally face the team they've targeted since the end of last season. "We've been talking about this series all year. We've had a different path than [Miami's] had, but we're here."
Aside from the home-court factor, the Heat wouldn't want it any other way as they try to reach the NBA Finals for the fourth straight year in pursuit of a third consecutive championship.
"We still have some business to take care of," James said of advancing to the conference finals, with the Heat set to resume practice Friday in preparation for the Pacers. "But it's great to put ourselves in position to get to where we want to go. We'll never shortcut the process, understanding each and every game is going to be a challenge for us. This is the reason we came together four years ago, is to put ourselves in position to compete for a championship. And we're a step closer to it."
Overlooking the Pacers isn't an option. Finding creative ways to match up with Indiana, however, has become a specialty for the Heat, who have changed their starting lineup entering or during seven of their past nine playoff series because of injuries or strategic adjustments.
"It's a luxury we have," Haslem said. "It's definitely not for everybody. But you have to have guys willing to do what it takes. Sometimes it's uncomfortable. Sometimes with your competitive nature, you want to be out there, but in the end, you understand that it's all about raising that trophy."