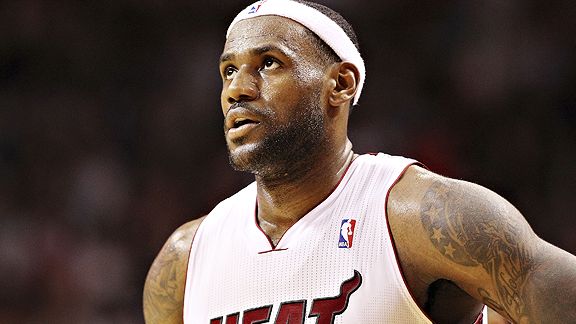 Mike Ehrmann/Getty Images Sport
LeBron James: Not all that impressed with the media presence at Tuesday's practice.
MIAMI -- LeBron James got back to his motivational accounting practices Tuesday.
Only this time, instead of taking mental notes of critics as he did via Twitter over the summer, James shifted his focus to those who chronicle the Miami Heat's daily exploits.
"Where is everybody?" James shouted after Tuesday's practice as he walked toward about a dozen reporters for his afternoon media session. "A few weeks ago, it was what, about a thousand of y'all, 250 of y'all all over us. Pretty soon, won't nobody be here."
James was only joking. We think. But the point he was trying to make Tuesday was that the media flocked, hounded and pounded the Heat when the team was in the midst of that tumultuous 9-8 start to the season that included bickering among players and speculation about coach Erik Spoelstra's future.
Now that Miami (18-8) has turned around its season with a nine-game winning streak entering Wednesday night's visit from the Cleveland Cavaliers, James was loudly, and, in part, jokingly, wondering where all the skeptics went.
Apparently, there's a bit too much peace around the Heat during their recent prosperity. Miami is off to its best start since the 2004-05 season, and is one lopsided victory shy of matching an NBA record of 10 consecutive wins by a double-digit margin.
Although his team has settled into a comfort level and victorious rhythm over the past two weeks, coach Erik Spoelstra must now fight a different battle with his team. He's waging a war, of sorts, against complacency, which might be the only thing capable of disrupting the Heat's competitiveness.
That's why Spoelstra challenged the Heat on Tuesday to regain the same sort of fire, anxiety and "us against the world" mentality they carried into the Dec. 2 blowout victory at Cleveland when the struggling Cavaliers enter AmericanAirlines Arena on Wednesday.
Spoelstra said he sensed a level of relief from James after his first game against the Cavaliers since he left Cleveland as a free agent after seven seasons. But Spoelstra is guarding against a potential letdown in the return game.
"I hope it's not too relaxed, because that was a great edge we had to ourselves going into that [Dec. 2] game," Spoelstra said of the Heat's 118-90 victory. "No matter what you say now, going into it, no one knew what to expect. So there was a certain level of anxiety, and that outside pressure brought our group together in a very positive way, and that strengthened our team."
Although the Heat had already starting their winning streak two games prior to the game against Cleveland, several players point to that showdown as the turning point that propelled Miami from mediocrity to second behind Boston in the Eastern Conference standings.
"This is part of the process, and the process for us is getting better," said guard Dwyane Wade, who has scored at least 30 points in three straight games as the reigning Eastern Conference player of the week. "We're still in the middle of that process. It's just great that now, not only our talent, but our team is good enough to win these games. Let's see if we can keep this rhythm going."
In many ways, the Heat's dominant play started that night in Cleveland. James said his approach won't change when he sees his former teammates on Wednesday. He admitted that there was an icy reception from several Cavaliers players during their first matchup. Matters grew only chillier after James spent much of the second half jawing with players on Cleveland's bench.
James said Tuesday there was very little good-natured ribbing during those exchanges.
"There wasn't no joking going on," James said. "The allegations of me and [Cavaliers guard] Daniel [Gibson] joking, it wasn't joking. If it was, I was doing a good job of getting them out of their games, because I was in full focus. And I'll probably be talking to them tomorrow, again."
One thing is for certain. Regardless of the topic, James isn't afraid to let his voice be heard.