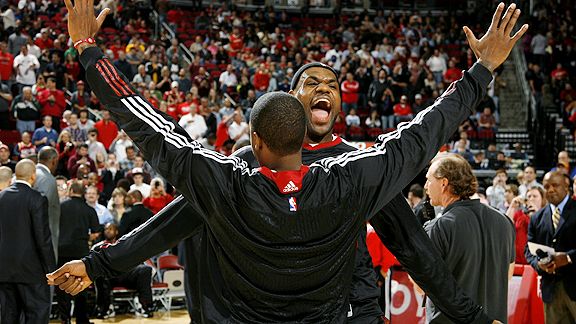 Bill Baptist/NBAE/Getty Images
LeBron James and Dwyane Wade will have to fight it out for Eastern Conference Player of the Month.
HOUSTON -- The Miami Heat spent more than 38 hours on their team jet and flew more than 31,000 miles in December. That's a long month, though it probably never seemed like it because everything is easier when a team is winning, including the travel.
With their frenetic 125-119 victory over the Houston Rockets on Wednesday night, the Heat completed a highly improbable feat by sweeping the 10 road games on their December schedule. They became the first team in league history to go 10-0 away from home in a calendar month.
It included two separate trips to the West Coast, a victory over the Los Angeles Lakers, a win over the New York Knicks and snapping the Rockets' eight-game home winning streak. The Heat won four of the games on the second night of back-to-backs, which is harder than it sounds. They took a game in each time zone. And they had that Dec. 2 win in Cleveland in an environment that was as intense as you'll see in American sport.
"That's pretty good," Dwyane Wade said with some sarcasm after putting up 45 points to lead the effort against Houston.
"To be a part of history, I don't know if that means we played too many games on the road this month, [or if] it shows the growth of this team."
When the Heat started the month, they were 10-8 and facing plenty of structural and internal questions. As they've racked up 16 wins in the past 17 games, Heat players have cast a dismissive tone to those who point out issues the team was facing four weeks ago. That is easy to say now, but things truly looked bleak, especially because of the demanding schedule that was in front of them.
Instead, the Heat reinforced the adage that defense travels, as they defended their way to one steadying win after another. Wednesday's victory received note that it was the first time all month the Heat allowed a team to break 100 points.
"It feels like a long time ago that we were in Cleveland," Heat coach Erik Spolestra said. "Heading into the month I mentioned how challenging the next four weeks would be. We've come quite a bit of a way since the beginning of the year. We were able to collectively stick together as a group."
Along with the defense, which shot to the top of the league in several defining categories, the team has benefited from getting star-quality play out of their stars.
It is going to be a battle for which Heat player wins Eastern Conference Player of the Month. Wade and LeBron James have each won player of the week awards -- and Wade is in position to wrap up another with consecutive 40-point games this week.
Those may be subjective honors, but it points to how vital star performances are to the overall product, production the Heat weren't seeing consistently during a choppy November.
"To have 10 road games in a month is difficult for any team," James said. "And for us to win every last one of them is a tribute to our team, our game and to us getting better."