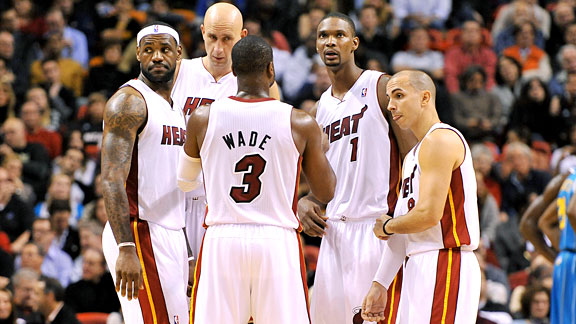 James Riley/NBAE/Getty Images
What made the Heat so hard to beat in December? A collective appreciation for their tough November.
MIAMI -- Among the essentials in this recipe for the Heat's recent surge has been a key ingredient that was missing during that turbulent start to the season: a dose of humility.
Now, it's become a main part of Miami's mix.
"We weren't arrogant," coach Erik Spoelstra said of one of the biggest changes he's seen in his team from November to December. "But what we learned was that this wasn't going to be easy. I just don't think we all anticipated it would be that difficult early on. When you have your biggest breakthrough is when it's not going right, when guys don't necessarily like each other, when you don't like the way things are going. That's when you find out what's real."
What's real is the Heat's new world. In running off 15 victories in its past 16 games, Miami (25-9) not only finds itself closing in on Boston for the best record in the Eastern Conference, but also developing an awareness of something much bigger.
Seemingly gone is the cockiness the Heat carried into the season, as if the league was going to toss rose petals in their path to those seven championships LeBron James counted in that July news conference. This remains a supremely confident team. But after being humbled by that 9-8 start to the season, there's clearly a greater appreciation for the process it takes to go from talking about greatness to laying the foundation to achieve it.
There wasn't a better team in the league during December than the Heat, who became the first team in NBA history to win 10 consecutive road games in a calendar month. Perhaps it's fitting that Miami had to do such heavy lifting on the road. Dwyane Wade, LeBron James, Chris Bosh & Co. will be appreciated at home. They might never be truly embraced on the road. But they must be respected.
So what changed between November and December for the Heat?
Plenty. The defense improved from mediocre to magnificent in a month. Spoelstra's rotation transitioned from a patchwork in progress to precise and productive. And an offense that was erratic and sporadic is now efficient and effectively blending the talents of Miami's marquee players.
But the biggest change has been tweaks in attitude, approach and perspective.
"When you lose, when you're in a situation you never thought you'd be in, it's definitely humbling," James said of that place where Miami stood at the end of November. "We never had that arrogant part where we thought we were bigger than everybody else. But we were just very confident before we did anything. To have that humbling experience at the beginning of the season has definitely helped us."
Wade, James and Bosh once shrugged off their individual struggles. They now examine them, dissect them and hold one another more accountable. James doesn't hesitate to get into the faces of teammates out in the open. Wade still prefers to get his point across behind closed doors. Bosh has become a voice of reason that no longer gets muted amid the madness that existed a month ago.
All three of them listen. You can tell by the Spoelstra-isms that come out of their mouths when they reiterate the coach's mantras of passion, pride, purity and process during postgame media sessions. All of this required taking an egotistical step back in order to take a humbled leap forward collectively.
The Heat were free-agency signing-day champions. They were a top seed in training camp. But then reality hit hard with the losses of Udonis Haslem and Mike Miller to injuries. Then came those November losses to the likes of Memphis and Indiana.
It's one thing to fail against Paul Pierce and Dirk Nowitzki. You chalk that up to growing pains. But when Zach Randolph and Roy Hibbert beat you, you've got problems. The team Miami sees in the mirror now has a more realistic view. But the reflection was different a month ago.
"[It took] realizing that you're not as good of a team as you think that you possibly are," Wade said. "You go through a great training camp. One thing about training camp is misleading. Everybody in the league goes through a great training camp saying, 'You know what, we can be a really good team.'"
But then something happens -- even to teams with star-studded rosters.
"Reality sets in," Wade continued. "It sets in for everyone. For us, it set in early that we weren't the team that we were going to be, or that we thought we were at that time. So it was humbling for the talented guys we have on this team -- that it's not just about individual talent. It's about getting this team together. We've finally been able to do that."
Wade is finally back to being arguably the most prolific scorer and finisher in the league. LeBron has settled into becoming the dynamic triple-double threat the league hasn't seen since Magic Johnson. Bosh is approaching the double-double consistency that once defined his game in Toronto.
The Heat were simply shiny pieces in November. The puzzle has come together in December. But plenty of work remains before Miami is ready to claim its place among the elite in the postseason discussion.
Could the Heat win a seven-game playoff series against a healthy Boston Celtics, a motivated Los Angeles Lakers squad or the surging San Antonio Spurs right now?
"No," Bosh said bluntly. "They have too much experience right now. We haven't even played a series together. They've been through the fire, they've won championships. That counts for a lot. We have a long way to go. Later on in the playoffs, if we do come to it, we're going to have to play really good basketball to get it done."
If they come to it? Perhaps the Heat are getting as good at this humility thing as they are at winning games. At least there's now starting to be some substance to their swagger. Yes, Miami still has its sights set on winning a title this season. But no, there's no longer an overwhelming, in-your-face sense of entitlement that once existed around this team.
That was so October. But then came November.
"You can prepare for that all you want in July, August and September," Spoelstra said. "But until you're actually in the storm, you don't know what to expect. Once we survived that, we learned a valuable lesson. The only opinions that matter are ours. If you do jump on that bandwagon and off that bandwagon, you will get whiplash. Every 24 hours, it's swaying like the wind."
Considering how far the Heat have come since November, it's a shame December has to end. The challenge now is to carry that chemistry, dominant defense, offensive cohesion and humility into January. That's their New Year's resolution.
Remember December. Forget November.
"That won't be our only moment of conflict or crisis," Spoelstra said of last month's meltdowns and growing pains. "There will be some storms ahead. But we learned we can handle them. Going through early season adversity and crisis forced us to examine ourselves and humble ourselves and work to improve as a team without going the other way."
Now, the Heat are headed in the right direction -- with all the necessary ingredients.