MIAMI -- Dorell Wright said all of the right things.
He wanted to make it clear that Saturday night's game against the Miami Heat was simply another chance for his Golden State Warriors to improve. He let it be known there was no vendetta against the Heat, who allowed him to freely walk away in free agency after he spent his first six seasons in Miami.
As far as Wright was concerned, there was nothing wrong with the way things ended with the Heat.
He essentially needed to go in order to grow.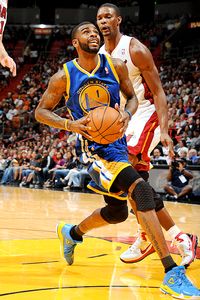 Andrew D. Bernstein/NBAE/Getty
Dorell Wright: Saturday's homecoming king
Publicly, Wright played the possum act to perfection. But privately, there was another side – one that burned to put on a solid show in his first visit to Miami to play the Heat since his free agency departure.
"Everyone says it doesn't matter," Warriors coach Keith Smart said of Wright. "But you still want to prove to them that, 'You let this one get away.' I'm sure that was in his mind. It takes a couple of years to remove that from your thinking. You may say it, but in the bottom of your heart, if you had a glass body, you could still see there's a little bit there."
There was enough there for Wright to give his former team all sorts of headaches before Miami overcame a 20-point deficit and its worst defensive first half of the season to hold on for a 114-107 victory against the Warriors at AmericanAirlines Arena.
Wright scored a game-high 30 points on 12-of-21 shooting from the field, including six 3-pointers, in an entertaining matchup at small forward with LeBron James, who countered with 25 points, 10 assists and seven rebounds. Wright walked away with a loss against Miami for the second time this season, but he's gained a level of respect from his former coaches and teammates for the player he's become.
It was the second time in the past three games that Wright, Miami's first-round pick in 2004, has scored at least 30 points. He had a career-high 32 against the Atlanta Hawks on Wednesday. Wright continued that high-end production against the Heat, and clearly out-played James in the first half by mixing a prolific outside shooting touch with open-court finishes at the rim.
Asked after the game if he expected that sort of breakout performance from Wright, Heat guard Dwyane Wade didn't hesitate to respond.
"Yes," said Wade, who is the godfather of Wright's son. "That's how it happens, man. I'm happy to see him be aggressive that way, and really be one of the leaders on that young team."
There's clearly a difference between the Wright who is blossoming in the Bay Area and the player who blended flashes of potential in Miami with bouts of immaturity and injuries.
"I'm just getting the opportunity," Wright said after Saturday's game. "I don't have to worry about anything. Just go out there and play my game. There ain't no better feeling than that, having the coach behind you and wanting you to go out there and show everything."
For three consecutive seasons, Wright entered training camp with the Heat in position to lock down the starting small forward job. Each time, there seemed to be an injury, some untimely struggles with his role or an off-court incident that derailed Dorell.
With the Heat shoring up salary-cap space to re-sign Wade and lure Chris Bosh and James, there was neither room nor a solidified role for Wright in the Heat's plans. So he took a three-year, $11.5 million deal from the Warriors, which has proved to be money well spent.
Wright has started all 33 games for the Warriors, ranks among the league's leaders in 3-pointers made and attempted, and is averaging 16.2 points, six rebounds and three assists. That scoring average this season is 10 points above his career mark of 6.2 points a game.
"He should probably be considered as one of the league's most improved players this year," Heat coach Erik Spoelstra said Saturday. "Dorell is fitting in very well with that system and those players. I think you're seeing his multi-skilled nature, and he can do a lot of different things."
No team is more proud of Wright's progress than the one he left behind, the one that moved on without him. The same can also be said of Minnesota Timberwolves forward Michael Beasley, another Heat castaway who was developed in Miami but is delivering elsewhere.
"This organization has done nothing but good things for me," Wright said of the Heat. "They've always been behind me. I can't say nothing bad about these guys. They gave me an opportunity to start my career. I learned so much. I was just happy to come back and showcase everything I've been learning. But I had to go somewhere where I could fit in, get consistent minutes and grow with a young team."
Wright, who was mostly inactive when Miami won a championship in 2006, insists he's past the "what-could-have-been" stage with his former team. The Heat has moved on quite nicely with a team that is among the favorites to contend for an NBA title. Wright also has landed on his feet, with a stable role on a Warriors team that plays at an up-tempo pace that accentuates his versatility.
It was a breakup that was a win-win for both sides. There remains mutual respect. That was evident after Saturday's game, when several Heat players, including Wade, and Miami's coaching staff walked over to the Warriors' bench to share hugs and encouragement with Wright. That type of team-wide gesture doesn't normally happen in the walk-off-and-wave environment of the NBA after the buzzer.
"That just shows a lot of love," Wright said. "They know what I've been through the past six years I've been here. I've got great friendships with all those guys. It was great just to feel love, that love from your old teammates, guys you used to have to grind with every single day."