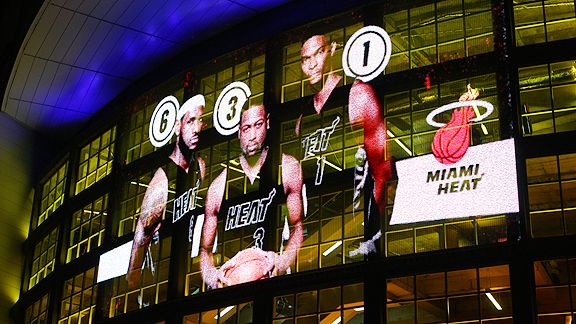 Ned Dishman/NBAE/Getty Images
LeBron's "Heatles" are selling out arenas, but are the Beatles the best analogue for the Heat?
On Monday night, LeBron James told the media, "I see we sell out 99.1 percent on the road, so we call ourselves the Heatles off the Beatles, so every time we take our show on the road we bring a great crowd.''
Are the Heat really the Beatles -- or is there a better equivalent for them in the musical world? What musical act better fits the Heat, and why?
Henry Abbott, TrueHoop: Oh man, no way they're the Beatles.
They're Lady Gaga: Coy in the media to the point of being unknowable, shocking, feared, a little fake, riling people up with how they wear Yankees gear, selling out arenas, and hated as much as they're loved.
J.A. Adande, ESPN.com: Let's start with an appreciation for the fact the Beatles could still hold resonance with a man born almost a quarter a century after the band broke up, that they remain the epitome of popularity-bordering-on-insanity which any group -- particularly one featuring LeBron James -- hopes to achieve.
Here we are, four decades removed from their last album, and still the biggest musical news of 2010 was the Beatles catalog coming to iTunes. They sold 2 million songs in the first week.
And that's precisely why the Miami Heat have no business being compared to the Beatles. Because of the star power and the circumstances, the Heat conglomerate of LeBron, Dwyane Wade and Chris Bosh might bear a passing resemblance to the fascination with the Beatles in their "Love Me Do" phase. But since they have yet to produce a lasting body of works that features the likes of an "Abbey Road" or a "Sgt. Pepper's Lonely Heart's Club Band," the Heat we can cease and desist with the "Heatles" talk.
For now the Heat are more like a mash-up, or a hip-hop collaboration.
Mash-ups are great because the musical combinations are endless, limited only by the DJ's creativity. Mash-ups allow for genres to cross and eras to mix without requiring an actual physical presence. Perhaps the best –- and certainly the most appropriate for this discussion -– mash-up came when Danger Mouse mixed the Beatles' "White Album" with Jay-Z's "Black Album" to produce the "Grey Album." The Heat have freed the imagination of players and fans alike. No longer is consolidation of talent limited to All-Star games and fantasy leagues. It can happen in the real-life NBA.
Except, unlike mash-ups, basketball requires all of the artists to actually perform together instead of merely blending tracks. But that's been the trend in music anyway. Does anyone go into the studio by themselves anymore? It's gotten to the point you don't know if Lil Wayne is guesting on T-Pain's song or T-Pain is appearing on Lil Wayne's song.
It could be this new collaborative spirit pumping through their Beats by Dre headphones subconsciously melted any resistance to James, Wade and Bosh joining forces. Just as you wouldn't have seen LL Cool J and Kool Moe Dee in the studio together, there was no way Michael Jordan was going to play with Isiah Thomas. Now, apparently, if rappers can do it, so can players.
There's a side effect to throwing talent together, be it on stage or on the court. It brings out the best in everyone around. I point you to the 25th anniversary of the Rock and Roll Hall of Fame, when the Black Eyed Peas (well, the only two members of the Black Eyed Peas people care about) joined U2 and a special guest to perform the Rolling Stones' "Gimme Shelter." Normally Fergie is an average singer at best. But when she was standing next to Mick Jagger and Bono she had no choice but to bring it. She held her own that night and delivered a performance that lived up to the legends around her.
You can see the same effect with the role players around the Heat stars. James Jones is making 43 percent of his shots for only the second time in his eight-year career (the first since he was in Portland in 2007-08). Carlos Arroyo is making half of his 3-pointers, easily the best percentage of his career.
So what does that make the Heat's stars?
Well, they're not the equivalent of Mick Jagger and Bono, the front men on the two highest-grossing rock tours of all time, two men who have nine decades of cultural relevance between them. Let's bring it back to the hip-hop genre, where (the Wu-Tang Clan notwithstanding) current collaborations hold the spotlight over longstanding groups. You can't pick a group, you have to pick the participants in a particular song.
I'm going with the "Swagger Like Us" remix, featuring LeBron as Jay-Z, Wade as Kanye West, Bosh as T.I. and Udonis Haslem as Lil Wayne (who, like the injured Haslem, had to go away for a while). It combined performers who were at the top of the game, and it was a memorable production.
Not quite the Beatles, though. And as far as bringing three great talents together, nothing in any genre will ever match the magical moment in 1983 when James Brown, Michael Jackson and Prince shared the same stage.
Kevin Arnovitz, Heat Index/TrueHoop: Three comps come to mind for the Heat.
Cream was the first supergroup in 1966 when Eric Clapton left the Yardbirds to assemble his own All-Star band. He recruited bassist and vocalist Jack Bruce (Bluesbreakers), as well as drummer Ginger Baker (Graham Bond Organization). "Wheels on Fire" became the first double-album to go platinum but, curiously, the band broke up about two years after its formation because Clapton believed they weren't communicating.
If you use LeBron's criterion of selling out arenas, U2 is a natural comp. Nobody fills a house like U2. Fans on six continents will brave cold or hellfire to see them and I suspect the same is true of the Heat.
Finally, the Wu-Tang Clan's depth of talent is astounding. Their depth chart included RZA, Method Man, Ghostface Killah, GZA, Raekwon and Ol' Dirty Bastard. You could make a strong argument, though, that each member has performed his best work as a standalone act. Will the same be true of the Heat's All-Stars?
Nate Drexler, bassist of Jumbling Towers: The Heat are Young Money. If there has ever been a musical group that the world has been happy with, excited by, but not quite embraced, it is Young Money.
Lil Wayne already had a body of work. "No Ceilings," "The Block is Hot," all three of the Carters, and even "Rebirth" all went platinum (though this sounds a lot more like Kobe's career, I'm using it as a D-Wade championship parallel. Stick with me).
Instead of basking in the glory that he already had, Wayne decided to start a new label (but not move cities). That label/group is called Young Money.
In 2009 he signed Drake (Bosh), Nicki Minaj (LeBron), and 10 dudes we've never heard of. The rest was, and still is, history.
Note: Drake gets the Bosh comparison because of the three, we're the most unsure about him. LeBron gets Nicki because he/she is untouchable (and she sold a boatload of records before signing with Young Money). Also, not we're keeping tabs on everyone, but James Jones gets to be Cory Gunz (because a guy who only shoots 3s that no one has heard of should have the nickname "gunz.")
The 2010 We Are Young Money release "Bedrock" featured the big three (and some of the dudes we've never heard of). It peaked at No. 2 on the Billboard charts in 2010 (hopefully not an omen for the Heatles).
The trio has spent the last year taking turns in the spotlight, but it has mostly been Wayne and Nicki getting the attention.
Have they sold millions of records each? Yes. Do they have staying power individually? Yes. What about Young Money as a record label/rap group in five years? Ehhh ... I just don't know.
Tom Haberstroh, Heat Index: They're the Beatles. Why? I spent considerable time trying to think of a better band equivalent and then I remembered this nugget of wisdom that my grandfather once shared with me when I was a young boy: "If it takes more than 30 seconds to think of better band equivalent for a basketball team, then the original suggestion is probably best. Also, I could totally see Chris Bosh one day doing backflips during his version of the 'I've Got My Mind Set On You' video when this is all over." My grandfather knows what he's talking about, I guess.
John Hollinger, ESPN.com: Actually one would be hard-pressed to come up with a better comparison. Not only are they largely a match in terms of hype and audience, the band itself corresponds almost perfectly to the Heat.
At the top, obviously, are two world-class performers at the top of their game fronting the group -- that would be John Lennon and Paul McCartney, or LeBron James and Dwyane Wade. Then we have a third performer who would be a first-rate star in any other band and can ably take the lead if needed -- in that sense, the parallels between Chris Bosh and George Harrison are near-perfect.
And finally, there's a supporting cast, that collectively, one would call "Ringo" -- a role player of modest talents who was basically assigned to do the grunt work in back and not screw anything up. Oh sure, they threw him a bone now and then and even let him sing the lead a few times, just like once in a blue moon Miami runs a play for Carlos Arroyo. But in the big picture, they, like Ringo, are largely incidental to the group's success.
The parallels aren't perfect, obviously -- Lennon wasn't with another band before the Beatles, for instance, whereas LeBron spent several years with Cleveland. Also, Lennon and McCartney never had to match up against Mick Jagger or Robert Plant in a playoff game. Nonetheless, as far as musical parallels go, the Heatles are about as good as it gets.
Andrew Kamenetzky, Land O' Lakers: Technically speaking, the Heat would probably be closest to Blind Faith, when Eric Clapton, Steve Winwood and Ginger Baker, all in their prime, joined forces to form what was widely considered the first "supergroup." However, Blind Faith only had one album and weren't nearly as influential as the Heat are predicted to be (particularly if Melo proves capable of calling his shots).
Plus, there are similarities between the Beatles and the Heat, even if LeBron's direct comparison is faulty. Yeah, the "Heatles" may sell out on the road, but nobody ever had to instruct Beatles audiences on how to "fan up." Still, LeBron's ability to generate controversy is beginning to rival John Lennon's. ("I'm going to take my talents to South Beach" is essentially LBJ's "We're more popular than Jesus.") Dwyane Wade has the winning smile, ala Paul, and fans may never truly agree "whose band" the Heat is. Chris Bosh is starting to get George Harrison's respect, but began the season dismissed like Ringo. And for a while, Erik Spoelstra appeared on the verge of getting the Pete Best treatment.
Arash Markazi, ESPN Los Angeles: I picture the Heat as more 'N Sync than the Beatles. First of all, the whole idea of nicknaming your team after the Beatles, arguably the greatest rock band of all time, is ridiculous and played out. LeBron James already did it in Cleveland when he dubbed his team "The Cleatles" and Kevin Garnett did in Boston when he briefly called the Celtics "The Ceatles." 'N Sync is more of an appropriate comparison for the Heat since both groups are from Florida and both were basically thrown together by someone who had experience with successful groups in the past (Pat Riley had the "Showtime" Lakers and Lou Pearlman had cursed us with The Backstreet Boys). It's also apt because quite frankly, the Heat, like 'N Sync, got a ton of hype early for really doing nothing. Sure they were selling out arenas across the country and getting a ton of press but they never won a Grammy. The reason 'N Sync sold out shows nationwide is the same reason the Heat are doing the same now. Everyone wanted to see Justin Timberlake, or in the Heat's case, LeBron James. Unfortunately for James, unlike Timberlake, if he wants to be a winner he can't do it with a solo career.
Timothy Varner, 48 Minutes of Hell/TrueHoop Network: Sometimes, when the Miami Heat go on one of their torrid runs, like their recent comeback victory against the Warriors, I feel like they should be soundtracked by The Prodigy. London's big beat three-piece keep it simple: The Prodigy overwhelm audiences with a hypnotic deluge of loops and obscenely heavy breakbeats. They're not political and they're not articulate. The sound is simple, pure and unashamedly in your ear.
But this is an answer to a different question. The question is not whose music is best suited for a Miami Heat highlight reel, but whether they compare favorably to the Beatles.
I don't see the Beatles thing.
Maybe the Heat's best musical analogue is the most obvious: Destiny's Child. The Heat are hitmakers. They're layered in magazine gloss and Top-40 production and notice-my-curves video promos. They're so amazingly superficial, they're sublime. It's a little bit about music and mostly about getting rich. And by rich, I mean rich with wins and championships.
Michael Wallace, Heat Index: As I mentioned in a tweet, I seriously doubt if LeBron James could name all four members of the Beatles. So having said that, there's definitely a need for a more contemporary group. My first hunch was to go with the O'Jays, but Eddie Lavert was singularly dominant with nowhere near an equal in that group. Then I considered Destiny's Child, with LeBron as Beyonce and Dwyane Wade as Kelly Rowland. But that wouldn't be fair to Bosh, since the third member of Destiny's Child is as anonymous as Joel Anthony. So the better fit would be Run DMC. There was a remarkable lyrical balance between Run and D-Mac. And the baseline beats were always on time from Jam Master Jay, who like Bosh brought it all together from the background. So instead of the Heatles, call them Run DLC.
Brian Windhorst, Heat Index: Not that any of them would know of them, but if you were going to compare the Heat to a 20th century musical group it would have to be the Traveling Wilburys. OK, it wasn't a great name then and "Traveling Heatburys" doesn't work like "Heatles," but the comparisons are right on.
The Wilburys were formed in 1988 when some highly successful friends came together because they enjoyed hanging out and playing in their free time when they weren't touring. Which is not unlike the summer experiences LeBron James, Chris Bosh and Dwyane Wade had when they were on separate NBA teams. The stars of the Wilburys were Tom Petty, Bob Dylan, George Harrison, Roy Orbison and Jeff Lynne. Petty's inclusion was the best part of the story; he had just stopped by because he left a guitar at Dylan's house and ended up jamming in the new band.
That's more star power than the Heat, frankly, but the Wilburys only made it for a couple of years mostly because of Orbison's death. But not before they won a Grammy for Best Rock Performance. The Heat should be so lucky.