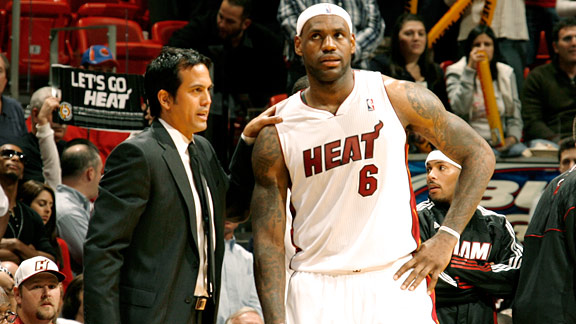 Issac Baldizon/NBAE/Getty Images
On Tuesday, LeBron James went out of his way to credit Erik Spoelstra ... just in case.
MIAMI -- For Christmas Erik Spoelstra gave each of his Heat players the box set of "Band of Brothers," the HBO miniseries about a company of soldiers in the trenches during World War II.
It was a symbolic gift and, despite the context, actually somewhat cheesy. Spoelstra has a series of what he hopes are meaningful sayings -- doesn't every coach -- meant to reinforce certain season-long themes. One of them that he tends to pound away on is the idea that the Heat should "band together" like soldiers would in a bunker during battle.
How many of the players will actually watch the 10-part series from start to finish? Well, the number will be something less than the full 15. But that wasn't the point. Spoelstra got his message out. And right now his messages are working.
This week he was named the Eastern Conference Coach of the Month for December. This was not surprising, as the Heat were 15-1 during the month and are 19-1 in their last 20 games as they prepare to start their longest road trip of the season this weekend.
Most of the time the monthly honor goes to the coach of the team with the best record without much investigation as to the actual nuts-and-bolts coaching job that was performed. This is a generally accepted arrangement even though various performance bonuses are sometimes tied to the award.
When he was informed Monday night in Charlotte that Spoelstra won the award, LeBron James said this about Spoelstra:
"For the month of December we played the best basketball of any team in the league and he had a lot to do with it," James said. "As players, we went out and executed."
James received some criticism for that statement because he left the impression that he was withholding some credit and saving it for himself and his teammates. However, there is absolute truth that without player execution no coach would win anything.
James ended up getting his own credit because he and Dwyane Wade were named co-Players of the Month shortly after Spoelstra's honor was released by the NBA. But it was too late, the words were already said.
Regardless of James' intention, it was a potential tap-in for him to praise his coach, just like it was a tap-in for the league to give Spoelstra the award. But James, whether it was because he truly meant it or simply got caught in a flippant line, didn't exactly do that.
Whenever a player of James' stature does something like that it can create some waves, especially after there were reports earlier this season about a sometimes frosty relationship with his new coach.
So perhaps to clear that up, James was effusive about Spoelstra and his cheesy phrases when given another chance to address the matter Tuesday. Mostly, James credited his coach for his handling of the difficult times when the Heat started the season 9-8.
"Spo has been great," James said.
"The one thing he did is when we were struggling in November he weathered the storm. He kept us at bay and understanding that it is going to take a lot of dedication, it's going to take a lot of commitment and a lot of unselfishness. He kept a level head, he always stayed the course. As players that play for him, we respected that. At that point we tried to give back to him by going out and playing great basketball."
So let that go on the record as well.
On a five-week hot streak, it seems the Heat players are happy with their coach and even his little sayings -- which is about as surprising as Spoelstra winning the award.
"Everyone knows his famous quote that he said, being humbled to be humbled," Wade said. "That was awesome, by the way."
Wade was referencing a recent Spoelstra quote to his team -- and later the media -- which was an effort to keep the players motivated and not wait for another losing streak to get focused. The coach said, "You don't have to be humbled to be humble."
It was right out of the file that included Spoelstra's plea from earlier this season, which was the Heat players have to be "active participants in our own rescue." That last line was lifted from Spoelstra's boss, Pat Riley, who has crafted a reputation for motivating players.
Ultimately, of course, Spoelstra and the Heat won't be judged during the merry times but instead how they handle the bad times -- specifically bad times in the playoffs, which hit every championship contender at some point.
In those moments, even if they don't turn out well, the players won't fully be able to take back the things they've said about their coach. And as they continue to win, they continue to say good things.
"He's even keeled, he never gets too hot or too low," Wade said. "Even on this win streak he's been on us. That's what he preached to us, to always be hungry and move on to the next day. We've got a great leader and he's helped us to be where we are."